Adding Goals To Performance
Announcement Date: December 9, 2016
A new addition has been made to the Performance review form and template. Goals can now be imported into the template by managers or administrators. This will allows employees and managers to rate and review goals.
A new addition has been made to the Performance review form and template. It is now possible to add goals to a performance review template. This process is divided between the administrators and the managers. Administrators can enable goals to be added to a performance review form, while it is managers who will actually add goals to a performance review form.
Admin Settings
Goals are an important part of the review process and this new addition makes it easier for both employees and managers to provide well-rounded reviews.
In order to add goals to performance review templates, administrators first need to enable a setting. This setting can be found by going to the Performance>>Administration>>Settings page.
On this page, there is a setting called "Enable Goals In Performance Review Template" under Advanced Settings. Select this setting and save.
Once this setting has been enabled, when administrators create a new review template, they will see an option on the template page called 'Enable Goals'. Enabling this option allows goals to be added to the review template.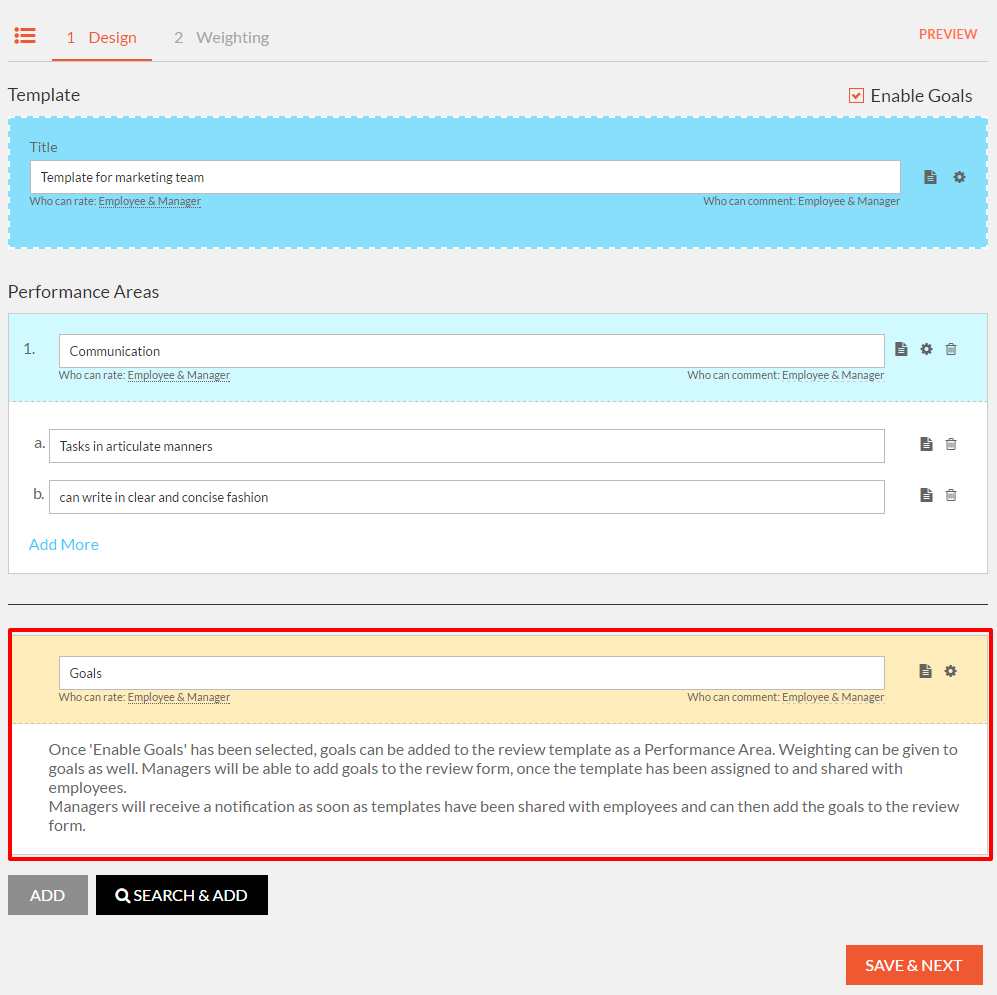 In the Goals section in the template, administrators can decide who all can rate and comment upon the Goals by clicking on the Settings icon.
Once goals are enabled in a review template, they become a Performance Area that employees can be rated and reviewed on. Weighting can be given to the goals, relative to other performance areas.

Manager Settings
Goals can be added by either an administrator or a manger. To add goals to the review template ( click on 'Shared' under status, in either the Org Dashboard or Team Dashboard. This will open up the review template. 

Clicking on 'Import Goals' allows administrators/managers to add goals that need to be reviewed. Just remember to add goals that relevant to the current review cycle.
It is possible to even give weights to the goals that you have added. The weighting however needs to add up to 100%.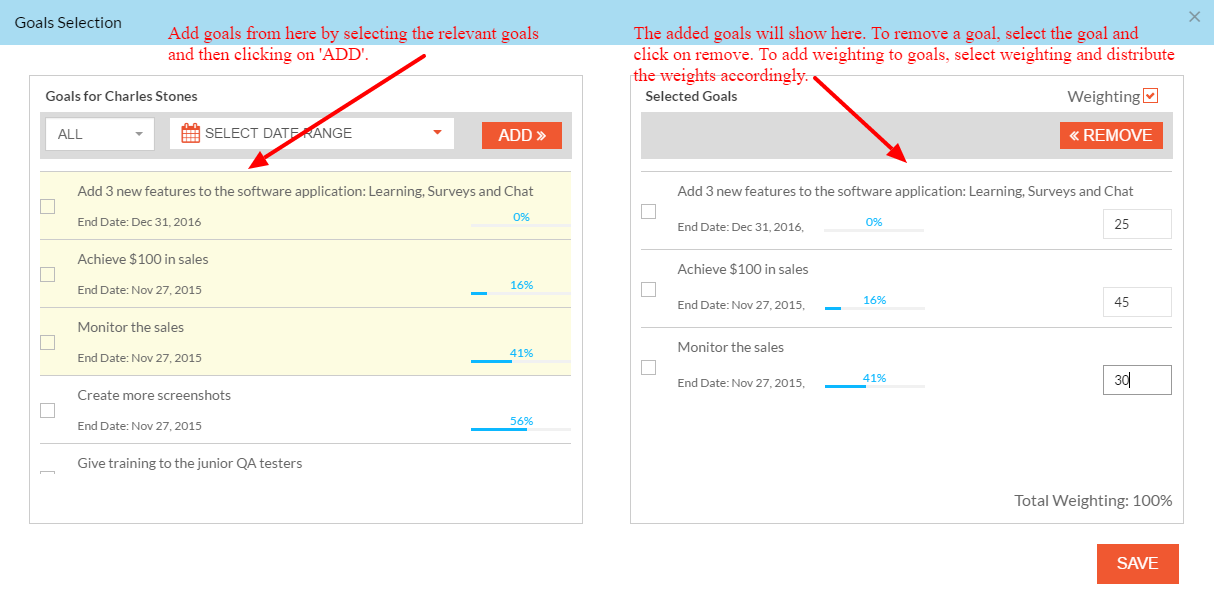 Managers can add goals to a performance review form as soon as the form has been assigned to and shared with employees.
Goal Snapshot
Once an employee fills in their review form, the progress on the goal in the review form will be frozen, so to speak. Users can still update their progress on the original goal, but in the review form, once the employee submits their review, the goal will remain as it is. This is so that everybody can rate and review the goal in the same way, having seen the same progress.