The Engagedly Goals module helps you lay out objectives and key results (OKR) with customizable check ins and progress indicators. To know more about what changes have been made to the Goals module, read on.
You cannot track performance without the help of goals and objectives. They are integral to the performance management process. The Engagedly Goals feature not only helps you keep track of your progress, but it also keeps your manager in the loop.
We want you to use the Goals feature to its full potential. And sometimes, that means getting rid of a few features and replacing them with newer and improved features.
Goal Menu
You will no longer have a bevy of options clogging the screen when you hover on a goal. Instead, all goal options have been consolidated into a neat and handy menu that is denoted by a three-dotted line. When you hover on the line, you can see the menu.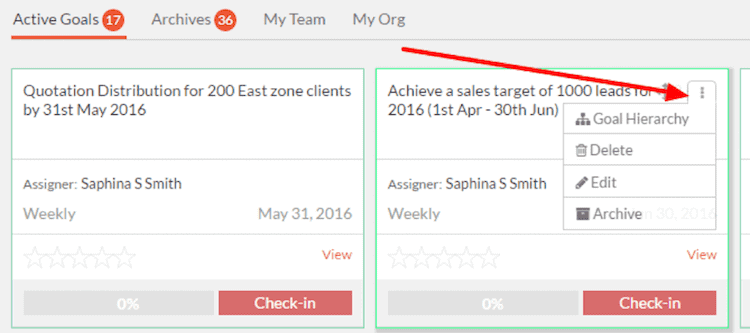 Manual Archiving
Earlier on, the moment goals hit an end date; they were automatically archived, which meant that users couldn't edit them or even check-in. Now, goals will not be automatically archived when they hit an end date. Instead, the end-date will only act as a reminder. You can extend the goal whenever you like and even check-in as and when you think it is necessary.
Also, this particular update allows you to add older goals and backdate them, so that you can still utilize them to track performance.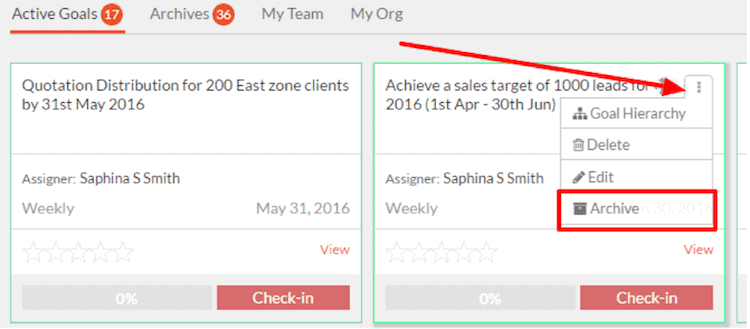 Manual Un-Archiving
Everything has got to have an undo button doesn't it? So if you accidentally archived a goal, you need not worry. You can immediately un-archive it by click on Unarchive in the goals menu.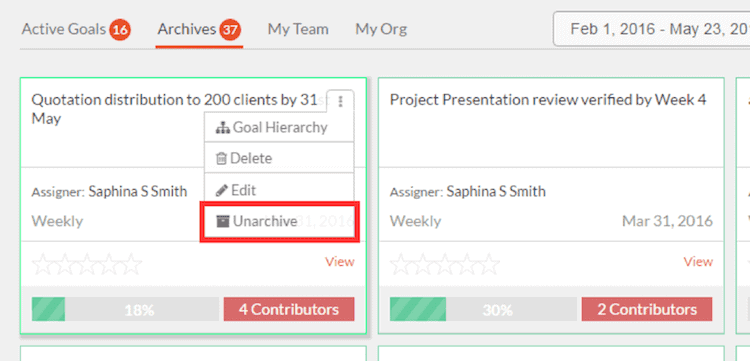 Straight to Check-In
Before, when you clicked on a goal, instead of taking you to the check-in page, it took you to the goal page and there you had to click on the Check-In button to check-in your week's progress. As you can imagine, it was not an ideal situation. Now, when you click on the page, you can head straight to the goal check-in page!
Percentage or Quantity
Earlier on, when you created a goal, the default check-in was a percentage check-in. But we now know that everybody does not prefer percentages over quantity. Some goals and objectives can only be tracked on the basis of hard facts, such as concrete numbers. So while, the percentage check-in used to be the default at first, now when creating a goal you can choose to use either the percentage check-in or the quantity check-in.