Since the March 2020, the world has been struggling with the deadly COVID virus, which created a pandemic. It forced organizations to change their style of work and go predominantly remote. The pandemic has yet to pass, but in many countries, employees are resuming work from their physical locations, with all precautions.
While organizations have become vigilant about the safety measures for their employees' return to offices, many are yet to be inclusive of those with special needs. It is usually not intentional, rather an unconscious bias that most of us experience. If you are not a disability-friendly workplace, then it is the right time to be one.
As an employer, it is your primary responsibility to ensure that employees feel comfortable in the workplace. And that includes all employees, be they abled or disabled. Many people with disabilities face problems landing in their dream jobs because of a lack of basic facilities at most workplaces. Not only are disability-friendly workplaces are more inclusive, but they also create diversity in an organization.
A company's culture should be inclusive of everyone, even for people with disabilities. However, when you do not know how to achieve that, it can be an intimidating prospect. This infographic shows you to build an all-inclusive culture and make your workplace disability-friendly as well.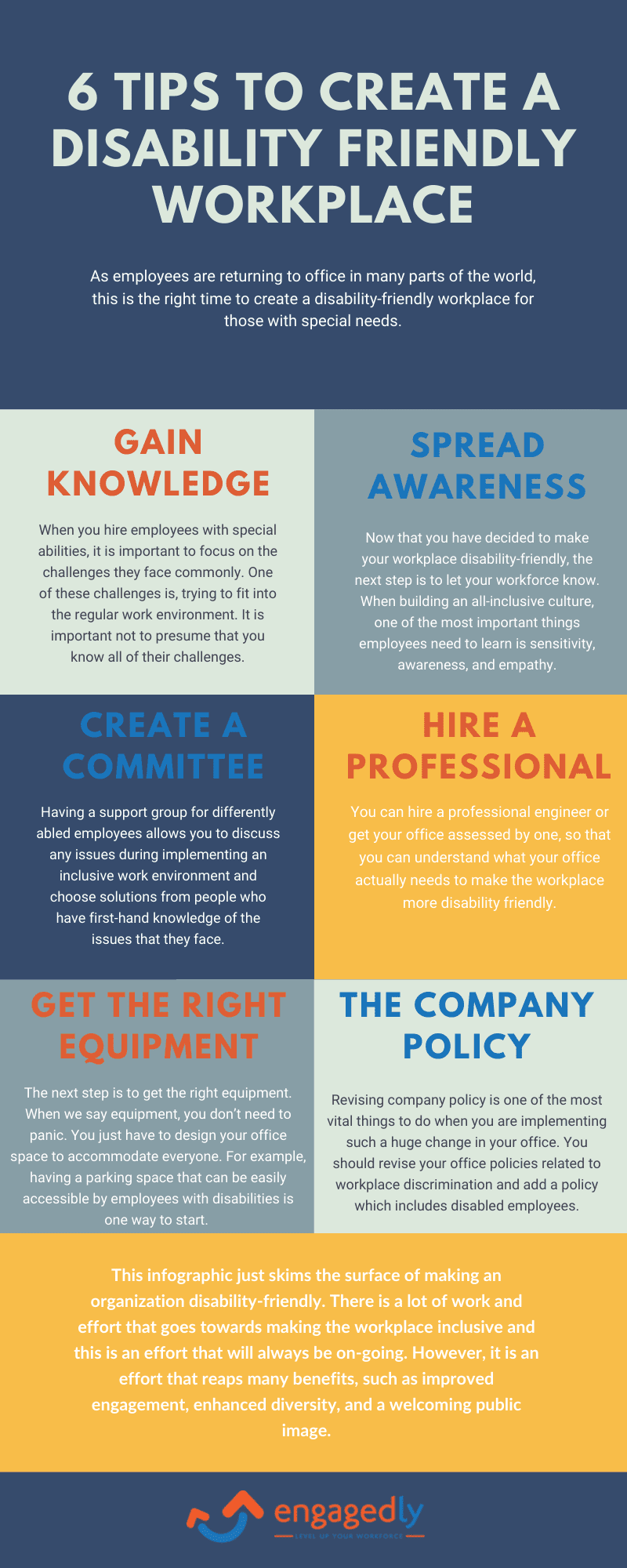 Building a disability-friendly workplace is not a one day activity and takes time and effort. But it is surely worth it. It will help in creating a workplace where everyone feels welcomed and valued.
Do you have any other points to mention? Let us know in the comments.
---
Want to know how Engagedly can make employee management simpler? Then request for a live demo.
Jacqueline Martinez is the Director of Marketing at Engagedly and where she drives initiatives to fuel the marketing-to-sales pipeline through strategic content management, thoughtful mentoring, and revenue operations. She is a growth-focused marketing executive with extensive experience driving multi-million-dollar revenues across SaaS, technology, real estate, oil & gas, and financial services industries.
November 25, 2022
Performance review may seem like a pain, but they are important for organizational…
November 7, 2022
What's the difference between traditional and progressive performance management?