A few changes have been made to the Goals module on the Engagedly app.
Cycles For Goals
Now, cycles have been added to goals. You can add new cycles through 'Goal Settings'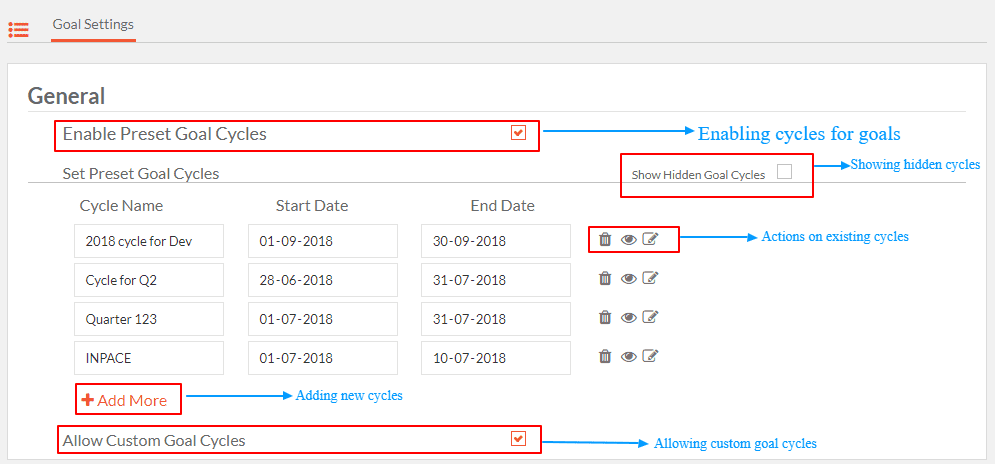 Once you add a cycle, you can perform three actions on it : Delete, hide and edit.
You can make a hidden cycle visible by selecting 'Show Hidden Goals' on the 'Goal Settings' page.

You can now filter goals based on cycles. Though this feature is disabled by default you can enable it through 'Goal Settings' page.
You can also change the start and end date for specific users even though you've enabled cycles for goals. All you have to do is, select 'Allow Custom Goal Cycles' in goal settings.
Goal Categories
You can now enable 'Goal Categories' through the 'Categories' page in 'Settings'. You can add new categories by selecting '+Add' on the page.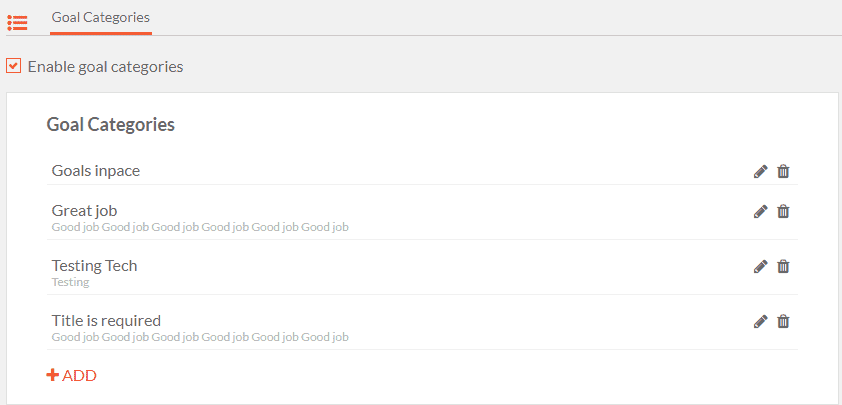 Public Praise For Goal
Now you can praise the progress made by your teammates or employees (Users whose goals are visible to you) by selecting ' Public Praise' on the specific goal. This praise will be shown on the feed with goals name and progress.

Goal Feedback
You can now share/ request feedback about a goal. You can do this by selecting 'share feedback'/ 'Request feedback' on the goal page.

You cannot share feedback about your own goal, but request feedback from others on your own goal.
Note: This feature is dependent on the settings in Engagedly's main 'Feedback' module. If the module isn't enabled, you cannot access this feature. 
Following A Goal
Now, you can follow a goal visible to you to get notifications on the check-ins and progress made on it. Open the goal you want to follow and select 'Follow' under the goal title.
You can also follow high-level goals, and get notifications about all the goals associated with them.
You can see the goals you follow by selecting 'Goals I Follow' filter on the goals page.

Note: You can't follow your own goals or the goals assigned by yourself.