Thank you for choosing Engagedly. This is short and informative user guide that is intended for first time users. This guide is especially geared towards site administrators. A site administrator has access to all settings and configurations for their organization's account.
They have administrative capabilities that are not available to other users. Site administrators can monitor their organization's account; add new users, block users who are no longer a part of the organization, provide role based privileges, activate or deactivate features and modules, notifications etc.
After you sign up for an Engagedly account, these are the steps you need to follow to setup your account.
Creating Organization Profile
Setting System Preferences
Feature Management
Adding Job Titles
Adding Departments
Billing Information
Adding New Users
Assigning Managers To Users
Permission Management
Adding Feedback Categories
Enabling Rewards and Gamification
Using the Performance module
Using the Multirater module
Using the Goals module
Using the Learning module
Using the Surveys module
Using the Social module
A majority of these steps can be carried out from the Settings page. When you log into Engagedly, to go the Settings page, click on the Settings icon on the left-hand menu. It is denoted by the gear symbol. If you need any help during the self-setup process, you can log a ticket from the application by clicking on Support and selecting Write To Us.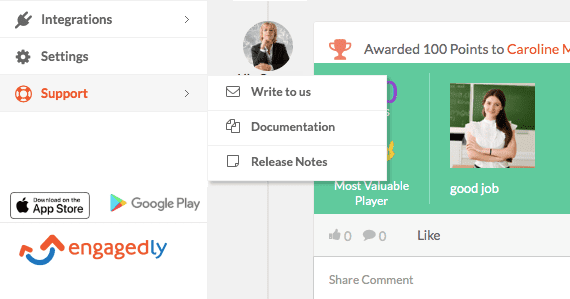 Creating Organization Profile
Click on the Profile icon under the Organization heading. Here you can upload your organization's logo and write a short description about your organization.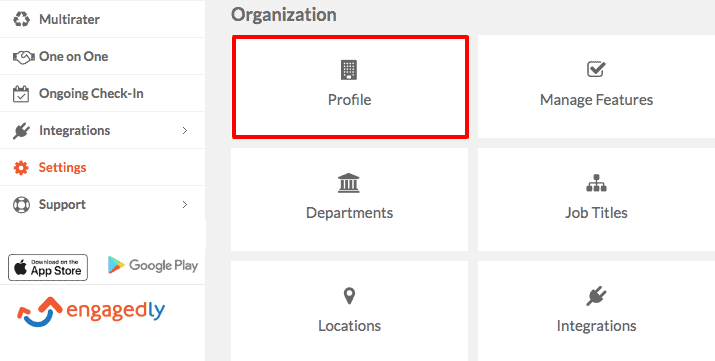 Setting System Preferences
To set system preferences and notifications, click on the Preferences icon under Organization. Here you can set your organization's time zone, date format, time format and decide where you want users to land, be it on the Home page, Dashboard or Feed page.
You can also decide which notifications you would like users to receive and likewise, which notifications you would not like users to receive.
Engagedly has a number of features that are available to users. However, you can also turn them on or off. Click on Manage Features under the Organization. Here you can uncheck the features you do not want. You can always come back and turn them on at a later date.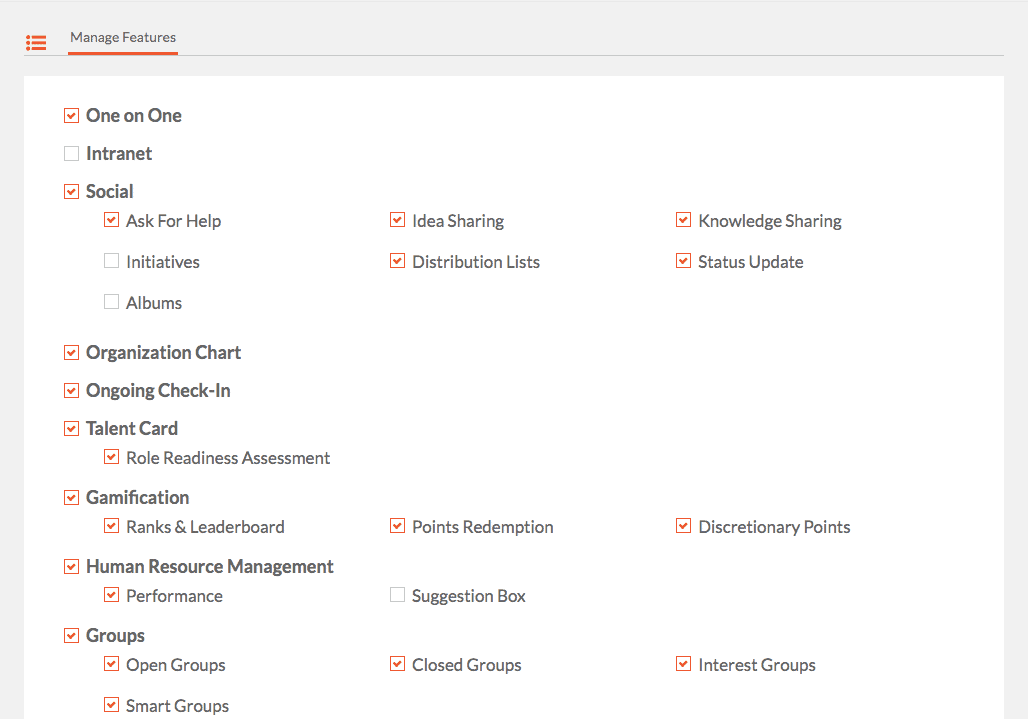 There will be a few default job titles available in your account. If you find these inadequate or unsuitable, you can create new job titles by clicking on Job Titles under the Organization heading. Here, to create a new job title, click on '+Add Job Title'.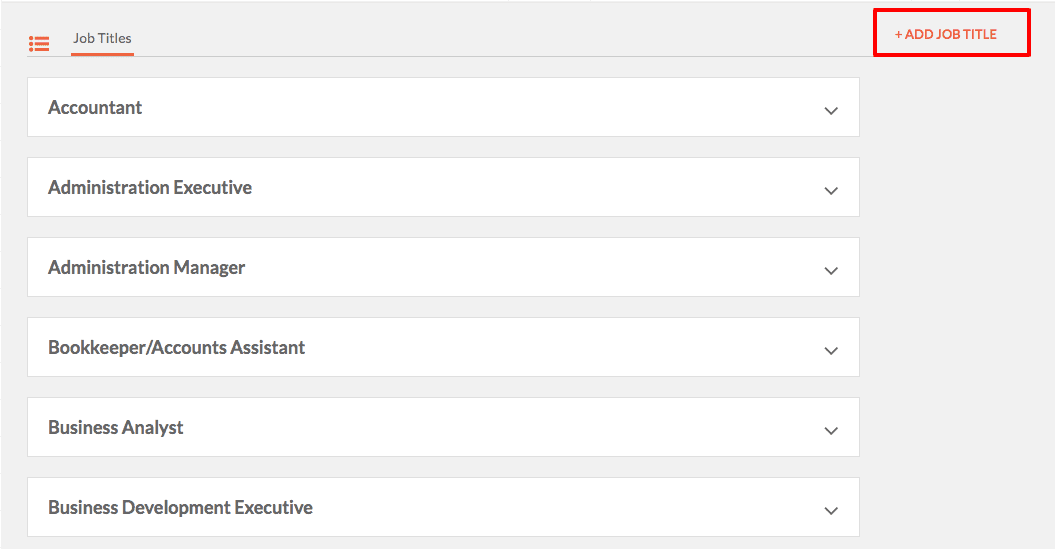 Similar to job titles, there are a few default departments available in your account. To add new departments, click on Departments under the Organization heading. To create a new Department, click on '+Add Department'. You can add users to a department by clicking on the Edit button.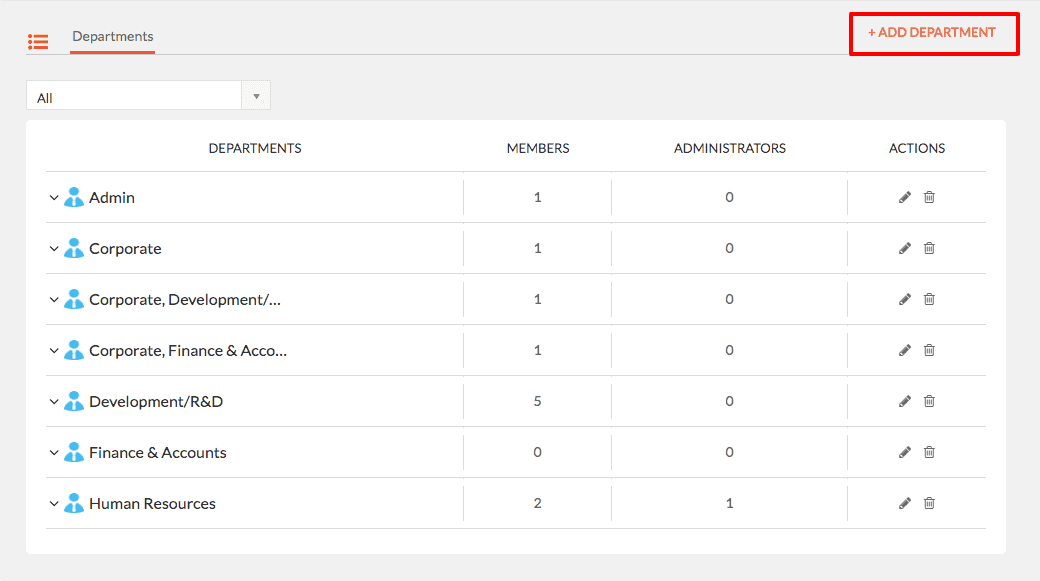 To mark a user as a 'Department administrator', click on the members and select the user icon against the name of the member.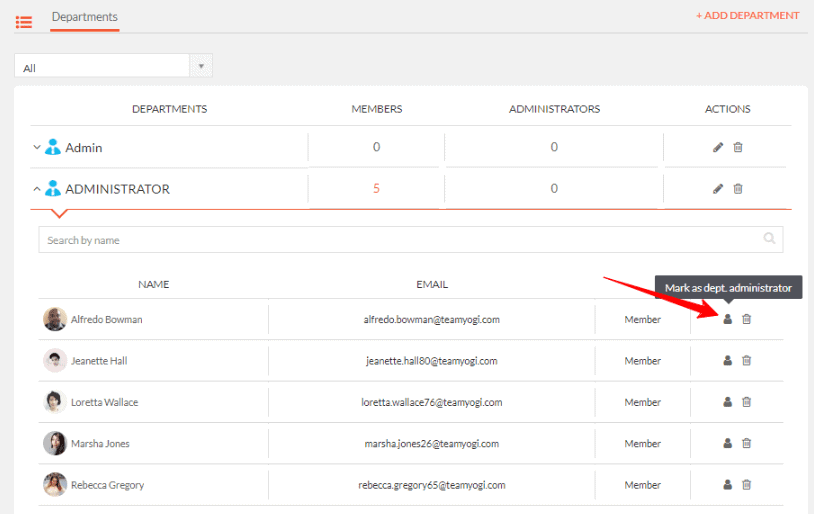 Creating a Business Unit is somewhat similar to creating a department. Administrators can create a Business Unit from the Settings page and then add users to the Business Unit.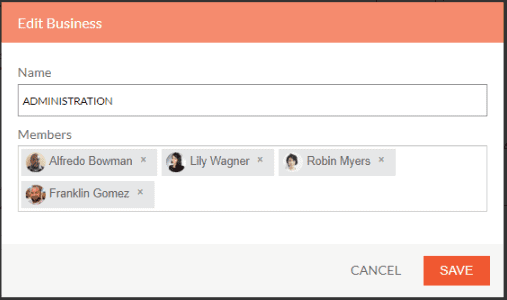 To mark a user as a 'Business unit administrator', click on the members and select the user icon against the name of the member.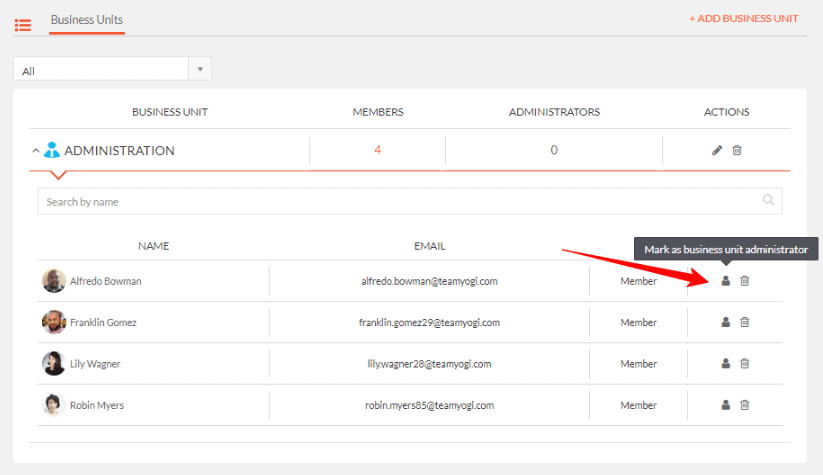 To add billing information, click on Card Details under the Billing heading. Here, fill in credit card details and name and address details for the billing invoice. You also have the option to decide which users should receive billing notifications. To decide this, click on Manage Notification under Billing Information and select users who should receive notifications. By default, the site administrators will be selected. The Payment History tab contains information about all Engagedly payments and monthly invoices as well.

There are two ways of adding new users to your account. To add users one by one, click on Users under the Users/Groups heading. We've further explained this in great detail in our documentation for Adding New Users. Alternatively, users can also be added in bulk through the Import Users feature.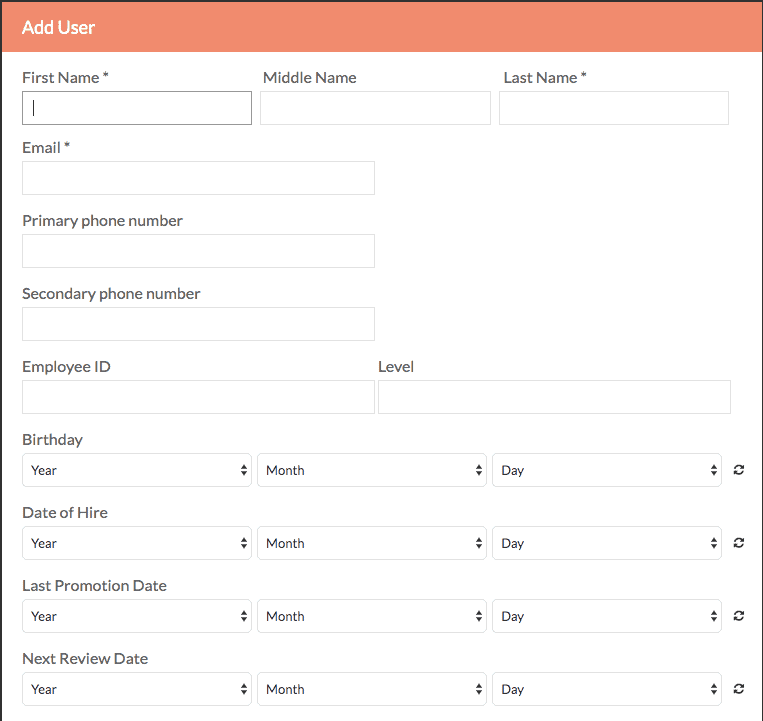 Assigning Managers to Users
Once users have been added, you need to assign managers to these users. Click on 'People without a manager' on the Settings page to assign reporting managers to users. You can read more about it in our documentation for Assigning Managers To Users. Keep in mind; you cannot assign more than one reporting manager to a user.
You can see the people without managers easily by just going to the 'Settings' page and selecting 'people without manager'.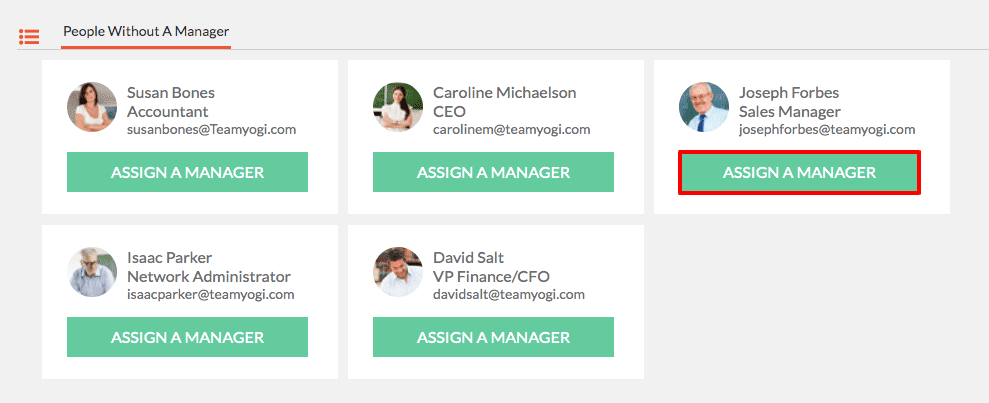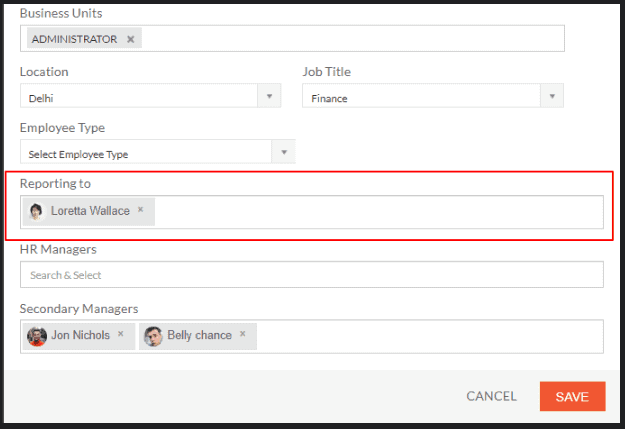 In an organization, the first user who signs up and gets all the others on board is the Site Administrator. Other users will have no permission until they are given some. Administrators can also create new permissions to give to other users. To manage permissions, click on Permissions under the Users/Groups heading. You can read more about it in our documentation for Permission Management.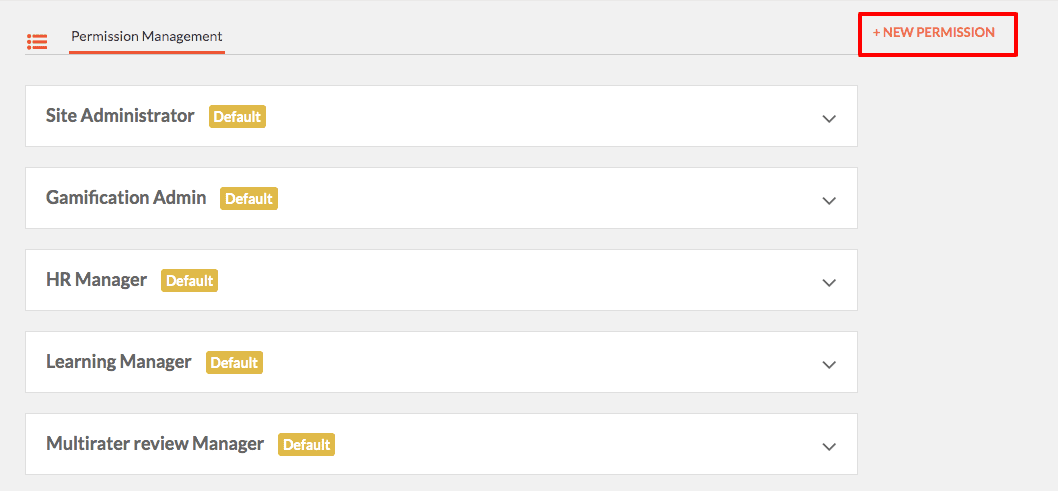 Adding Birthday Alerts & Work Anniversaries
When adding user information or updating it, if you include employee birthdays and work anniversaries, you can, later on, enable Birthday Alerts and Work Anniversary Alerts, which lets users know about upcoming birthdates and work anniversaries.
Adding Feedback Categories
Feedback categories are important as they help you use the Feedback feature better. To add feedback categories, click on Categories under the Feedback heading on the Settings page. You can read more about it in our documentation for Feedback Settings.

Competencies are used for both the Multirater module as well as the Performance module. In order to add them to review or feedback templates, administrators must first add competencies to the Engagedly application.. Engagedly hosts a library of sample competencies. Administrators can either use the sample competencies or upload their own competencies.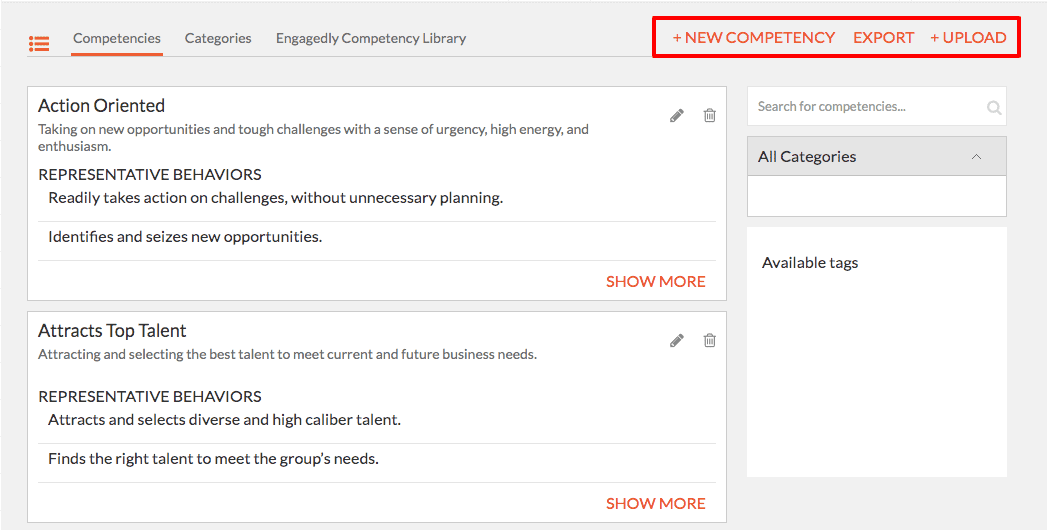 Enabling Rewards and Gamification
In Engagedly, the Rewards and Gamification features allow users to gain points for participating in social activities and redeem rewards based on those points.
While gamification can exist independently of Rewards, the same does not go for Rewards. If you want to utilize the Rewards feature, then you have to enable the Gamification feature.
Both these features can be enabled from the Settings page from the Manage Features tab.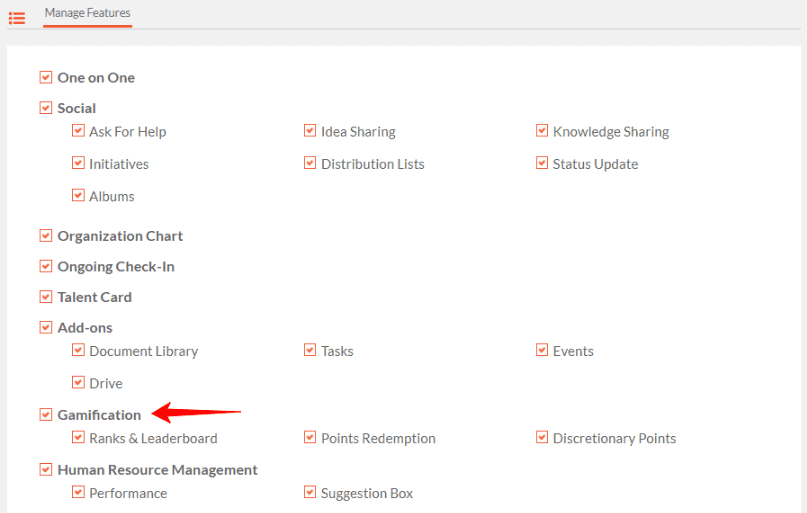 Once the Rewards and Gamification features have been enabled, you can create new badges relevant to your organization, edit the gamification rules to adjust the points offered for each activity, set up account details for reward redemption as well as view User History with respect to the points they have redeemed.

Using The Performance Module
A major portion of the performance management process is carried out from the Performance module in Engagedly.
The performance process begins with the creation of a review cycle and review templates. Once a site administrator does these two things, the review cycle is functional. And as soon as users have been added to a review cycle, templates will be assigned to them and users can begin participating in the performance review process.
You can read more about it in our documentation for Performance Review – Admin Perspective.
Using The Multirater Module
The Multirater module in Engagedly is a feature that helps users participate in the 360 degree feedback process.
Just as in the Performance feature, in order to kickstart the Multirater feedback process, site administrators will first need to create a Multirater cycle and create 360 feedback templates as well.
Once these two things have been done, site administrators can add users to the Multirater cycle as well as begin the nomination process.
For first time users, we recommend creating a simple, basic Multirater cycle to begin with. You can read about how to create a basic cycle in our documentation for Basic – The Simplest Multirater Cycle.
The Goals module can be used to create goals at any individual level, department level or the company level.
Site Administrators can oversee the goals of all users in the organization. You can read more about goal creation, goal assignments, goal check-ins in our documentation for Goals.
Using The Learning Module
Not all users can create courses in the Learning feature and nor can they assign these courses to other users. Users will need permission to create courses.
You can give this permission to them through Manage Permissions on the Settings page. You can read more about how to create a course in our documentation for How To Create A Course. You can also read about how to assign courses to users in our documentation for Course Assignment.
Not all users can create Surveys. The site administrator will need to give users permissions to create surveys. This can be done through Manage Permissions on the Settings page.
You can read about how to create a new survey in our documentation for How To Create A Survey. You can also read about how to assign a survey in our documentation for Assigning A Survey