Some new additions have been introduced in the Engagedly Feedback module. The driving force behind all of these additions is the philosophy that feedback is a continuous loop.
Continuous feedback is integral to improving employee performance, remaining aligned to organizational goals, improving relationships between employee and managers, engaging employees and so much more.
A major portion of this update focuses on features that help you understand how effective the feedback process is at your organization.
The Engagedly Feedback module has a new look. It's been designed to be more compact for easy navigability.
More filters have been added to the My Feedback tab
More dashboards have been added to the Team and Organization tabs.
The comment space has been restructured to showcase a better representation of feedback conversations.
A new feedback type known as 'Attention Required' has been added.
Users now have the option to give feedback anonymously.
Users can now acknowledge feedback that they have received from others.
Users can flag feedback that they have given to others. [Red, Amber and Green Flags according to the action the feedback recipient has taken].
You can read about these features in detail here.
To enable these features, you will need to visit the Settings page.

When you click on the Settings tab, you will see the following options. You can enable or disable the features you think are necessary.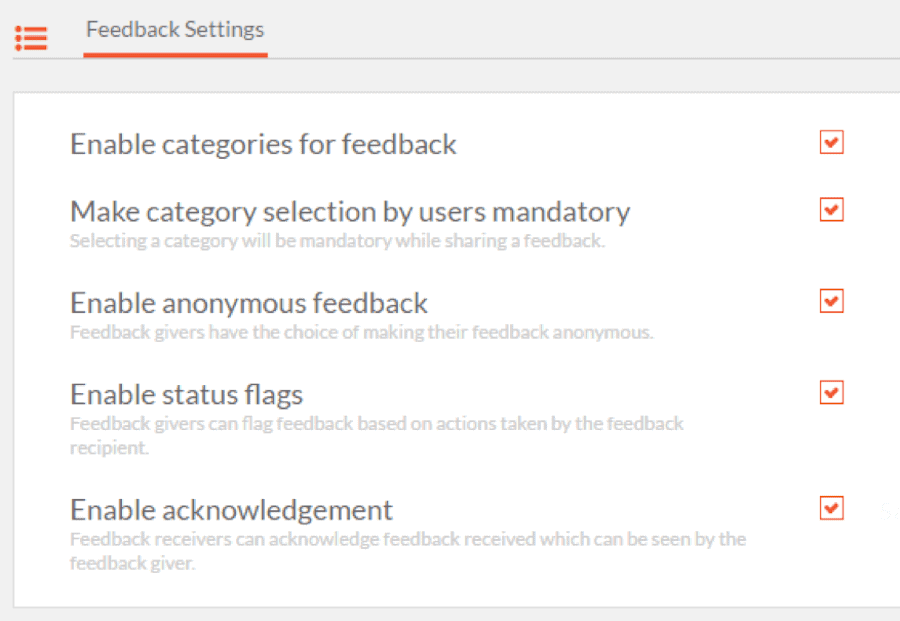 Here's a sneak peek at what the Engagedly team is coming up next.
Google Chrome plugin
Feedback analytics
3rd party feedback
ETA: August
If you have questions or doubts, please contact us at support@engagedly.com.