We've made a few changes to the Learning module and while they are big, we think you are going to like them.
Learning Categories
We've introduced Categories in the Learning module. You can enable Course Categories from the Settings page. The categories have been introduced so that you can filter through courses easily in the Library.

Up until now, when creating a course, the only video that could be uploaded to a unit was a YouTube video. For some of you, that meant the extra hassle of uploading your video to YouTube and then uploading it to your course. We know that was a painful process because some videos are company-sensitive and cannot be uploaded to YouTube. However, there's now a solution to that problem.
While there used to be 4 types of units before, now there are 5. We've introduced a new unit known as the Video File. In a video file unit, you can upload videos directly from your system to a course. You don't have to go through the YouTube rigmarole at all!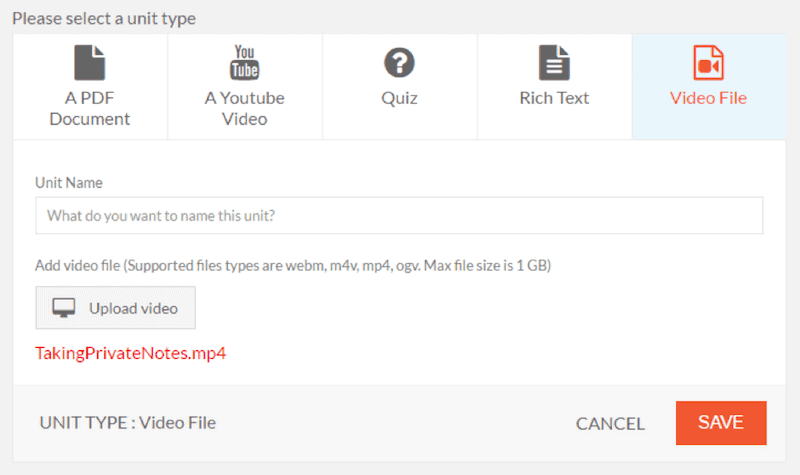 This is a feature that we wanted to incorporate from the start. But for some reason or another, it kept being pushed back. We're happy to say to that we've finally managed to incorporate quiz analytics into the Learning feature.
You have the option to either allow users to see the right answer to a question, soon after they answer it, or you can allow them to see it only at the end of the quiz.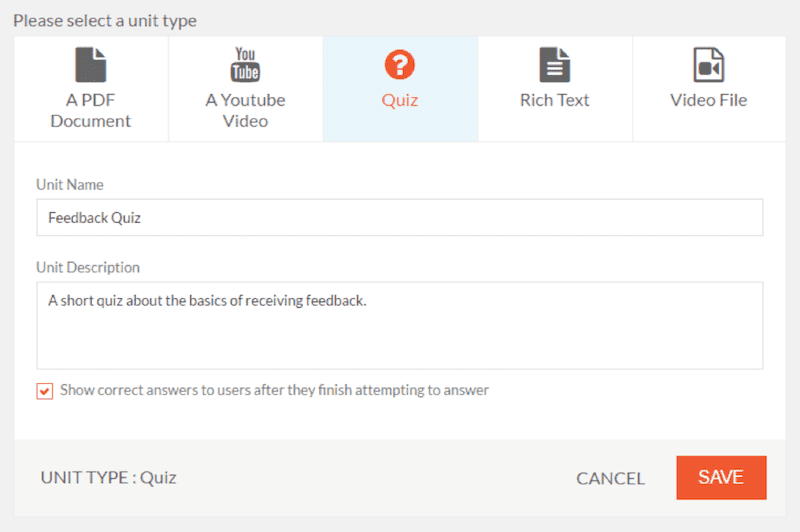 Also, for course creators, when you assign a course that contains a quiz a unit, you can check the number of responses for each question in the unit. You can see this from the Course Dashboard, where there is a tab called Quiz Analytics that is solely devoted to statistics related to the quiz.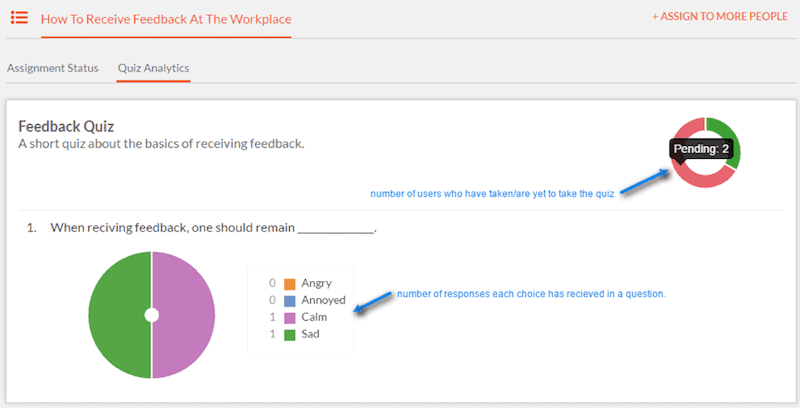 Sub-Menus Look More Organized
Earlier on, the Learning module had no sub-menus. But since that made for some confusion, we've created sub-menus that make the Learning module easy to navigate.
There are 5 sub-menus:
My Course – The Learner's home page where a learner can see all the course they have done, are yet to do, are ongoing etc.
Managed Courses – This is the course creator's home page. All courses that have been created by the user (you) will show up on this page.
Library – All courses that have been pushed to the library by various course creators will be displayed here.
My Team – If you have direct reports, you can see all the courses that they have been assigned, have completed and are yet to complete.
My Org – If you are a site administrator, then you can see all the courses that have been assigned to users, the courses they have completed and the courses they are yet to complete.


So earlier on, when you gave a review at the end of the course, your name was attached to it. But now, you have the option to ensure that your review remains anonymous!