Dashboard
On the Dashboard, managers can see reviews they are yet to submit under Pending Reviews (whether they are pending reviews for direct reports, additional reviews or self reviews) and past reviews under My Reviews
Manage Reviews
Managers can view the Team Dashboard under Manage Reviews. Additionally, they will also be able to view the Secondary Team dashboard, Skip-Level Reviews dashboard and Delegated Reviews.
Bulk Actions are available to managers based on the cycle settings. When a cycle is created, if a site administrator gives the manager additional responsibilities, such as sharing and assigning templates, rolling back templates, etc, those actions will show up in the Team Dashboard.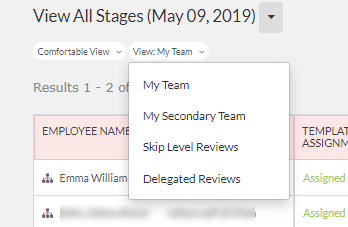 Reports
In the Reports section, managers can view how a cycle is progressing through graphical representations of Nine Box Analytics, Rating Distributions across the cycle and Manager Recommendations as well.