On the bottom right hand corner of your page, you can see a small orange circle which contains the plus symbol. This orange circle is called 'The Plus Button'.
The purpose of the 'Plus Button' is to give users easy access to features that are frequently used. When you click on the Plus Button, a menu opens up. The Plus Button contains six features, Discretionary Points, Private Notes, Share Feedback, Request Feedback, Praise Someone and Post. Clicking on the icons of each of these features opens them up.
The Plus Button is visible on all pages in the Enagedly application.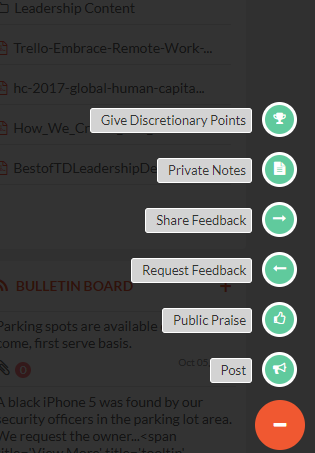 When working as a part of a team, you might come across instances where a coworker or a direct report performs beyond their expectations and saves the day. Sometimes, the feedback you give to your colleagues cannot be categorized.
This is when you use 'Discretionary points'. Award your co-worker with discretionary points and make them feel appreciated for their good work.
Giving Discretionary Points
You can access 'Discretionary Points' through the Plus Button on the bottom right corner of the page.
Once you click on it, you can fill in the details of the employee that you want to award discretionary points to and add number of points. You can select a badge and add a message too.
Here you can limit the visibility of the message by adding  who to share the public feed with.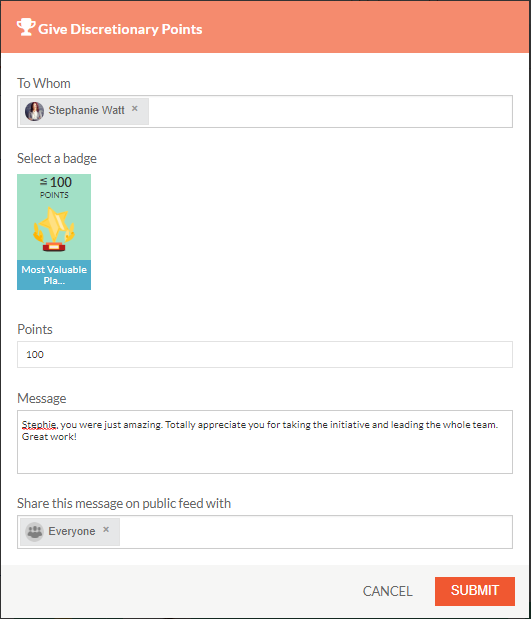 Private Notes is a feature that allows you to make notes about individuals. These notes need not have to be just feedback or praise. They are observations that you might want to quickly make note of. These notes are not visible to anybody except you and will be extremely helpful when your annual performance review process rolls around.
Private notes can be accessed from anywhere in the Engagedly application. One way to quickly access Private Notes is through the orange 'Plus Button' that is visible on the bottom right corner of the page.
Click on the button and then select Private Notes. The Private Notes page opens up. Users can either write a private note about themselves or they can write private notes about others. When writing a private note, users can select 'Someone' from the 'About' dropdown menu and write a note about more than one person.
Users can also share private notes with other users within the organization. All they need to do is select the users they want to share the note with in the 'Shared With' field and then click on done.
To access all the notes you have created about users, you can hover on 'My Space' on the left menu and then click on 'Notes'. All the notes you have created will be visible on this page.
Where Are Private Notes Used?
Private Notes as the name implies are completely private. They can only be viewed by the creator or the person they have been shared with.
Private notes act like a personal diary of sorts. They are here for you to make quick observations about your direct reports or peers. You might observe a direct report's work and want to make note of that somewhere. Mind you, this is different from feedback in the sense that while feedback is shared with a direct reports, private notes are not.
When you are reviewing a user's performance during a review cycle, you will also be able to access any notes you have made about the user. These notes will help you give a review that is informed and precise.
When you click on the Share Feedback icon, you will see a screen like the one shown below. All you need to do is select the name of the person you are giving feedback to and type out the feedback you want to give.
Note : The Feedback feature has it own separate documentation here, where all of aspects of the feature have been expanded upon in great detail.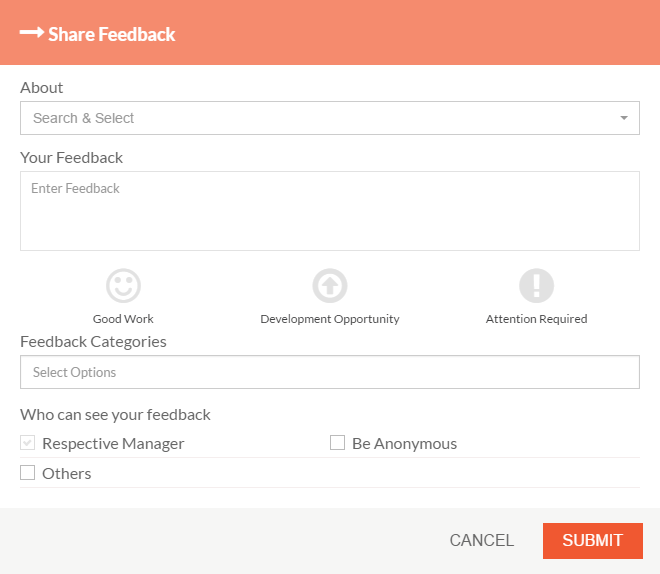 Feedback is a two-way process. You don't always have to wait for someone to give you feedback. Engagedly's feedback feature allows you to request feedback about yourself or about someone else/
To request feedback, click on the Plus Button, click on Request Feedback, select the user who will receive the feedback (either you or someone else) type in your feedback request, select the person you want to receive feedback from and click on submit. The user you have requested feedback from will get a notification and hopefully get back to you quickly.
Note : The Feedback feature has it own separate documentation here, where all of aspects of the feature have been expanded upon in great detail.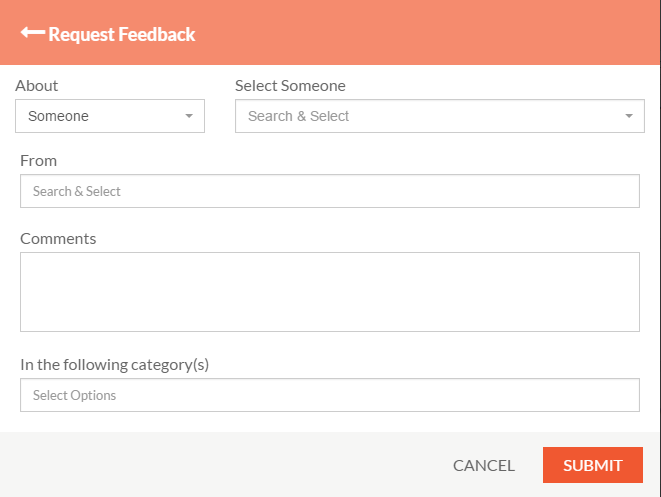 Just as feedback is important, praise is important too. Being recognized for good work feels great.
To praise a colleague or peer, open up the 'Plus Button' and click on 'Public Praise'. Select the user you want to praise, type out your text and click on post. Immediately, your feed will reflect the Praise post and the person who has been praised will receive a notification.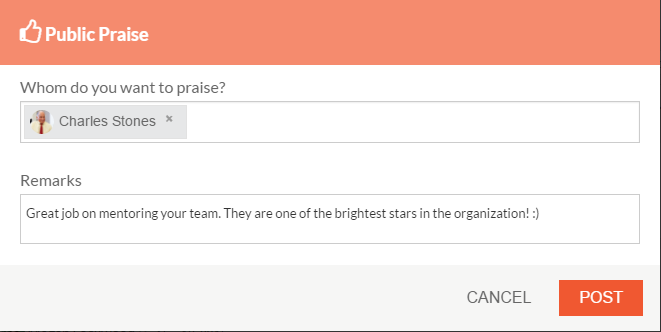 The post feature allows you to make social posts to all the users in an organization or just a select few. With the post feature, you can make 4 different kinds of posts.
Status Update
Ask for Help
Share an Idea
Share Knowledge
The post feature has separate documentation here, where the 4 types of posts are explained.