This revamp of the Feedback module has been a long time coming. From the very start, we wanted to build a module that helped showcase feedback as a powerful and capable tool. For us, feedback has always been synonymous with employee engagement. And employee engagement can only happen when feedback is a constant and continuous process.
A lot of features in this update are geared towards making feedback a continuous process. To that effect, we have introduced features that allow you to see how effective the feedback process is in your organization and how you track and acknowledge feedback that has been given.
Here's a quick look at what's new:
My Feedback page has been redesigned to look more compact and navigable
New filters in the My Feedback tab
Requests tab has been re-designed
New dashboards with statististics in the Team and Organization tabs
Users can now acknowledge feedback that they have received from others.
Users can flag feedback that they have given to others. [Red, Amber and Green Flags according to the action the feedback recipient has taken.]
The comment space has been restructured to showcase a better representation of feedback conversations.
Users now have the option to give feedback anonymously.
A new feedback type has been added.
My Feedback
The 'My Feedback' tab has been consolidated so that everything falls under two main headings: Incoming Feedback and Outgoing Feedback.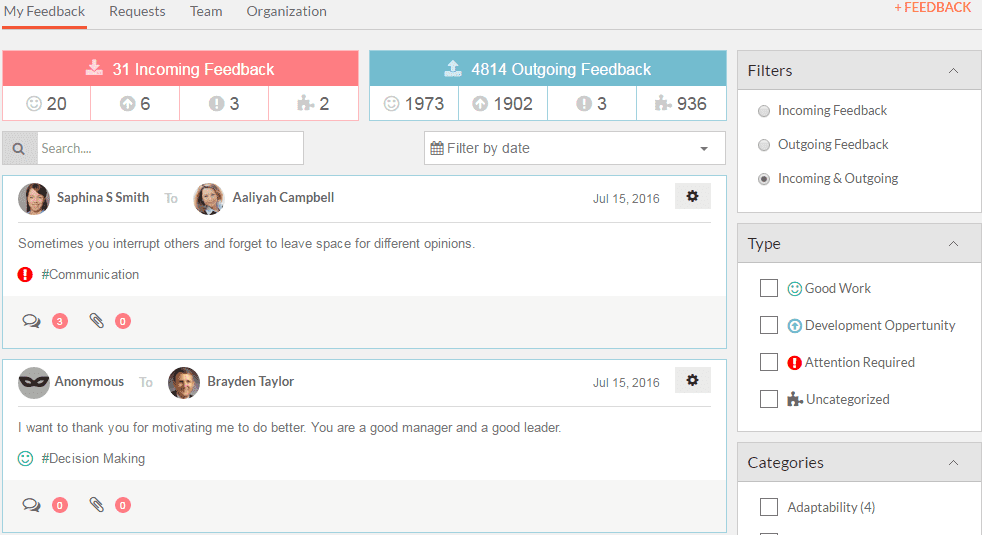 Incoming Feedback is for feedback that you have received. Under it, you will find 4 icons which stand for feedback types which have been briefly explained below.
Good Work – Which is denoted by a smiley face
Development Opportunity – Which is denoted by an upward arrow
Attention Required – Which is denoted by an exclamation mark
Uncategorized – Which is denoted by a jigsaw puzzle piece
Outgoing Feedback is for feedback that you have shared with others. The Outgoing Feedback tab is designed in the same way as the Incoming Feedback tab.
Easy To Filter
We have added more filters to 'My Feedback'. These filters should help you easily sift through feedback either on the basis of dates, categories, acknowledge actions or remedial actions. There is also a filter that is specially dedicated to filtering feedback on the basis of Incoming Feedback or Outgoing Feedback. Your view of the My Feedback page will depend on what filter option has been selected.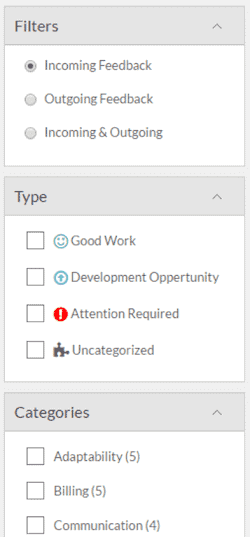 Requests
The 'Requests' tab too has been consolidated into two main headings: Incoming Requests and Outgoing Requests.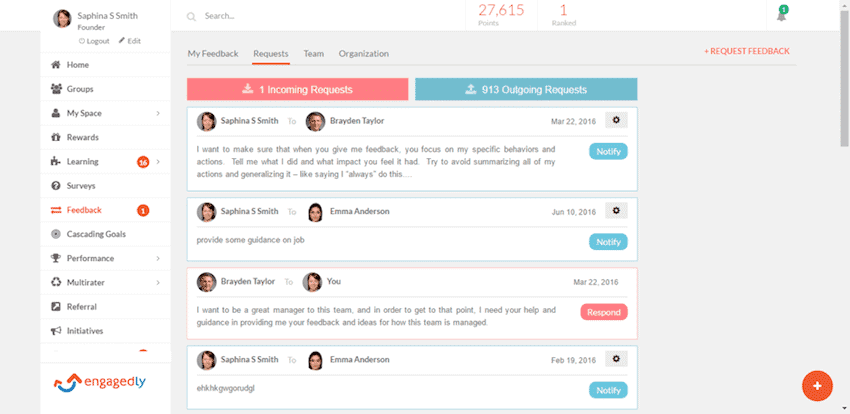 By default you can see a mix of both incoming and outgoing feedback requests. You can use the filters present on the right hand side of the page to filter the feedback requests.
Team & Organization
While the Team and Organization tabs have remained mostly the same, the design has been  changed to accommodate new features that have been added to the module. The new features will help an  administrator or manager understand how effective the feedback processes are at their organizations.
The dashboard statistics can are meant to give both administrators and managers a quick but concise idea about how the feedback module is being used. The dashboard statistics will also make it easier for administrators and managers to detect feedback discrepancies.
Also, we've made the process of filtering feedback a lot easier when it comes to Team and Organization.
You can filter the feedback that employees have received according to Feedback Types, Status Flags, Acknowledgement or Categories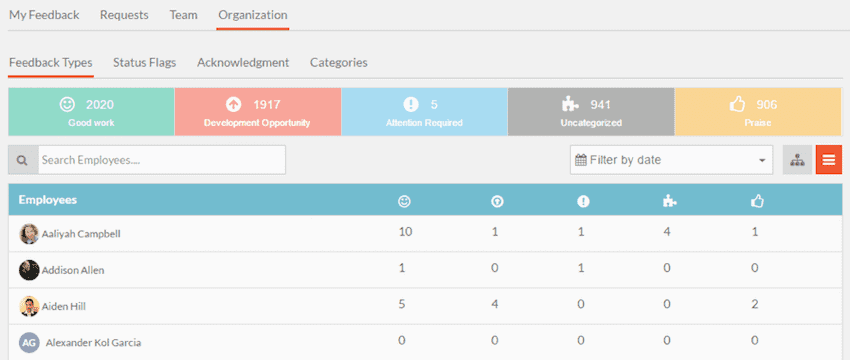 Build A Culture of Feedback
The main philosophy  behind Engagedly's Feedback module is to help organizations build a healthy culture of feedback.
Feedback should never be  just a one-off thing. In order for feedback to be useful, think of it as a conversation that stretches over an extended period of time and consists of two people engaging in a continuous loop.
Receiver Acknowledgements
When you give someone feedback, it would be great if there was a way for you to know if the user found your feedback useful. The Receiver Acknowledgements feature allows a user to do just that. Once a user receives feedback, they can let the user who gave them the feedback know that their feedback was appreciated.
It's a very simple way of saying, "Hey Bob, thank you for giving me feedback", or "Hey Bob, I want to let you know that I am working on it."
The user who gave the feedback in the first place also benefits from knowing how their feedback was received or even if it had an impact on the recipient.

Giver Flags
Keeping track of feedback that you have given is important. If you do not know how the recipient is progressing or if they have even taken note of the feedback or note, the very act of feedback becomes superfluous. The Giver Flags feature are here to prevent from feedback becoming a dead-end.
Once you give a user feedback, you can flag the feedback according to the progress you think the user has been. And as the user makes progress based on the feedback that  has been given, you can change the flag.
It's a fuss-free way to keep track of a user's performance without saying the same thing over and over again.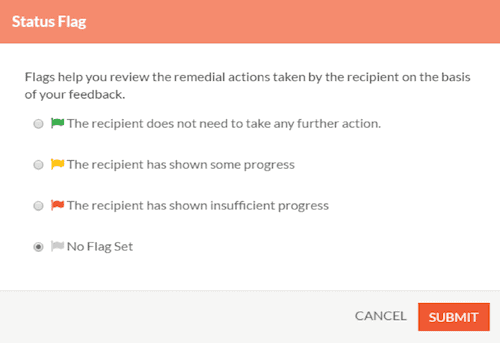 Let's have a chat
Most of the time, feedback is not a formal event that is planned and then executed. 7 times out of 10, feedback is a spontaneous act that happens when one person notices something about another person's performance and decides to say something about it.
When you begin to attach formality to feedback, the act of feedback tends to lose its authenticity. The comment space in the feedback module has been re-designed to give it more of a chatty-conversation like feel. Because that is what feedback is at the end of the day, a conversation between two people.  
One of the best things about Engagedly's feedback feature is that it allows users to give feedback freely and to anybody in an organization.
However, we do know that not everybody is comfortable giving or maybe the feedback that is given is not as genuine as it should be. Getting users to be comfortable with the act of giving feedback is no easy task and we understand that.
With that in mind, we've introduced the option to make feedback anonymous. When users are giving feedback, they can simply mark themselves as anonymous and then submit the feedback.
Obviously, a feature like this might have a few downsides, but on the other hand, the option to remain anonymous could be the impetus that some users might need to share feedback.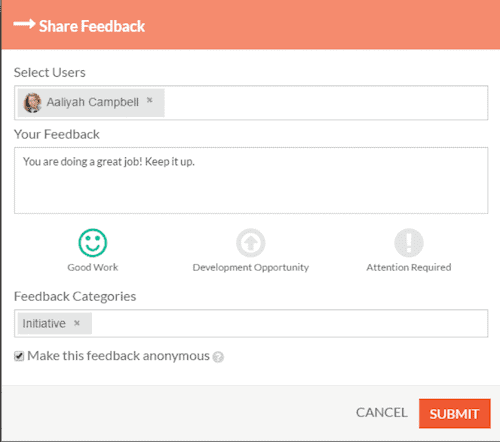 It is not always easy to slot feedback into the Good Work or Development Opportunity feedback types. Sometimes, a manager might want to give an employee feedback that they think requires attention and must be attended to right away.
Instead of allowing feedback like this to go untyped or worse yet, fall to the wayside because the recipient does not that is must be attended too, a new feedback type called 'Attention Required' has been added to the feedback module.
This gives a user greater freedom of choice as it were. Of course, you can always choose not to select a feedback type when giving feedback. But it is nice to have a choice isn't it?