We have made a few enhancements to the Gamification, Performance, Multirater modules. Some of these changes have to do with badges, secondary reviewers and improved performance ratings.
We have made a few enhancements to the Gamification, Performance, Multirater modules.
Administrators can now deactivate any custom badges that they have created by clicking on the badge status and deactivating the badge. The badge can also be re-activated at a later date if the administrators want to utilize them again.

When creating custom badges, it is possible to set a limit for the maximum amount of points that can be awarded at one go. This way, when users are awarding discretionary points to others, they cannot award points that go above the maximum limit for that badge.

All the points that users have received as discretionary points can now be viewed under the the Awarded Points tab on the Rewards page. Users can also see a detailed history of their awarded points by clicking on Details.

In an organization, different people work on different projects. People who might have worked together at one point of time might now be working with different people. So, when reviewing the performance there might be a need to gather inputs from different users.
In Engagedly, administrators can now add secondary reviewers to contribute to the performance review of users in their organization.

You can find a new column 'Secondary Reviewers' in the 'Org Dashboard'.
Clicking on this column against the username, will take you to a page where you can add multiple secondary reviewers.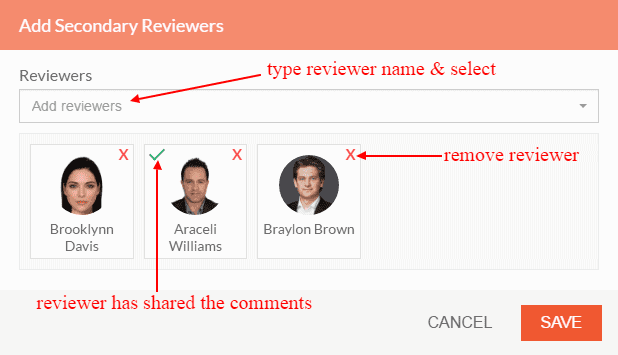 These secondary reviewers can only contribute to the review by adding a comment. They cannot modify or delete the comment once submitted.
Secondary reviews can be enabled through Performance > Administrator > Cycle Management > Cycle you want to edit/New cycle.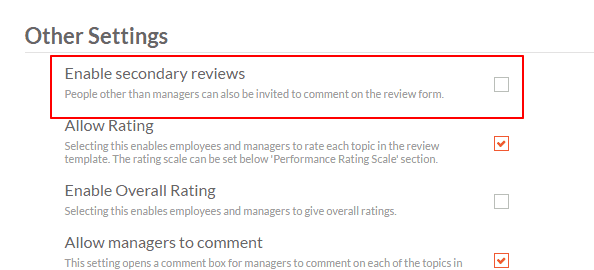 Improved Performance Ratings
Users now have the option to use either verbal ratings or numerical ratings in performance reviews. Administrators can enable verbal ratings through the performance cycle. Like the numerical rating scale, administrators can edit the verbal scale to create a rating scale that suits them. When a verbal rating scale is being utilized in a performance review, the scale and its description will be show on the review form, so that reviewers can check back with it.

Administrators can now add descriptions to the rating scale in the Multirater module. These descriptions will be shown on the review form.