A few vital changes have been made to the Goals module!
Goal Status
Now, you can see the status for a goal on the goals dashboard through the 'Status' column.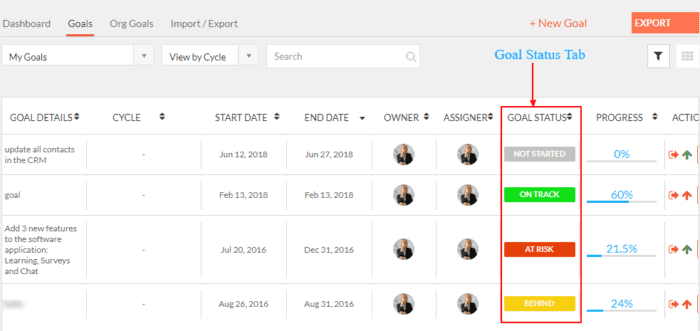 There are 4 types of statuses
Not Started
On Track
Behind and
At Risk
While this setting is disabled by default, you can enable it manually by going to the settings page through goal settings. (Settings → Goals → Settings).
From this page you can choose 'Enable Tracking Status' for enabling manual change of goal status. You can also choose system enabled status change for goals and the status will change based on the end date set for the goal.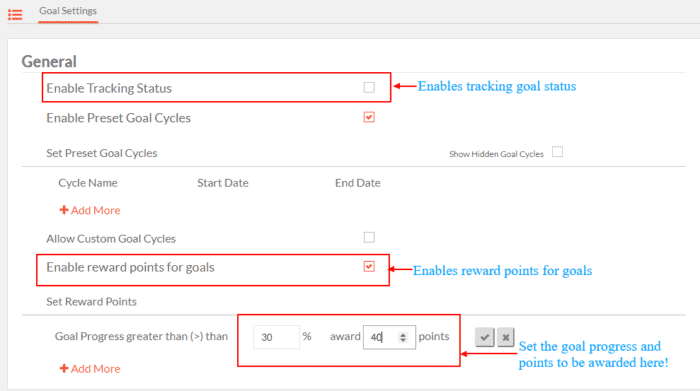 Changing Goal Status
You can change the goal status manually from four places:
Goal detail page
Team Dashboard (For Managers)
Goal Listing Page (For Employees)
Check-in Pop up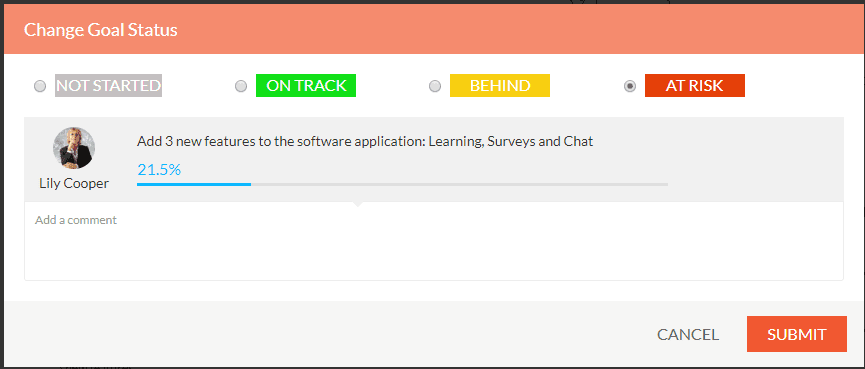 You can also see the goal status history on the goals detail page through the 'Status History' tab on the page.
Note: Only the goal owner, goal assigner and goal manager can change the status of a goal manually. If any one of them changes the status, the other two receive a notification.
A new widget has been added to the goals dashboard to keep track of the goal statuses of the users in the organization.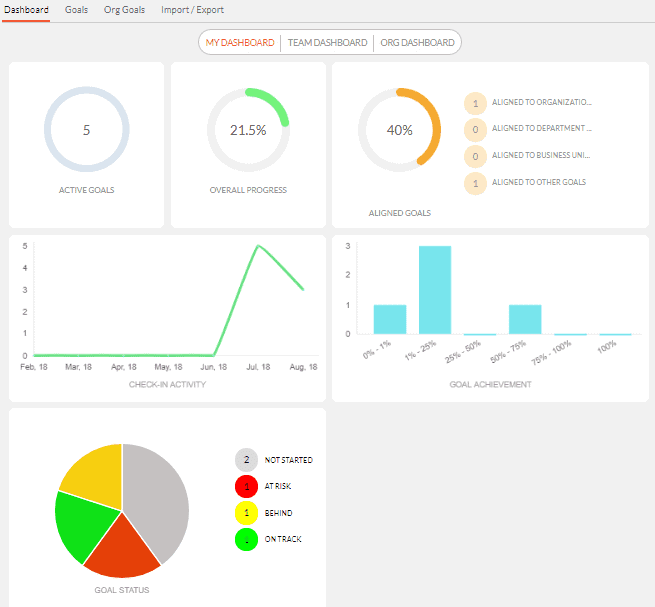 Enabling My Org For Everyone
If you want everyone to follow each others' goals, you can now request to 'Enable goal visibility to everyone' setting. This setting will make everyone's goals visible to everyone in the organization.
Employees who follow other employee's goals (Not their direct reports) cannot take any other action on the goal other than just see it.
Once you enable the above setting, a new filter called 'My Org' is visible to everyone on their goals page and the list shows the everyone's goals in the organization.
Note: No one can take any actions on the 'My Org' goals other than the site administrator/ HR administrator
Inviting Users For Discussing A Goal
Now you can invite users to discuss a goal. Only a goal owner, goal manager or a goal assigner can invite other users to discuss a goal.
Goals Gamification
Now the goals module has been gamified too! A new badge called 'Goals Hunter' has been introduced to motivate users to set, complete and check-in on their goals regularly.

You can enable this setting through the goals settings page and you can set reward points to give to users on completing a goal and the points will be added to their scoreboard once the end date of their goal is reached.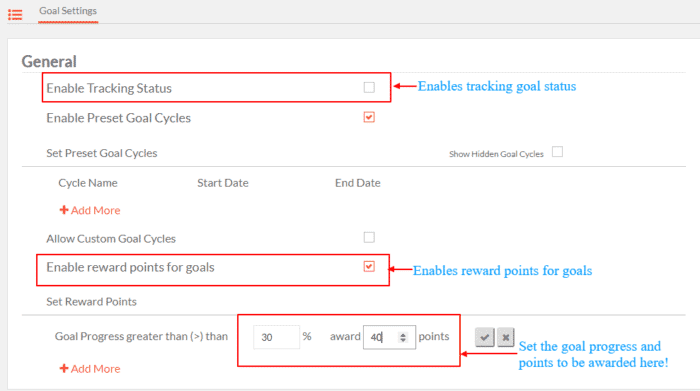 Exporting Goals I Follow
Now, you can export the goals that you follow by simply selecting the export button on the 'Goals I Follow' page.

Enabling 'Goal Settings' For The Organization
Now, you can make goal settings visible to and manageable by employees. All you have to do is, go to permission management and select, 'Manage Goal Setting For Organization'.

About Engagedly
Engagedly is a performance management software for organizations looking to provide their employees with the opportunity for frequent and real-time feedback and accurate performance reviews. The software is easy to use and powerful enough to work with businesses of all sizes. Engagedly's features like 360 feedback reviews, OKRs, manager feedback, peer praise, learning and rewards help engage the workforce and improve the overall productivity of an organization.