Certain changes have been made to the Survey, Goals, Multirater, Rewards and My WorkSpace modules. We have also introduced a Weekly Digest.
Survey
Get an option to add message while assigning surveys
When you click the next button on the survey assignment page a notify pop-up appears in which you can add message for users while assigning surveys.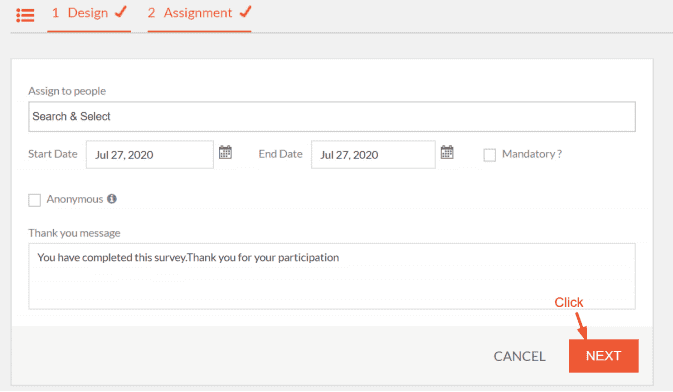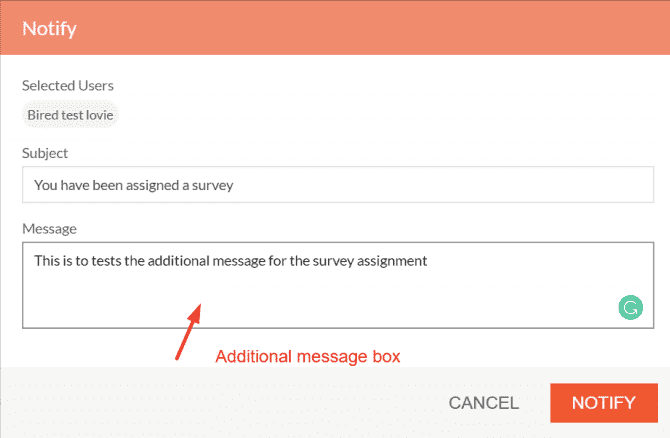 Weekly Digest
Get notified of all completed and pending activities in your email every week
We have introduced a weekly digest email notification where users will be notified about the past week's activities and pending actions.
Digest emails will be sent once in 7 days for all the users in the organization who have enabled digest email settings under the org preferences. This is applicable for all Live and Active Organizations

Digest Email lists the 10 recent notifications triggered for the user under 'Notifications' and all 'Pending Actions' if  they are available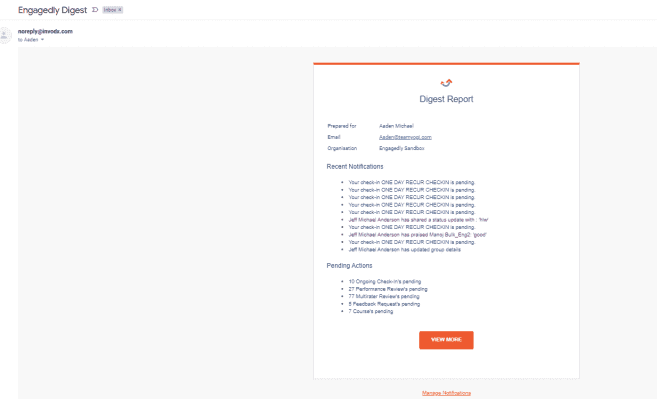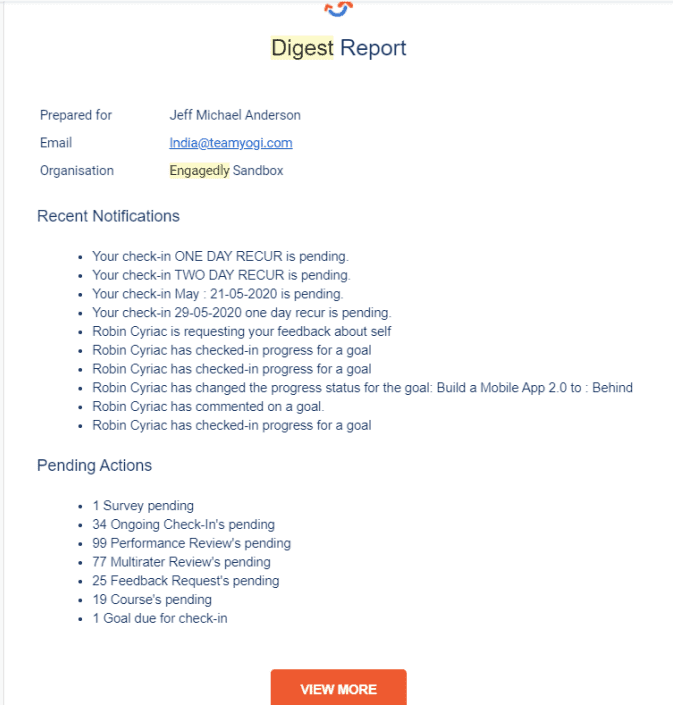 If digest emails are enabled in org level preferences, it will be enabled to all users in the organization. Individual users can disable it from their preferences setting
Clicking on 'VIEW MORE' from the digest email, you will be navigated to their Home Dashboard page
Clicking on 'Manage Notifications' from the digest email, you will be directed to their Preferences page
Pending actions will be listed from Performance, Multirater, Learning, Goals, Survey, Feedback and Ongoing Check-ins
Digest emails will be triggered to all Live and Active clients on every Saturday at 11:30 UTC
Groups
Post to group using the "+ icon"
When you navigate to the Groups Feed page and try to post to the Group from the "+ icon" there will be the respective group name in the post pop up
The post will be shared with the respective group only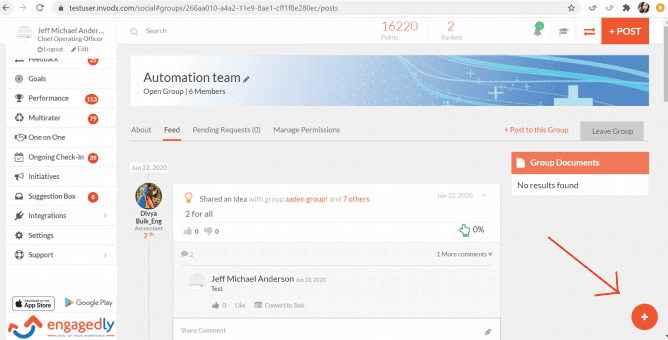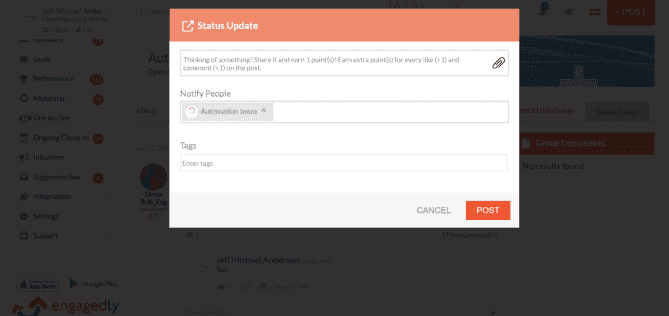 Goals
Ability to track less than 1 on target field
While goal creation in the application or through import, now you have the flexibility to add decimal values in the target field (Ex: 0.1, 0.2, …) for quantity measurement type
When you provide a value less than 0 for the target field, an error message will be generated, and you would not be able to create a goal
If you try to import a goal with value 0 or less than 0 for the target field, goals would not be imported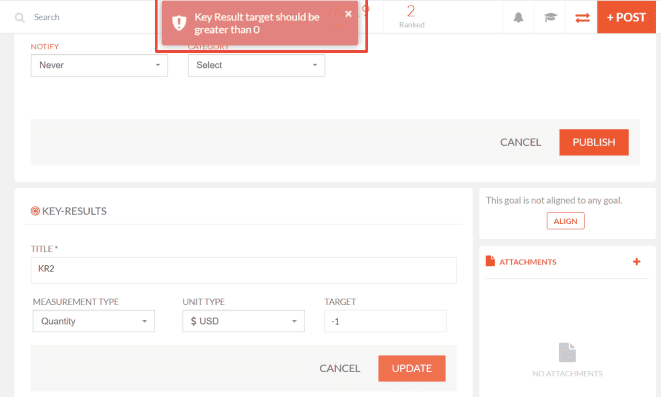 Multirater
Self-nomination pending action count is included on My dashboard 'Pending Actions' widget
Now you can navigate to self-nomination pending action count on My dashboard 'Pending Actions' widget.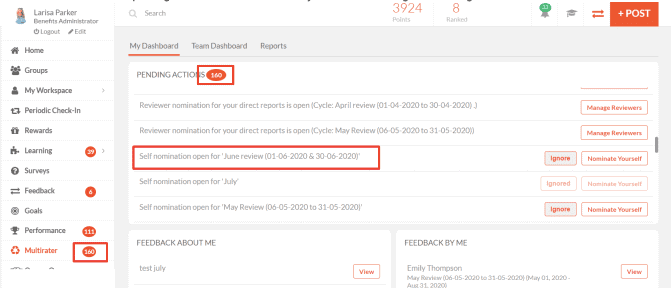 Rewards
New locations have been added to the reward list
The following locations have been added into the redemption list: Argentina, Austria, Belgium, Czech Republic, Denmark, Hong Kong, Ireland, Luxembourg, Netherlands, Poland, Portugal, Qatar, Sweden. Switzerland, United Arab Emirates. Tango cards will be shown as per the respective location selected.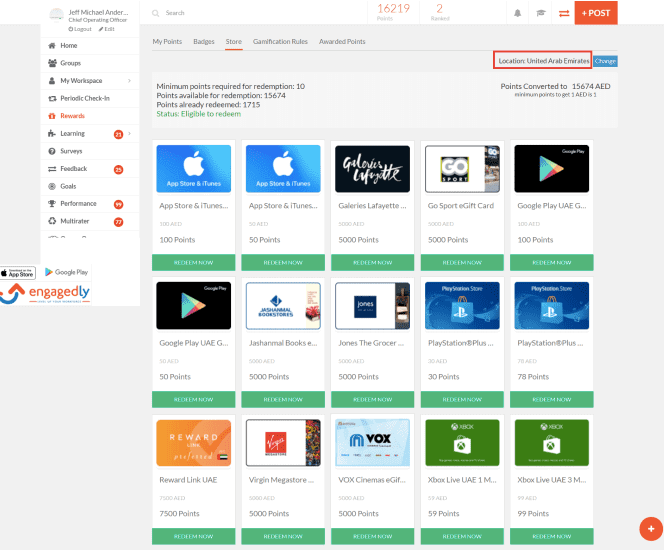 My WorkSpace
Ability to view Org Chart in full page pop-up
Now 'VIEW ORG CHART' option can be found on Org Directory from My Workspace
Once you click on 'VIEW ORG CHART' option, pop-up opens up with hierarchical chart
Organization chart is renamed to 'Org Directory'
Hierarchical Chart, Reporting chart are removed from the tab list