A few enhancements have been made to the Engagedly application, especially in the Social and Learning modules.
We have introduced a new feature called Birthday Alerts. Since Birthday Alerts can only be enabled through request, if you would like to use the feature, please raise a support ticket with your request.
When Birthday Alerts are enabled, an automated alert will be sent to the manager of the employee (whose birthday it is) and to the direct reports of that manager. This alert will be sent the day before the birthday of the user.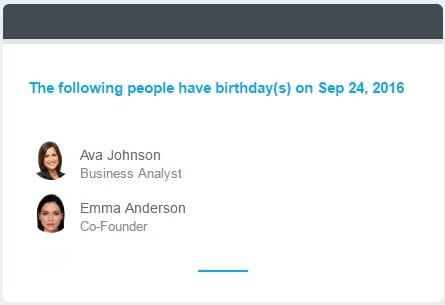 By default, anyone in an organization can create courses. However, we understand that in some organizations, course creation needs to be limited. If you do not want course creation to be available to everybody, you can request a support ticket with your request and we will disable the feature.
Once this feature has been disabled, site administrators can limit course creation by creating a new Learning permission with a course creation capability.

Before, when users were checking-in on goals, one could only see the percentage/quantity check-in slider along with the comment box. Now in addition to this, users can also see the goal description in order to give more context to the check-in.

When responding to a feedback request, users now have the option to allow managers ( of the person receiving the feedback) to view or not view the feedback. However, this is dependent on feedback settings that have already been set by system administrators.