A few enhancements have been made to the Multirater module. They include self-nominations, improved templates, reviewer relations and more.
Template Listing UI Changes
The Templates page in the Multirater module has undergone a major facelift. The new design of the page is more streamlined and makes it easy for users to navigate.

In the Templates feature, we have introduced the ability to add sections. Creators can now group questions based on their similarity and place them under a section.
This allows users to create cohesive templates can be easily followed by both reviewers and reviewees alike.
Questions can still be added to the template, independent of sections. The sections are just there to streamline the template. To add questions directly to the template, click on the ADD QUESTION button at the bottom.

The first time you go inside a newly created template, you will be prompted to create a new section.
Here you can provide the following information:
Section – Title for the section
Short Title – A short title will be useful when the section title is lengthy. The short title is mandatory if the section title exceeds 60 characters.
To add new sections click on the ADD SECTION button at the bottom. Once you are done with saving a section, you can then add questions to it.
To add questions to a section click on the ADD QUESTION TO THIS SECTION link under that section.

Fill in the following information to add a question to a section.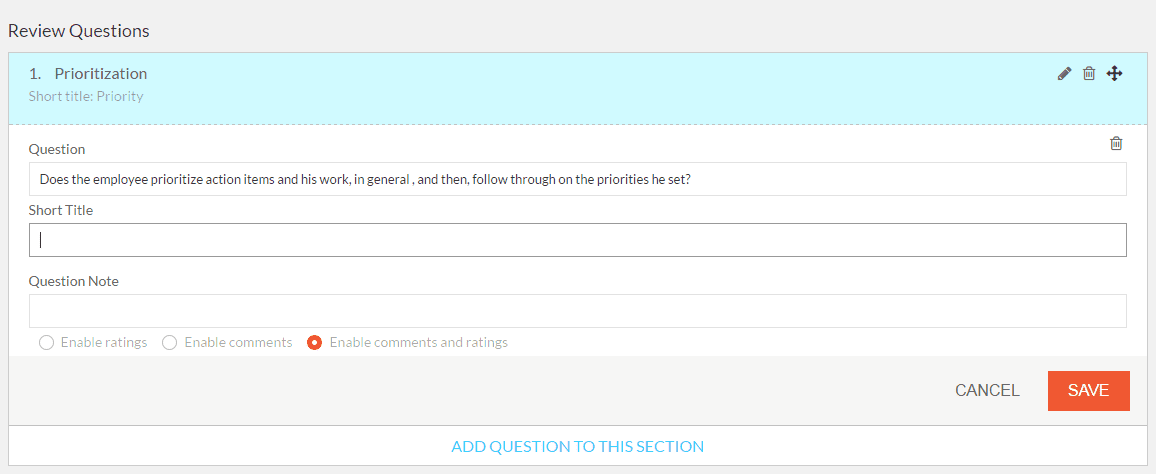 Question – Type your question here.
Short Title – Provide a short title for this question. A short title is mandatory if the question exceeds 60 characters.
Question Note – A question note is nothing but the additional information that you would like to add to help reviewers to understand the question better or to provide the context.
Rearrange your Questions and Sections
You can now rearrange the questions and sections inside a template. Earlier you had to edit the questions or delete a few to change the position of questions. Now you simply have to drag the questions or sections to reposition them.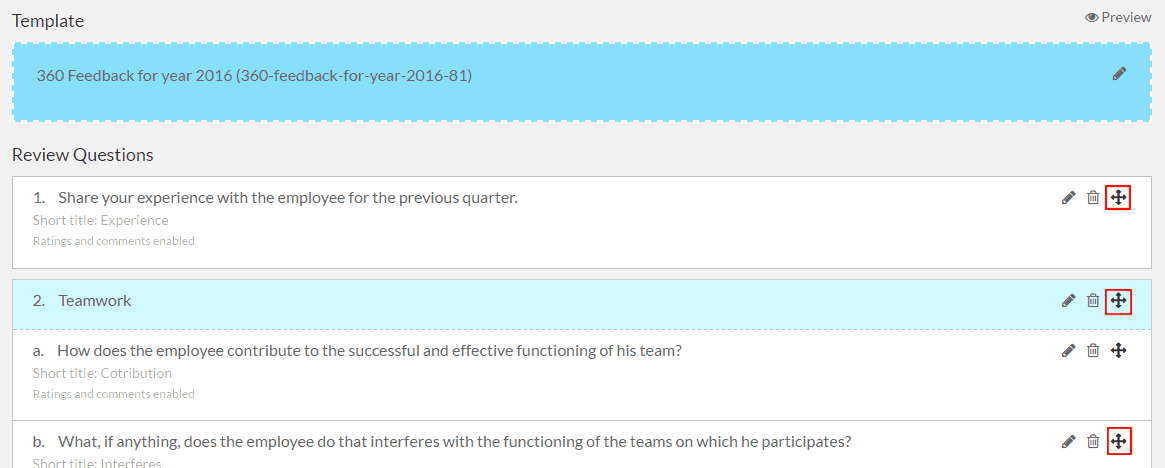 However, questions under a section can only be repositioned within the section and cannot be taken out to place it under a different section.
We are adding a new enhancement called Reviewer's Relation With Reviewee to the Multirater feature.
HR managers are not always aware of a reviewer's relationship with the reviewee. Having this information in the feedback form is a valuable addition to the Multirater process because it will help HR administrators gauge in what context that feedback is being given.
This enhancement can be enabled from the Advanced Settings section in a Multirater cycle.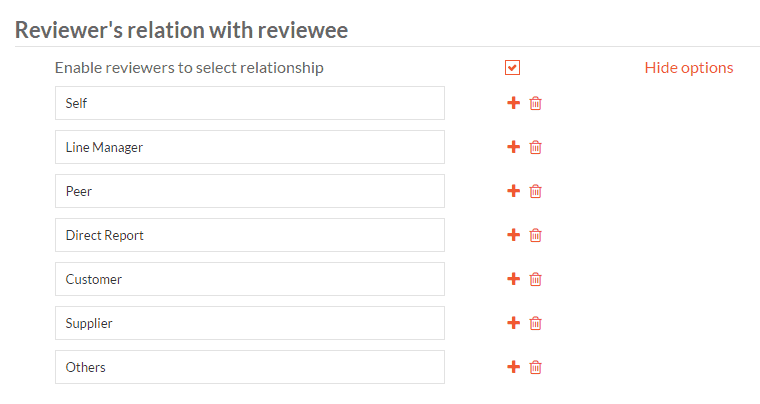 Once you enable this option you will be able to manage the list of auto populated relationships. When creating a cycle, you can add relations and even delete them. However, once you save a cycle, you will not be able to delete them. However, you can deactivate them.
This feature is cycle specific so reviewers will see a section asking for their relationship with the reviewee on the review form only for those cycles. This information will also be used in various places such as feedback exports, future multirater analytics etc.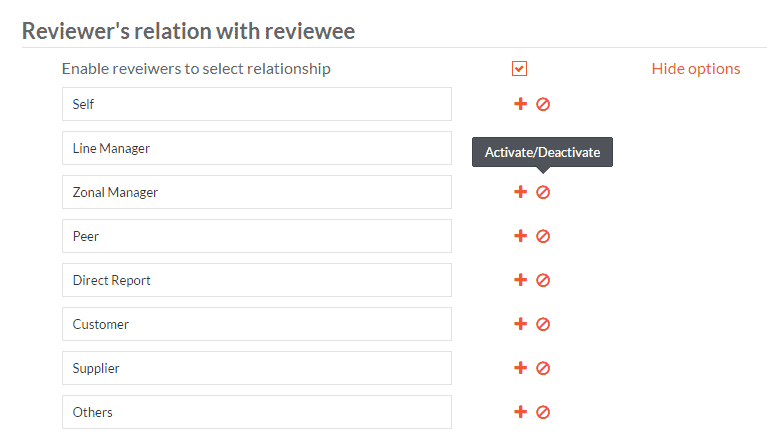 We have added a new feature to our application that lets users nominate themselves as reviewers for their colleagues.
Self nominations are useful because they allow employees a say in the reviewing process. While administrators and managers might know who exactly to add as a reviewer, they cannot be aware of all the users who are equipped to review a single user.
The ability to self-nominate one's self as a reviewer fixes that problem. This feature is cycle specific and can be enabled from Advanced Settings.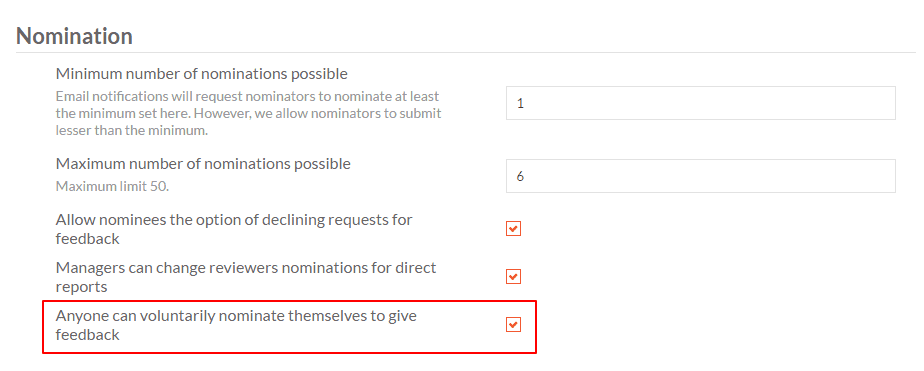 Once this feature is enabled, users will be prompted to nominate themselves from Multirater My Dashboard.

By clicking on the 'Nominate to review' link, users will be redirected to a page where they can see the list of employees for that cycle whom they can review.
Self nomination follows all the settings defined for a cycle, hence the dates and the limit on number of reviewers (Max. Nominations) are applicable too.

Reviewee and Reviewer Import from Excel
A new import feature has been added to the Multirater module. In this import feature, administrators can add reviewers and reviewees to a Multirater cycle by simply importing a single Excel file.
This feature is especially handy when the number of users in an organization runs into thousands.
To add reviewees and reviewers to a cycle HR admins need to download a excel template from the org dashboard, fill in the eligible user information and finally import the file. You can add both internal and external reviewers through the import feature.
To add internal reviewers, you just need to provide the email ids of the users (colleagues).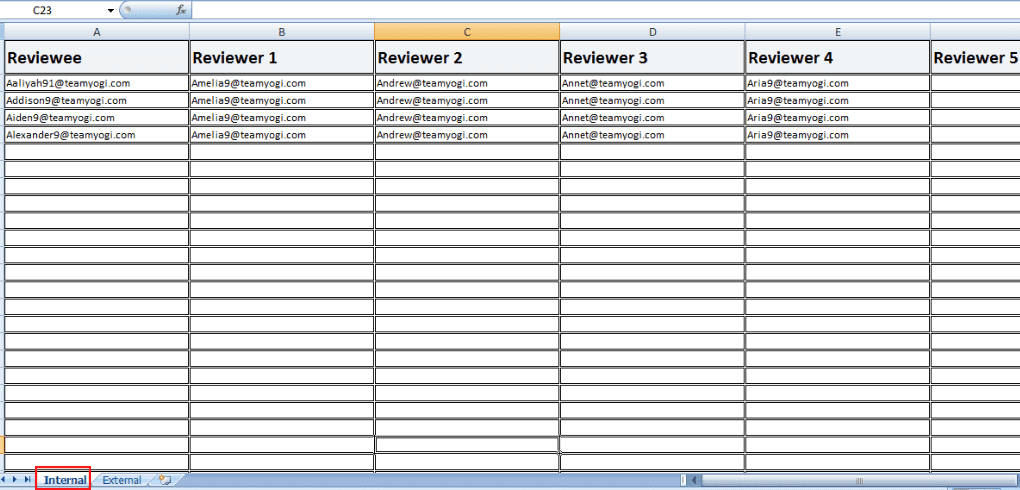 To add external reviewers you need to provide the names & email ids of people you want to add.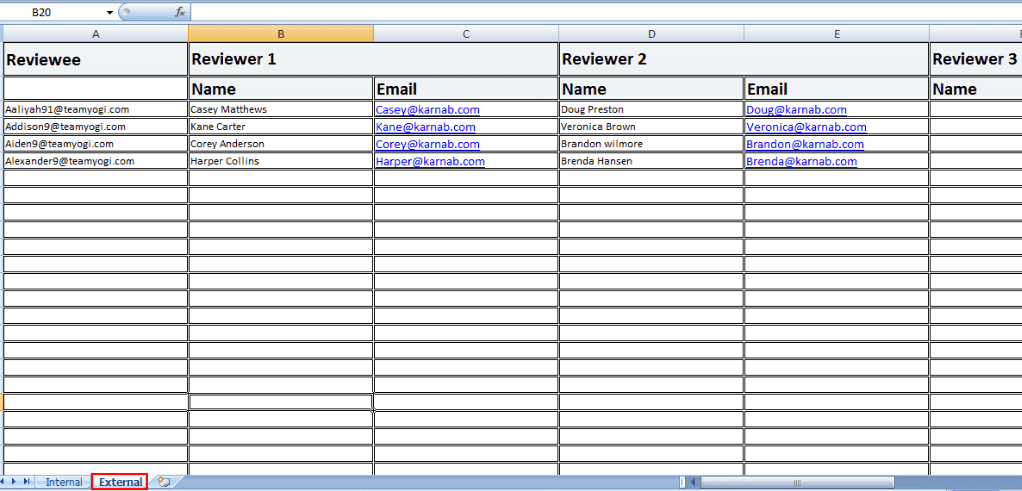 Notify Reviewer Email Customization
Notifying reviewers regarding their pending reviews about their colleagues can now be customized. HR admins will now be prompted to provide a subject line and message for the reminder emails when they hit the Notify Reviewer button on the org dashboard. Both internal and external reviewers can be notified. Only reviewers with reviews pending will be notified through this method.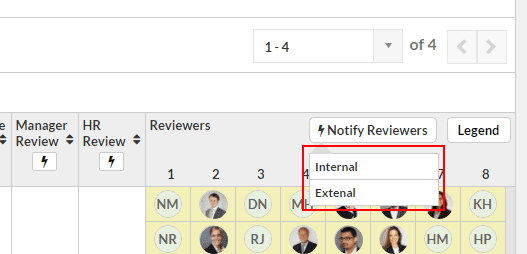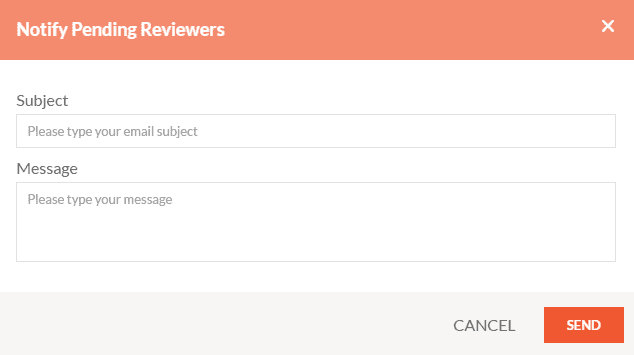 Export Complete Cycle Results
It is now possible for administrators to export the complete results of a cycle to an excel file. This file will have the names of all the reviewees, names of their reviewers, their relationship information, ratings and comments for each question etc. The excel sheet will contain two sheets. One sheet contains the entire information of the cycle, the other contains a description of the rating scale used in the cycle.