Engagedly Launches Engagedly Academy For Its Users : This feature focuses on creating awareness about the HR industry trends and its best practices and familiarizes its users with Engagedly's HR philosophy.
Engagedly has introduced a new feature known as the Engagedly Academy. This feature is available to all of our clients and is denoted by a graduation cap icon on top of the page and can be seen next to the bell notification icon.
Engagedly Academy is a forward-thinking and innovative approach specifically designed for Engagedly's clients, to create awareness about the latest HR trends in the industry. The academy mimics a few crucial aspects of Engagedly's LMS, making it easier for users to get started!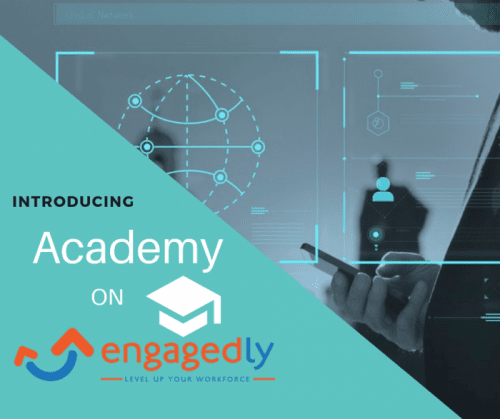 The academy allows its users to learn about various HR aspects like Performance management, Goal alignment, Multirater, Competency raters etc.
Engagedly's passion about continuous employee performance improvement and engagement led to the creation of an academy of courses that enables employees to be a part of a continuous learning culture.
The impetus behind the Engagedly Academy was to disseminate HR knowledge and help our clients become more familiar with some of the more complex aspects of HR. It also aims to share information about industry best practices that can help users with regards to performance management, feedback, goal setting, employee engagement, etc.
The Engagedly Academy consists of courses created by HR experts at Engagedly. These courses are available to all users in an organization. A user can choose to assign a course to themselves, or even assign the course to others. It is similar to Learning module in that if a user assigns a course to themselves, it will show up in the Learning module, in the Assigned To Me tab.
However, we do know that not all of our clients use the Learning module. Even then, the Engagedly Academy is available to them and any courses they assign can be viewed through the Academy Library.
---
Do you want to find out how Engagedly academy can help you? Talk to our experts! Request a demo.
Chandler Barr is the VP of Sales at Engagedly and is focused on driving a culture of progress over perfection in a no-fault environment where employees are secure and encouraged to think creatively to solve problems. Chandler is a seasoned leader that has scaled sales teams for SaaS startups and multibillion-dollar publicly traded tech companies, as well as, led Marines to accomplish the mission during hardships overseas.
March 22, 2023
How can companies grow their teams and align them with business objectives? How can…
March 7, 2023
Who Is Marissa™ AI? Marissa™ AI is the AI enablement coach and a game-changing…