We have introduced an additional feature where the CxO's will have access to their very own customised dashboards. Each dashboard will have widgets all in one place, some of which include:
Goals 

Performance 

Feedback 

Rewards 

Learning 

Members and Celebrations 

Diversity and Inclusion
CxO Role
In the Engagedly application, only Site Admins can assign a CxO role to any user in the organization from user management page.

Once the CxO role has been assigned, you can access the CxO Dashboard from the application sidebar. 

Clicking on CxO icon will navigate you to CxO Dashboard Page.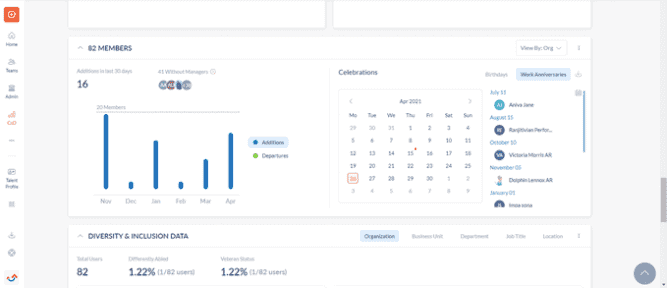 Site Admin can revoke your CxO Role from user management page. 

Widget Management
As a CxO user, you can do the following activities in CxO Dashboard:
Add a widget 

Remove widgets 

Re-order 

Reset 

View Report on various modules enabled in the organization
Add Widget 
When you click on the Add Widget button on the top-right, it opens a Add Widget pop-up on the bottom of the page 

In Add Widget pop up, click "Add" button on the required widget card 

Once, the widgets added in the CxO dashboard, "Added" label will be shown on card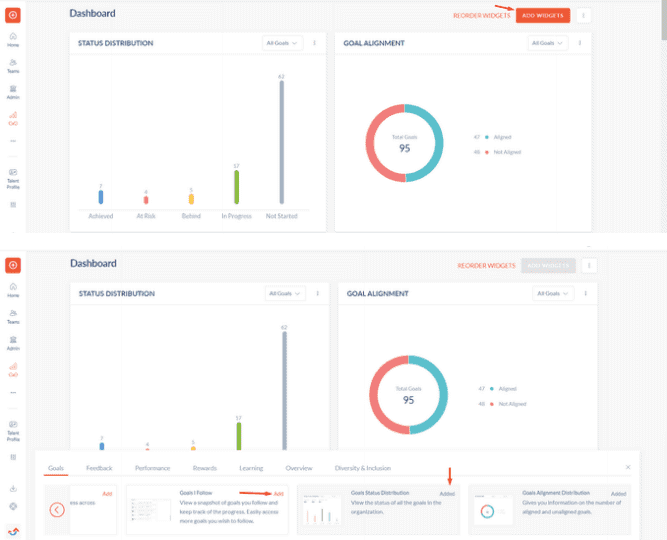 Remove Widget 
You can remove the widgets by accessing the context menu of each widget 

Reorder Widget
As a CxO user, you can reorder the widgets by clicking on the top right of the page 

In Reorder widget pop-up, drag and drop the widget cards, and click on save button to re-order the CxO widgets accordingly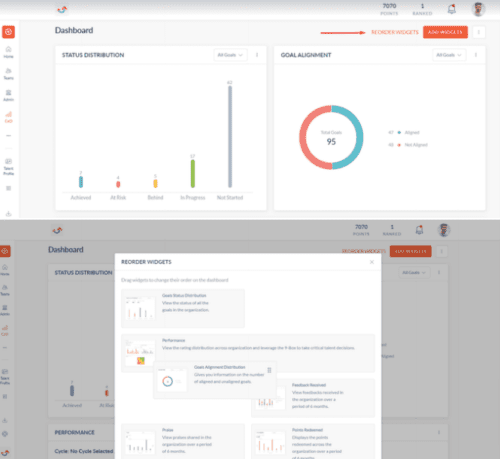 Reset Widget
When you click on the Reset Widget in the overflow menu on the top-right, you will reset the CxO Dashboard to default state, which will set all the default widgets in place

Goal Widgets
In this widget you can view all the Org Goals 
As a CxO user, you can filter out required goals and view the average check in progress of all the contributors 

You can see all the goals and its hierarchy 

You can see the goals details as drill downs 

Filter the goals based on active status, periods, cycles and date ranges

Business Units and Department Goals
You can view all the department and business unit goals 

On clicking the respective Business Unit or Department, it will list all the goals as drill downs

Goals Status Distribution and Alignment 
As a CxO user you can view the report based on the status of each goals 

You can also view all the aligned and non-aligned goal reports

Goals I Follow 
As a CxO user, can see all the goals which are followed by the current users 

You can view goal hierarchy and unfollow the goals 

You can view the goals directory and

filter the goals based on the periods

Performance Widget
Performance report like rating distribution, goals review distribution, and leadership potential widgets are visible for any performance cycles in the org

When you click the Select Cycle button, it will open a cycle listing pop-up, you can choose the required cycle to view the reports. Clicking in respective graph bar will show the reports as drill downs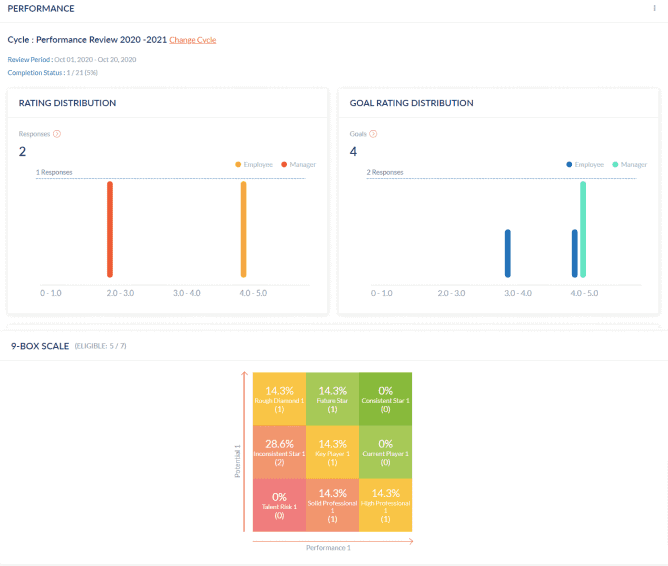 Feedback Widgets 
As a CxO user, you can view the Feedback received report of the all employees in the organization for the latest 6 months. However, feedback information will be restricted. You can view the feedback information only if it's shared with you.

Only feedback request report of last 6 months will be visible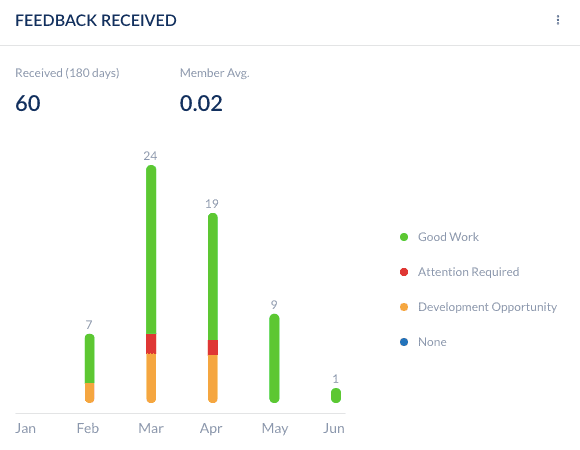 The public praises of last 6 months will be visible only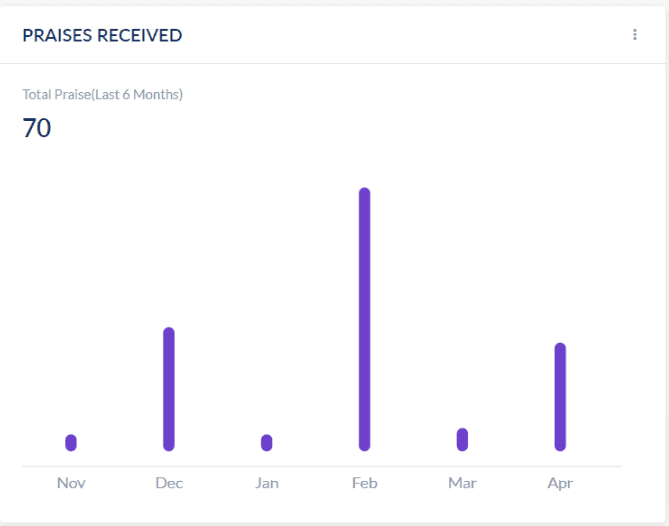 You can view the top 8 categories in which most of the feedbacks has been shared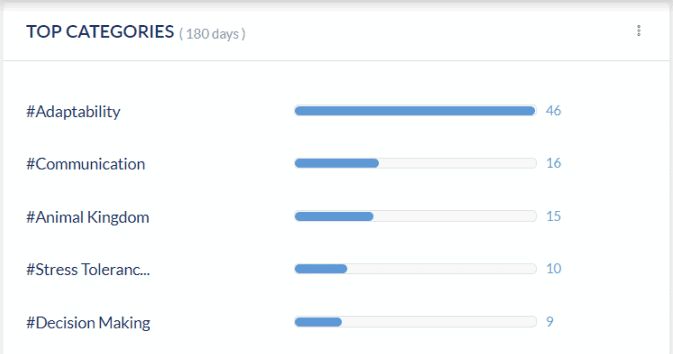 Reward Widgets
You can view the Points Redeemed and Points Received report for the latest 6 months

As a CxO user, you can view the points and rank of each user in the organization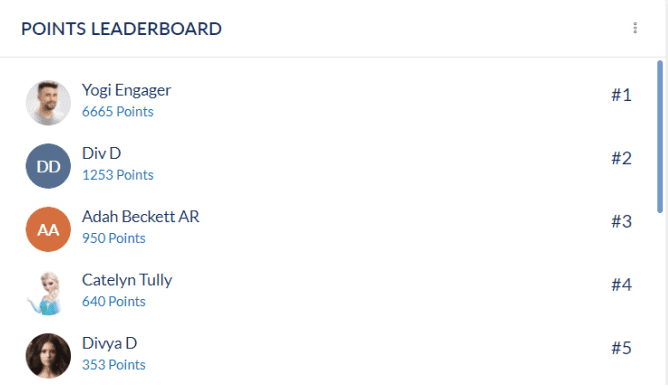 Learning Widgets
As a CxO user, you can view the drill-down report of all the Assignments by clicking respective status in the Donut 

View the drill-down report of all the Assignment with the Due Date by clicking respective status in the Donut

The drill-down report of all the Self Enrolled courses and Assigned courses are visible for the latest 6 months

You can also view the time spent report by hovering mouse over the respective months 

Members and Celebrations Widget 
As a CxO user you can view report of the total members in the organization and members without managers 

You can view the report of latest Additions and Departures of employees in last 6 months 

You will also have access to the report of birthdays and work anniversaries of all employees 
Diversity and Inclusion Widget 
As a CxO user you can view the report of total users, total number of differently abled users and veterans 

You can view the report of based on genders, age and ethnicity 

You will also be able to access the report of diversity and inclusion by filtering business unit, department, job title and location