We have revamped Engagedly's Real Time Performance Management Software. We will highlight the key changes here.
Key Highlights:
Better Cycle and Template management for Admins and HRs. Improved review forms for reviewee and reviewers.
1. Cycles
As a site admin you can now access the list of cycles by navigating to My Org (Admin) Performance Cycles.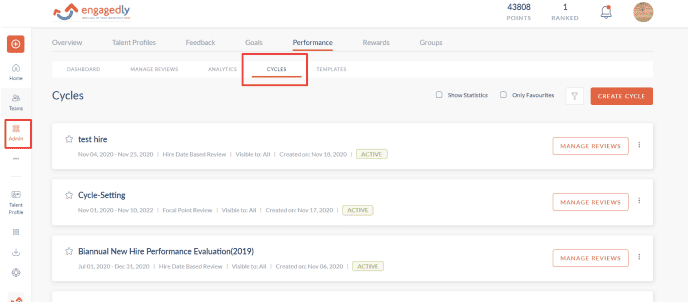 1.1 Cycle Listing Page
When you enable 'Show Statistics' checkbox it shows the statistics of all listed cycles
On selecting 'Only Favourites' checkbox it will list only the favourite cycles marked by you
After you have clicked on Filter icon you will be able to filter cycles by name, cycle date, cycle type and status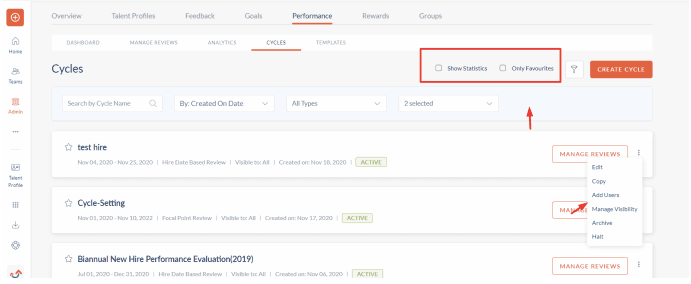 1.2 Create / Edit Cycle page
Sections headers are listed towards left of the page and respective section will be highlighted when you scroll to the particular section
Help text gives you a better understanding of cycle settings
Preview button helps to view the review form in the preview mode based on the current cycle settings. Preview can be viewed as a Employee, Reviewer and HR based on the cycle settings
2. Templates
2.1 Template Listing Page
As a Site Admin you will be able to access the list of templates by navigating to My Org (Admin) Performance Templates. If you are a general user with required permission, you can access the list of templates by navigating to Manage Performance Templates
Click on filter and search options to filter
For list of template settings and actions click on the overflow menu beside the template status
2.2 Create / Edit Template page
Include the Job title based Competency section in review template
Include the Goals section in review template
Weighting can be allocated to each section
Add new custom sections and questions to be shown in the review form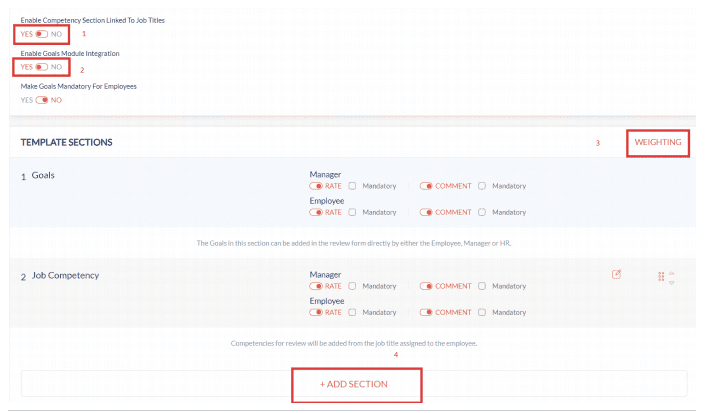 3. Home Overview
3.1 Employee view
As an employee you can access the overview page by navigating to: Home –>Performance –> Overview

The overview page for an employee consists of 2 sections they are "Pending Actions" and "Your Submissions"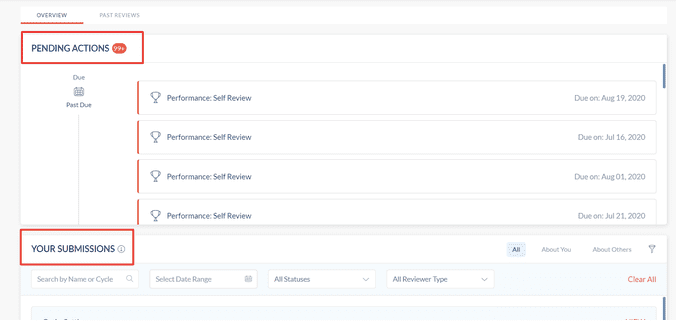 All review pending actions are listed under the "Pending Actions" section from where reviews can be submitted accessing respective review forms
If  as a Manager or Skip level manager you have multiple pending actions for multiple users in the same cycle they will be grouped and shown under single pending action
Pending actions will be listed according to the due dates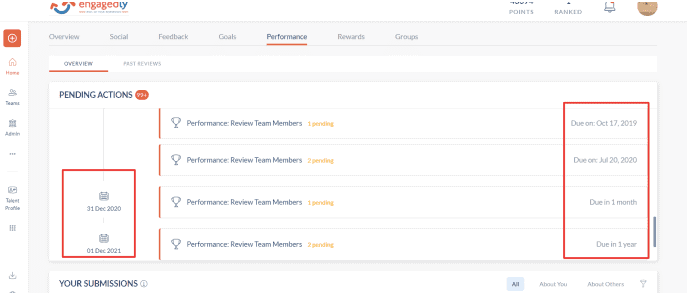 As an employee you can view all the reviews submitted as self, delegated reviewer, additional reviewer, and manager under "Your Submissions" section by using 'All Reviewer Type' filter. By default, all types of reviews are displayed
You can only view reviews with Ongoing, Locked, and Completed statuses under your submission where the statuses can be filtered accordingly using status filter. By default reviews with all statuses are displayed
3.2 Past Reviews
Past Section consists of "All", "About You" and "About Others" filters through which you can filter and view data accordingly
Reviews can also be filtered using date and search filter available clicking on filter icon
The cards for Completed/Locked reviews are in white background where for Ongoing it is in blue background
Employee can view submitted reviews by clicking on "View" on the review cards
If employee is not part of review and manager review is visible to employee then, they can view those kind of reviews under "Past reviews"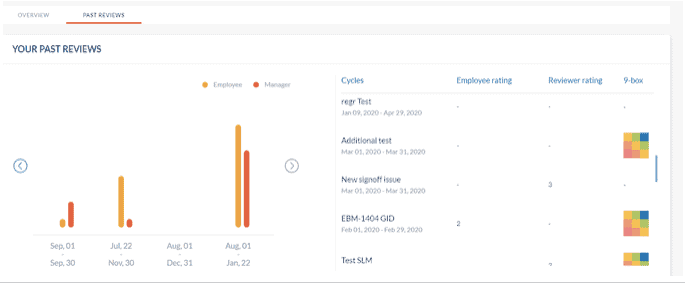 4. Teams Overview
If you are an user with direct reports then you can view all the pending actions, alerts, and reviews submitted by your direct reports by clicking on: Teams –> Performance –> Overview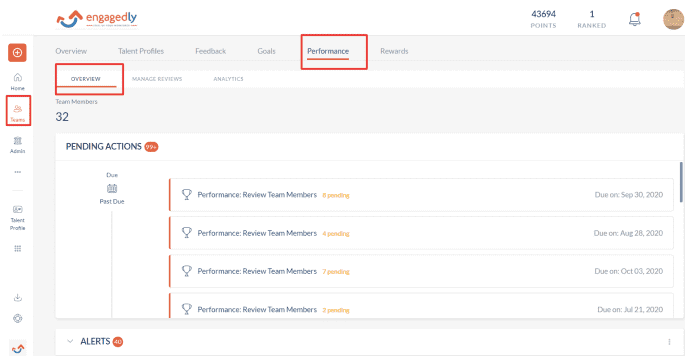 "Pending Actions" under My team overview page would not be showing pending actions related to employee

"Alerts" section will show up alerts for all manager actions like assign/share template, Review visibility and so on where manager will be  navigated to manage reviews page clicking on "View" from each alerts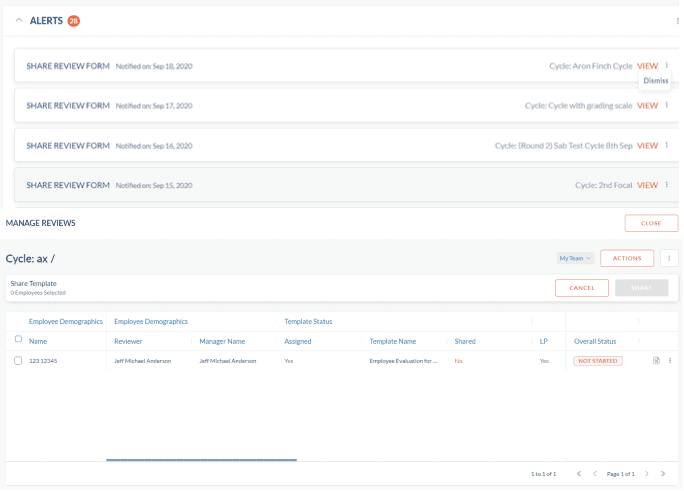 If you are a manager you can dismiss the alerts from the overflow menu on each alert and can still take action on dismissed alerts from  overflow menu at the top right corner of the section

You can view all your direct reports and their participation on different performance cycles by clicking on review cards for each direct reports
As a manager you can also view recent 5 locked and completed reviews for each direct reports in graphical representation under charts and they are clickable

If you are a manager you can search your direct reports using search tab and can filter by secondary, skip-level and entire team using My team  filter

Using Search tab managers can search up to 10 direct reportees
Duration filter is available to filter out team data based on the number of years and by default, it will show the last 3 year's data
5. Admin Dashboard
If you are a site admin you can access Dashboard from Admin Performance Dashboard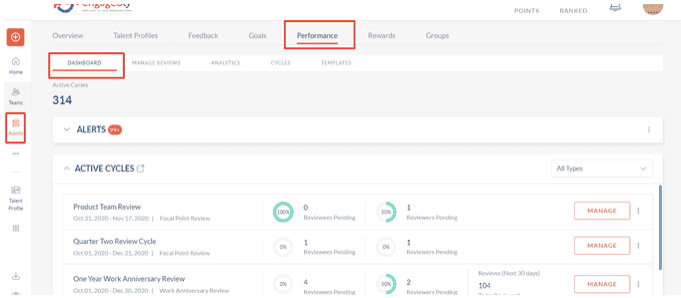 The dashboard consists of Alerts and Active cycles where under alerts HR can perform all HR actions and under active cycles, all types  of active cycles, and their review status is displayed

You can navigate to the Manage Reviews page by clicking on the Manage button under Active cycles 

As a Site admin can edit, copy and archive all types of performance cycles from the Active cycles section 

Reviewee and Reviewer pending reviews will be shown in the popups clicking on counts

Upcoming reviews popup will be shown clicking on the count for Hire and anniversary based cycles

Cycle type filter is available to filter type of cycles and by default all types of cycles are listed

You have the option to navigate to the cycle listing page from the active cycles section as shown in the image below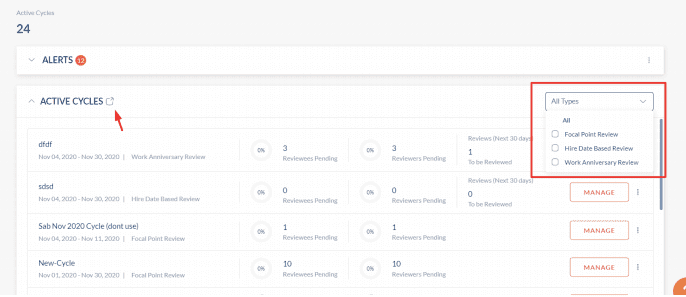 Pending reviews of the reviewees and reviewers for the cycle can be notified by clicking on nudge icon under active cycles
6. Review Form

Review form shows the progress bar to know the percentage of answered and unanswered sections

As a Manager and Skip level manager you will get an option to review all team members in the same cycle by opening just one review form  where there will be an option to switch to other review forms by clicking on Pending reviews

Review forms can be viewed in 2 different views Row and Column views

Section headers are shown towards the left of the page in the Row view and will be highlighted as the user moves to the section respectively
7. Analytics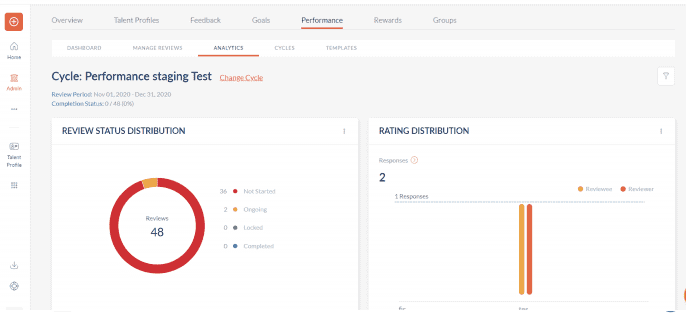 As site admins you can view the analytics page from Admins Performance Analytics

If you are a manager you can view Analytics page from Teams Performance Analytics

Review Status Distribution will present reviews with different statuses and counts. 

Clicking on the donut AG grid will be shown.

Rating distribution will show the Reviewee and Reviewer ratings and the count 

AG grid will be shown by clicking on each progress bar.

Performance Review section will show up all the templates shared in the cycle and count of reviewees for whom the template was  shared.

Overall review progress for the reviewee and reviewer is also shown. 

Leadership potential of reviewee is shown in form of nine box rating scale.

Goal Rating distribution section shows the number of goals added by reviewee and reviewer in the review process and ratings given for  them.
8. Resource Center

When you open the resource center from any of the review, from the profile details of the reviewee in the review. Review form will be shown in  the resource center

Reviewee name, Job title, Manager name, Departments and Business units he/she belongs to, Next review date, last promoted date,  date of joining, Tenure and Direct reports list will be shown in the profile section