Groups are an easy and efficient way of communicating with a select bunch of people. To get the maximum out of  Engagedly's  groups feature, please follow the documentation below!
To create a group, click on the Groups icon on the lefthand menu. You will be redirected to the Groups page. There are two tabs on this page.
My Groups – You can see all the groups you are a part of here.
All Groups – You can see all the open groups in your organization here.
To create a new group, click on '+New Group' on the top right corner. A 'Create New Group' lightbox opens up.
You can create two kinds of groups in Engagedly. An Open Group or a Closed Group.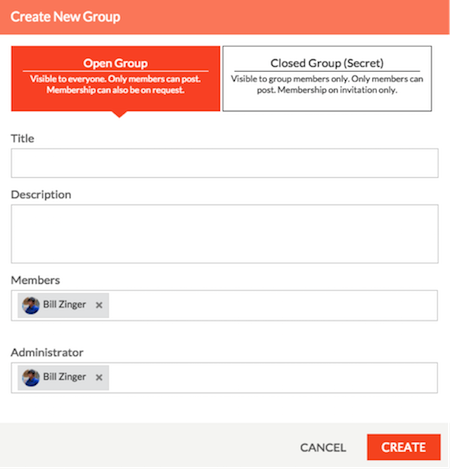 FAQ: Does a user need permission to create a group?Answer: No, anybody can create a group, be it a open group or a closed group.
Open Group – If you want to join an open group, you need to send a request to the group administrator. The administrator will receive a membership request notification. When the administrator approves your request, you can join an open group.

Closed Group – You can join a closed group only when a group administrator sends you a membership invite.
FAQ: I've been added to a group but I don't want to be a part of it. What do I do?Answer: If you have been added to a group that you do not want to be a part of, you can always leave the group. On the right side of the group page, you will see the 'Leave Group' button. Clicking on that will allow you to leave the group.
What can you do in a group?
You can post anything to a group. To post to the group, click on 'Post to this group'.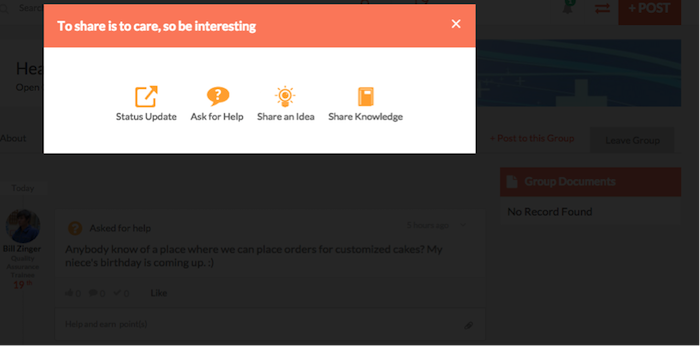 You can also share documents with your group members. You just need to upload your document to the Drive in Engagedly, and then share it with your group members.
You can also post to a group using the 'POST' feature on the dashboard. Click on the post feature, select the kind of post of you want to make, and then select the audience you want to target the post towards.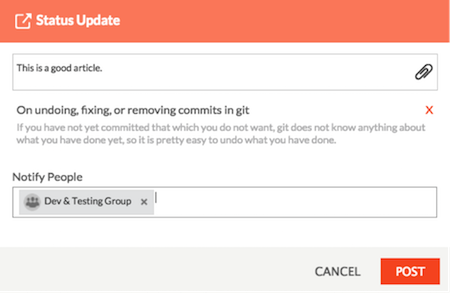 Closed Groups vs Open Groups
The purpose of a creating a group is to create a shared space for certain users. If you want a group where you can informally share content and not worry about who sees it, then you should create an open group.
If however, you want to create a group where you can share private documents or discuss work with your team-mates and only share posts which your teammates would find relevant, then you should create a closed group.
Interest groups are created when users fill in their profile information and list out their interests. Interest groups are hobby groups where users who share similar interests can communicate with each other.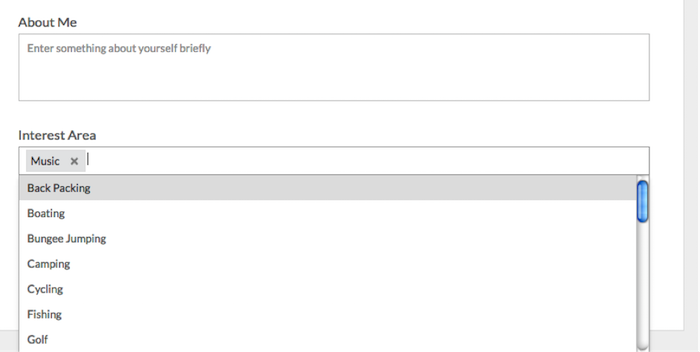 If you want to know how to change your profile information and add interests to your profile, you can read about it here.
You can also join Interest groups through the Groups page. You don't need to send a membership.
Posting To An Interest Group
You can post to an Interest Group through the group or through the post feature on the main page.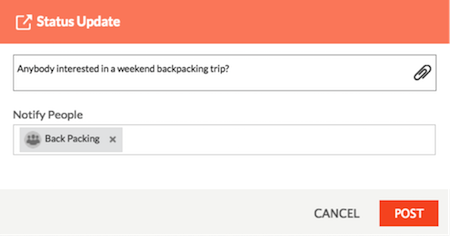 FAQ: My interest is not listed in the Interest Area menu. How can I create a group that reflects my interest?
Answer: If your interest area is not listed among the interest options, you can request the site administrator in your organization to create an new interest.
Administrator Perspective
In order to manage groups, a site administrator needs to go to the Settings page, and select Groups from the Users/Groups section.
There are 4 different tabs in the Groups page.
All Groups
Open Groups
Closed Groups
Interest Groups
A site administrator can use this page see & manage all the new groups that have been created by users in the organization.
Administrators can also change the profile picture of the group by just clicking on the profile image and changing the image.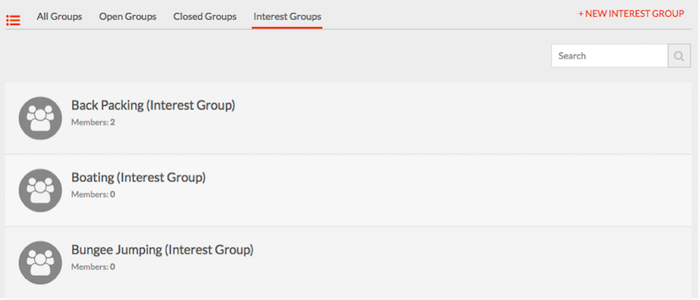 How to create an Interest Group?
In the Interest Groups tab, you can create a new Interest Group by clicking on the '+New Interest Group' icon. A light box named 'Create New Interest Group' will open up. Give your group a title and a description, click on Submit and you are good to go.
Note: When users submit requests for new Interest Groups, you will receive and e-mail notification with the suggestions. It is up to you to decide, if you want to create those groups or not.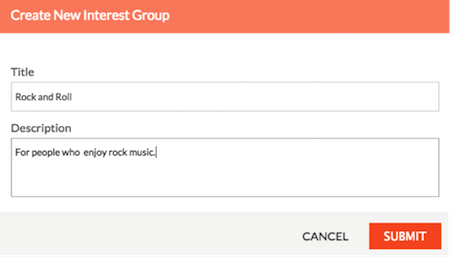 Adding Group Members/Deleting A Group
As a site administrator you can add members to a group, remove members from a group or even delete a group. Next to each group there is an Edit, Manage Members and Delete option.
By clicking on Edit, you can edit the name and description of the group.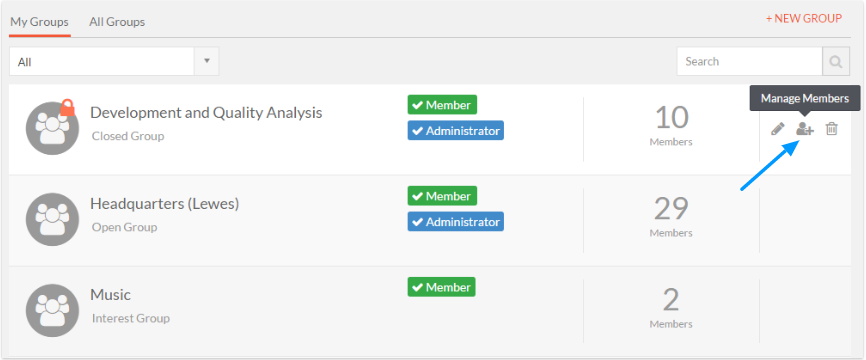 If you want to add more members to a group or remove a few members, click on Manage Members.
You will redirected to a page where you can see all the users in an organization on the left side and the members of the group on the right. To add members to the group, select users from the organization and click on Add.
To remove members from a group, select the members you want to remove from the group member list and click on Remove.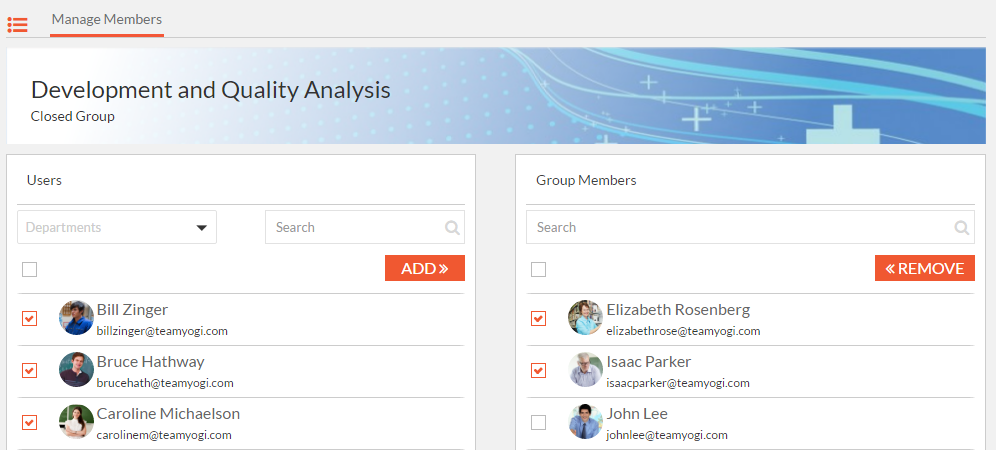 Note: You can even manage group members by clicking on the About tab of a group page. You will see a list of members on the page and also the Manage Members icon. Clicking on it essentially leads you to the same page as the one mentioned above.

If you want to delete a group, click on the Delete icon. However, when you delete a group all the content that has been posted exclusively to the group will also disappear.