Are you interested in scaling up your small business in 2022? If the answer is "yes," then investing in the right software is your only route to success. 
The right business tools can empower your employees to provide effective solutions to your customers. Moreover, using the right tools can also provide fast and accurate information to enhance the entire customer experience. Much like accounting software can give you accurate financial information, other software such as CRM, performance management, and payroll can also give you data and therefore insights instantaneously.
Thus, having the data to hand is crucial in delivering overall performance improvements. For example, according to a report from Microsoft, 72% of customers say when they contact customer service, they expect an agent to know— 
Who are they? 

What have they bought? 

How have they previously engaged with them? 
This is only possible to deliver accurately when your team has powerful business tools at their disposal. Luckily, there are several tools that small businesses can use to provide better services to their clients and gain a competitive edge in 2022. These include a Sales CRM, employee monitoring, performance development, payment tracking, and others.
However, given the plethora of tools in the market, you may be wondering how can you afford so many different software packages and still stay within a limited budget? With this in mind, we have narrowed down the top 15 essential tools that should be affordable for most small business owners.
Top 15 Small Business Tools for 2022 
Do you want to build a high performing team but don't you have a big budget to hire top talent? If the answer is yes, then the next best thing you can do is get the most out of your existing team members. For example, by using performance management tools, you can monitor your team and provide them with real-time feedback to boost their performance. 
That's just one example of how software can improve overall performance—below we have a curated list of simple and affordable tools every small business should have in 2022:
1. Engagedly
Best For: Talent & Performance Management Platform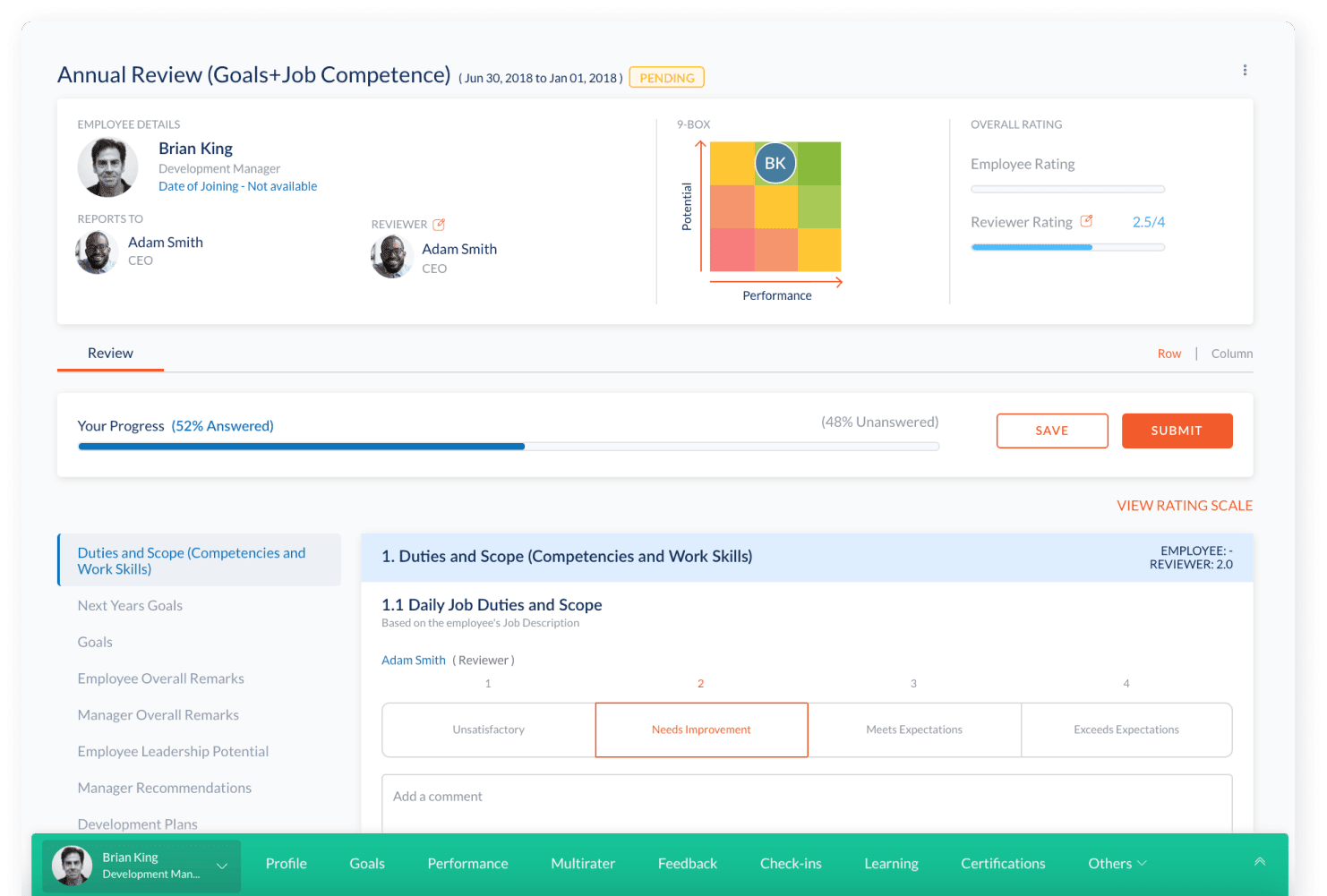 Engagedly is a new generation, cloud-based solution that focuses on employee engagement and development, performance, and communication in your organization. It encompasses features such as 360-degree feedback, real-time performance management, check-ins, performance appraisals, and an LMS that supports overall organizational development.
The software has built-in gamification and social collaboration tools to better manage your people. In addition, the program lets you interact with employees using employee engagement surveys and directories. 
Top Features 
Activity dashboard 

Assessment management 

Anonymous feedback 

Benchmarking 

Blended learning 

Badge management 

Compensation management 

Collaboration tool
Pricing Structure:
2. ClickUp 
Best For: Smart workflow management 
Source: ClickUp
ClickUp is a top-rated project management tool for remote and hybrid teams. It is an all-purpose business management platform with chat, scheduling, custom views, and more. 
It is one of the best tools to deploy advanced marketing or sales strategies like account-based marketing or customer segmentation. In fact, many prominent organizations, like Airbnb, Google, and Uber, are using this tool. 
Top Features 
Document collaboration 

Real-time chat 

Whiteboards 

Two-factor authentication 

Agile reporting 

Resource management 

Timelines and mind maps
Pricing Structure: 
Forever free, up to 100MB storage 

Unlimited plan for $5 per user/month

Business plan for $12 per user/month

Business Plus for $19 per user/month

Customizable enterprise plan 
3. Zonka Feedback
Best For: Feedback Surveys and Experience Management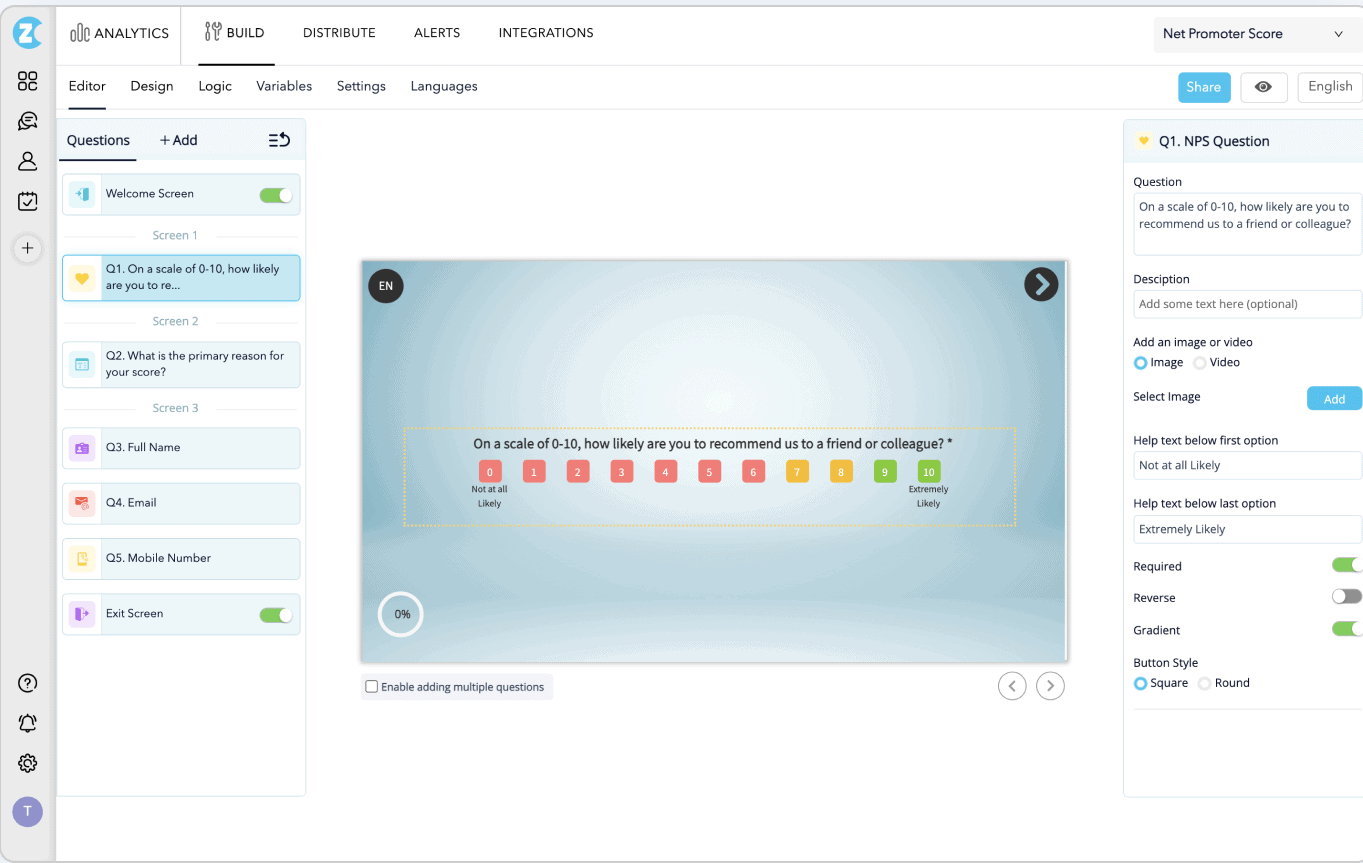 Source: Zonka
Zonka Feedback is an easy-to-use customer feedback software and experience management platform that businesses of all sizes use to create intuitive and customized surveys to collect feedback through various channels and work on it to improve customer experience, enhance satisfaction, and prevent churn.
The best thing about the tool is that it empowers you with features like real-time feedback alerts and reports so that you can take appropriate action on feedback at the right time and close the feedback loop to prevent churn before it's too late. 
Top Features
40+ Ready-to-use Templates

Customization of Surveys

Multichannel Software

Measuring metrics like NPS, CSAT, and CES

Advanced Reporting and Dashboard

Real-time Feedback notifications and custom alerts

Skip Logic, Hide Logic and Survey Redirection
Pricing Structure:
A 15-day Free Trial available

Paid plans start at $29/month

Professional plan for $79/month

Growth plan for $169/month

Enterprise plan for $429/month
4. TimeCamp
Best For: Time tracking and project profitability measurement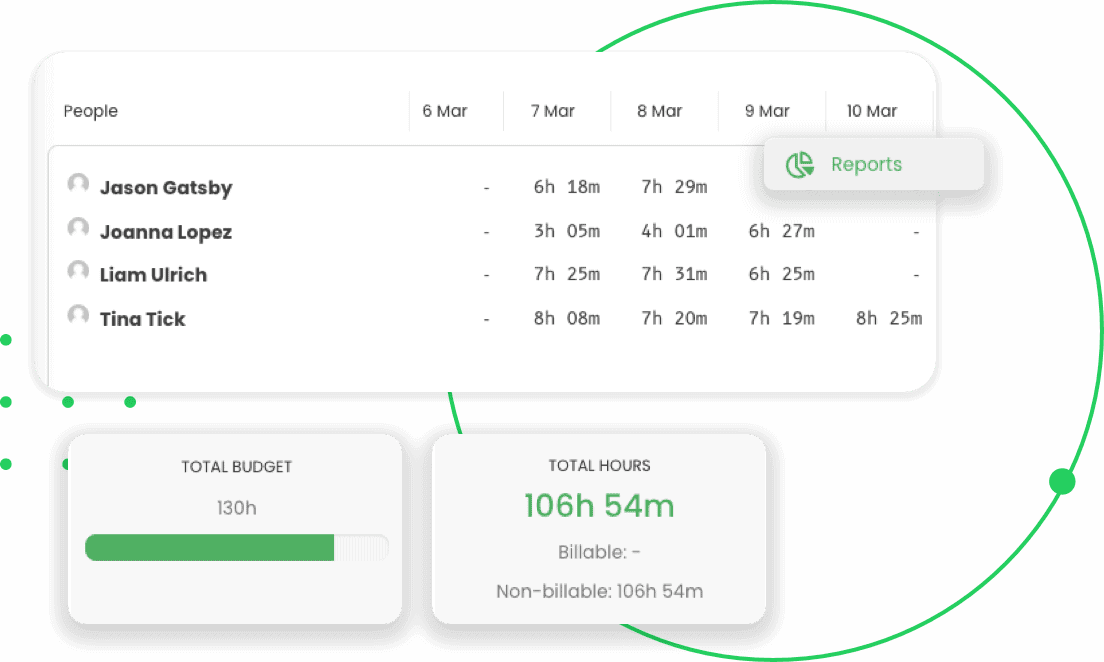 Source: TimeCamp 
TimeCamp is a free and powerful HR technology tool for small teams. Using this software, you will get accurate timesheets to integrate with your accounting software to generate timely payslips. In addition, you can also track your employee performance and project profitability in real-time. 
TimeCamp has a centralized dashboard that allows you to collaborate with your remote, in-house, and freelance employees. In addition, you can integrate TimeCamp with 30+ other apps like Asana, Airtable, ClickUp, GitLab, Google Calendar, Google Docs, etc. 
Top Features 
Customizable invoicing 

Record billable and non-billable hours 

Calendar management 

Expenses tracking 

Payroll management 

Time tracking 

Tax calculation 
Pricing Structure:
Forever free 

Basic plan for $6.3 per user/month 

Pro plan for $9 per user/month

Customizable enterprise plan 
5. Social Status
Best for: Social Media Analytics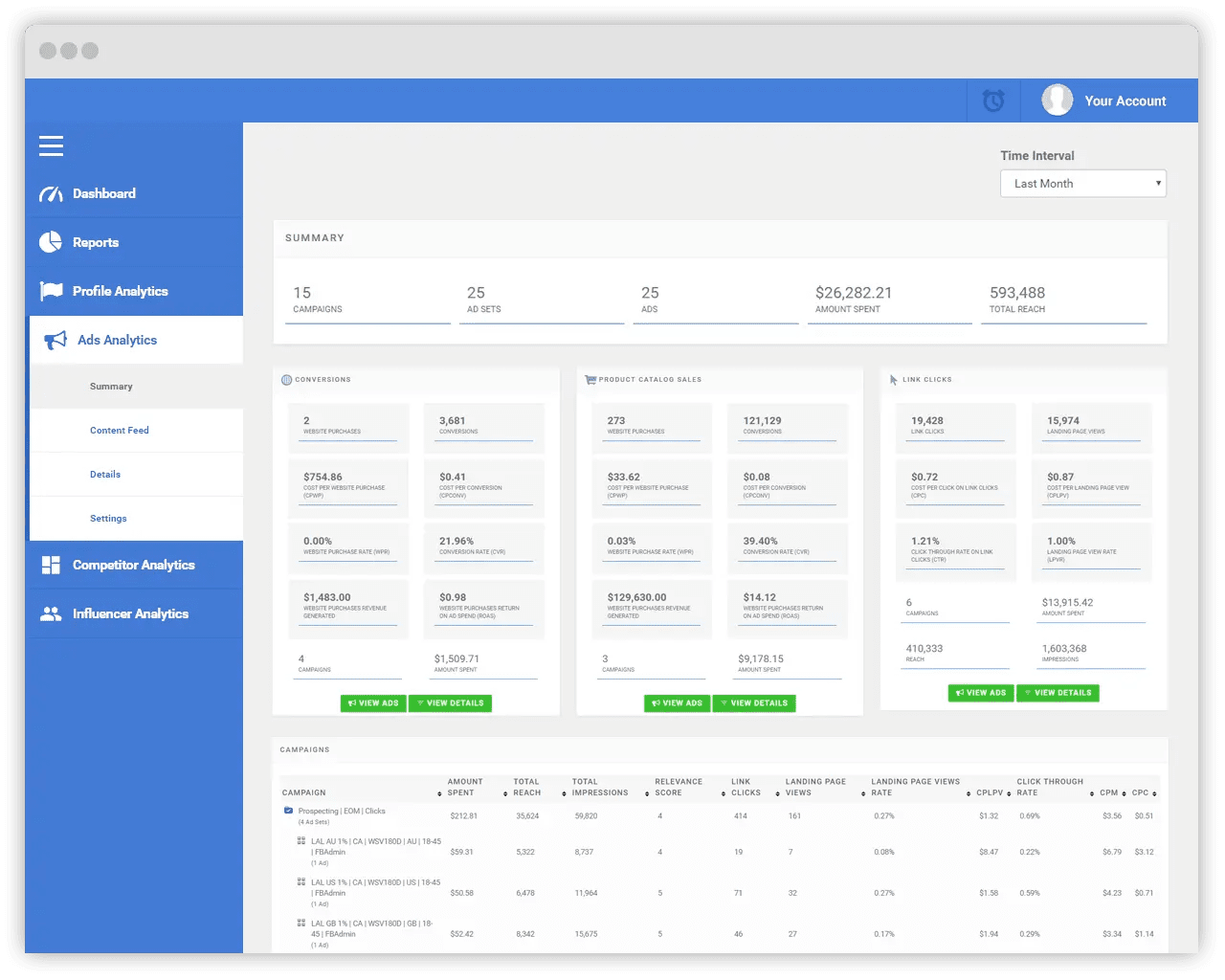 Source: SocialStatus
Social Status is a social media analytics and reporting tool. It is perfect for agencies that need a multi-channel analytics dashboard for all their clients. It supports Facebook, Instagram, YouTube, TikTok, LinkedIn, and Twitter. Agencies can easily group client profiles and pages, including Facebook ad accounts, plus they can also do competitor analysis and track influencer marketing campaigns too.
Reports can be white-labeled and completely customized to suit different reporting needs. Boardroom-ready reports can be exported to a range of formats, including CSV, PDF, PowerPoint, and Google Slides.
Top Features:
Facebook Analytics

Instagram Stories Analytics

YouTube Analytics

Twitter Analytics

LinkedIn Analytics

Ads Analytics

Competitor Analytics
Pricing Structure: 
Forever free 

Starter plan for $29 per month

Pro plan for $199 per month

Business plan for $399 per month

Corporate plan for $599 per month 

Enterprise plan for $1,499 per month
6. HubSpot CRM
Best For: Lead management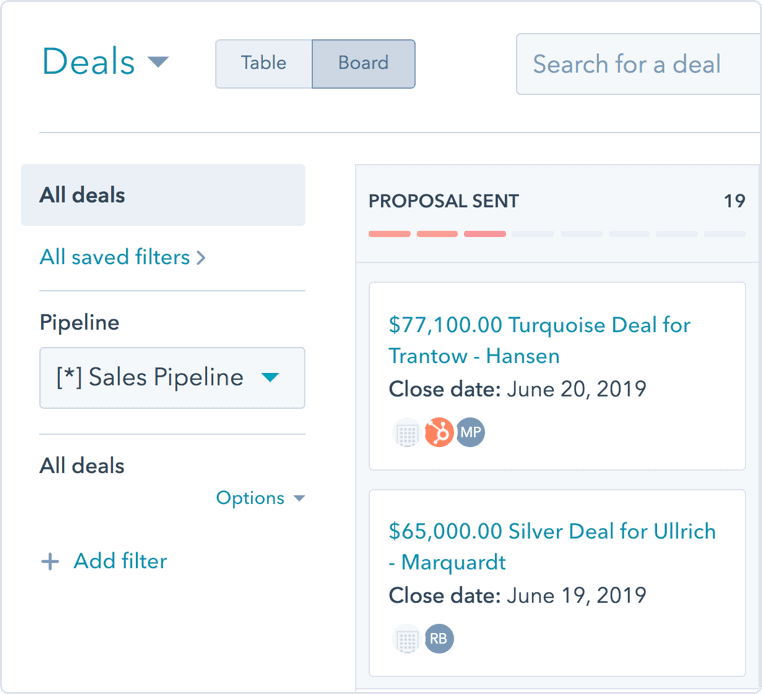 Source: HubSpot 
HubSpot CRM is a customer relationship management tool suitable for both small and large businesses. It is particularly useful for businesses that want to spend less time on data entry tasks. It helps keep all your contacts, business leads, and database in one place, which allows you to have a deeper understanding of your business.
HubSpot is a cloud-based system that can help align remote and in-house teams. It can streamline sales and marketing operations to boost ROI and optimize inbound marketing strategies to generate high-value leads. 
Top Features 
Scheduling appointments 

Campaign management 

Contact management 

License management 

Email templates and marketing 

Lead distribution, management, and qualification 

Sales pipeline management 

Task management 
Pricing Structure: 
Forever free 

Starter plan for $45 per month

Professional plan for $1,600 per month 

Enterprise plan for $5,000 per month
7. Woorise
Best For: Creating landing pages, quizzes, and contests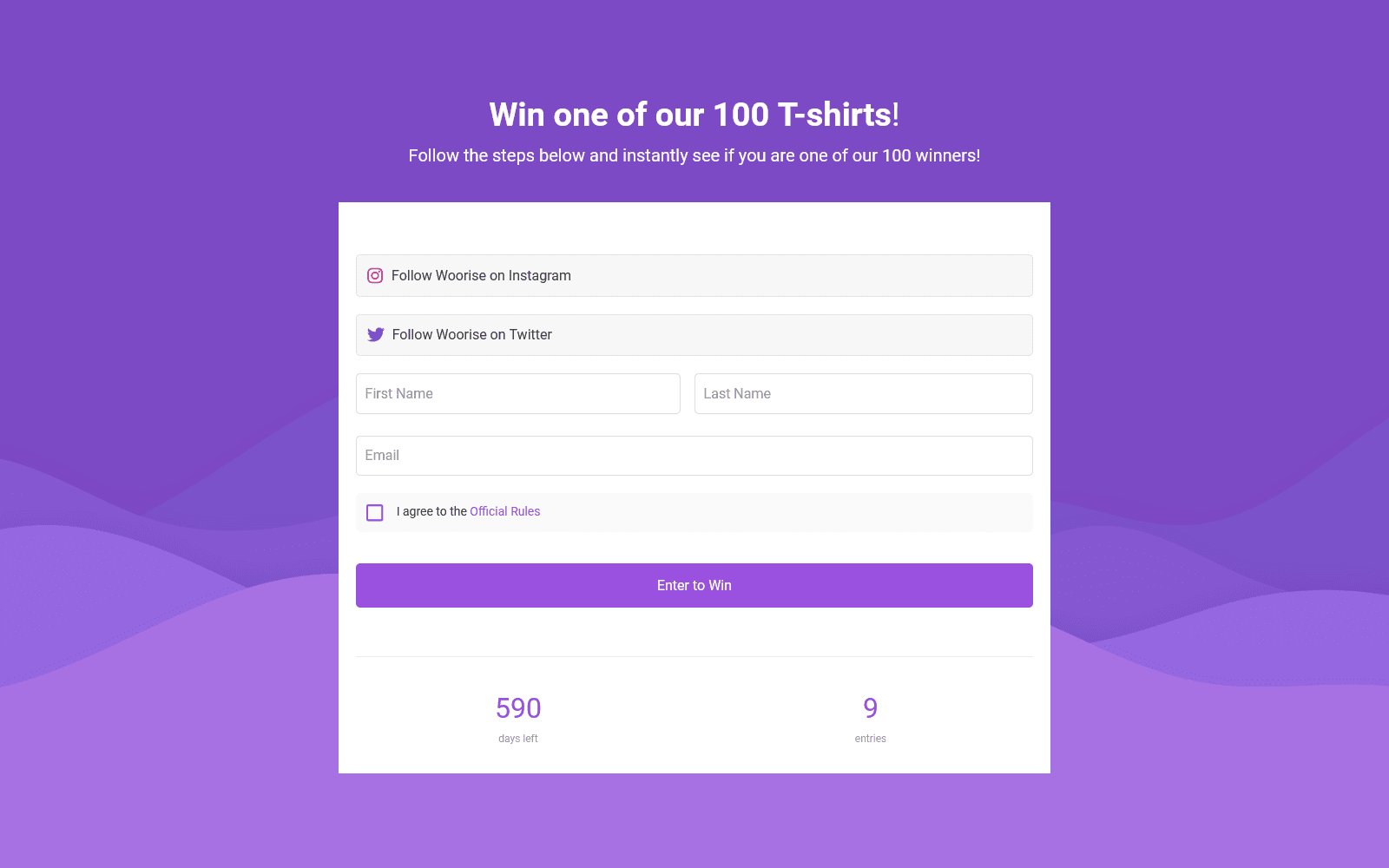 Source: WordPress
Woorise is the best tool for small businesses to collect leads and close them. It is a perfect solution for digital businesses and e-commerce brands that want to capture audience interest and boost sales. 
You can integrate Woorise with multiple other business automation solutions such as AWeber, HubSpot, Zapier, Google Analytics, Bitly, PayPal, Stripe, and more. The tool is quite useful for marketing agencies and social media managers.
Top Features 
Awards management 

Organize skill contests like photography, essay writing, design, etc.

Fraud detection  

Form management

Judging management

Entry management 

Multiple language support 
Pricing Structure: 
Free forever up to 500 entries 

Basic plan for $23 per user/month up to 2,000 entries 

Grow plan for $39 per user/month up to 5,000 entries 

Pro plan for $79 per user/month up to 20,000 entries 
8. Saleshandy
Best For: Cold email and email tracking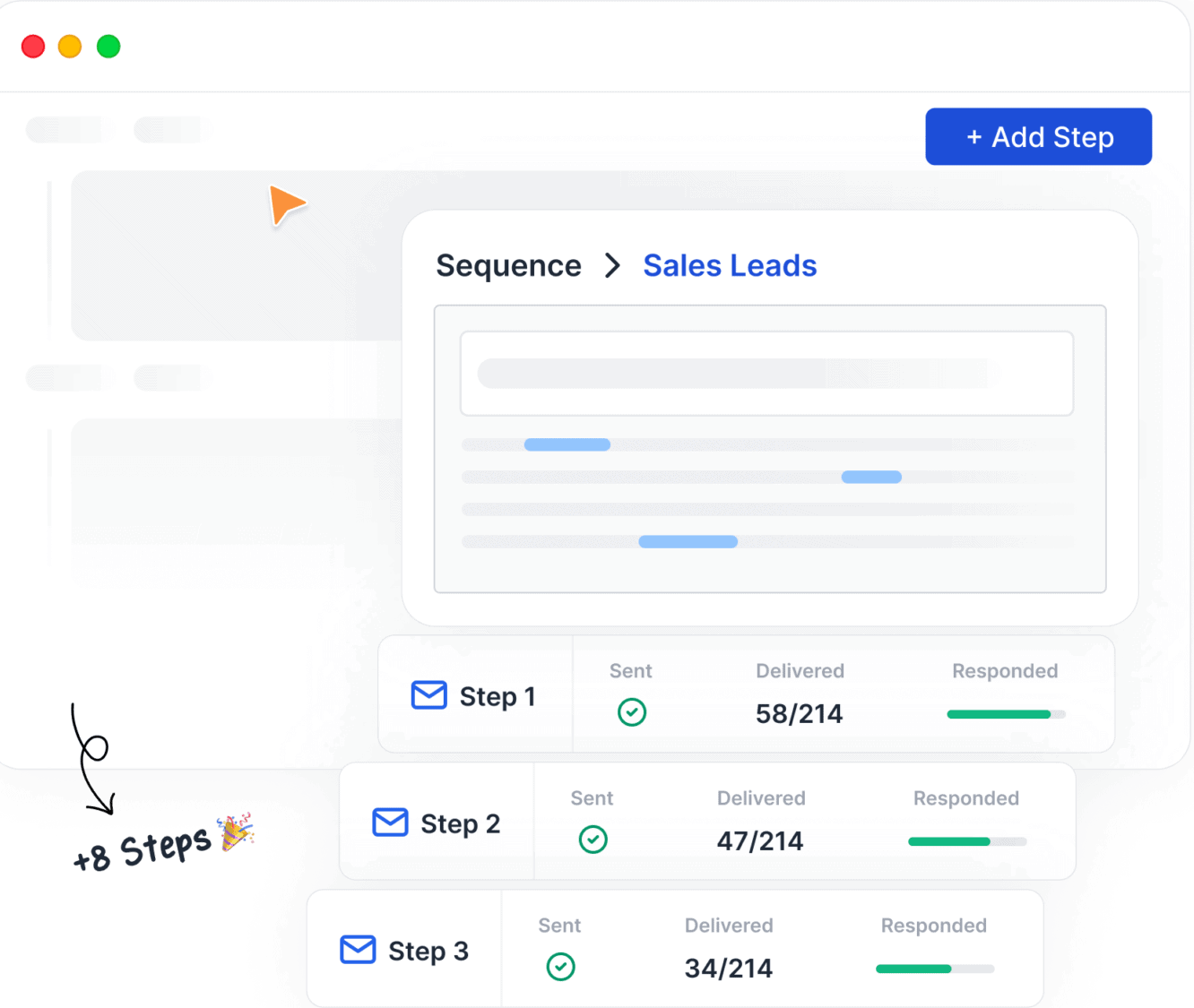 Source: Saleshandy
Saleshandy is a cold-emailing platform that helps companies increase their email outreach without compromising on quality. The program has the potential to set up hundreds or even thousands of campaigns with multi-stage automated follow-up emails to generate at once. 
You can also merge tags to customize your email campaigns. In addition, you can trigger follow-ups based on the previous email actions like opens or clicks. It is a potential tool for businesses that are looking forward to creating multilayered email marketing campaigns.
Top Features 
Stunning email templates 

Email campaign management 

Content Delivery 

Drip campaigns 

Campaign analytics 

Event-triggered actions 

Lead capturing and nurturing 

Performance management 
Pricing Structure: 
A 14-day free trial

Cold emailing packages for $25 and $60 per user/month 

Email tracking is free forever. Paid plans start at $9, $22 and $59 per user/month
9. SocialPilot
Best For: Social media marketing 
Source: Social Pilot
SocialPilot has everything that you need to run result-driven social media marketing campaigns in one place. It can manage all your social media accounts and help you automate social media operations, including post scheduling, insight reports, and monitoring engagement.
SocialPilot is designed to bring all social media activities under one roof, from replying to Instagram stories to responding to Facebook page comments. You can also easily collaborate with your team members or coordinate with your clients using the software. 
Another great feature is  that you can customize SocialPilot to match your brand identity. You can also generate branded analytics reports and provide a seamless branded experience to your clients from a centralized dashboard. When you plan to grow your small business on social media, SocialPilot is a great place to start.
Top Features 
Automatic post publishing 

Content management 

Conversion tracking 

Engagement tracking 

Influencer tracking 

Lead management 

Multi-account management 

Multiple campaign management 
Pricing Structure: 
Agency plan for $127.5 per month 

Studio plan for $85 per month 

Small team plan for $42.5 per month 

Enterprise plan is fully customizable 
10. GrowSurf
Best For: Customer acquisition and cost management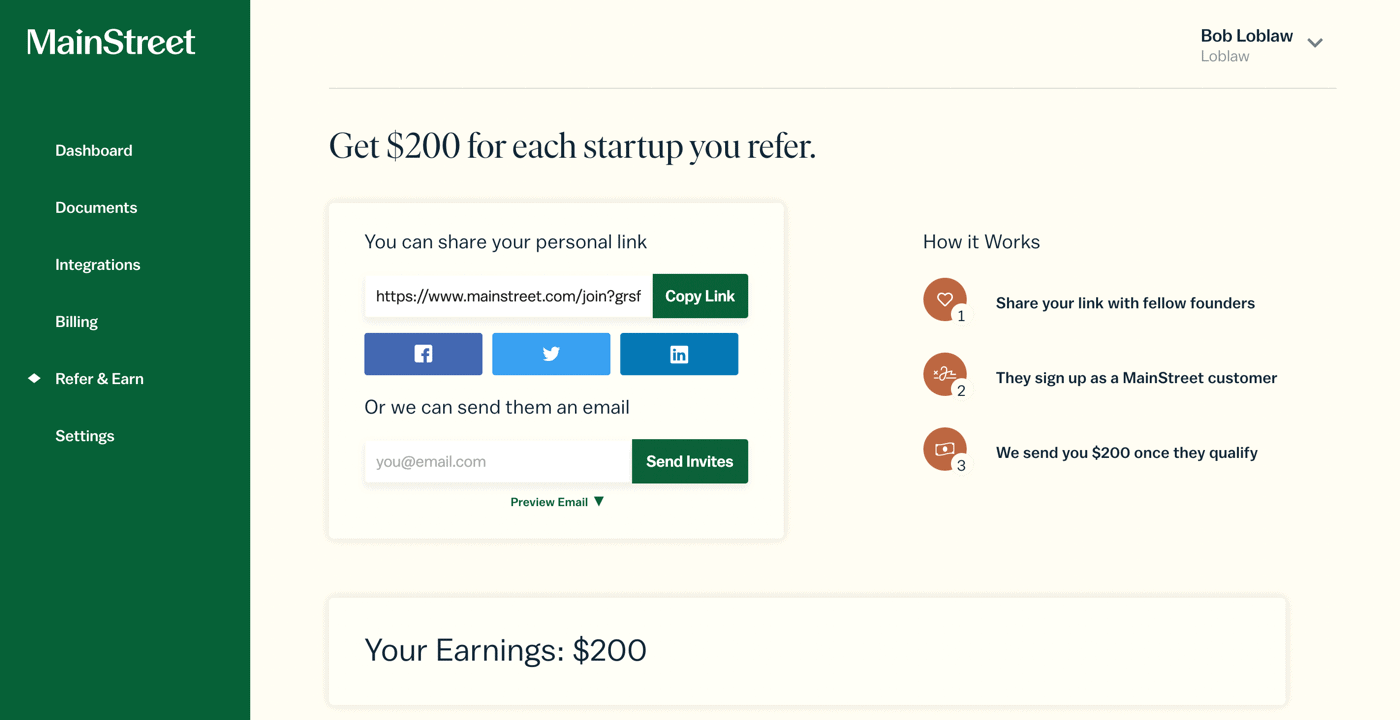 Source: GrowSurf
GrowSurf can help you to automate customer acquisition at the lowest possible cost. It helps both B2B and B2C tech companies to create referral programs to get new customers on autopilot mode. You can also create customer-to-customer referral programs to spread word of mouth about your brand. 
GrowSurf offers a 312% return on investment, 30% new referral leads and 15% of ARR from referrals. It comes with an automatic link generator that creates unique links for each user, so they don't have to sign up to promote your products. 
Top Features 
Affiliate management 

Communication management 

Contact management 

Fraud detection 

Referral templates 

Referral tracking 

Rewards management 

Social engagement 
Pricing Structure:
A 14-day free trial 

100% customizable plans 
11. InvoiceBerry
Best For: Online invoicing software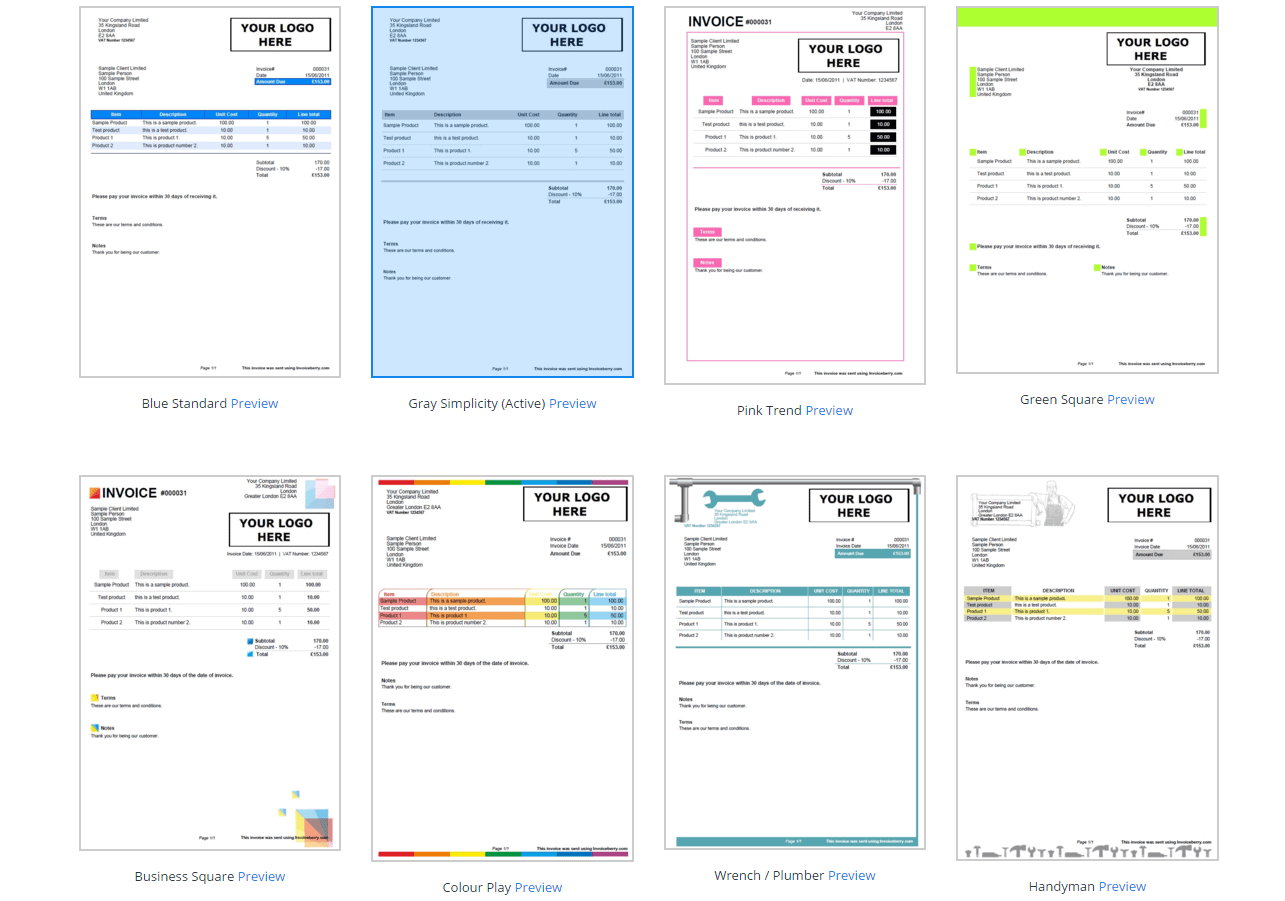 Source: InfoBerry
InvoiceBerry is an online invoicing solution for small businesses and freelancers. It is designed to make invoice and expense tracking processes quick and easy. 
The software has a vast array of professional invoice templates that you can customize with your logo, customer information, and other details. Additionally, you can send invoices via email within the software in PDF format.
Top Features 
Contact database 

Customizable invoice 

Online invoicing 

Recurring billing 

Multiple currency support

Easily print out invoices 

Invoice templates 
Pricing Structure: 
A 14-day free trial 

Solo plan for $15 per month 

Pro plan for $30 per month 
12. ProProfs Chat
Best For: Live chat with website visitors
Source: ProProfs
ProProfs Chat is a simple online live chat platform to engage with your website visitors. The software helps you resolve customers' issues in real-time. 
You can improve your overall customer experience with this instant support system. ProProfs Chat can also help you reduce tickets, improve customer response times, and increase sales and ROI.
You can create proactive live chat pop-ups or customize greetings to boost engagement. Also, it lets you add announcements to notify website visitors about new service updates and products. 
Top Features 
Canned responses 

Customizable branding 

Proactive chat 

Screen sharing 

50+ integrations 

Routing 

Lead capturing 

Chat transcripts 
Pricing Structure: 
Free forever with basic features

Essential plan for $15 per user/month

Premium plan for $25 per user/month
13. Google Workspace 
Best For: Business collaboration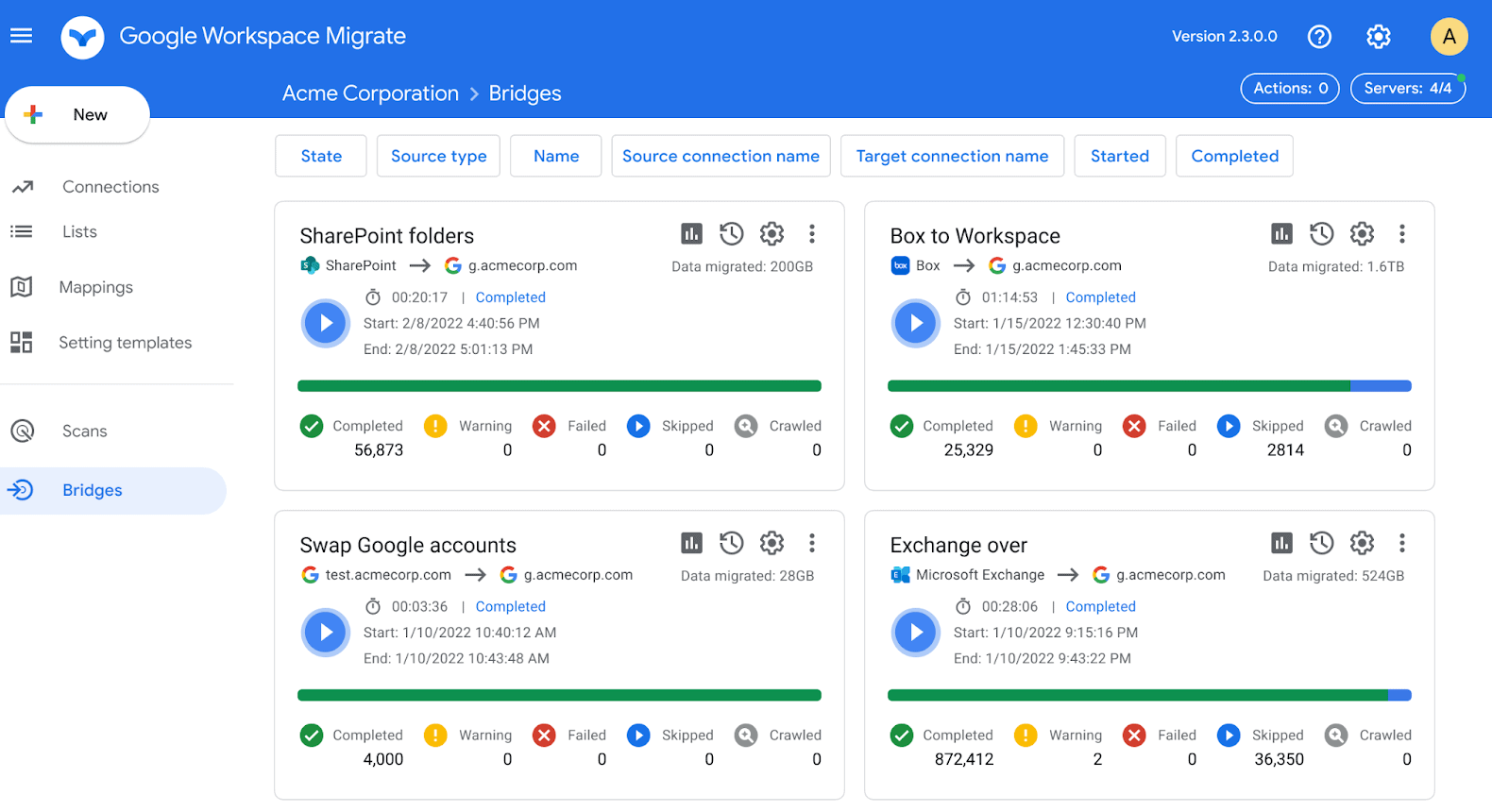 Source: Google Blog
Google Workspace is an intuitive collaboration platform designed for all-size businesses to manage multiple operations. It helps businesses to record team meetings, send emails, and reserve conference rooms. 
The best thing about the tool is that it has a noise-cancellation feature, which makes it a perfect contact center automation solution for sales teams. 
In addition, it offers features like attendance tracking, team messaging, compliance management, shared calendars, and more. You can edit and share documents, slides, and spreadsheets among your team members in real-time. 
Top Features 
Content management 

Commenting on documents 

Customizable branding 

Communication management 

Data synchronization 
Pricing Structure: 
A 14-day free trial 

Business starter plan for $6 per user/month 

Business standard plan for $12 per user/month 

Business plus for $18 per user/month 

Customizable enterprise plan
14. FreshBooks
Best For – Managing your financial records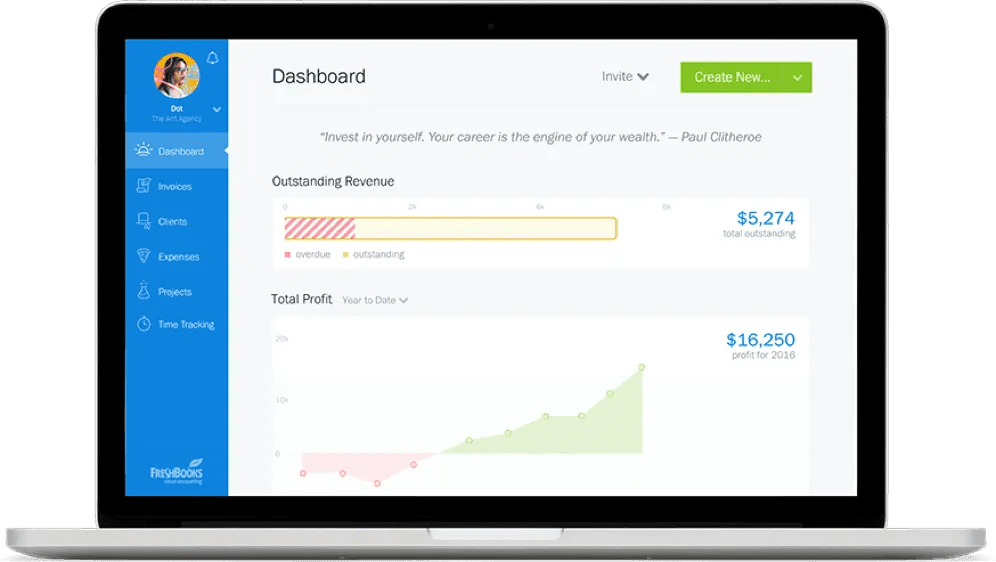 Source: Fresh Books
FreshBooks is powerful and intuitive accounting software that makes it easy for small businesses to keep track of their finances. With its user-friendly interface, streamlined workflows, and advanced features like automated invoicing, expense tracking, and time-saving reporting tools, Freshbooks allows you to easily manage your books while saving more time to focus on growing your business. 
Whether you're just starting out or are an established small business, Freshbooks has the features and flexibility you need to take your finances to the next level.
You can also download free accounting templates, invoicing templates, and balance sheets to easily manage your finances.
Top features: 
User-friendly interface

Streamlined workflows

Automated invoicing

Expense tracking

Time-saving reporting tools

Flexible and scalable plans
FreshBooks Pricing plans:
Free Trial-Available

Basic-$15/month

Plus-$25/month

Premium-$50/month
15. CloudTalk
Best for: Customer support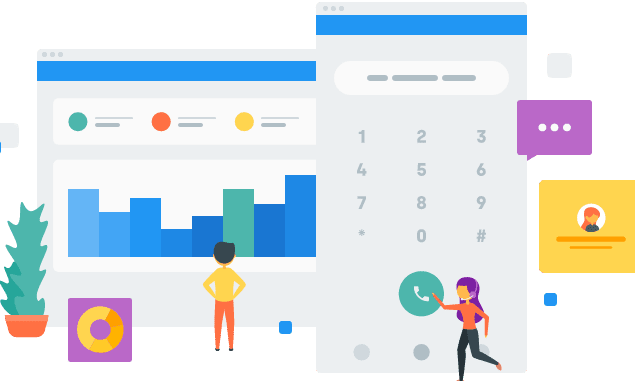 Source: CloudTalk
CloudTalk is a powerful VoIP (Voice over Internet Protocol) platform that businesses can use to expand, scale, and improve their customer support. Unlike traditional brick-and-mortar contact centers, CloudTalk allows agents to work whenever, wherever, and from whatever device they like – as long as it has a microphone and an internet connection.
The cloud-based contact center software offers a wide selection of time-saving and experience-enhancing features, including click-to-call, call forwarding, and analytics. In total, there are over 70 features from which users can pick and choose to create a contact center experience that fits both their business needs and customer requirements.
Top Features:
Click-to-call

Call queueing

Call recording

CRM integration

Skill-based routing

Automatic Call Distribution (ACD)

International and toll-free numbers
CloudTalk Pricing Plans:
14-day free trial

Starter-$25 per user/month

Essential-$30 per user/month

Pro-$50 per user/month
Let's Get the Best Small Business Tools To Scale Up! 
There you go- you have just learned about all the awesome tools that can help you scale up your operations in 2022. 
This list contains the perfect small business tools to manage finances, marketing, lead generation, and other operations. 
You can use the trial versions of the tools listed above before making longer-term commitments. That way, you can better understand the individual features and whether they are suitable and beneficial for your business. 
---
Looking forward to enhancing employee engagement, productivity, and development of your workforce? Talk to our experts for free consultation.
---
Author's Bio:
Vineet Gupta is a SaaS marketing professional who helps businesses in improving their online presence and lead generation.