According to a recent study by Wrike, 94% of employees experience stress at work!
Work stress is quite common for everyone, whether you are working from home or office. It is an inevitable phenomenon, affecting every person at one point or another. You might think that it happens only to those who dislike their job, but you will be surprised to know that it can happen even if you are working at your dream job too.
Although, deadline related stress and other office issues can be dealt with easily, by everyone. But when it becomes an everyday routine, it not only affects your work but also your well-being. It is a clear indication that stress has become a serious problem for you, and you need to do something about it.
There are few signs of stress that shouldn't be ignored. They are sleep disorders, body pain, fatigue, anxiety, headache, eye problems, lack of concentration, muscle stress, etc.
If you experience any of the above symptoms, then it is possible that you are suffering from job stress that impacts not only the work you do but also your health. We have listed out a few tips we think can help manage stress.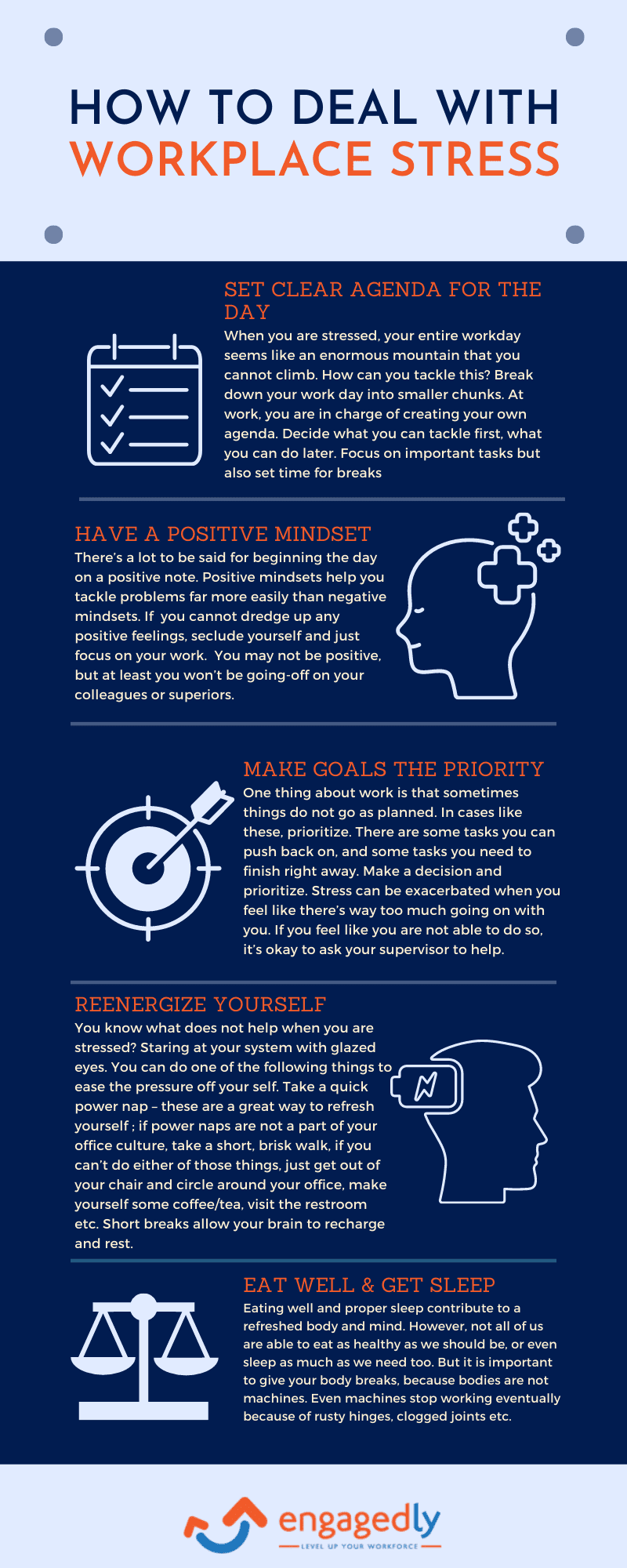 It is important to remember that these measures are only temporary ones. It can be used if you experience workplace stress, but not at an extreme level. The moment you feel like your stress levels are far more than you can handle, it is time to seek help, be it from a counsellor, a superior, partner, etc. Don't shy away from discussing about your stress with others. It will help you find a solution and deal with stress better.
---
Want to know how Engagedly can help your organization, request a demo from the Engagedly team!
Jacqueline Martinez is the Director of Marketing at Engagedly and where she drives initiatives to fuel the marketing-to-sales pipeline through strategic content management, thoughtful mentoring, and revenue operations. She is a growth-focused marketing executive with extensive experience driving multi-million-dollar revenues across SaaS, technology, real estate, oil & gas, and financial services industries.
November 25, 2022
Performance review may seem like a pain, but they are important for organizational…
November 7, 2022
What's the difference between traditional and progressive performance management?