One on one meeting questions are a great way to encourage frequent and straight-forward conversations between managers and their teams. One-on-ones can be simply defined as a scheduled time for managers to check-in with their direct reports. These meetings can be key in building team relationships and trust.
These meetings are important for both managers and direct reports because they ensure that both of them stay on the same page.
Here are a few one on one questions that you should ask your team every week to make it count!
One on One Questions To Ask In Meetings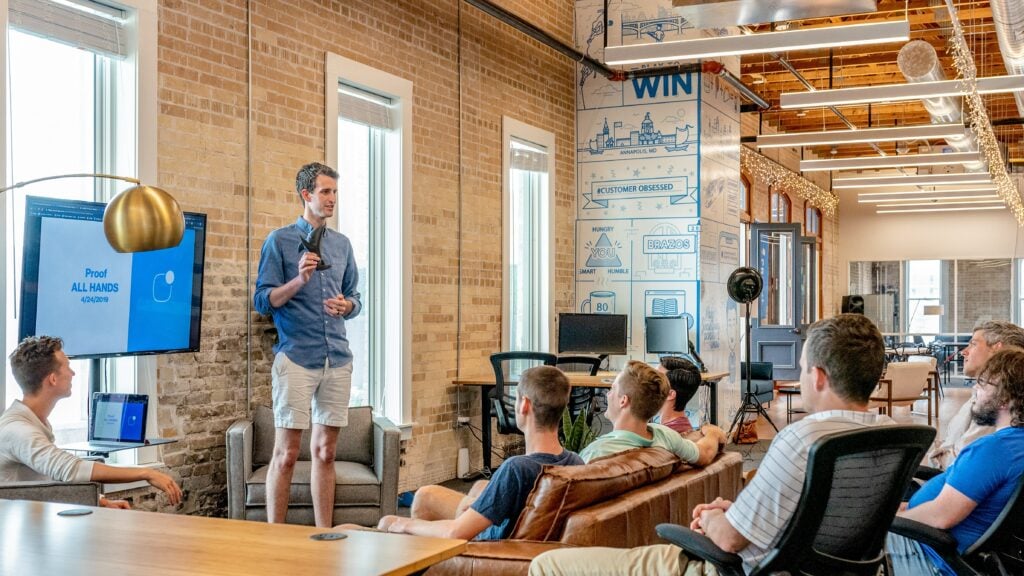 The following one on one questions will help in setting up the agenda of the meeting and help in strategically driving the conversations towards employee development and growth. Feel free to customize the questions as per the industry and business requirements.
How Is Your Overall Health? Are There Any Issues That You Need Help With?
If your team is working in a remote or hybrid work environment, then it is critically important to understand their wellbeing and mental health. Many employees have suffered personal losses in the last two years, leading to anxiety and depression. Therefore, it is important to ask about their personal and family well being. It is even better to take a step forward and ask them about any support they need from the organization.
Why Don't You Tell Me About Last Week?
This question is the simplest, yet it helps you gain a greater understanding of the work processes of your team members. It helps you oversee their plan and how good they are at executing it. You will also gain an understanding of their complete work process and where they tend to struggle. Additionally, it helps in getting you to know about any problems or issues your team members are facing.
Also Read: 4 Essential Tips For Effective One On One Meetings
What Are The Areas You Think You Need To Improve On?
Lack of employee development and growth opportunities is one of the major reasons for job dissatisfaction and employee turnover. It is important to understand any specific areas where employees are lacking and need support.
This question is important because it allows your team members to evaluate themselves and realize where they are lacking. And when they answer this question with specific issues about what they think the problems are, you can offer specific advice. If employees do not come up with any areas for improvement for themselves, then it would be better to use some tools like questionnaires to understand where they are lacking.
What Are Your Priorities For This Week?
The question should definitely be part of your one on one meeting questions list. The question will help you stay on the same page as your direct reports. Discussing their plans frequently helps you recognize their levels of engagement and how they contribute to organizational productivity. This will also help you understand their short-term goals.
What Would You Like To Focus On In This Meeting?
This question allows the employee to lead the conversation and it helps you kick start the conversation after understanding what they are working on and what they need help with.
Do You Have Any Suggestions As To What We Should Start Doing As a Team?
This question also drives your employees to take the lead and give suggestions. Their answer could give you a greater insight into the employee's personality and focus. This question encourages employees to speak about some of the tough decisions that need to be addressed for a productive day as a part of the team.
Would You Like To Learn About Or Focus On Any Particular Aspect Of Your Job?
This question focuses on employee development. Discussing this in one on one meetings helps you create a culture of learning and self-improvement. It also helps in understanding employee aspirations and personal goals and aligning them towards organizational objectives.
Do You Feel Like You Need More Frequent Feedback On Your Work?
Much research has shown that giving frequent feedback leads to higher engagement, productivity, and employee development. But only a handful of organizations are leading the way in making frequent feedback a reality. Therefore, it is important to ask your employees how they feel about the feedback and if there is a need to conduct more feedback sessions.
Sometimes, employees feel like they do not get enough feedback from their managers. This could lead to disengagement from work. So understand what your employees feel about receiving more frequent feedback about their work.
What Are Your Long Term Goals? Are You Getting Enough Support For Achieving Them?
Employees are happiest when they feel that they're making progress towards their personal career goals. So, it is important for them to be clear about what their long-term career goals are and how their current job is helping them make progress on these goals.
What Skills Would You Like To Develop In The Short-Term And Long-Term?
The answer to this question gives you an understanding of what skills the employees are looking to develop and how you could provide them with opportunities to improve your overall organizational productivity. While asking this question, be specific about short-term and long-term skill development, and explain the importance of having a plan in place.
While all of the employees want to improve their productivity through quick hacks, there are some who want to plan for future skill development. And focusing on them is really important as they are more attuned to staying and prospering in the organization.
How Satisfied Are You At Work?
Job satisfaction is critically important in today's turbulent times. The great resignation, coupled with increased work stress, has marred employee productivity and engagement. Asking this question shows that you are concerned about how employees feel at work. By showing the team members that you care about them, you create a channel of communication to discuss issues and opportunities for change.
Conclusion
One on one meetings have been used by organizations for decades. It is an effective tool for understanding employees and assisting them in opening up about their concerns.The one on one meeting questions discussed in this article will help you drive the meeting effectively. Share what do you feel could be good addition to the one on one questions in the comments section below.
---
Looking forward to automating one on one meetings in your organization? Talk to our experts to fix a free demo.
Get In Touch With Us



[/vc_column_text][/vc_column][/vc_row]
April 16, 2022
The relationship between managers and their direct reports is crucial to…
October 15, 2021
According to Gallup's comprehensive 2015 study, 'The State Of The American…