We are all responsible for creating and maintaining a positive work environment and interpersonal relationship between employees. The main responsibility of it, though, falls on the Human Resource department. The HR of any organization has many key responsibilities – starting from the recruitment process, education and training, to off-boarding/termination of employees. 
Recent studies have shown that almost 85% of the global labor force is actively disengaging from their work. Productivity and earnings have been affected to a great extent because of it.
There is a way to avoid such a situation. Wondering how? By implementing creative ways to engage your workforce in order to boost productivity. The tools stated below have the potential to increase engagement among employees and help your organization achieve set goals. Let's go through them together. 
Communication Apps
An organization's success depends on effective internal communication. A business that lacks communication suffers decreased motivation and loses sight of its purpose. As a consequence, productivity plummets to an all-time low. If you are wondering how you can enhance communication among your employees and enhance productivity and engagement levels, say thank you to productivity tools. This whole process becomes more streamlined and simplified by bringing in exactly what your workforce needs.
For example, apps like
Slack
and
Confluence
are great for improving communication. 
With Slack, you can easily organize your groups, subgroups, departments, or the entire company through various channels. Achieve two-way communication with ease while keeping necessary information organized, stored, and at an easily accessible location. 
Confluence is an app intended for bigger organizations in order to receive important information at lightning speed. It's a versatile application that helps you organize a company's policy, video tutorials, and transfer crucial messages.
Video Calling Applications
Video calling apps have become widely popular, especially post pandemic. Companies of every industry have used them for meetings, at one point or the other. Given their increased necessity in today's world, no one wants bad connections, broken links, and unnecessary interruptions. 
To make sure everything goes in order, you can employ certain tools. This will ensure engaging meeting spaces that can be an effective way to boost team productivity.
Zoom and Google Hangouts are leading apps for video conferencing. They are free for use and their main purpose is to make video calls, send messages, and join a conversation within a group or just with one person. 
Mentimeter has also proven to be very effective when it comes to video calling. It is a software that employees can use to join video calls via their smartphones. They are able to send messages, vote, answer questions, or generally contribute to a presentation. 
If you are looking to host larger-scale meetings which involve presentations, there are a large number of webinar software options to choose from.
Project Management
The aim of any project is to be a successful one, so it needs to be managed in the right way. Successful project management eliminates ambiguity among employees, respects deadlines, and each project is completed effectively and accurately.
Tools like Trello, Asana, and Hive can help you accomplish those projects with ease. For instance, during your workday, you may be thinking to yourself, 'How am I going to rewrite my essay quickly and efficiently?' You will have all the necessary tools for completing the project from start to finish with these apps. Trello has proven to be a great option for the ones who are just starting the project journeys, while Hive will give you the needed analytics reports for tracking the team's productivity better. 
Management of Remote Teams
When we are talking about project management, it is easy to do it with the help of productivity tools. But, the projects are not the only things to be managed. After the pandemic hit, we now know better than that. Many companies have turned to remote work and the work of HR has completely changed. Remote teams had to be managed without adequate support systems and infrastructure. This means that the HR team needs to take care of the employees' well-being; balance flexibility; reward teams and individuals for their accomplishments; maintain relationships with each employee, and aim to make a genuinely happier work from home environment. 
Teamwork and collaboration
Efficiency increases when teams are provided with productivity tools that facilitate cross-functional collaboration.
This is very important, especially for companies that have departments that work in silos, have remote workers, and employees from multiple locations. This is where collaborative tools can benefit your organization through improved collaboration capabilities.
You have probably heard of Google Drive, as it's one of the first choices for many companies. This storage-based service will allow you to upload all important documents for free on your secure cloud storage. 
Documents, slides, and Google sheets are available, which means you can upload files, pictures, videos, and audio. The documents can be shared and edited by the people who have access to them. This is especially useful for organizations that have a large or growing amount of files that need to be shared with other people, regardless of their location.
Similar to this service, that gives us the same options as Google Drive, is Microsoft's OneDrive. The only difference is that this software allows you to view and edit files offline, which can be very beneficial at times.
Tools for time management
There are a lot of popular apps like customer data platforms, for tracking the behaviour of your customers. When it comes to employees, that platform is your HR worker. In addition, the time tracking will provide you with valuable insight into your employees' work. You can know track each task and find out which areas are lacking productivity. 
Toggl is a great and simple-to-use time tracking tool. With just a click, you can track the time you spent on each task. You are available to see reports about each project and task you did over the past week. If you forget to start your time, a little bot will send you an alert each time.
RescueTime is another useful tracking tool. You can monitor the apps and websites employees are using during their work time. Besides that, you can even check at which hour the employees are the most or least productive, as well as their days and the weeks.
Virtual Recruiting
Pandemic has triggered a lot of changes in company policies. When it comes to hiring, the whole process of recruiting has become virtual. From planning, selecting, managing, to hiring, everything has become virtual.
The experience that a prospective employee had in their job interview has a great influence on their satisfaction level as well as on the whole company's reputation. The ones who have had a positive experience will most likely accept the position, thereby becoming your company's referral.
Summary
Running a business during a pandemic has surely brought about some changes in brand strategies, company policies, and staff support procedures. Since most things are now done in the digital environment, including our communication, there are necessary tools to keep workers engaged, while aiming for the highest performance.
Productivity tools mentioned above can facilitate one's work and solve key problems. Although, you should avoid complicated and unnecessary tools that can just disrupt workflows and lower productivity levels.
Tools like the ones mentioned above are user-friendly and straightforward. However, you can always experiment, and try to find the ones that suit you and your employees the best. 
Introduce them to your workers, allow them time to integrate, and be open to feedback. Only by doing so, can you nurture collaboration and achieve the desired productivity.
---
Want to know how Engagedly can help your employees perform better? Request a demo today. 
---
Guest blog contribution by Nina Petrov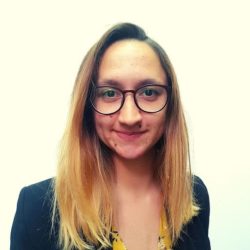 Nina Petrov is a content marketing specialist, passionate about graphic design, content marketing, and the new generation of green and social businesses. She starts the day scrolling her digest on new digital trends while sipping a cup of coffee with milk and sugar. Her white little bunny tends to reply to your emails when she is on vacation.
May 4, 2023
People talk. Some people talk more than others, and that's okay. But in the…
April 19, 2023
360-degree feedback provides individuals (in-house employees and freelancers) with…