"Coming together is a beginning, staying together is progress, and working together is success." — Henry Ford, founder of Ford Motor Company. 
Putting together a high-performing team isn't just about tossing together a bunch of fantastic individual contributors and then hoping for the best.
You might as well throw together a few sticks of dynamite, pour oil on it, and then light it. The end result is an explosion. Good or bad, is anyone's guess.
High performing teams are rare for a reason. They are composed of a number of good qualities, all of which work well together. Like the cogs in a well-oiled machine. High-performing teams require little outside interference and instead set their own team dynamics. When managers chance upon high-performing teams, it's important to continue to nurture them, without overstepping boundaries, but also without giving them full reign.
Here are 6 traits of high performing teams that distinguish them from normal teams.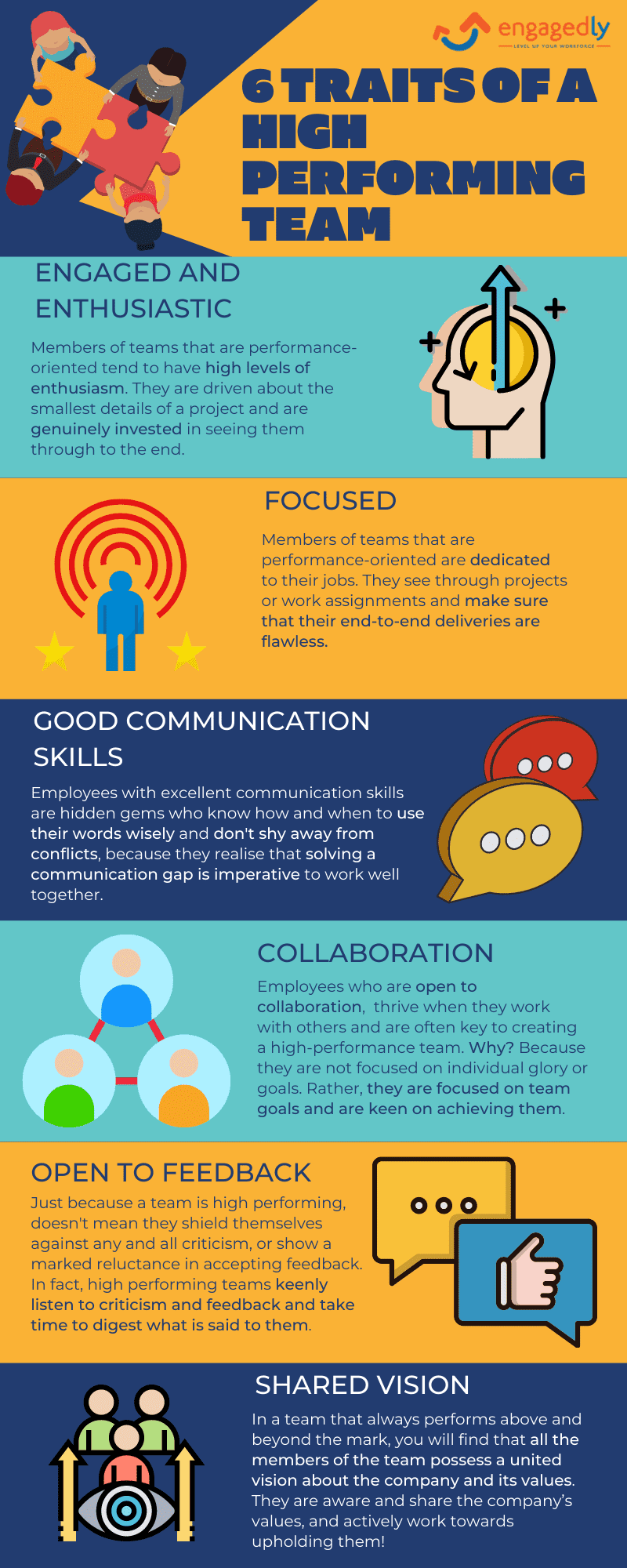 Remember, a high-performance team will not just possess one of these characteristics. Rather, they possess of these characteristics and maybe even more, though those may be specific to the field they are working in!
Let us know if you have any other points in mind.
---
Want to know Engagedly can help you build high-performing teams? Request a live demo from our experts to know more!
Jacqueline Martinez is the Director of Marketing at Engagedly and where she drives initiatives to fuel the marketing-to-sales pipeline through strategic content management, thoughtful mentoring, and revenue operations. She is a growth-focused marketing executive with extensive experience driving multi-million-dollar revenues across SaaS, technology, real estate, oil & gas, and financial services industries.
November 25, 2022
Performance review may seem like a pain, but they are important for organizational…
November 7, 2022
What's the difference between traditional and progressive performance management?