Due to the pandemic, the last two years have been about coping with uncertainty and adjusting to unprecedented changes. More than half of the global workforce first found themselves working remotely and later in a hybrid environment. With 2021 coming to an end, it is time for celebrations and festivities. It will not only help your employees to take some time off from work during this time and reduce stress, but will also prepare them for the upcoming year. Moreover, it will help in building employee engagement and deepen bonding as a team. 
Last year offices were functioning completely remotely, but this year things changed a bit. Many organizations started offering their employees the flexibility to work from home and from the office, too. This new working model that organizations follow now is known as the hybrid work model. It is critical that your office celebrations include both your work from office employees . This might sound like a tedious activity, but with so many tools and technology at your disposal, it will be easy to make all your employees feel included in the yearly celebration. 
Here's an infographic with virtual celebration ideas for this holiday season.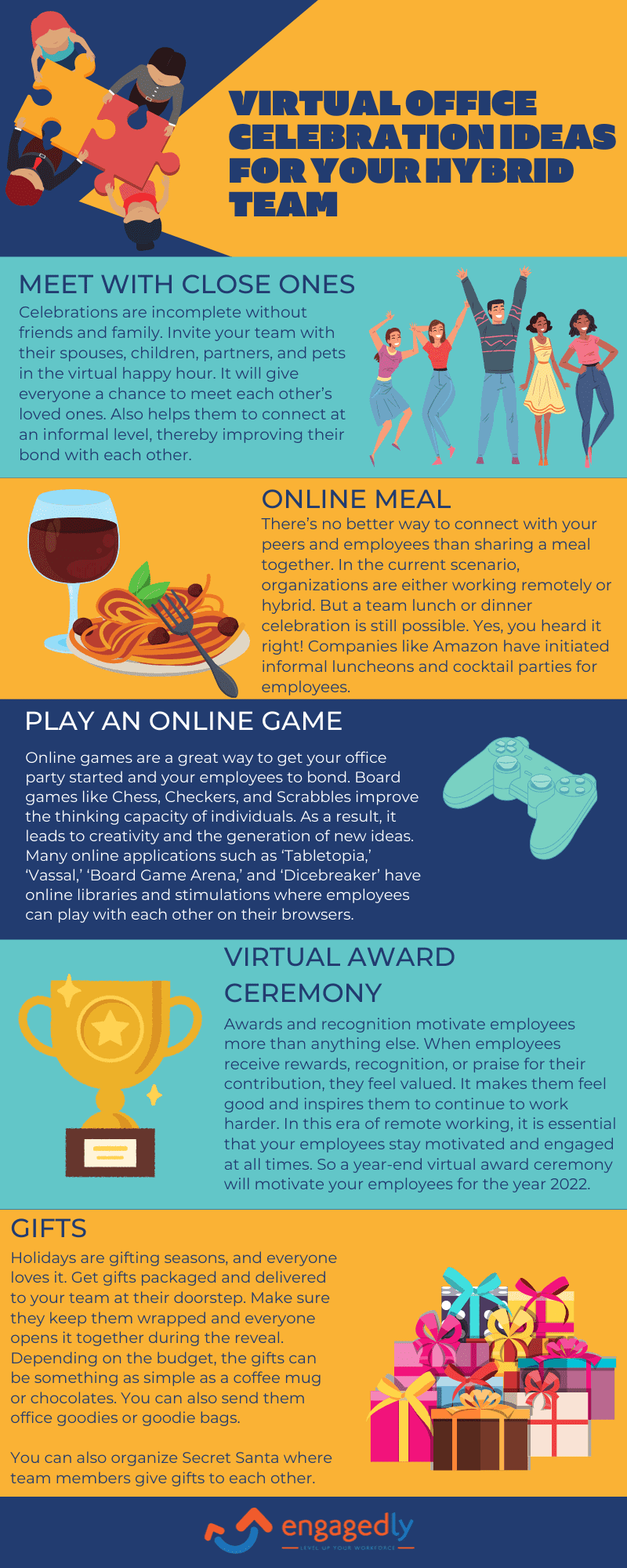 In this current era, where people are still suffering from the side-effects of the pandemic, a virtual celebration will work wonders for your organization. It will motivate your employees, make them feel appreciated and important, and will boost their morale. It will help improve productivity, engagement, and thereby directly improving the retention of your organization. So what are you waiting for?
Do you have any other virtual office celebration ideas in mind? Let us know in the comments.
---
Want to know how Engagedly can help you with employee engagement, request a demo from the team!
Jacqueline Martinez is the Director of Marketing at Engagedly and where she drives initiatives to fuel the marketing-to-sales pipeline through strategic content management, thoughtful mentoring, and revenue operations. She is a growth-focused marketing executive with extensive experience driving multi-million-dollar revenues across SaaS, technology, real estate, oil & gas, and financial services industries.
November 25, 2022
Performance review may seem like a pain, but they are important for organizational…
November 7, 2022
What's the difference between traditional and progressive performance management?