Most of us globally have been working from home or in a hybrid environment for over a year now; it is more than what we ever imagined. Considering the current situation, we may continue to work remotely, at least for some time now.
While initially companies and employees were equally skeptical of working from home, but it has its own benefits for both. It helped companies to reduce their costs and recruit employees from the global talent pool. On the other hand, employees gained the flexibility to work from anywhere and no need to travel to work.
Initially, many of us blended seamlessly with the process. But recent statistics suggest that the number of employees who reported stress, anxiety, and loneliness has increased. Not only this, but they also reported extra screen hours as compared to what they used to do previously. It affects their mental and physical health, makes them feel exhausted and less productive. As a result, they become disengaged and disconnected from the organization. It impacts the overall productivity of the employees, which ultimately affects the organization.
HRs, organizations, and employees should collaborate and realign their existing employee wellness schemes to support the wellbeing of their remote employees. Organizations should no longer focus only on physical wellbeing but also address mental wellness issues. Here are four employee wellbeing initiatives that organizations can focus on for the wellbeing of their remote employees.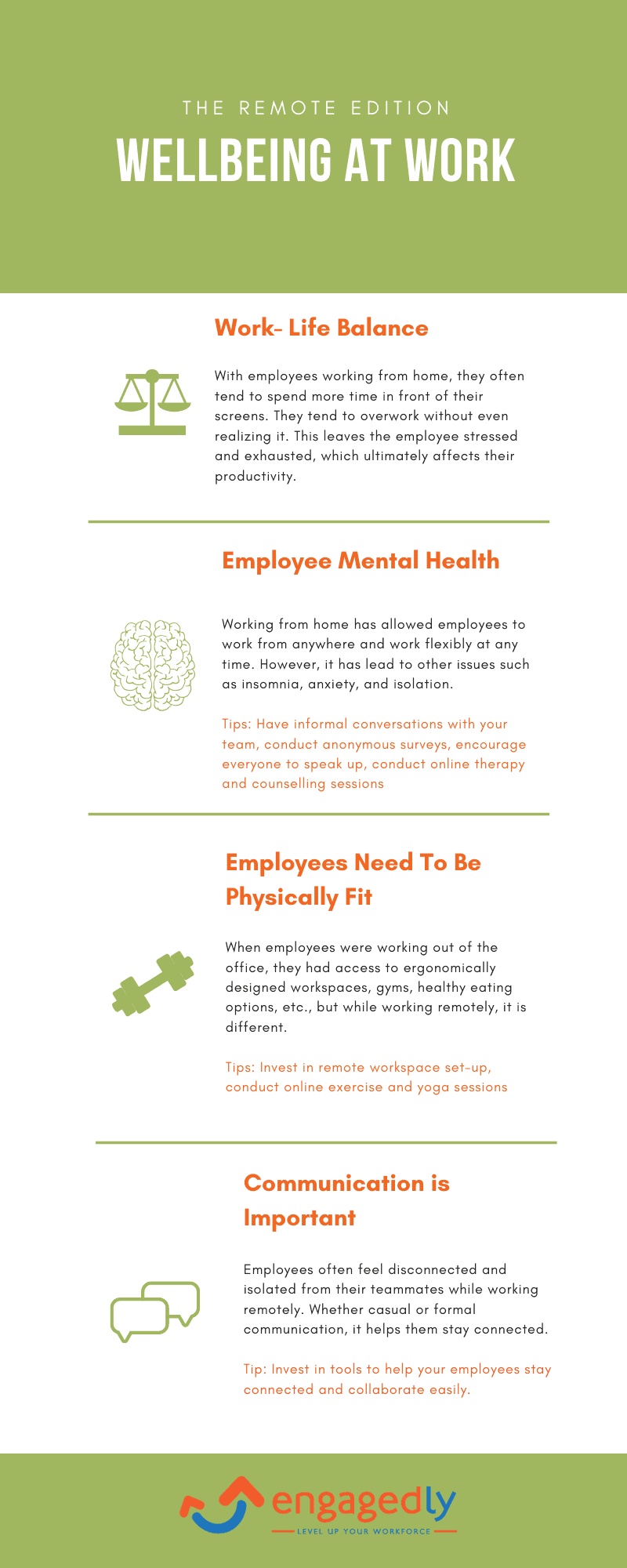 How are you managing the well-being of your remote employees? Do let us know in the comments.
---
Want to know how Engagedly can help you with managing your remote employees? Then request for a live demo.
Jacqueline Martinez is the Director of Marketing at Engagedly and where she drives initiatives to fuel the marketing-to-sales pipeline through strategic content management, thoughtful mentoring, and revenue operations. She is a growth-focused marketing executive with extensive experience driving multi-million-dollar revenues across SaaS, technology, real estate, oil & gas, and financial services industries.
November 25, 2022
Performance review may seem like a pain, but they are important for organizational…
November 7, 2022
What's the difference between traditional and progressive performance management?