Frequent employee feedback is one of the best practices for tracking employee progress and improving it from time to time. This practice helps not only the employees but helps the team and the entire organization increase their productivity.
While most organizations already have digitized the process of employee feedback, here's a list of few employee feedback tools that can enhance the whole experience!
10 Employee Feedback Software In 2023
Check out our well-researched list of employee feedback software that can help enhance employee performance.
1. Engagedly
Engagedly is an AI-Powered performance management and employee feedback tool. It allows you to give feedback or request feedback from the employees in with the ability to perform quick analysis and draw patterns from the data. It allows you to compartmentalize different types of feedback by allowing users to add categories to their feedback.
Along with employee feedback, Engagedly has many more features that contribute to an increase in employee performance and promote employee engagement.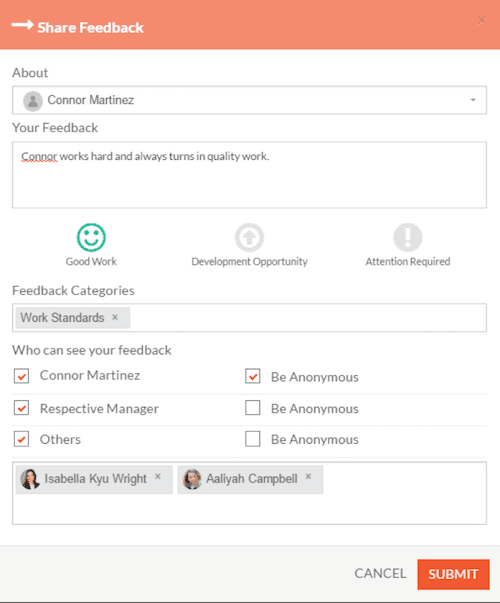 Top Features:
Anonymous feedback
Feedback categories
Fully customizable feedback visibility
Easy integration
Status flags for feedback
Fully automated
Pricing: From $6 per user, per month
Free Trial: Available
---
2. 15Five
15Five is an integrated suite of apps that helps you collaborate and communicate with your teams easily. This tool promotes employee engagement and company-wide visibility of employee recognition.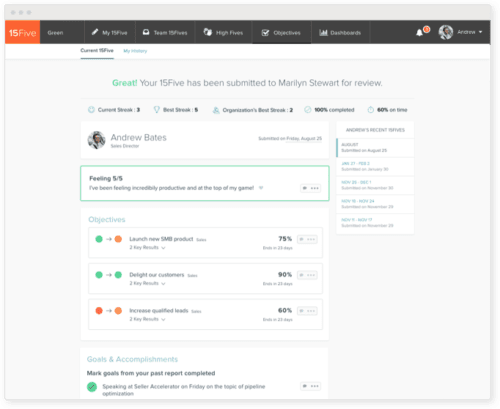 Top Features:
Weekly reports
Tracking objectives
High Fives (Employee recognition)
Company-wide/ Team-specific feedback
Pricing: From $7 per user, per month
Free Trial: Available
3. Reflektive
Reflektive is a real-time performance management that promotes employee engagement with real-time employee feedback and recognition. This employee feedback software allows you to measure the results with real-time engagement analytics.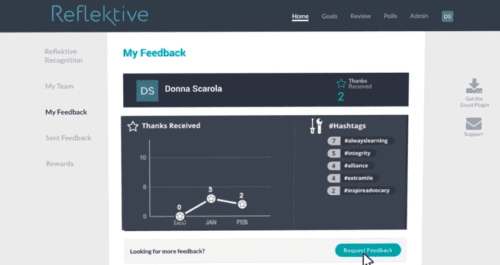 Top Features:
Real-time Feedback
Easy and quick employee recognition
Multiple user tagging
Easy-to-use user interface
Pricing: Request for a quote
Free Trial: Not available
4. Zonka Feedback
Zonka Feedback is an employee feedback survey app. This app helps you to create and customize stunning surveys and feedback forms to take feedback on multiple channels – Kiosks, iPads, Android Tablets, Smartphones, Emails, SMS, QR codes, and more. It helps companies get real-time reports, insightful analytics, and instant feedback alerts. Its feedback management platform helps companies close the feedback loop and take action to improve their customer satisfaction scores.
Features:
Set up your surveys in less than five minutes. Needs no technical know-how.
Take direct feedback from customers and employees with Zonka Feedback.
Run CSAT, CES & NPS Surveys to know customer loyalty, satisfaction & effort.
Easily manage feedback, collaborate with the team, and take action to close feedback.
Get real-time reports, email digests & instant alerts for new feedback and low scores.
Zonka supports more than 30+ languages. Build multilingual feedback forms.
Set up multiple locations. View location-based cumulative & comparative reports.
Pricing: Customizable plan
Free Trial: Available
5. ReviewSnap
ReviewSnap is a performance management software that includes 360-degree feedback and performance reviews. This flexible, user-friendly, and robust employee feedback software helps you improve overall organizational productivity and promotes a culture of frequent employee feedback.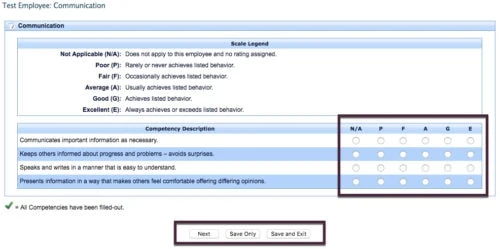 Top Features:
Individual/ comparative reports
Fully automated tools
Easy to use
Unlimited surveys
Statistics Dashboard
Pricing: Customizable plan
Free Trial: Available
6. WeekDone
Employee feedback is one of the easiest ways to make your employees understand what is expected of them and result in an increase in performance. Weekdone is an advanced employee feedback tool that requires employees to fill out their plans for the week and the progress they've made on their plans. It allows you to hold private employee discussions and provide feedback to the employees.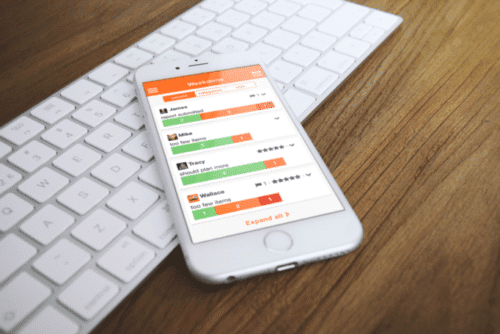 Top Features:
Weekly planning
Employee discussions
Feedback and recognition
Peer to peer praise
Pricing: From $9 per user, per month
Free Trial: Available
7. TinyPulse
TinyPulse makes it easy to create employee pulse surveys so that employee feedback happens more frequently. It is an employee feedback software that can be used to engage and develop high-performing teams. Their top clients include Michelin, Stitch Fix, HubSpot, Deloitte, Capital One, and Brooks Shoes & Apparel.
Top Features:
Insightful Pulses
Employee portal
Peer recognition
Surveys
Pricing: From 5$ per user, per month
Free Trial: Available
8. Impraise
Impraise is a people enablement platform that empowers users to accelerate their performance and professional growth with clear direction, alignment, feedback exchange, and recognition.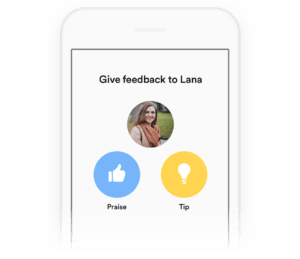 Top Features:
Real-time feedback
Employee recognition
Employee analytics
Goals and check-ins
Pricing: Request for a quote
Free Trial: Not available
9. Lattice
Lattice is a people management platform that has flexible features like OKRs, 360 performance reviews, employee feedback that contribute to organizational success.
Top Features:
Real-time feedback
1:1 meetings
Employee praise
Easy integrations
Feedback cycles
Pricing: From $9 per user, per month
Free Trial: Not available
10. CultureAmp
CultureAmp is an employee feedback software that is focused on constructive feedback, insights, and action. It helps you build a comprehensive feedback strategy.
Top Features:
Real-time insights
Automated employee surveys
360 Feedback
Pricing: From $4500 per year
---
---
Frequently Asked Questions
Q1. What is employee feedback software?
Ans. An employee feedback software is a system of processes used by organizations to collect and analyze employee feedback. It helps leadership understand employees' sentiments, engagement, satisfaction, and concerns without having to reach out to every employee individually.
Q2. What are the best best performance feedback tools?
Ans. Below is the list of the best performance feedback tools for 2023.
Engagedly
15Five
Reflektive
ReviewSnap
Weekdone
Tinupulse
Impraise
Lattice
CultureAmp
6Q
Q3. What is the importance of real-time feedback tools?
Ans. Real-time feedback tools help employees stay on their optimal performance track by highlighting their strengths and weaknesses and offering them quick, actionable insights. It also supports employees in their career development and planning.
Q4. How to choose an employee feedback tool?
Ans. The following list will help you choose the right feedback tool for your organization:
Assess the features and ensure they meet your needs
Evaluate ease of use for both employees and administrators
Consider the feedback process, including question types and data collection options
Ensure data security measures are in place
Review pricing and select the tool that provides the best value for your budget
Q5. How efficient are AI-Powered employee feedback tools?
Ans. AI-powered employee feedback tools can be very efficient. They are designed to collect, analyze, and interpret large amounts of data quickly and accurately. This can save a significant amount of time and effort compared to traditional feedback methods.
AI-powered tools like Engagedly can also provide more in-depth insights into employee feedback data. They can identify patterns and trends that might not be immediately apparent to human analysts. This can help organizations make more informed decisions about improving employee engagement and satisfaction.
Get In Touch With Us
Aaron Adams is the VP of Professional Services for Engagedly, where he develops and implements strategic talent solutions that help support and drive the organization's talent and business strategies. He holds a Master's Degree in Industrial-Organizational Psychology from Wayne State University and has worked as a Right Management consultant and an OD consultant for a Fortune 20 Company. Currently, he leads Engagedly Teams responsible for onboarding, training, and consulting services.
May 1, 2023
What is employee recognition and why is it Important? Employee recognition is…
April 23, 2023
It is challenging yet crucial for your company to measure employee engagement.…