Why is it important to focus on employee engagement in this competitive business age? We often come across interesting articles which convey that engaged employees can help you increase your organizational productivity.
But larger organizations more often focus on their deadlines and on getting the work done. They tend to forget that it is also important for employees to be enthusiastic about what they are doing. One engaged employee can contribute a lot more to organizational productivity than ten disengaged employees.
There are many articles on the Engagedly blog about fun and interesting activities to promote employee engagement at the workplace.
Also read: 5 Employee Engagement activities On Budget
Also read: The Cost Of Employee Disengagement
Also read: 6 Creative Ideas For Employee Engagement
Engagement at workplace is not a change that you can bring about overnight. It is a culture that should be fostered gradually by encouraging employees to participate and communicate more.
What if, an application is exclusively dedicated to promoting engagement culture at the workplace? Engagedly is a performance management software that drives a culture of engagement at the workplace.
Here are 5 reasons why you need Engagedly to drive employee engagement at your workplace.
Continuous Feedback Throughout The Year
Engagedly's feedback feature normalizes the idea of giving and receiving feedback anytime throughout the year. Employees can request feedback whenever they want to. Engagedly also gives you an option to select the areas on which the feedback should be given.
This allows all the employees in an organization improve themselves constantly. This process of continuous feedback keeps employees driven throughout the year and not just before performance reviews; hence promoting employee engagement.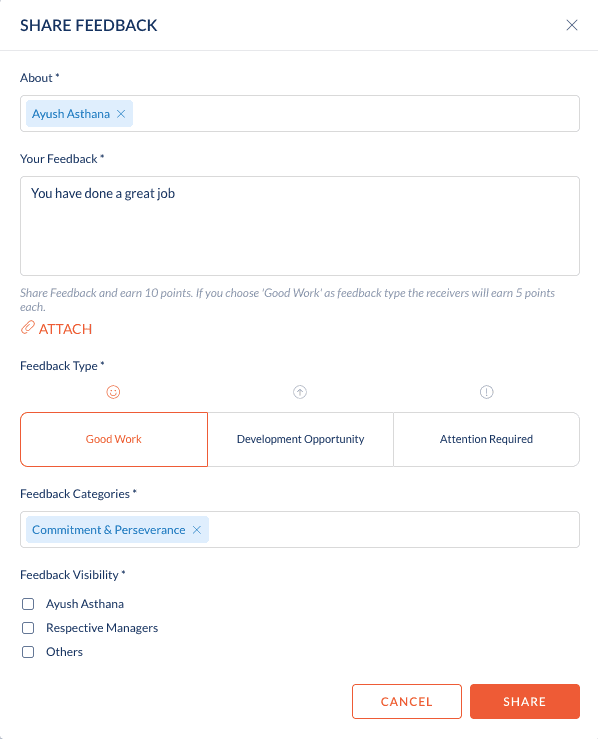 Social Platform For Communication/ Collaboration
Every employee is smart and exceptional in their own way. Having a platform to express their thoughts and opinions is a great motivator.
Engagedly's social feature allows employees to share posts, share ideas, request for help and share knowledge. Engagedly allows you to create interest groups and share documents and other material with colleagues. Encouraging employees to express themselves and interact socially makes your workplace a communication-friendly space and helps employees remain engaged.

Goals And Objectives
Setting clear and distinct goals is very important to complete any task. Employees can create goals for themselves and their direct reports using the Engagedly goals module.
As a manager/ HR, it is important to set clear goals for your employees so that everyone works towards a collective goal.
Engagedly also has an option to align the individual goals with the organizational goals so that employees know how their individual goal success is contributing to the accomplishment of organizational goals. In Engagedly, goals can also be reviewed by managers from time to time to check if their employees are on the right track.
Encourages Personal Development–Learning
Learning is a continuous process. No matter how old you are, what you do, keeping yourself up to date with the current industry trends is very important.


Engagedly's Learning feature helps you create new courses, and for each course an employee completes, they are awarded points by the course creator. When you assign courses to employees for their development, it motivates them because they know you are genuinely interested in developing them and improving their skills.
When employees develop their professional skills, it boosts their self-confidence, which in turn promotes engagement culture at the workplace.
Public Praise And Recognition
This could be considered another type of feedback. Receiving praise and recognition for their work is every employee's dream. Engagedly's public praise feature allows you to praise any employee publicly for the extra effort that they put in towards achieving a goal.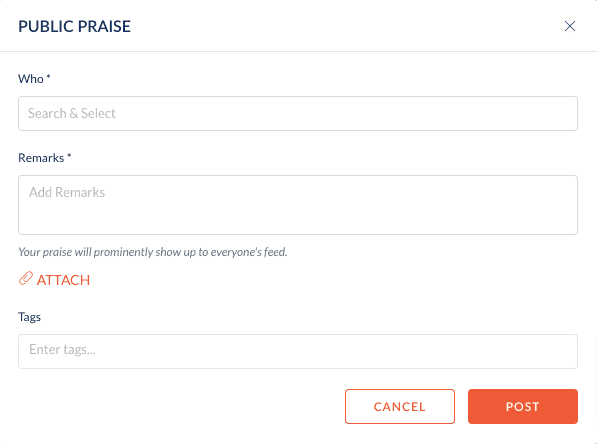 When employees go above and beyond to accomplish their goals, it is important to recognize their efforts and praise them. This keeps them motivated and engaged.
---
Do you want to know more about Engagedly? Then request for a live demo now!
Aaron Adams is the VP of Professional Services for Engagedly, where he develops and implements strategic talent solutions that help support and drive the organization's talent and business strategies. He holds a Master's Degree in Industrial-Organizational Psychology from Wayne State University and has worked as a Right Management consultant and an OD consultant for a Fortune 20 Company. Currently, he leads Engagedly Teams responsible for onboarding, training, and consulting services.
March 28, 2023
Employee disengagement is a global problem. Gallup's study on workforce engagement…
February 1, 2023
Imposter syndrome is an internal experience when an individual denies believing…