Quiet quitting has become a social media sensation in recent days, especially among Gen Z and millennials. It might sound like someone is silently putting in their resignations, but the reality is different altogether. In fact, quiet quitting is a trend wherein the employees of a workplace stick to a bare minimum. It is a rebellion against the 'hustle culture' where employers ask employees to go above and beyond to get work done.
The COVID-19 pandemic affected everyone's lives in more than one way. It caused people to reconsider their chosen career paths. According to the U.S. Bureau of Labor Statistics, 71.6 million people quit their jobs during the Great Resignation, which went on from April 2021 to April 2022, for a monthly average of 3.98 million. This also paved the way for another phenomenon called "Quiet Quitting."
Let's explore all you need to know about this new phenomenon happening at work, but first, let's answer what quiet quitting is.
What is quiet quitting?
Quiet quitting doesn't mean employees leaving their jobs. They limit their tasks to only what is strictly required to match their job description. For some, quiet quitting is a form of rebellion against the hustle culture. 
When employees choose to quit, they just want to do the bare minimum instead of working for extended hours or taking up any additional work. Their main concern is to get the job done. Therefore, they are setting boundaries for their professional work and focusing more on their work-life balance. 
These employees are still performing their jobs, but they are not adhering to the 'work is life' culture in order to lead their careers and stand out to their employers. They stick to their job description, and when they get home, they put work aside and concentrate on non-work obligations and activities.
Quiet quitting, on the other hand, could indicate that a person is dissatisfied with their job or is suffering from burnout. Quiet quitting is a strategy for an employee to deal with burnout and relieve stress. It could also indicate that they are ready to move jobs or are already seeking one.

Who are the employees quietly quitting?
According to Deloitte's 2022 Global Gen Z and Millennial Survey, Boomers and Gen-X approach work very differently from other generations. While older workers like the "up and grind" mindset, current generations are more focused on a healthy and balanced lifestyle.
According to a survey conducted by ResumeBuilder.com, 25% of employees across all ages stated they perform the bare minimum at work, but this figure rises to 30% among millennials. In comparison, just 8% of workers aged 54 and up reported decreasing productivity. While millennial employees are more inclined to be quiet quitters, unhappiness in other generations is evidently widespread.
What's the reason behind quiet quitting?
The biggest reason for quiet quitting these days is burnout.  According to a Microsoft survey of 30,000 workers, 54% of Gen Z employees don't hesitate to quit their jobs. This is mainly because they want to get into jobs they prefer suitable for themselves.
The World Economic Forum rates youth disillusionment one among the many immediate dangers in its 2021 Global Risks report. According to the findings, mental health has deteriorated since the onset of the pandemic, leaving 80% of the youth workforce vulnerable to despair, anxiety, and disillusionment. 
All of these factors are a big reason for quiet quitting. We have listed here a few other factors responsible for quiet quitting to gain popularity among working professionals.
Promotes mental wellness
Several studies have found a correlation between work-life balance and mental health. This movement seeks to restore balance where work has infiltrated your personal time. It can also assist you in distancing your self-worth from your work. When all you have is work, it's difficult not to derive a sense of worth from it.
Protects against burnout
Burnout was recognized by the World Health Organization in 2019 as an occupational syndrome. The characteristics can be emotions of depletion, tiredness, cynicism, mental alienation from work, and poor performance. Overwork causes burnout, which can have long-term physical, emotional, and mental health consequences. Overwork and a lack of self-care can lead to burnout, which can be harmful to both the individual and the business.
Many people who suffer from burnout wind up taking time off work or working at less than full capacity. Quiet quitting can improve the balance of work and personal life, potentially preventing burnout before it occurs.
Improves workplace relationships
When employees are content, their productivity rises. This can even help if you're preoccupied or don't want to be present. Furthermore, when people are joyful, they are less tense and find it easier to establish friends at work.
Another effect of the quiet quitting trend is that simply completing your job eliminates the bad impact of continuously feeling in competition with colleagues.
Experts say that rather than being concerned about lost productivity, employers can take advantage of the silent quitting trend. They can encourage employee well-being and provide a conducive workplace.
Signs of quiet quitting at work
Quiet quitting signs might vary based on the employee's reasons for wishing to take a break from work. If an employee is actually dissatisfied, the indicators may be far more visible than if they simply seek a better work-life balance.
As an employer or a team leader, it is important to know why employees are quitting. Then only you can find a solution. But how are you going to know that? Here are some quiet quitting examples by which you can understand the phenomenon better.
Skipping work-related meetings

Late arrivals and early departure

Low productivity

Low participation in team activities

Lack of enthusiasm for work
Impact of this quiet quitting trend on businesses
According to the Gallup State of the Global Workplace study, employees who are alienated at work cost the world economy $7.8 trillion in lost output.
With fears of an approaching economic slump circulating, employers are concerned about productivity levels. For instance, non-farm worker productivity in the United States declined by 2.5 percent in the second quarter of this year compared to the same period last year. According to the Bureau of Labor Statistics, this is the steepest yearly reduction since 1948.
Companies such as Google are indicating that layoffs are inevitable in reaction to decreased productivity. These layoffs are costly for both employees and companies, with the cost of laying off one person equal to 200% of the employee's income.
Impact of this quiet quitting trend on employees
Slacking off at work can produce tension among coworkers because some are left to compensate for others. This, in turn, fosters a toxic working culture, which may compound employee unhappiness.
While the Great Recession resulted in more jobs relative to experienced workers, an impending recession has shifted the calculus in favor of employers.
According to a new poll conducted by consultancy firm PwC, half of the respondents in the United States planned to reduce their staff, including companies such as Apple, Peloton, and Walmart. According to a July research by a job-search service, 60 percent of job searchers feel a greater need to find work now before economic conditions worsen.
This suggests that employers have an advantage over employees. Quiet quitters or those accomplishing the bare minimum may be the first to depart in this scenario. Quiet quitting can jeopardize their future possibilities as well. Furthermore, underperforming employees may build a terrible reputation that will accompany them for the rest of their lives, especially when HR services are being outsourced and digitalized.
What can businesses do to counter the impact of quiet quitting?
Organizations must ensure that employees don't suffer from burnout. Employees should be allowed to set realistic boundaries. For example, most employees feel guilty about taking yearly vacations as they feel it might impact their careers.
To combat the bare minimum norms, employers must urge employees to take care of their health. Furthermore, they should encourage breaks. If a company wishes to have a great working culture, it must respect the emotions of employees.
Favorable work culture will most likely result in increased production and productivity. Only then companies can finally solve the true issue with 'quiet quitting.' No one wants to feel like they're getting a bad deal at work. If you want the best deal for your company, allow employees to have open discussions about what they feel and how they like to see things at the workplace.
Promote open dialogue
Employees must feel safe approaching their bosses with any problems or challenges they may be having. Managers should also make a point of checking in with their personnel rather than waiting on them. Employees who can approach their superiors openly are considerably more likely to discuss topics that are important to them, which affects their job engagement.
Encourage a good work-life balance
Maintaining a healthy work-life balance is critical to keeping your workers interested and satisfied at work. Assure that your workforce has the ability to take a vacation, sick leaves, or personal day offs as needed. If possible, avoid scheduling too many meetings on late evenings or weekends.
Make sure your staff feels appreciated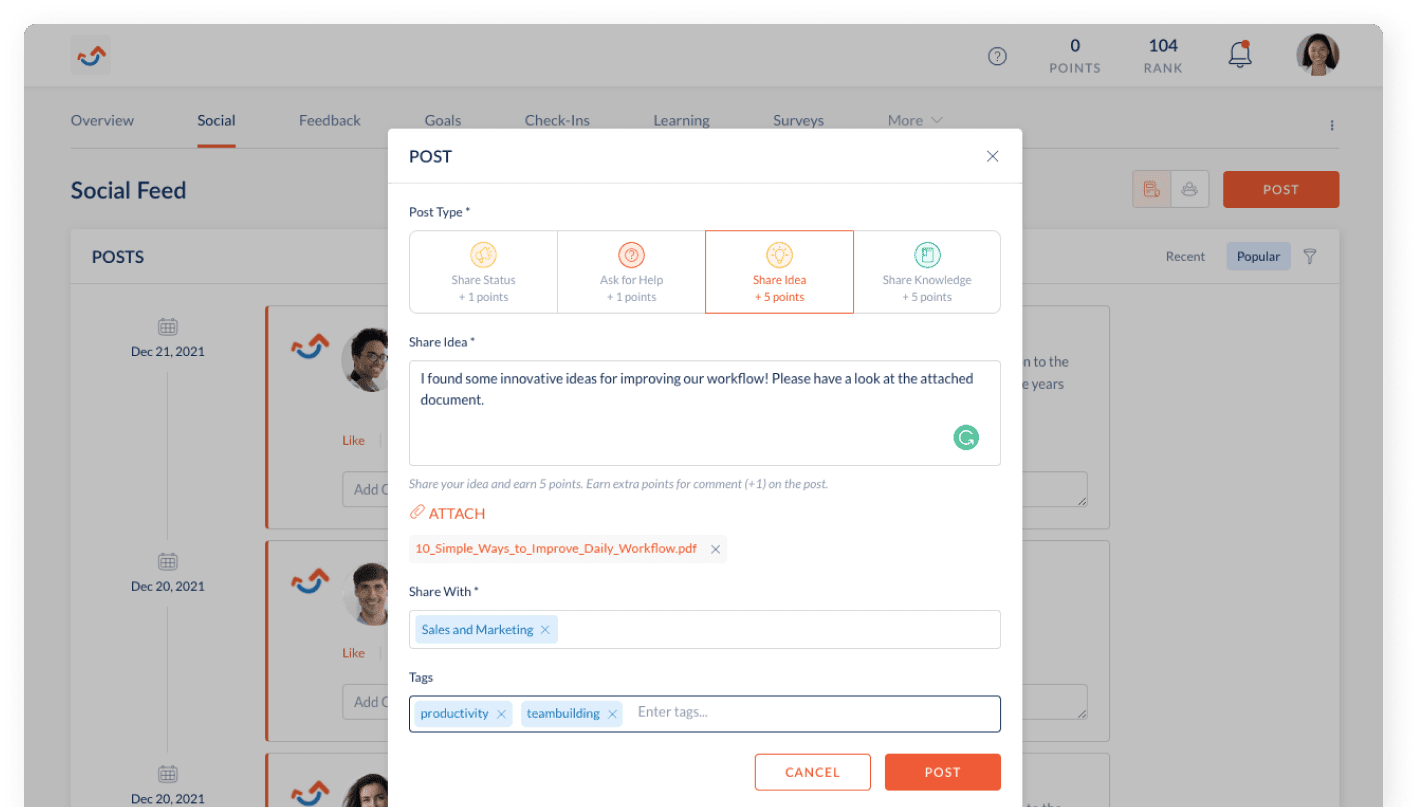 Employees who feel respected, valued, and appreciated at work are more likely to be happy, committed, and interested in their roles. To keep staff engaged, make sure they receive both positive and constructive feedback. It is also an excellent idea to take the time to recognize your employees' efforts. Do this in the best way possible for them, whether publicly or privately.
Try not to overwork your employees
Employees that are overworked are more likely to be burnt out, stressed out, and unhappy at work. You should avoid scheduling too many overtime hours or placing employees under too much pressure to reach unrealistic targets. Overworking your employees will just add to your stress and obligation.
Create opportunities for career growth
If a person feels trapped in a dead-end job, they are more likely to be unhappy and disengaged at work. Create possibilities for people to grow and rise within the firm to avoid this. Offer courses and training programs to employees for upskilling themselves and learn interesting new things.
Take feedback from your team
Your employees are the most reliable source of information about what it's like to work for your company. As a result, you must pay attention to what your staff says and consider their recommendations. This will show them that you respect their opinion. This will also allow you to take the required actions to create a better work culture. When the work environment is conducive and employee-friendly, output and efficiency from employees will also be the highest.
Invest in an employee engagement tool
Employee engagement tools are another creative way to enhance engagement in the workplace. They can help you boost employee engagement with technology by integrating all of your engagement initiatives together on a single user-friendly platform. 
Companies can use such employee engagement tools to keep their staff and employees meaningfully connected and extract better outputs. Here is how an employee engagement tool can help your company:
It improves overall employee engagement.

It improves the employee retention rate.

It gives employees an excellent channel to convey their concerns and opinions.

It enhances employee productivity and makes way for creativity and innovation.

It encourages a higher attendance rate. 

It helps to create a conducive and happy work environment.

It keeps track of employee performance and gives feedback when needed.

It helps in the timely distribution of rewards and recognition.

It improves team coordination and enhances team output.
The

bottom line
Quiet quitting may be a temporary trend that is viral on social media, but it originates from real-world issues that employees encounter on a daily basis. That is why it is important to pay close attention to why this trend started in the first place. 
All stakeholders should consider a human resource specialist approach to redesigning the work culture. This can be accomplished by acknowledging the existence of an issue and committing to resolving it rather than abandoning it entirely.
---

---