According to Gallup's comprehensive 2015 study, 'The State Of The American Manager', 50% of Americans have left a job "to get away from their manager".

The survey also says that workers feel like they're given little guidance for understanding what's expected of them. Only 12% of workers strongly agreed that their manager helps set work priorities.
Effective and frequent communication with team members is a common problem for all managers these days. And with everyone working remotely, it has become even more difficult. When employees do not see open lines of communication with their manager, or do not understand what is expected of them, they tend to quit.  
One-on-one meetings are here to fill that gap; these meetings help managers build a strong team and keep them motivated at work.
Leading organizations that identify the significance of communication at workplace have started using one-on-one meetings software for effective communication between managers and team members.
Importance of One-On-One Meetings
Although there are many definitions of one-on-ones, but we define it as standard scheduled time for managers to check-in with their direct reports. These meetings are important for both managers and direct reports because they ensure that both of them stay on the same page.
One-on-one's help managers with the following:
        

Keep track of team goals

        

Discuss action plan with their team

        

Stay aligned with direct reports' goals

        

Sharing ideas and concerns
One-on-one meetings are very useful, but they often end up being more disorganized than expected. How can you prevent this and make your one-on-one more productive?
Here's a step-by-step infographic for you to have effective one-on-one meetings with your team and help them stay productive!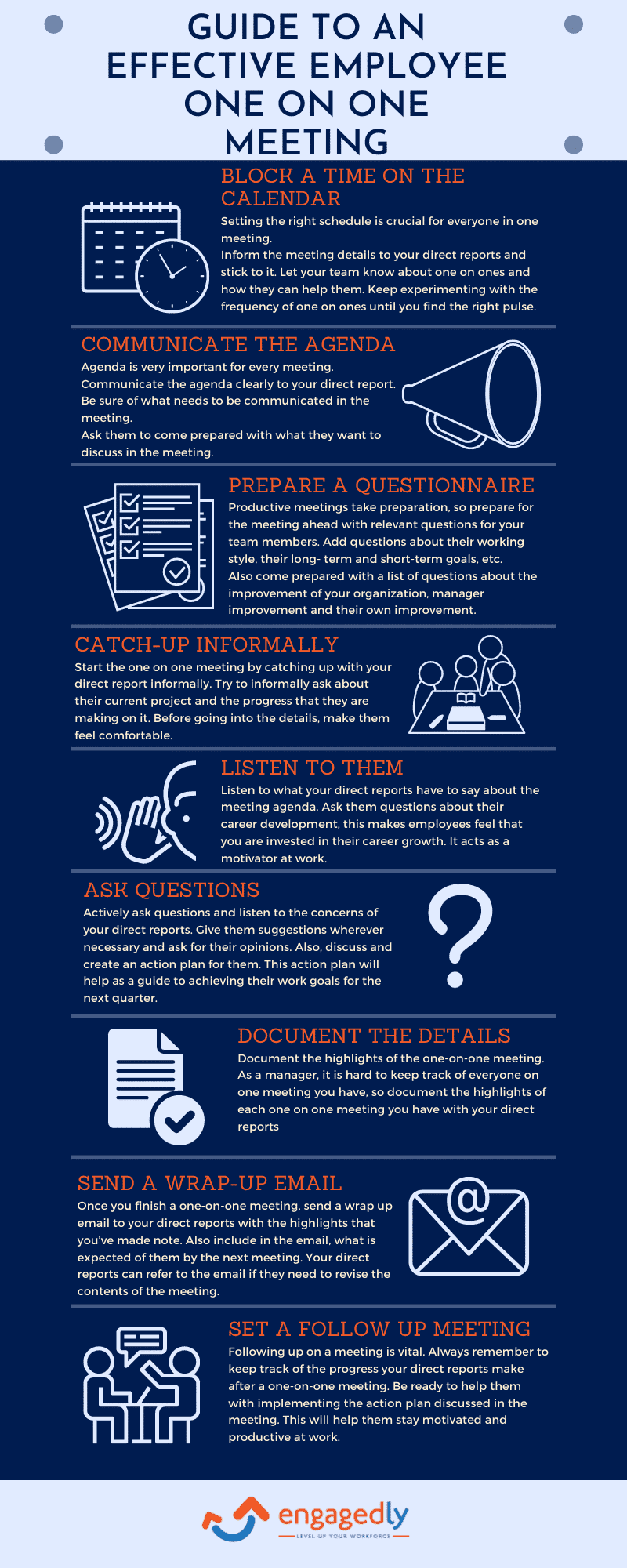 ---
Do you want to know how Engagedly can help you with frequent and effective one-on-one meetings? Request a personalized demo and talk to our experts!
Jacqueline Martinez is the Director of Marketing at Engagedly and where she drives initiatives to fuel the marketing-to-sales pipeline through strategic content management, thoughtful mentoring, and revenue operations. She is a growth-focused marketing executive with extensive experience driving multi-million-dollar revenues across SaaS, technology, real estate, oil & gas, and financial services industries.
November 25, 2022
Performance review may seem like a pain, but they are important for organizational…
November 7, 2022
What's the difference between traditional and progressive performance management?