Human resources, a.k.a., people operations, is one of the most dynamic departments in an organization. They fulfil various functions, from creating and implementing effective workplace policies and procedures to building the company culture, performance management, compensation and benefits management, compliance and training etc.
When it comes to setting goals for one of the most dynamic departments of your company, HR OKRs are a great way. Having effective OKRs for the HR department helps you drive employee engagement, create alignment and drive high performance not only within the people operations team but also the other departments of the organization.
When it comes to setting OKRs, we always have a couple of questions in mind:
What makes a good OKR? and
What are a few OKR examples for my department?
To answer these basic questions, Engagedly is launching a series of practical and comprehensive OKR examples that can help you set individual OKRs as well as OKRs for your own company, department and team. We will cover everything from company goals to HR, marketing, sales, product, engineering, customer success and more.
OKR Examples For HR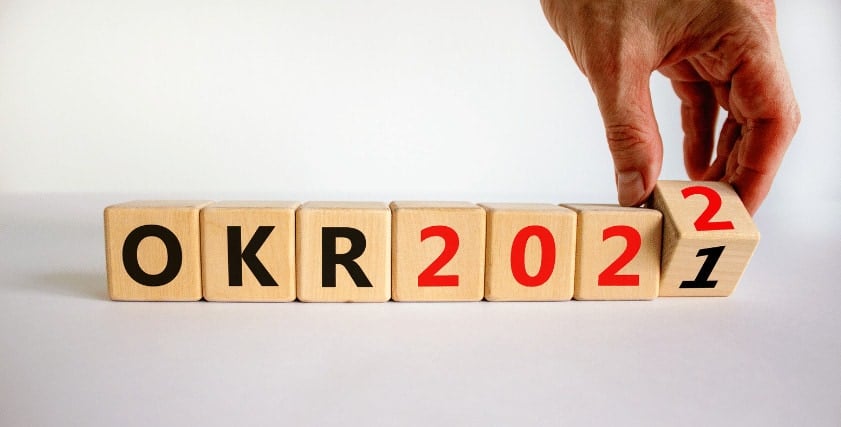 Here's a list of  People Operation OKRs / HR department that can help you get started!
HR OKRs Example 1
Objective 1: Create And Implement An Effective Benefits Program
Key Results:
– Research and understand the benefit programs of 10 competitor companies (50-100 employees) 
– Compare the current employee benefits with industry standards and recommend better ones.
– Achieve usage of about 70% of the benefits program
– Maintain the budget for benefits for each team below 700$
HR OKRs Example 2
Objective 2: Grow The Organization With A-Players
Key Results: 
– Increase referral fees for Employee referral programme by 10%
– Launch an ongoing 2-way closed-loop feedback process
– Achieve a ratio of 4:1 between interviewed and hired candidates
–  Achieve 10% increase in job offer acceptance rate
– 75% of new hires score "meets expectations" or higher after 6 months on the job

HR OKRs Example 3
Objective 3: Create an effective leave management system
Key Results:
– Hire a new team member to service employee administrative needs

– Evaluate 3 solutions for leave tracking and select the best one for the team
– Achieve 90% satisfaction rate of the new system
HR OKRs Example 4
Objective 4: Have OKRs Set And Adopted By All Teams
Key Results:
– Organize OKR Goal Setting training workshop for all team members
– Achieve an 80% approval rating on employee survey on OKR effectiveness
– Achieve at least 50% completion rate for the first OKRs cycle
HR OKRs Example 5
Objective 5: Create And Sustain A Diverse And Inclusive Team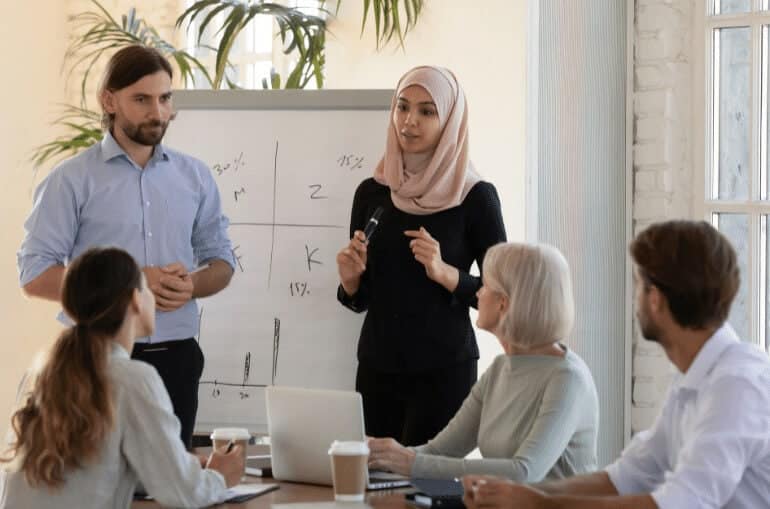 Key Results:
– Increase women in leadership positions (Director and above) to 43%
– Conduct an unconscious bias workshop and train the managers
– Improve the rate of underrepresented minorities in tech roles up to 39%.
HR OKRs Example 6
Objective 6: Implement Employee Development Programs For Remote Employees
Key Results:
– Create personalized career development programs for remote employees
– Increase online career development courses from 50 to 100
– Increase employee assessment completion rate from 30% to 80%
– Increase the number of certification courses from 20 to 50
HR OKRs Example 7
Objective 7: Create Inclusive Insurance Plans for LGBTQIA+ Employees' Partners
Key Results:
– Reach out to 10 insurance providers that cover LGBTQIA+ employees' partners
– Create a proposal for internal monetary support 
– Run a monthly survey to understand the insurance concerns of LGBTQIA+ Employees
We hope this article on people operations OKRs has helped you. Check out our exclusive guide on OKRs to understand the importance, benefits, and steps of creating OKRs. You can also download templates and use them for tracking and reporting team productivity.
---
September 21, 2022
In the workplace, goals are crucial for success. Goals keep you on the course…
September 5, 2022
The key result has to be measurable. But in the end, you can look, and without…