When it comes to choosing participants in a 360 degree feedback, you might want to enthusiastically ask everyone who even knows the employee in the slightest to participate. But hold on. Do you really need so many opinions?
Yes, the whole idea behind 360 degree feedback programs is make sure that employees receive feedback that is not biased and opinionated.
However, involving everyone who has ever interacted with an employee might mean that your 360 feedback program is very quickly going to spin out of control.
So who all should participate in a 360 degree feedback program? Here's a list of key people who should participate in the program.
Who Should You Ask For 360 Feedback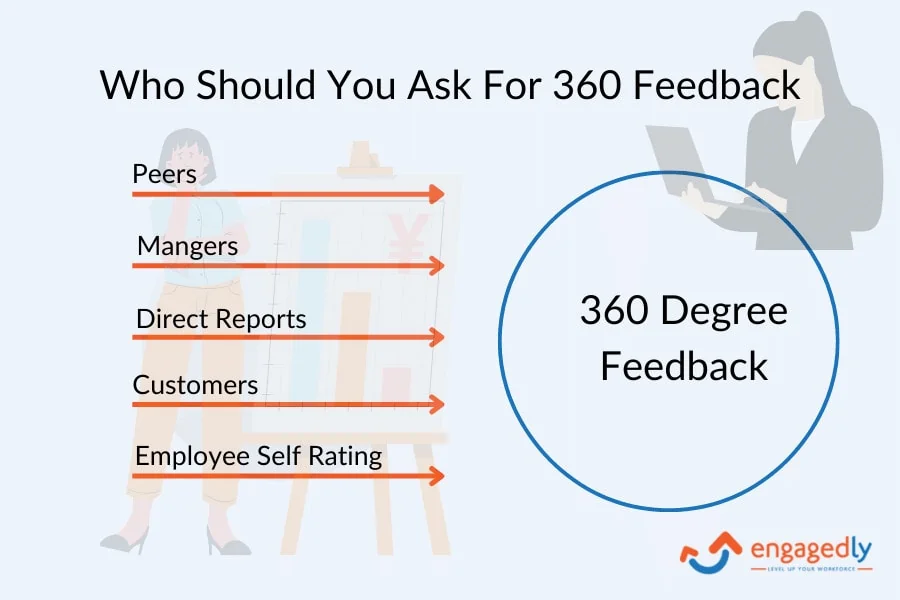 Rather than asking everyone to provide feedback, you can concentrate only on the people who you are having business dealings with. The following are the set of people you can request for 360 feedback. Please note that every organization has a different practices and processes to be followed, and based on that you can include or exclude people from providing feedback.
Peers
First and foremost, an employee's peers. And not just all peers in an organization. Rather, peers who work closely with an employee. They would have a good idea of how the employee works, how he/she is as a person, and how he/she behaves when in the office, in front of the manager, in front of the client, etc.
Peers are the first one you should request for 360 feedback. As they have been working with you from a long time, they understand your strengths, competencies, and weaknesses, and can offer constructive feedback.
Managers
It is a manager's responsibility to help their employees grow as professionals. They are tasked to provide feedback to their team members to support them in their learning process. Furthermore, a lot of 360 degree psychology is developed around a manager's ability to offer feedback. Hence, it would be highly beneficial to request your manager for 360 feedback.
Are you ready to launch your workforce on the path of learning and development? Then download our step-by-step 360 degree feedback guide to get started today.
Take a look here. "Your Comprehensive Guide To 360 Degree Feedback in Modern Workplace"
Direct Reports
Nobody should be exempt from feedback. Not even employees who manage a small number of direct reports. Direct reports can provide constructive feedback on their manager's skills, effectiveness as an employee, office behavior, ability to handle multiple tasks, and attitude toward the team. As they work day in and day out with the manager, they are able to comprehend the strengths and weaknesses of their manager. Hence, their feedback is especially important for a manager's growth.
Customers
If the employee is someone whose work revolves around dealing with customers, then it is good to have customers participate in the feedback programme too. They will be able to offer good insight into how the employee deals with them and works with them. Their observations can tell a lot about an employee's customer handling skills, problem resolution, decision-making, and customer centricity.
The Employee Themselves
Self-rating is mandatory for 360-degree feedback to harbinger results. Let me tell you why. Not everyone shares the same view of a person. An employee might view themselves differently from how their peers view them. By allowing them to self-rate themselves, you get to see how employees perceive themselves. Also, it provides a mechanism for employees to compare their self-rating with others.
---
Planning to implement a 360 degree feedback process in the organization but don't know where to start? Fix a quick demo with our experts.
Aaron Adams is the VP of Professional Services for Engagedly, where he develops and implements strategic talent solutions that help support and drive the organization's talent and business strategies. He holds a Master's Degree in Industrial-Organizational Psychology from Wayne State University and has worked as a Right Management consultant and an OD consultant for a Fortune 20 Company. Currently, he leads Engagedly Teams responsible for onboarding, training, and consulting services.
February 1, 2023
Imposter syndrome is an internal experience when an individual denies believing…
January 9, 2023
Employees determine the workplace quality and not the physical features and…