Performance review may seem like a pain, but they are important for organizational growth. When structured thoughtfully, it allows employees to receive feedback from their team lead or manager regarding their performance and suggestions on areas to improve. However, there are different types of performance reviews that can be used to rate the employees. It is important to understand which type of review will be suitable for your organization.
For newly appointed HRs, along with this, the process of performance review might be quite a challenge. Hence, we have come up with some amazing performance review tips for new HRs who want to make sure that reviews run smoothly, which include:
Prepare in advance
Communicate clearly
Keep it real
Discuss, don't debate
Express continual support
Review regularly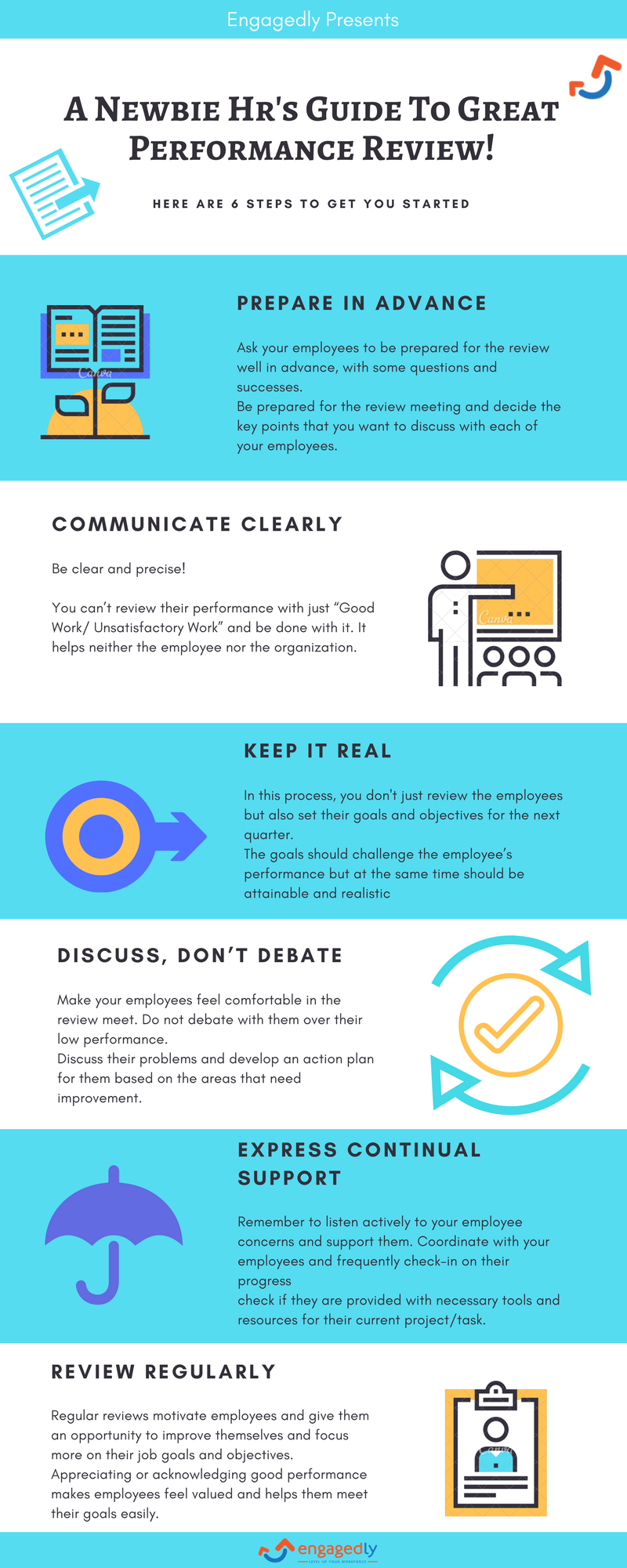 Employee Performance Review Best Practices
There is a fine line between an effective performance evaluation and a bad one. When done right, performance evaluations lead to motivation, goal alignment, and enhanced productivity and engagement.
On the contrary, a badly conducted review can stray your employees from the path of optimal performance and can even lead to disengagement and frustration among them.
Performance reviews are an opportunity for both managers and employees to create bridges and find ways to overcome challenges and celebrate accomplishments. Therefore, conducting frequent reviews is better than waiting for problems to grow bigger.
Key Takeaway
Performance reviews help to encourage and motivate employees to be more productive for the organization. New HRs can easily get started with conducting employee performance reviews by following the tips discussed above in this article.
---
---
Jacqueline Martinez is the Director of Marketing at Engagedly and where she drives initiatives to fuel the marketing-to-sales pipeline through strategic content management, thoughtful mentoring, and revenue operations. She is a growth-focused marketing executive with extensive experience driving multi-million-dollar revenues across SaaS, technology, real estate, oil & gas, and financial services industries.
November 7, 2022
What's the difference between traditional and progressive performance management?
April 6, 2022
Organizations these days have become more employee-focused and less process-driven.…