In a recent report by SHRM/Globoforce, 89% of HR leaders agree that giving feedback to peers is the key to employee success.
Constructive feedback has always been crucial for employee growth. It helps increase employee engagement, decreases turnover, and also helps in professional development. Constructive feedback is observation-based and aims to identify weaknesses in individuals, and find a solution. It helps in providing actionable suggestions and reinforces positive behavior. Considering the pandemic-stricken times, it has become more important now more than ever.
Sometimes, giving constructive peer feedback to colleagues is challenging because it tends to discourage them. But, it gives you an opportunity to contribute to regular performance reviews without involving salary appraisals or other negotiations. More importantly, peer feedback helps build a positive culture in your team as well as the whole organisation. Constructive peer feedback, when done right, has a plethora of benefits.
How To Give Constructive Feedback To Peers
Constructive feedback is the process of providing feedback to employees through direct comments, advice, or suggestions to help them mould their behavior, traits, and attitudes to achieve higher output or efficiency in work. It identifies the strengths, weaknesses, and other aspects that give faster results to employees.
The purpose of peer review is to identify the hidden problems or causes behind lower output, productivity, or performance of employees. It further strengthens the growth of employees by making them aware of their weak areas and highlighting their strengths. It serves the dual purpose of both personal and professional growth of employees.
9 Expert Tips To Giving Feedback To Peers
Using the below tips while giving feedback to peers will help in making a better impression on the employee and will further help them in understanding the improvement areas. Feel free to customise these tips as per your business requirements.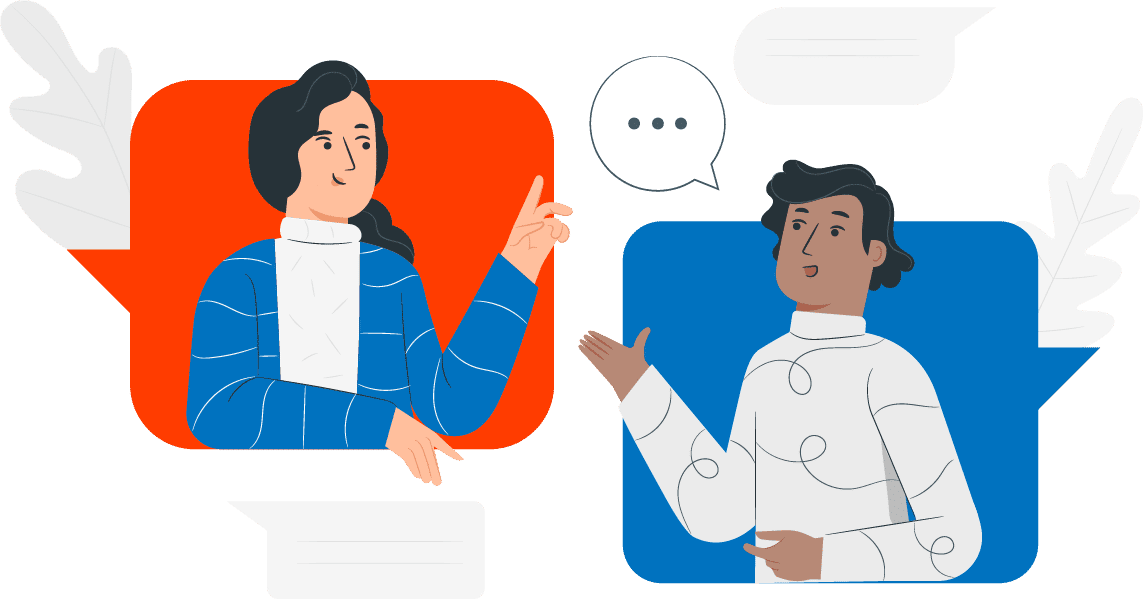 1. Plan Well In Advance
It is important to be prepared in advance to give feedback to your colleagues. Feedback meeting with peers is a difficult conversation to have; why not prepare ahead for it?
Preparing in advance for the feedback meeting allows you to put across your point with ease and more confidence. This allows you to help your colleagues improve themselves and achieve the team goals. Always remember to keep the objective of the meeting clear.
Also Read: Planning To Set OKRs For Your Sales Team?
2. Focus On Specific Peer Feedback
There are many articles that talk about the importance of giving both negative and positive feedback together so that the employees aren't demotivated. But when you are giving it to your peers, it is important to be specific about what exactly you want to convey. You don't need to add positive performance aspects just for the sake of having them.
Being specific allows your peers to focus on the right thing and improve themselves.
3. Make It A Conversation 
One of the most common problems with giving feedback to peers is that peers aren't encouraged to participate in it. Phrase your comments properly to encourage your colleagues to participate. For example, if you want to talk about their negative performance and suggest solutions, ask them how they are planning on improving their skills and how it contributes to organisational success.
Also Read: 5 Benefits of Continuous Feedback
4. Be Supportive
When you have chosen to give feedback to your peer, first put yourself in their shoes and understand where they need to improve themselves. Give them suggestions on how they can improve themselves. This helps them understand what you're expecting of them and how they can meet those expectations. Make a proper action plan for your peers.
5. Summarise Peer Feedback
Summarise the main points discussed in the meeting and emphasise on the action plan that you have created for your colleague. This practice helps you avoid misunderstandings and be clear about what you discussed. In short, state your expectations, the results of their performance, the problems with their performance, the practices they should stick to and your solutions to help them improve.
6. Follow Up Is A Must 
This is optional when you are just a peer. But following up on feedback is a good practice. Feedback is purposeless unless it has an effect on the employee performance. So, follow up and see if they need your help; this makes your peers stay motivated and productive.
7. Be Empathetic
Being empathic in feedback conversations results in better outcomes. It is not easy to take criticism, and employees may get embarrassed or uncomfortable while having feedback discussions. It is therefore important to point out that the intent behind the feedback is good and directed towards improvements in the employee's performance. Another point to keep in mind is to avoid using personal statements, as they can demoralize the employees and make them reluctant to accept the feedback.
8. Show Respect
Feedback is supposed to help employees understand their strengths and weaknesses. And in such conversations, it is imperative to have respect for each other to fulfill the purpose of the feedback. Being disrespectful during conversations can make employees defensive and even challenge the feedback, or sometimes disregard the whole conversation.
9. Leverage Feedback Tools
The right feedback tools assist in taking notes, recording meetings, and providing real-time feedback to employees. They make it easier to establish the process and have a clear peer feedback loop in the organization.
Tools such as Engagedly allow employees to initiate the feedback process from their end and ask their peers to provide them feedback on their performance. The feedback recorded during the process can be directly fed into the learning and development module to assist employees in improving their performance.
Also Read: 10 Best Employee Feedback Tools To Track Performance
Important: How you give feedback to your peers mainly depends on the nature of your relationship with them. For example, you cannot make an action plan for the CEO of your company and then follow-up on it; while you can do it easily for a colleague who's on the same level as you. This is something you must absolutely keep in mind when giving feedback to peers.
---
Aaron Adams is the VP of Professional Services for Engagedly, where he develops and implements strategic talent solutions that help support and drive the organization's talent and business strategies. He holds a Master's Degree in Industrial-Organizational Psychology from Wayne State University and has worked as a Right Management consultant and an OD consultant for a Fortune 20 Company. Currently, he leads Engagedly Teams responsible for onboarding, training, and consulting services.
March 28, 2023
Employee disengagement is a global problem. Gallup's study on workforce engagement…
February 1, 2023
Imposter syndrome is an internal experience when an individual denies believing…