How can companies grow their teams and align them with business objectives? How can companies combine new-age technology with proven growth methods? This problem requires a team effort, and for a collective effort, we give you a collective solution: Mentoring Complete Integration with Engagedly. Measure employee development, and upgrade your people strategy needs by introducing mentoring programs for your employees. It'll create a knowledge-sharing space where employees can guide other employees to empower them and grow.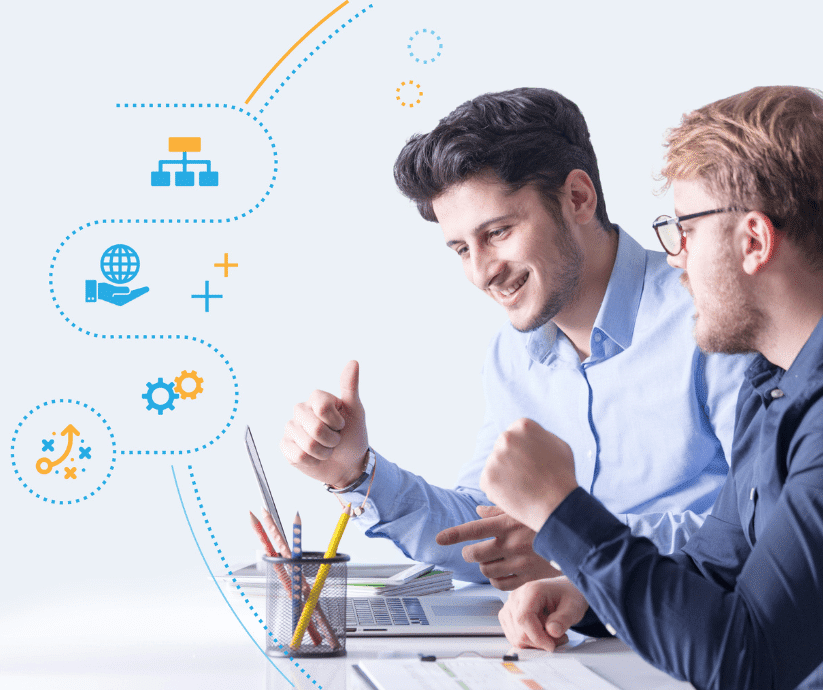 What makes an organization worth working at? How does an organization develop a place to nurture a talented group of people? Employee happiness, mental well-being, growth opportunities, delightful work culture, exciting challenges, and e-learning collectively make an organization worth exploring. And once this is done, an organization becomes a well-rounded place to nurture a talented group of people and achieve a delicate balance.
Many people believe that higher compensation leads to happiness at work. However, studies have shown that 36% of employees would give up $5000 yearly to be happy at work! But what will make them happy, if not higher compensation? 
Learning and development are vital in enhancing employee engagement. It leads to a happier workplace when organizations help employees stay aligned with the growing technological advancements so they can grow with the organization.
Need a better solution?
Two significant components of a positive, high-performing workplace culture include boosting your people strategy and leveraging the existing talent within your organization. Engagedly is a people strategy platform, and in Mentoring Complete, a mentoring platform, you will have the tools you need to handle many challenges while overcoming the roadblocks.
When employees feel heard and like their ideas bring value to the conversation, this can bring a transformative impact to your organization. According to a study, 68% of employees & 91% of C-suite executives agree that technology has helped them progress.  
Every organization should look to technology to provide their employees with growth opportunities. Engagedly and Mentoring Complete are the perfect combination of tools to enhance productivity, performance, and potential.
Introducing Mentoring Complete 
Mentoring Complete is a platform that offers employee development by allowing them to choose a mentor for their professional and personal growth. Organizations can run multiple mentoring programs based on organizational goals and witness productive outcomes. This platform is designed by experts with almost three decades of the mentoring experience.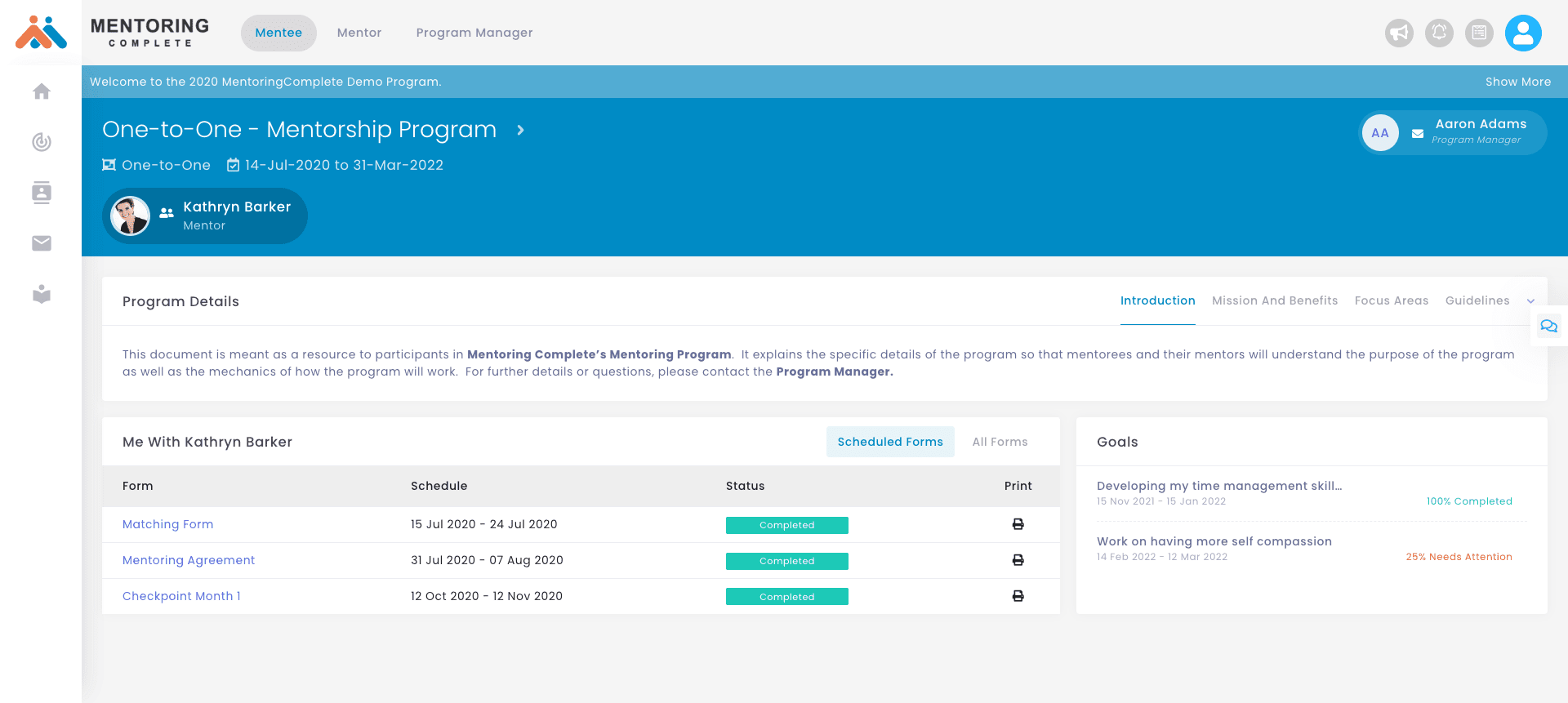 With Mentoring Complete, you can see your workplace in a new light. Employee productivity will reach new heights, and they'll be far more creative than before in a mentoring program. That will eventually lead the organization to new outcomes.
Do you know that 88% of employees believe a distinct work culture is essential for a business to succeed? 
And how will you get there? 
It isn't just about giving salary hikes that compensate for a positive work environment; it's more about how far you can go to be there for your employees. Again, how can you achieve that? 
89% of business owners acknowledge mentoring as a significant factor in their success. It creates value for employees by speaking up about their perspectives, getting involved in significant business decisions, and adhering to company values. 
What can mentoring programs do for your organization?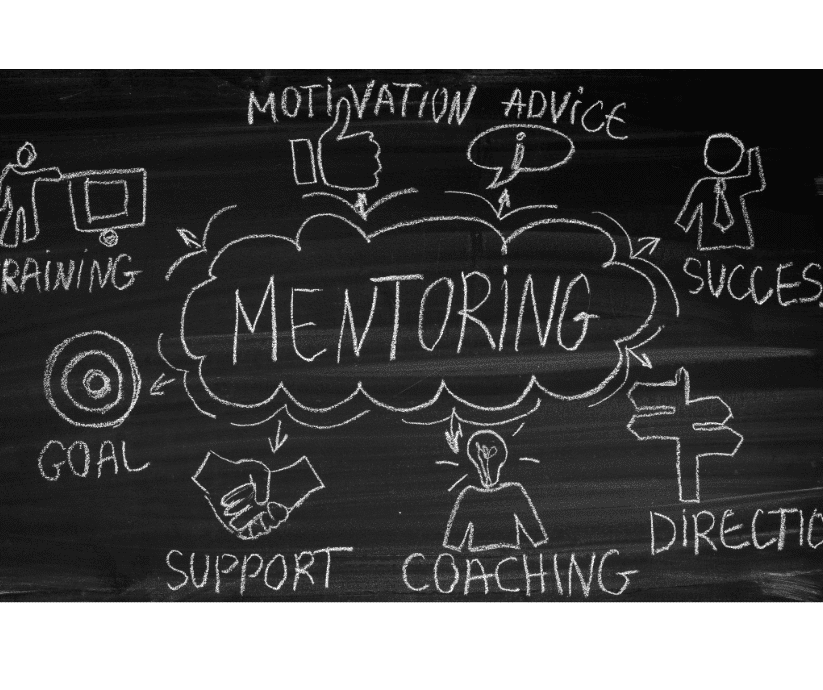 Nearly three-quarters of workers consider quitting, and almost nine in ten new hires would readily leave within the first month of joining! But why such severe numbers? A positive or healthy work environment is the key to retaining talent. If we talk about the new joiners, they'll need time to align with the company culture. But what about the experienced employees? What is impacting their engagement percentage?
Building a positive workplace culture is not a one-step process; it requires time, patience, and unity from employees and management. When new employees are hired, creating an environment where they can learn and act freely is essential. But often, they get stuck because of hierarchies or a chain of command, resulting in being less expressive towards their managers or even other team members. 
For experienced individuals, work could get highly monotonous, which leads them toward loss of interest. Their involvement slowly decreases, and their learning stops, forcing them to look for other opportunities to help them grow. 
Mentoring experiences have proven to be one of the important ways to retain talent. With people from within the organization as their mentors, they can translate their mindset about work, something challenging for them, or even something they want to achieve in their careers. It's an expressive tool! 
What has Engagedly been offering you?
Being a part of an exceptional people strategy platform Engagedly already, you're making your efforts count: 
Developing Your Employees 
Courses/Certifications

Customizable course module

Assigning new courses 

Learning-based ranking system 
Simplifying Engagement
A platform on which they can share ideas

Share praises to boost motivation

Recognize their achievements & give rewards

Helping their network with other team members
Monitoring Employee Growth
Monitor their growth

Deeper insights on performance 
Aligning Employee Goals with Organizational Goals
Create independent goals 

Insights on the progress of goals

Pin-point on focus areas
Creating a Feedback Mechanism
Transparency between management and subordinates

Build and share feedback forms

Create individual/team surveys 

Keep a tab on review cycles
With the growth modules, you're all set to change your organization positively. However, more is still needed as part of your toolbox. With advanced trends, people are still exploring ways to walk around their daily tasks, handle their work calls and get through economic downturns without impacting their growth. This aspect is changing employees' perspectives and motivating them to approach new skill sets relevant to the need of the hour. Organizations like yours must be equipped with stead-fast approaches to help employees transition smoothly from such complexities. 
Therefore, we're bringing something new, positive, transformative, and collective to complete your employee management and development journey. 
Engagedly + Mentoring Complete
Employee development is an essential part of every organizational goal. But it often needs a more suitable medium to get fulfilled. 
How about we give you a complete solution to those challenges without much hassle?
Engagedly is a people strategy product that can help leverage talent to achieve business goals. It aims to bring out the best performance of your people and generate strategic outcomes for your organization. Mentoring Complete caters to building mentoring programs within the organization so that you, as an employer, can leverage the experience and expertise present within your workforce, create a knowledge-sharing environment, and motivate employees to achieve their highest potential. 
Since Mentoring Complete and Engagedly have individual benefits, collaboratively, these can be even more beneficial for your organization. They can set your employees on a journey to help build a solid foundation to face unprecedented challenges and turn them into opportunities.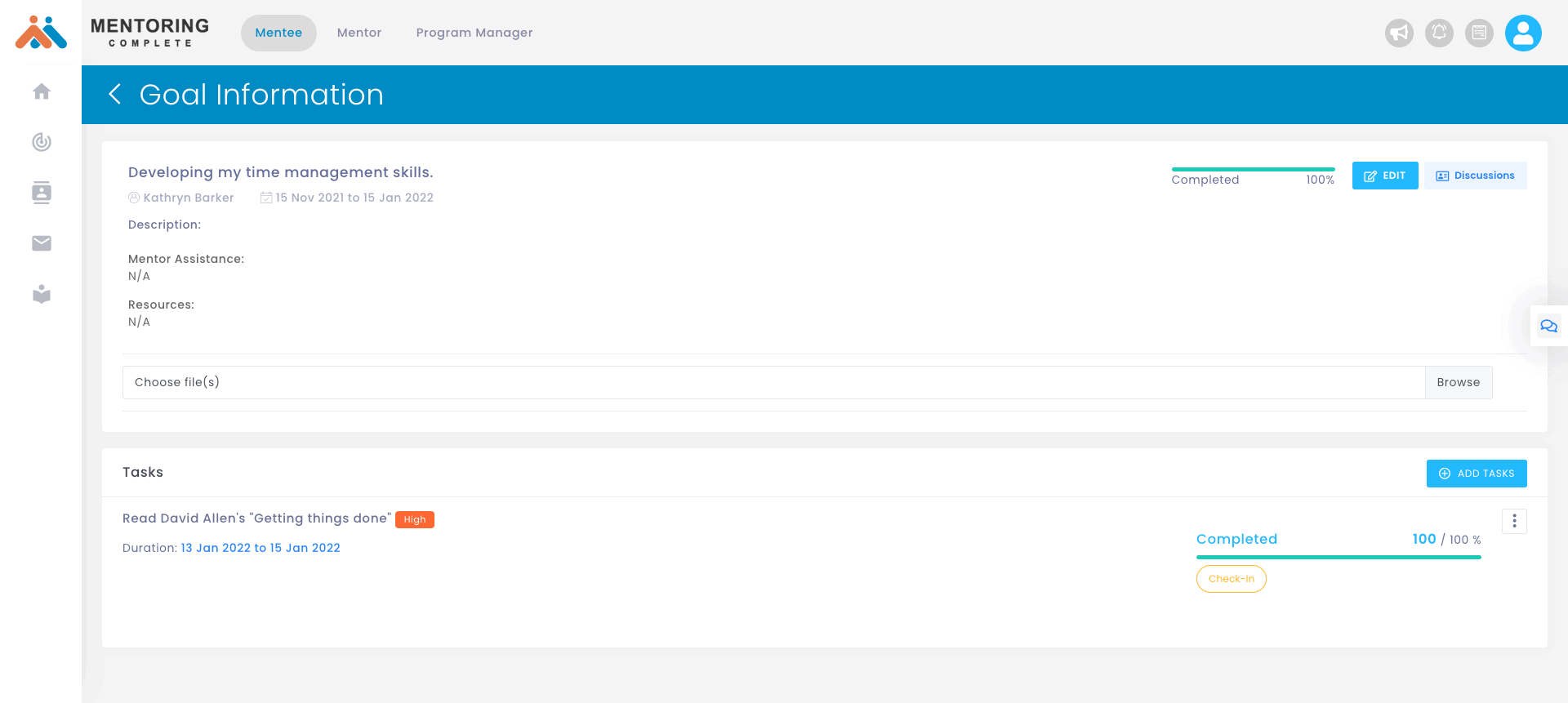 Engagedly + Mentoring Complete powers a step-by-step approach to help an organization achieve its goals. One identifies the obstacles from an organizational perspective and sets employees toward an excelling path. The other taps into the psychological mindset of employees and transforms their perspectives. Let's dive deeper into it:
Performance Execution
This solution by Engagedly amplifies the understanding of building a better organizational structure in terms of setting up a review portal for employees. It is wholly templatized so that you can build it for your desired roles. Furthermore, it has customizable and flexible workflows to enable your performance management strategy, OKR, goal alignment, and 9-box distribution to identify potential employees, leading to a more competent and efficient approach to organizational development. 
Mentoring Complete focuses on employee comfort when handling feedback/reviews from management. With a mentor, they'll be more confident in suggesting their point of view in various projects and business decisions whenever required. Mentoring relationships help employees adhere to their routines to stay productive and equally creative. As an employer, you can organize workplace mentoring programs to curb the communication gap between employees and management. 
Drive Employee Engagement
Better employee engagement in an organization delivers productive results. This product by Engagedly unlocks productive approaches that counter challenges on the way to an organization's success. Let's look at some of its offerings: 
Upskilling Opportunities

Feedback/Communication Platform

Gamification Module

Create Surveys 

Social Platform

Employee Recognition Medium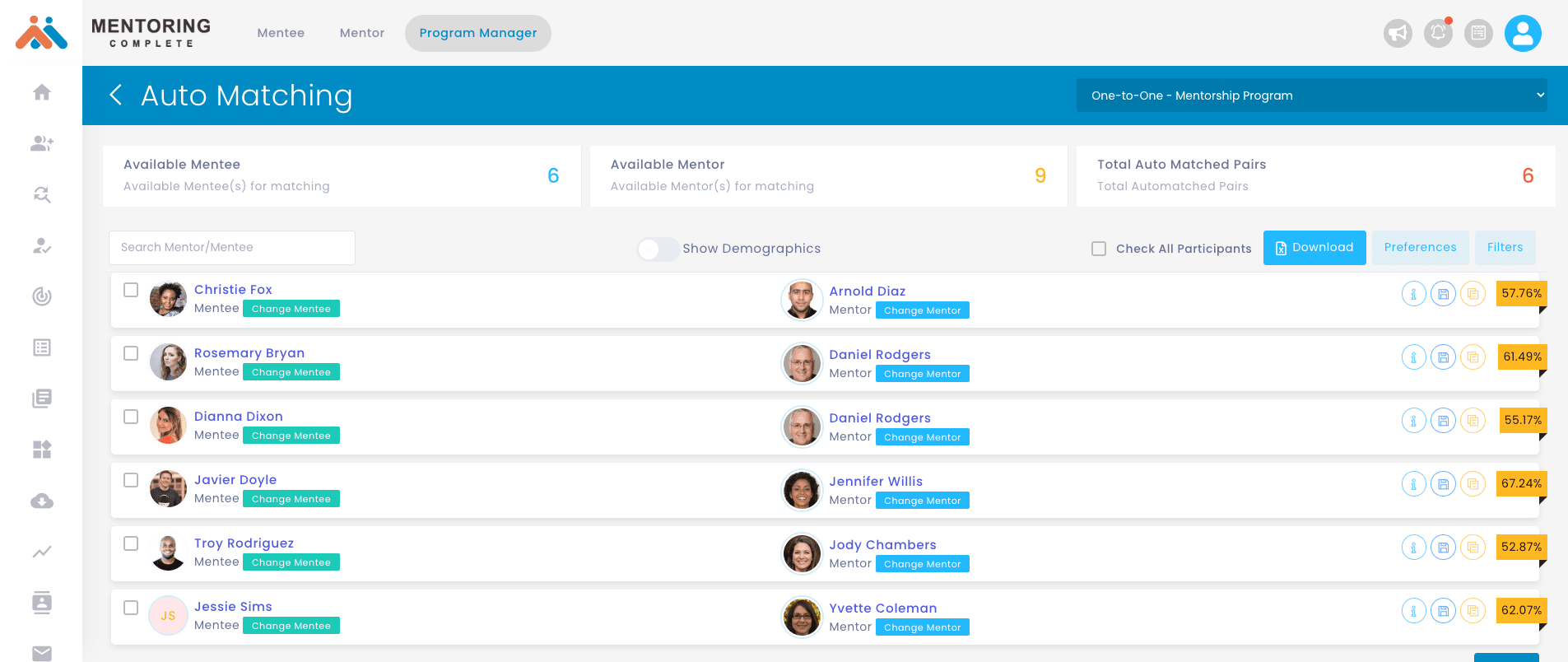 Mentoring Complete is a personal development tool that assigns people a mentor who guides them throughout their mentoring journey. They suggest changes in routine, direct them toward a plan of action, and give them enough resources to build their learning path to gain knowledge and transform their career. Mentoring Complete enhances organizational transparency so employees can talk to their managers about their roadblocks and seek productive outcomes. 
With all of these practices, employees become more engaged in the organization. You can run and align mentoring programs with your organizational goals, explore "Attracting and Retaining Talent" for more details. 
Employee Enablement
Employee enablement is a strategy for motivating employees to deliver high-quality results. With Employee Enablement by Engagedly, your organization can bring effective change, leading to holistic success. 
It helps transform employees' perspectives with Feedback Solutions (Real-Time Feedback and 360/multi-rater Feedback), Online Learning Portal (LMS), and Gamification methods. Putting these into practice, you can enable your employees to amplify their career prospects and produce better outcomes for themselves. Feedback mechanisms promote transparency between the management and subordinates, improving employee performance and helping an organization grow. On the other hand, learning software, such as LMS and Gamification methods, works collaboratively to help employees develop their skills.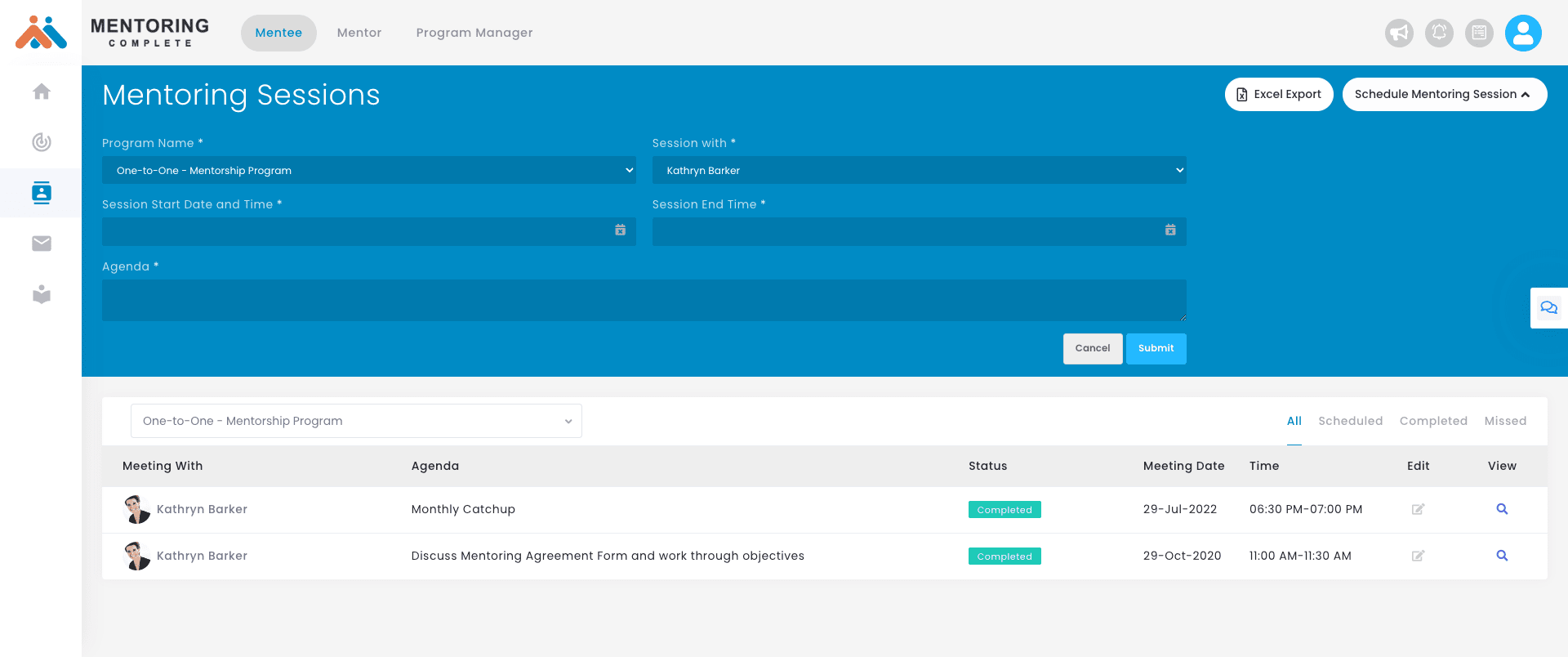 Mentoring Complete caters to a holistic employee development journey; it creates a space where mentees/employees can express their concerns to mentors, learn ways to recover from them, and push themselves toward personal growth. Feedback is often viewed as unfavorable; it happens when there's no healthy mechanism set. Mentors can guide mentees/employees with ways to utilize feedback positively from their managers. It generates a peaceful environment at work and enhances the productivity of employees. With Mentoring Complete, you can build goal-oriented mentoring programs and capture the smallest to most severe obstructions on your way to growth.
Why choose Mentoring Complete?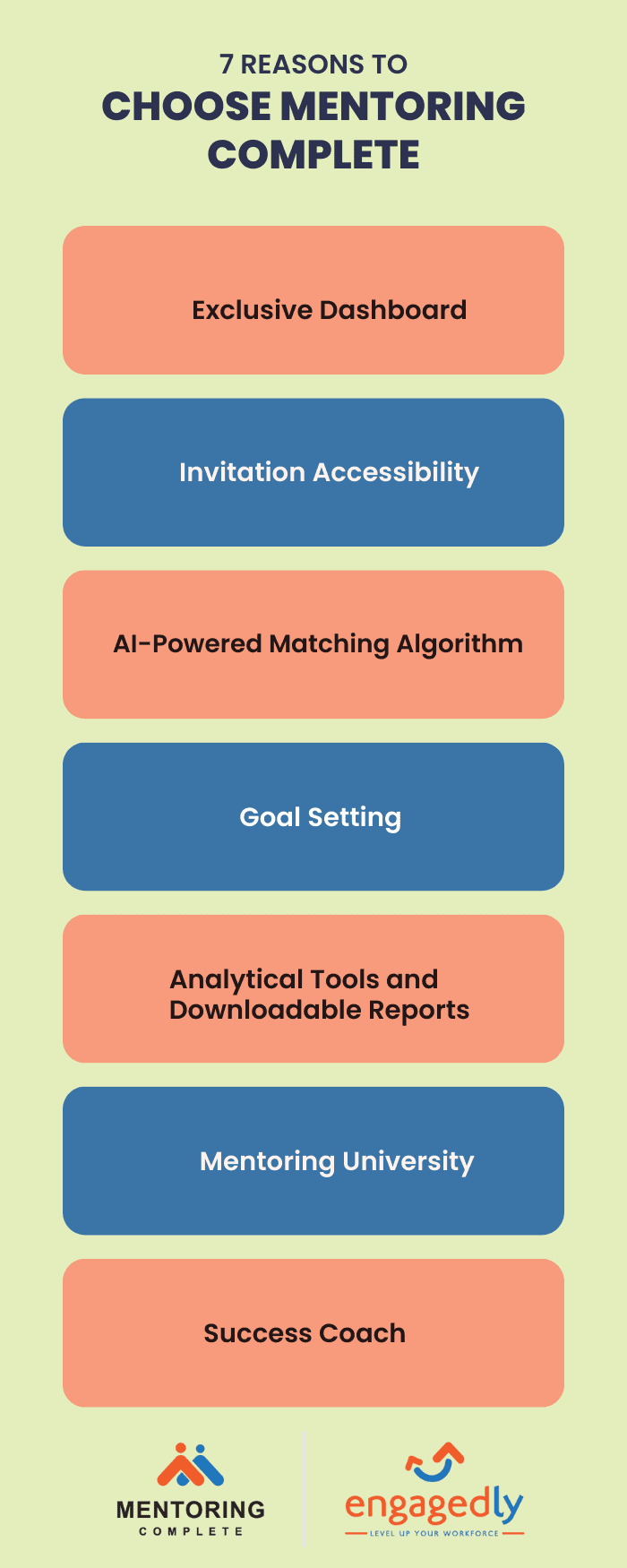 We're here to help you experience quality products and services so that you can always be proud of your decision to opt for our product. We believe in a simplistic yet technology-driven lifestyle when managing your employees. You can invest your time building mentoring programs that align well with your organizational goals rather than learning about the software. Below are a few of our offerings that you will experience within the product:
Exclusive Dashboard
The Mentoring Complete platform is feature-rich to manage mentoring relationships of your employees smoothly. It doesn't matter what program you're running; its inclusiveness makes sure that you're not spending much of your time while navigating throughout. 
Invitation Accessibility
The platform offers organizers ease of use functionalities, including Program Invitations. They can use this function to invite people within their organization to the platform as mentors or mentees, up to their comfort. This tool allows them a free hand over how expansive they want; they can send emails individually or use the public invite option. 
AI-Powered Matching Algorithm
The matching of mentors and mentees is powered by our AI-powered Precision Matching tool. Once the employees/members are registered in the platform, the matching process starts. This tool matches two individuals' percentages based on two roles, i.e., a mentor and a mentee. The precision Matching tool has an accuracy of making more than 90% successful matches. 
Goal Settings
This setting fabricates a motive for a mentoring relationship. Only mentees will have access to configure and set their goals or what they expect from this mentoring relationship. Once they lock in their goals, mentors and program managers can overlook them. Goal setting aims to provide mentors a direction to evaluate the following steps, questions, relevant resources, and more so that the relationships can become transformational for mentees.  
Analytical Tools & Downloadable Reports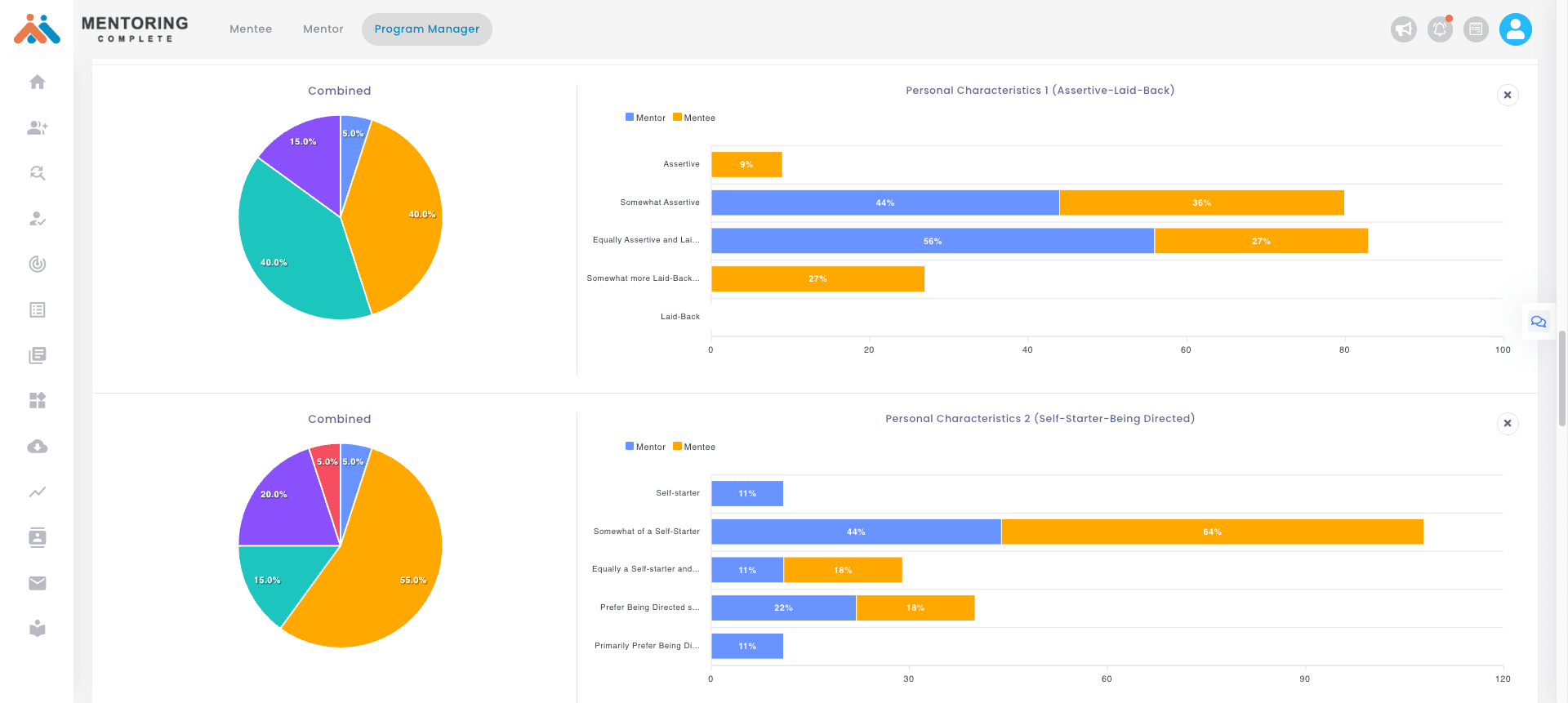 The Mentoring Complete platform is built to help organizations succeed, especially on the most critical front, employees. Program Managers/Program Organizers will have admin access to the platform to navigate any mentoring relationship and interfere if there's any lag. They can view the relationship's analytics on the platform, download the reports, and configure their next steps accordingly. 
Mentoring University 
Learning is one thing that never stops. Therefore, with the Mentoring Complete platform, you will be eligible to help each organization member explore different mentoring courses. Mentoring University includes courses/certifications for Mentees, Mentors, and Program Managers/Organizers, so everyone can stay engaged and learn. 
Success Coach
To make your experience smoother, we will assign a Success Coach to help you navigate through the software and explain all the features so that your experience stays fluid. Your success coach will understand your organizational goals and suggest mentoring programs that align well with those. 
Even if you are a first-timer to mentoring software, we have compiled a list of mentoring programs that can fit your organizational needs. And if these fit somewhere within your goals, then your success coach will help set up.
Mentoring Programs that you can run: 
Mentoring Programs for Workplace

Leadership Mentoring

Career Mentoring

Diversity Mentoring

Reverse Mentoring

Group Mentoring

Flash Mentoring



Mentoring Programs for Academia 

Student Mentoring

Alumni Mentoring



Mentoring Program for Professional Associations
Mentoring Program for Non-Profit Orgs
Engagedly + Mentoring Complete will give rise to the sustained growth of your organization. From technological relevance to the psychological growth of an employee, these can bring positive change within the organization. It's time to take employee development up a notch!
Significant outcomes are usually achieved with collaborative efforts. Therefore we bring you Engagedly + Mentoring Complete, gain collective benefits, and accomplish your organizational goals without hassle. Talk to our experts, resolve all your doubts, and opt for a free trial now! Pay only when you feel confident!
---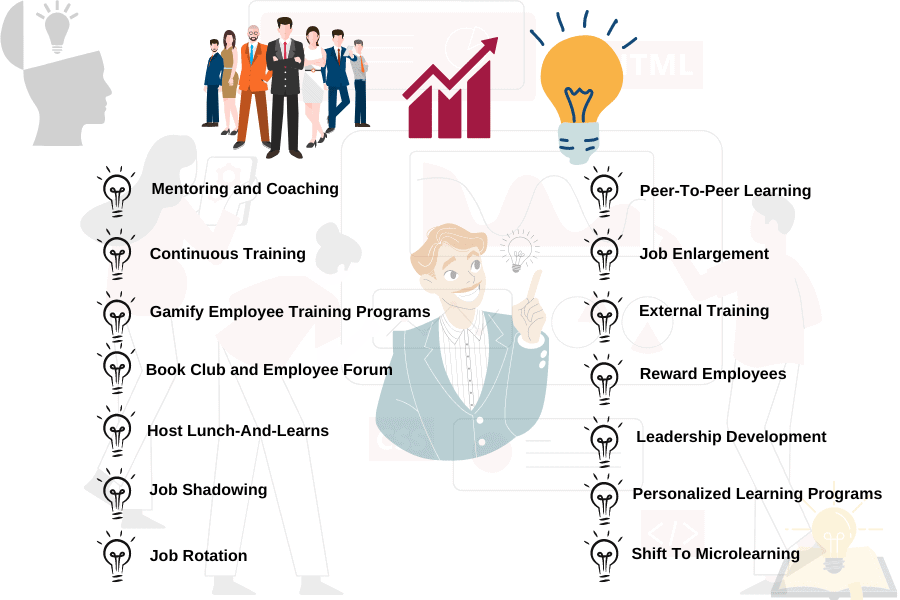 ---
Get In Touch With Us