New launch alert! Engagedly's Indigo design system allows you to personalize your homepage to your heart's content! This means you can easily find the stuff that piques your interest, while the website can showcase its awesome services and products to you in a way that's just right. And the best part? You can make it look and feel just the way you want it to! So what are you waiting for? Engage with Engagedly and customize your homepage today!

Out with the Old; in with the New!
Engagedly's latest design system, Indigo, offers a customizable and fluid approach with enhanced personalization options. The design features a cleaner and more thought-out layout, tailored to meet users' specific needs and preferences. The system includes flyouts and quick links for immediate action, enabling users to access necessary information effortlessly. Indigo acknowledges the importance of information density and provides users with greater personalization, flexibility, and control.
The design system offers features like "My Circle" and "Celebrations," providing an interactive and engaging experience for users. Essentially, it represents a compelling, clear, and functional purpose that answers the question, "Why am I here?" By offering a more personalized experience, users feel a stronger connection to the platform, resulting in increased engagement and satisfaction.
Engagedly's Indigo design system provides a user-friendly experience that is easy to navigate and tailored to users' needs. With its enhanced personalization options, interactive features, and functional layout, it offers a compelling representation of the platform's purpose.
What's New About Engagedly's Indigo Design System? 
Profile Card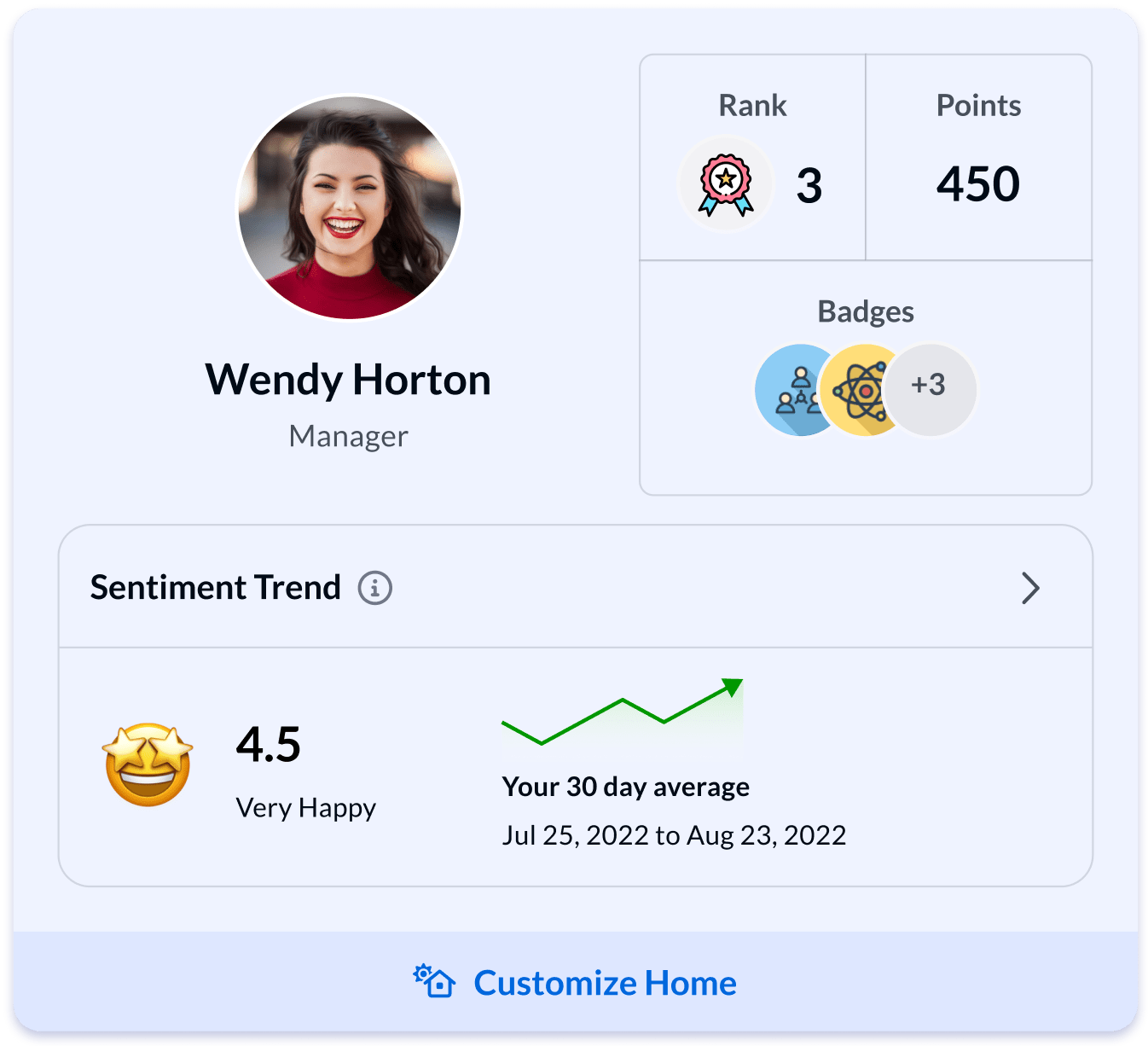 The Indigo design system adds personalization and gamification to the page, driving engagement.

It includes a feature that displays Ranks, Points, and Sentiment Trends in one place.

This information helps users understand their progress and incentivizes them to earn points and improve their rank.

By providing a clear understanding of their progress, users are motivated to engage more with the platform.

The gamification element adds an element of fun and competition to the user experience, further increasing engagement.

Overall, the personalized and gamified approach of the Indigo design system enhances user engagement and satisfaction.
Fluidity in Navigation
Engagedly's Indigo design system is like a genie that grants your wishes. It offers a fluid approach that lets you take the reins and customize your homepage to your heart's desire. With the ability to manage sections and set information hierarchy, you can navigate with ease and get stuff done lightning fast. It's the ultimate productivity wingman!
Flyout Screens

Engagedly's Indigo design system is like a superhero who swoops in to save the day! It gives users access to all the relevant information across the platform and lets them take action with just one click, all without leaving the homepage. This superpower makes the experience more interactive and keeps users engaged and excited to explore more. Who needs an app when you've got Indigo?
Two-Column Approach in Engagedly's Indigo Design System
Engagedly's Indigo design system is like a master storyteller who weaves all the important information from different modules into one cohesive tale. With a clear visual hierarchy, each section gets its time to shine and capture your attention. It's like a well-crafted symphony for your eyes!
My Team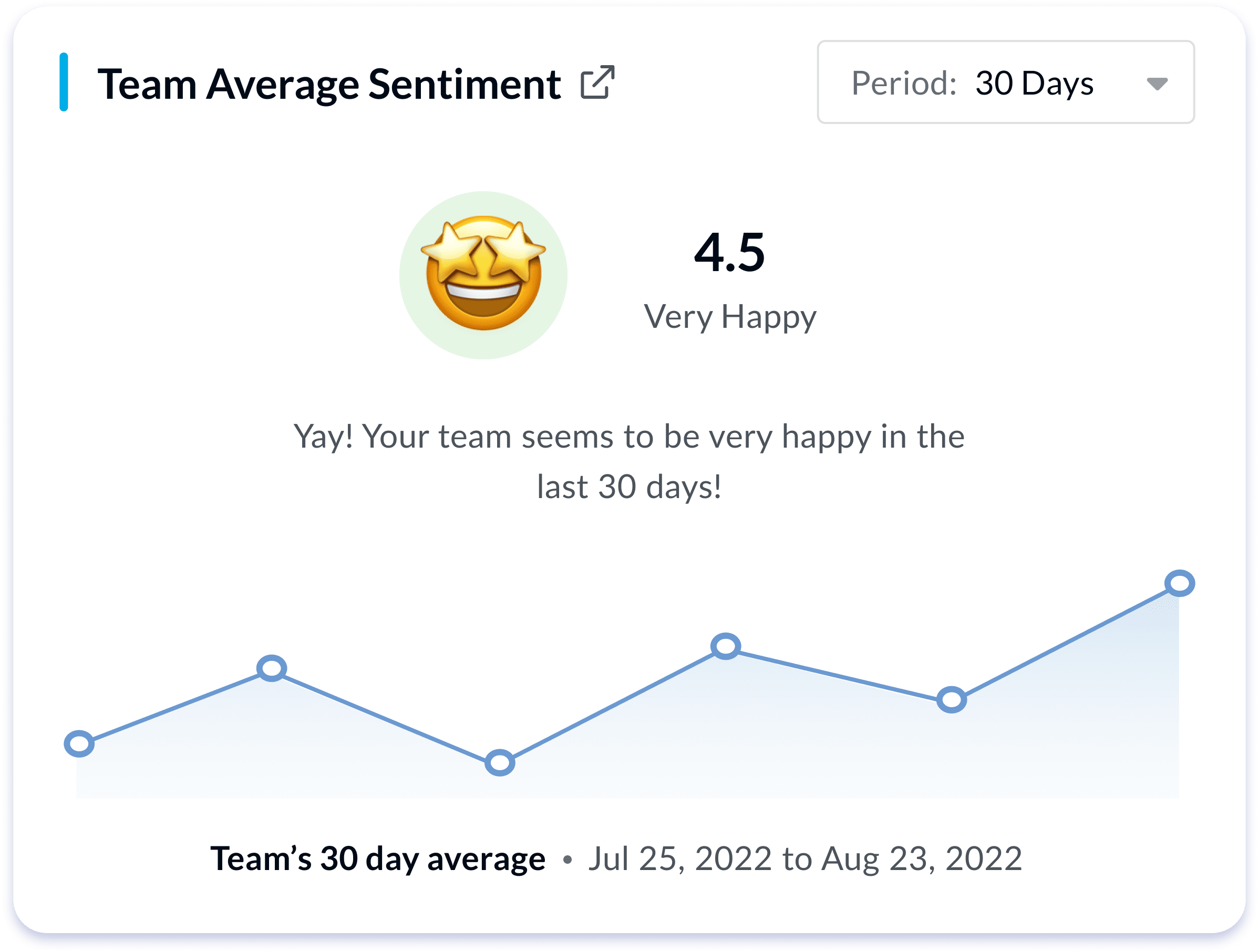 Welcome to the "My Team" page, where all the details about your team's performance are just a click away! Here, you'll find all the critical performance indicators from Learning, Goals, Feedback, and Team Pulse, giving you a comprehensive view of your team's growth. You can see how close your team is to achieve their goals, get a quick vibe check with the sentiment score, and catch up on recent feedback. Plus, you can take action on your team members' performance cycle and assess their skills. Let's get growing!
Quick Links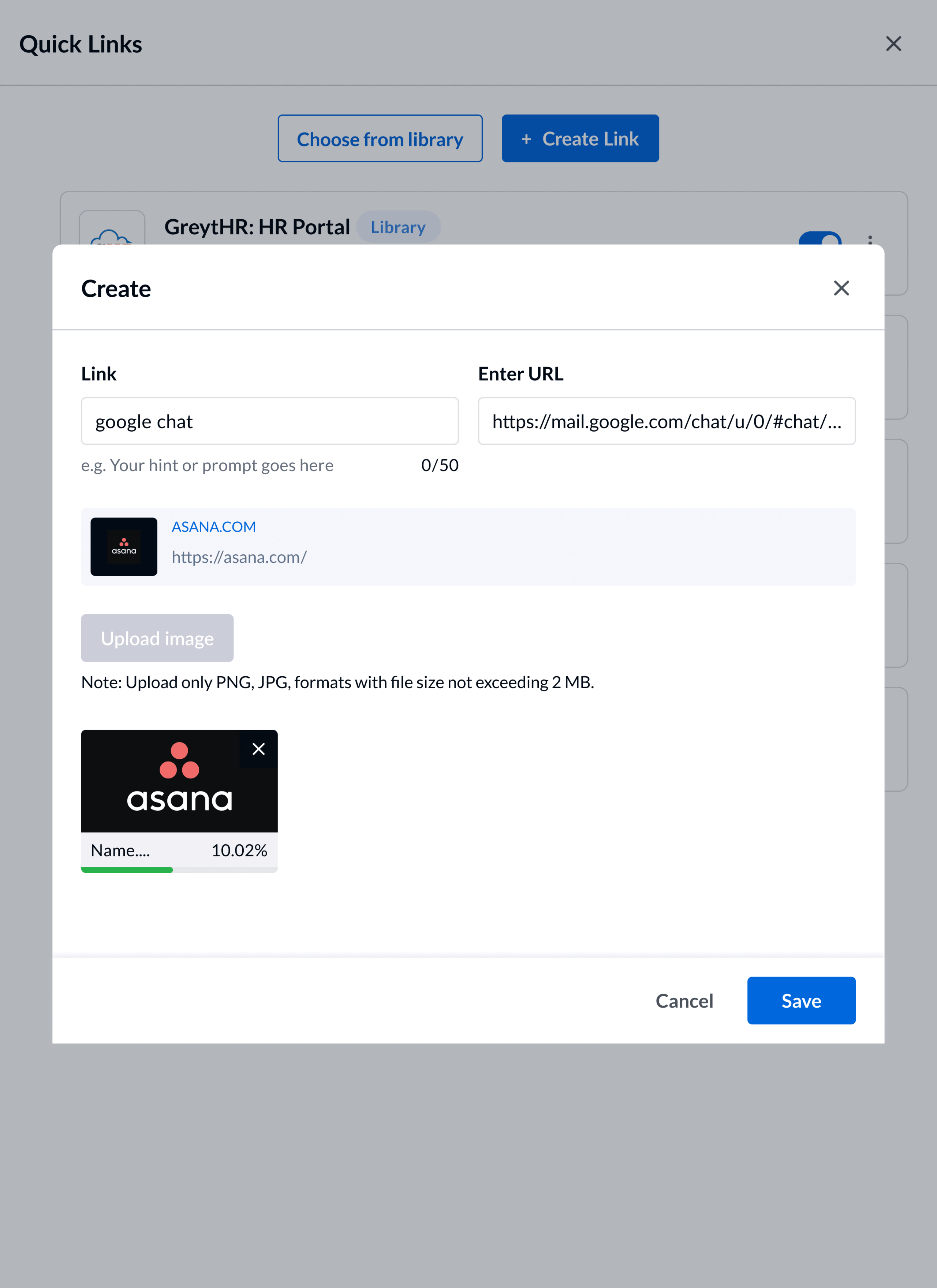 Admins can create a list of awesome links and add them to the library for everyone to access. Plus, they can pin the most important ones to everyone's homepage for super easy access. No more wasting time searching for key information – it's all right there at your fingertips!
My Circle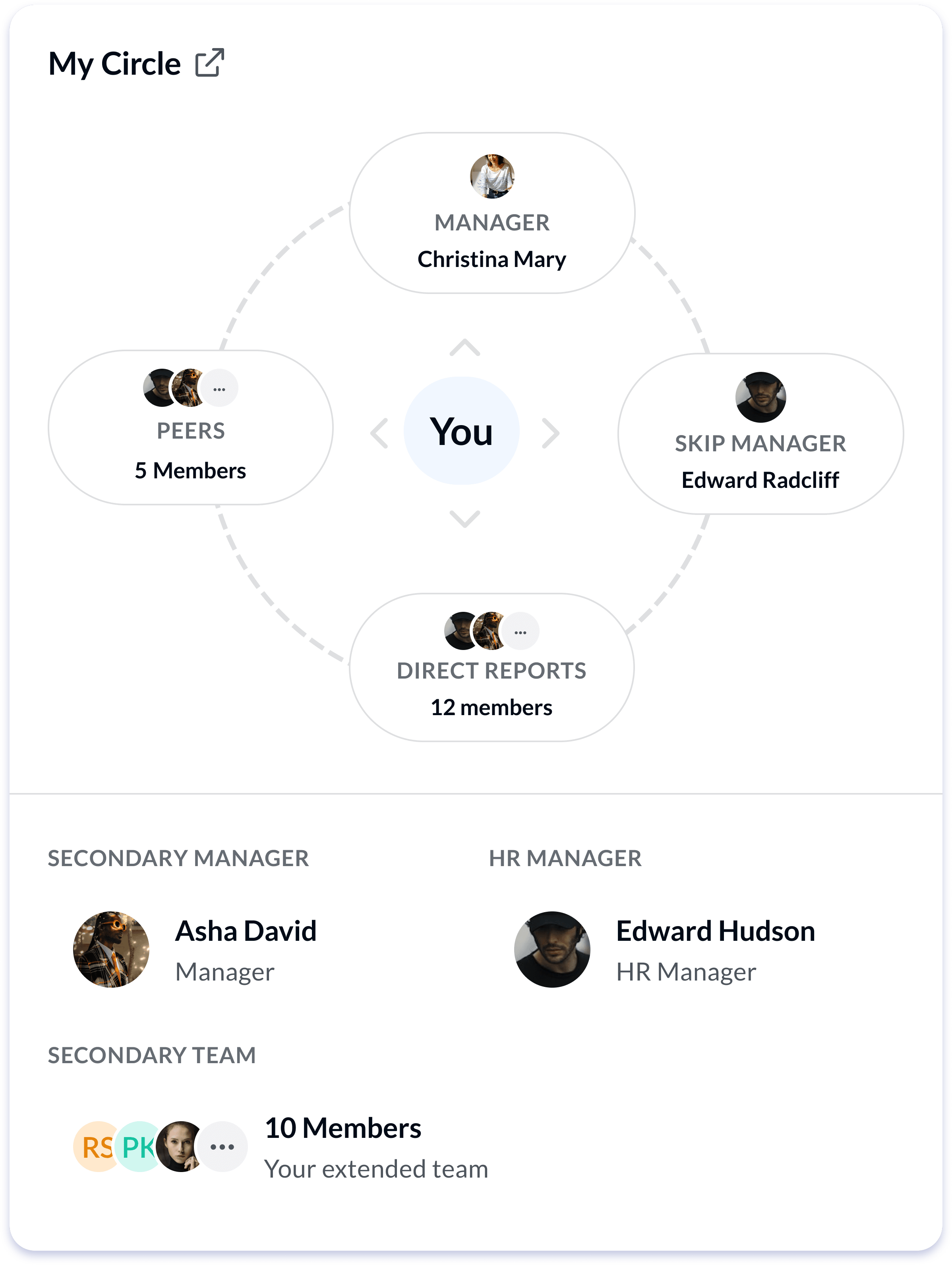 This cool feature right here gives you a quick peek at your reporting structure, so you can understand your role in the organization with ease. No more confusion – just clarity!
Celebrations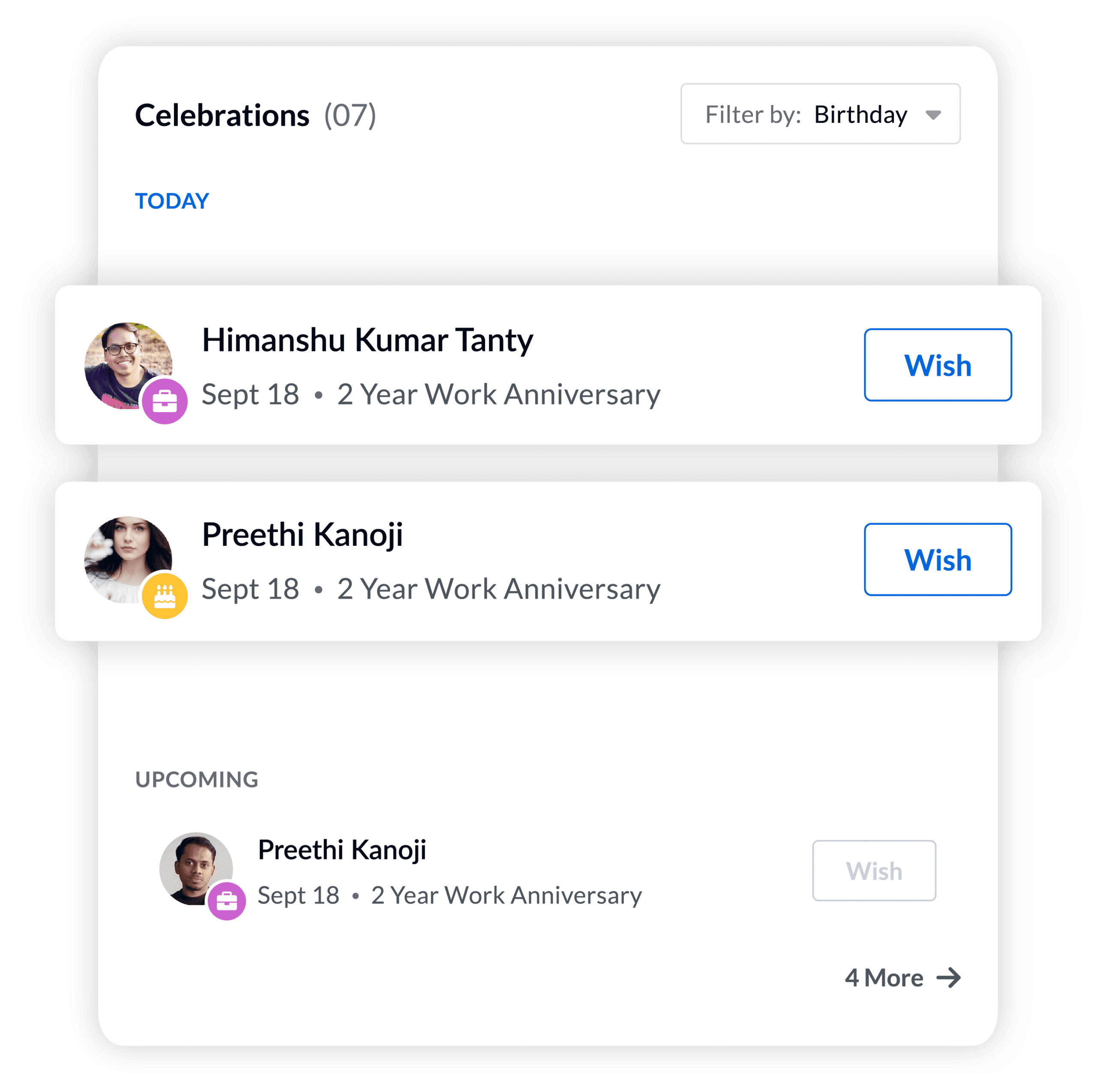 This latest feature displays upcoming birthdays and work anniversaries on your home page. With this nifty tool, you can plan and organize celebrations with ease, making your colleagues feel extra special and valued. Let's spread some cheer!
Parting Note
We've completely transformed the user experience with streamlined layouts and personalized screens. Now it's super easy for you to find exactly what you need without any frustration. Our unique features are even more intuitive than before, making your journey through the platform adaptive and effortless. Let's get started!
---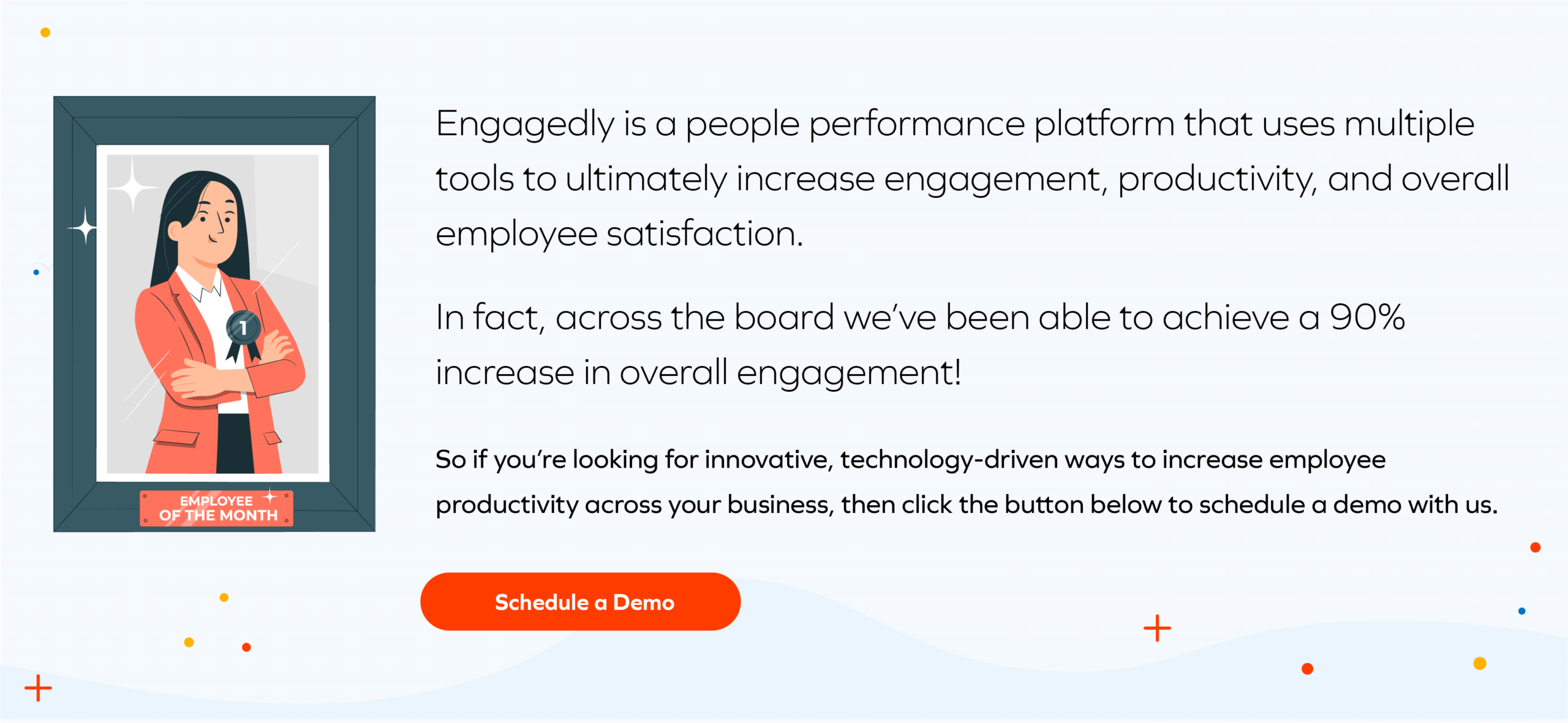 ---
---
Get In Touch With Us