The recent pandemic redefined communication in organizations – large and small, retail and wholesale, regional and global. Internal communication underwent a revolution as employees worldwide were compelled to adopt remote-first policies supported by cutting-edge technologies. Employers and employees embraced the practice of working remotely, and thus, finding the best internal communication platform that streamlines communication, enhances efficiency, and encourages collaboration has become paramount, more than ever.
Wondering how an internal communication platform can help enhance business efficiency and collaboration?
Social Flow of Work: Engagedly's Internal Communication Platform
Engagedly's social flow of work helps businesses and individuals communicate in real-time through instant messaging. A must in today's workplace, this platform enhances internal processes, like information flows and teamwork, and interactions between employees. The robust platform allows employees to broadcast information to a group chat, use private messages for direct communication, or create private channels with only a few co-workers.

Engagedly's platform is an all-in-one internal communication tool that teams can use to plan, collaborate, analyze, and monitor work more simply. The comprehensive tool is a mix of modules that allow organizations to manage work while keeping the interaction engaging and convenient.
The platform integrates with important applications, such as MS Teams, Slack, G Suite email, and MS Outlook, to eliminate switching apps each time. It is a great option to make remote teams productive and communicate efficiently.
Inspire Team Engagement, Efficiency, and More
Engagedly's platform streamlines communication, knowledge sharing, and peer recognition with seamless status updates that keep everyone in sync. It allows staff members and supervisors to distribute information rapidly, store and share knowledge, present ideas, and proposals, ask questions, and receive constructive feedback.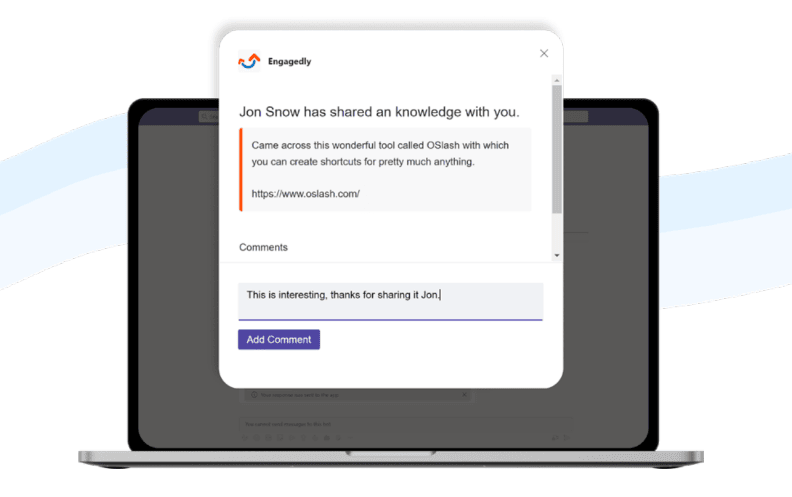 The internal communication platform constantly updates team members by collating key information about the company and projects in one organized place, always available to employees.
Furthermore, its seamless integrations offer a new, transparent, two-way asynchronous communication channel inside the organization. So, anybody may ask questions and obtain the knowledge required to make quicker and more informed decisions. Some of the salient features of the Engagedly platform include:
Easy-to-Use
With its social media style interface, users feel more comfortable using the platform from the get-go. It is the ideal solution for expediting internal communication, especially if your staff is globally dispersed and works remotely.
Thanks to its ease of use, Engagedly users need no training to use the platform regularly. Additional benefits include group or private chat, push notifications, an in-app directory, immediate updates and notifications (likes and comments), and more.
Easy-to-Integrate 
Thanks to its integrations, you can integrate Engagedly with other tools your teams might already use. Team members can instantly access feedback posted on the Social feed on Engagedly. They can view comments and respond promptly from MS Teams, Slack, G Suite email, and MS Outlook.
Easy-to-Navigate
Engagedly's messenger has been built to connect teams across organizations. It has a sleek, modern interface that users adore. With features like private messaging and group conversations, it facilitates idea sharing across teams of workers. This simple platform is designed with seamless navigational feature flows that offer excellent and uninterrupted workflows to its users.
Fosters Employee Engagement and Motivation
Here's an interesting fact: A survey by Cisco found that 56% of young professionals won't work at a company if they are not provided access to social media. Another survey says that 49% of younger professionals already use social tools for internal communication and collaboration. 40% of millennials are even ready to pay for social communication tools to enhance communication and productivity. Hence, using tools that provide a social media-like platform in the day-to-day workflow is imperative.
Internal communication tool Engagedly makes talking to co-workers as easy as texting friends on social media. The all-in-one platform promotes efficiency and productivity at work while maintaining everyone's interest and motivation. It promotes internal communication, enabling businesses to empower staff and unite everyone in a virtual setting.
Encourages Two-Way Communication
Engagedly's platform encourages two-way dialogues by helping employees deliver and broadcast news, share information, images, and updates, share results with the team, and more. The platform extends the opportunity to promote an event online and offline by linking them to relevant pages. 
The platform equips users with a quick and streamlined method of communicating with peers on any topic, providing a time-effective and notification-based alternative to more passive mediums like emails.
Facilitates Instant Messaging
With millennials forming the major part of today's workforce, instant messaging feels natural for most users. The fundamental goal of the platform is to eliminate ineffective work – frequently checking emails and inboxes.
Email etiquette is tough to grasp and may seem too formal a forum for straightforward inquiries. A tool that aids the social flow of work allows teams to eliminate the overly professional decorum and focus solely on the matter.
The Washington Post reveals that the average worker spends about 4.1 hours daily checking their mailbox. A sound internal communication tool can reduce your teams' emails by up to 75%, fastening the workflow.
Boosts Transparency
Engagedly offers an easy collaboration platform to initiate discussions and share files. Since all information is public, anybody may remark and express their opinion. Employee morale and satisfaction are increased through open and transparent internal communication. Employees are more likely to be pleased with their job and dedicated to the company when they feel educated, respected, and listened to.
Connect and Engage Your Workforce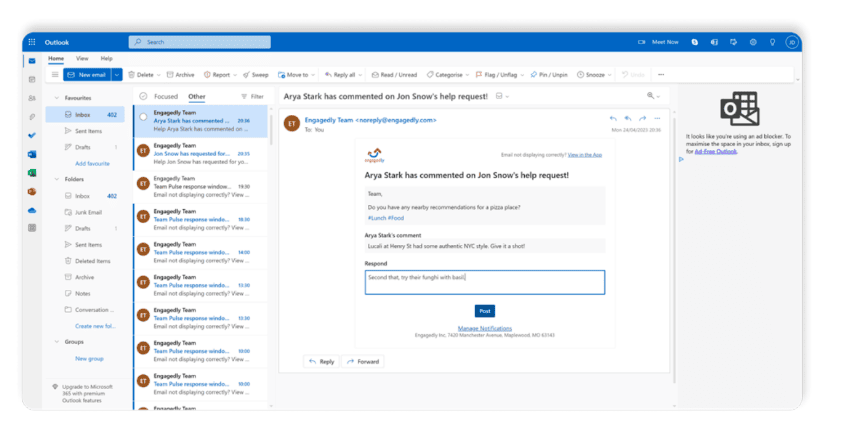 Engagedly's platform for the social flow of work is intuitive and easy to use, so people can quickly get on board. The tool boosts employee engagement and retention using a familiar app setting (like many social media websites). With Engagedly, information exchange is done interestingly and promotes community in an organization. Companies may inform their staff via the social experience by publishing information like internal business news in a recognizable fashion. Here's how you can utilize the platform to its fullest potential:
News and Updates
Employees appreciate when they are informed about what is happening in the organization. According to Geckoboard, a survey found that 80% of employees want their leaders to inform them about the company's decisions and performance. 
Additionally, keeping employees updated with new information, changes, and policies mitigates risks associated with grapevine communication.
Knowledge Pool
Employees possess a wealth of knowledge and information. Collaboration becomes possible, and productivity increases when they can impart that expertise to their subordinates and peers. With the internal staff communication tool, employees can easily crowdsource information on innovation, best practices, safety, and more from other employees.
Social Interaction
The internal communication platform features a social module that allows employees to share updates, create groups, and interact with each other. It can be further utilized to broadcast company announcements, welcome new hires, celebrate staff success, and create a buzz of communication. Additionally, the company can drive social engagement across the news stories with 'Likes' and comment threads.
Surveys and Forms
Listening to employees and implementing their feedback is critical for achieving organizational goals. The internal communication tool allows employees to voice their opinions and encourages user feedback using Forms, Surveys, Polls, Group Forums, and Assessments. This fosters proactive engagement and collaboration, allowing employers to gather valuable user feedback and gain relevant insights.
Social Flow of Work:
Embrace the Power of Healthy Communication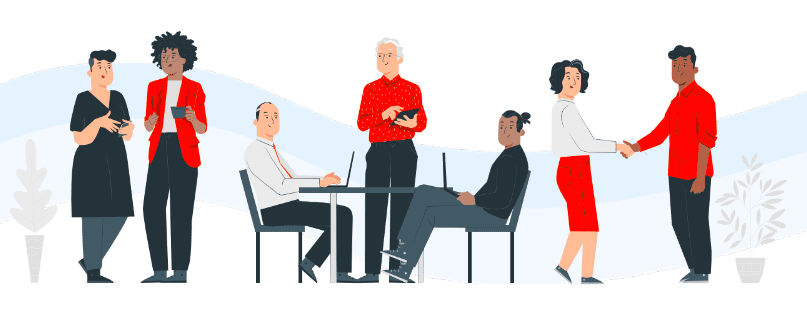 While it requires time and effort, communication, in all its forms, is the adhesive that holds an organization together. Hence, investing in a robust communication tool and prioritizing high-quality, engaging communication can lead to greater stakeholder alignment, conflict resolution, transparency, and project success.
Engagedly's internal communication platform provides many benefits, making it a modern software stack's mainstay. It helps you position your organization as a true leader by elevating your workforce communication and outshining the competition.
 Engagedly's platform boosts teamwork and workplace atmosphere. It ensures every new member is on the same page as the rest of the team, making communicating and achieving goals easy.
---

---
Frequently Asked Questions
Q1. What does grapevine communication refer to?
Ans. Grapevine communication refers to indirect and informal channels of business communication. It stretches across the organization in all directions, regardless of authority levels.
Q2. What is crowdsourcing?
Ans. Crowdsourcing refers to collecting information, ideas, and content from a large group of people for innovation, problem-solving, and efficiency improvement.
Q3. What does 'mushroom management' refer to?
Ans. Mushroom management is a style of management where leaders don't keep their employees or staff informed about major business decisions, performance, etc. Employees are kept in the dark, affecting their productivity and engagement. The management style lacks proper communication between the employees and the employer.
---
Subscribe To The Engagedly Newsletter