Strategic workforce planning is an essential component of managing human resources effectively. The workforce planning process involves aligning the organization's workforce with its business goals. It helps businesses to ensure long-term sustainability and success. Organizations must be adaptive and agile in today's dynamic business environment. Moreover, having the right people in the correct positions would be best.
It is primarily essential for attaining strategic objectives. This article will discuss strategic workforce planning. Plus, it will cover the importance of aligning human resources with business objectives.
What Is Strategic Workforce Planning?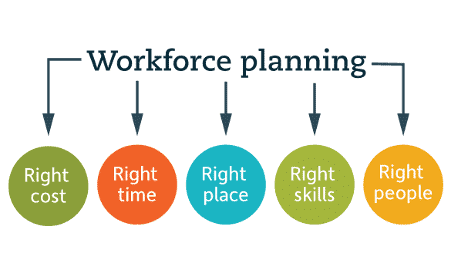 First of all, you should know what strategic workforce planning is. It is the procedure of forecasting and analyzing a firm's existing and future workforce needs. It ensures it has the right skills and talent at the right time and positions. Plus, it involves understanding different factors of an organization, including:
Business strategy

Identifying the skills

The competencies need to enforce that strategy

Formulating plans to meet, develop, and keep the necessary talent.
Alex Contes, co-founder & Saas Expert of Reviewgrower, said, "One of the significances of strategic workforce planning is to help firms foresee. Moreover, it assists in reacting to modifications in the business environment. When the firm aligns the workforce with its goals, it can ensure that they have the capabilities to adapt to:
growing trends

Technological advancements

Competitive pressures
When a firm has no proper workforce planning, organizations may face the following:
All of the above can hinder their proficiency in achieving strategic objectives. Besides, aligning human resources with business objectives increases organizational productivity and performance. Efficient workers performing efficiently are more likely to contribute to the organization's success.
Strategic workforce planning results in the following:
Improved operational efficiency

Higher customer satisfaction

Increased profitability"
Furthermore, strategic workforce planning is important for retention and talent acquisition. It is a significant challenge to catch and keep top talent in today's competitive job market. A firm can align human resources with business goals, producing targeted recruitment techniques. It plays a vital role in catching candidates with relevant skills and competencies. Organizations need these skills to move the organization forward.
Also, strategic workforce planning helps recognize high-potential employees within the organization. These employees play their role in succession planning. Moreover, it reduces the risk of crucial talent leaving the firm.
The Process Of Strategic Workforce Planning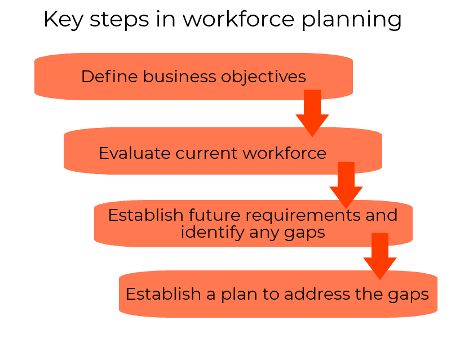 Follow a structured approach to strategic workforce planning to align human resources with business goals. Keep reading to know the process.
Understanding The Business Strategy
The initial phase in strategic workforce planning is understanding your firm's business strategy. It involves determining the following:
Long-term goals

Objectives

Priorities of the organization

Key drivers of success.
Business strategy can help align your workforce planning with the complete planning of your organization.
Analyzing The Current Workforce
Joe Troyer, CEO & Head of Growth of DigitalTriggers, said, "An important stage is to examine the organization's current workforce. It is significant to test the capabilities of your workforce. Plus, you should also determine any skill gaps or departments of improvement. This analysis may involve the following:
Evaluating the skills

Competencies

Experience

Performance of individual employees or groups of employees.
Understand the steps required to align workforce knowledge with the organization's business objectives."
Forecasting Future Workforce Needs
Predict your future needs by analyzing the current workforce and the organization's strategy. It will include the following:
Estimating the number of employees required

The

skills and competencies

needed

Potential changes in job roles or functions.
Firms can efficiently address talent gaps by foreseeing future workforce requirements.
Developing Workforce Strategies
Prof. Dr. Te Wu, CEO of PMO Advisory,  said,  "After forecasting future workforce needs, you can formulate strategies. These strategies can fill the gap between the desired and current workforce. It may involve strategies like recruitment. Focus recruitment strategies on attracting candidates with the required skills and competencies.
This process may involve leveraging multiple recruitment channels, which include:
Job portals

Social media

Professional networks

Partnerships with educational institutions.
Ensuring that the recruitment procedure is fair, efficient, and transparent to entice top talent is crucial."
Training And Development
Training and development strategies equip employees with the essential skills to perform their roles efficiently. It may involve:
Providing on-the-job training

Offering workshops and seminars

Supporting employees' goal of professional certifications

Implementing, mentoring, or coaching programs.
When a firm invests in employee development, it improves its capabilities. Moreover, it also encourages a culture of continuous learning.
Performance Management
Henry Waddilove, Managing Director of Novus Business Connections, said, "Performance management strategy is crucial for aligning individual goals with the organization's business goals. Employees understand how their contributions align with strategic goals with clear performance expectations and regular feedback. Also, it provides opportunities for recognizing and rewarding high performers. You can also identify the areas for improvement with performance management."
Succession Planning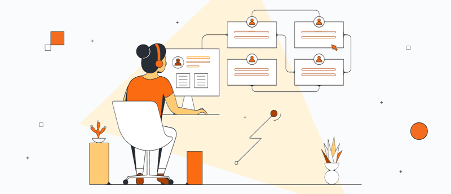 Abner Miller, Founder at Starlinkhow, said in an interview, "Succession planning strategies include recognizing and developing high-potential workers. It is to fill key leadership positions in the future. By creating a channel of talent, firms can make sure of a smooth shift when key positions become empty. Moreover, succession planning also includes:
Assessing employees' potential

Providing development opportunities

Mentoring programs

to equip them for future leadership roles.

Employee Engagement Initiatives
Employee engagement strategies work for keeping a positive work environment. In such environments, employees are committed, motivated, and synced with the organization's goals. A form can achieve this through initiatives such as:
Employee recognition programs

Work-life balance initiatives

Employee wellness programs

Opportunities for career advancement"
Implementing And Monitoring The Workforce Plan
Once the workforce strategies are formulated, they need to be executed effectively. It involves:
Executing the recruitment and selection procedures

Delivering training and development programs

Conducting performance evaluations

Implementing succession plans
Besides, for successful implementation, it is crucial to:
Specify clear timelines

Allocate essential resources

Engage relevant stakeholders
Additionally, make Key Performance Indicators (KPIs) to calculate the workforce strategies' success. These KPIs may contain metrics such as:
Employee turnover rates

Employee satisfaction scores

Training Effectiveness

Leadership bench strength
Why Strategic Workforce Planning Is Important
Keep reading to know the importance of strategic workforce planning in the organization.
Anticipating And Responding To Changes
Vicky Cano, Chef & Recipe Developer at Mealfan, said, "Forecasting future conditions of your firm ensures that the organization has the needed capabilities and capacities. These capabilities are crucial to adapt to:
Emerging trends

Technological advancements

Competitive pressures
When you've no proper workforce planning, organizations may undergo the following:
Skill gaps

Talent shortages

Misalignment between employee capabilities and business requirements
Enhancing Organizational Performance And Productivity
Josh Snow, CEO of Customerfeedback, said, "Employees with the necessary skills are more likely to contribute to the organization's success. Strategic workforce planning makes sure that the organization has the right talent. Employees with the right skills contribute to overall good performance and productivity."
Conclusion
Strategic workforce planning is essential for aligning human resources with business goals. Implementing strategic workforce planning can predict the future workforce needs of your firm.
Through these strategies, your firm can entice and retain the best employees. Eventually, it will benefit your organization in reaching its goals. These employees can eventually be the reason for your firm's long-term success. Also, constantly monitoring and evaluating the workforce strategy helps organizations stay agile. Plus, it also assists firms in adjusting to changing business conditions.
---

---
Frequently Asked Questions
Q1.
What Is Strategic Workforce Planning?
Ans. Strategic Workforce Planning is the process of aligning an organization's workforce with its long-term business goals and objectives to ensure it has the right talent in the right place at the right time.
Q2. Why do businesses need Strategic Workforce Planning?
Ans. Businesses need Strategic Workforce Planning to anticipate future talent needs, address skill gaps, enhance agility, and optimize workforce efficiency, ensuring long-term success and competitiveness.
Q3. What are the benefits of Strategic Workforce Planning?
Ans. The benefits of Strategic Workforce Planning include better talent alignment, improved agility, increased productivity, reduced labor costs, and enhanced long-term organizational performance.
---
Subscribe To The Engagedly Newsletter