Not all companies have set a clear hierarchy of titles and roles. Establishing a well-structured organizational framework or grade level within a business helps individuals come to terms with their job roles and improve themselves to serve their responsibilities in the best way possible. HR leaders often find it challenging to evaluate and compare the importance of a job role across an organization. It includes defining behavioral and technical skills to perform a task and assessing its impact on the optimal outcomes of the organization. Therefore, job leveling mainly focuses on the organizational framework.
What is Job Leveling?
Job leveling is a process of assigning job roles and responsibilities into defined categories or levels, with the aim of promoting efficiency, consistency, and fairness in the workplace, while also providing clear pathways for career progression. The grading helps understand what the company expects from employees depending on their role. It will help them get a promotion if they act according to their specific job role.  
Why Develop Job Leveling in your Organization?
Consistency in HR programs 
The HRs can use a standard job evaluation system to discuss job structure with employees. If you are consistent with this program, it helps employees and managers understand the importance of job leveling and job roles comprehensively. This systematic approach helps determine how one job role differs from the other. It should include factors like:
Interaction 

Problem-solving 

Knowledge and its application 

Accountability 

Impact of decision making 
On evaluating the job roles, it becomes easy to assign jobs to people as per the hierarchy.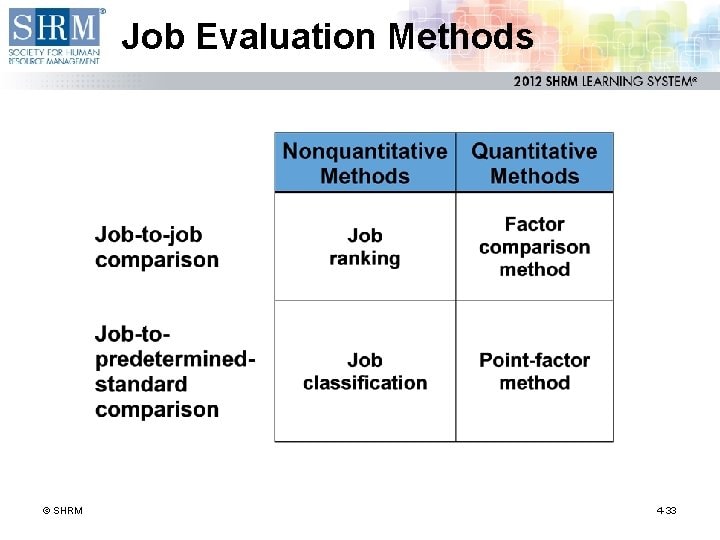 Provide opportunities for advancement in your career
Offering career opportunities with supporting infrastructure should be one of the priorities of an organization to boost employee engagement. It should pave the way for abundant career opportunities that employees search for in an organization. Therefore, the job leveling framework serves as the best framework for employees to see how their jobs can offer better growth opportunities. Career pathing is helpful for leadership, employees, and the organization as a whole to increase mobility. Therefore, with this framework, HR leaders can focus on effective planning.      
Handling administration better 
HR departments are continually trying to find effective ways to administer HR activities. The job-leveling structure can become the focal point for increasing efficiency and streamlining decision-making about employees and job roles. Some of the instances are:
a) Make job titles uniform

b) Talking about pay grade and salary

c) Eligibility and rewards in the short and long term
Get fair pay for equal work
Job leveling enables an organization to practice a meaningful pay scale for similar job responsibilities. Legal pay is necessary and is a fundamental right of every employee. People with similar work should get equal pay, be rated under similar job value, and given equal value for skills, effort, and decision-making.
Employees are offered new job roles depending on their performance and compensated for the same. How well the compensation is and how much better it is when compared to their peers is often compared. It often determines the paths to success and the scope of opportunity for an employee in any organization. As per studies, when employees see no progression to better and higher job roles in their organization, they look for an opportunity elsewhere. The job leveling should show the required expectations that the company has from each job role. Therefore, every manager can help an employee understand how to progress in the organization and achieve the next higher level. 
Therefore, consistency, alignment, connection, and equity are the tools to be maintained in an organization. It offers short-term and long-term benefits to a company that gives value to each job role in the business and takes time to level it properly. It can also reduce the chance of employee turnover in an organization. When an organization follows job leveling thoroughly, it establishes a clear connection between one position to another.
Importance of Mapping Job Functions 
Job function, also known as job family, is clubbing together jobs that include similar work and require adequate training, knowledge, skill, and expertise for the position. Depending on the organization, the job functions should map the roles from one department to another, such as marketing, engineering, sales, and others. When creating a framework, it is about assigning a job or title of your company into a job function or level, grouping similar jobs. 
How Does Job Leveling Work?
Job leveling is critical element used by employers to define corporate goals that include recruiting, engaging, and motivating employees. It helps the employees give their best, resulting in the company's growth, and better management of costs and risks. Benefits to the company include:
Setting a reward and career growth structure aligned with the company's needs, strategy, and value of the team
Career goals, job requirements, and strategic performance goals should be clearly defined
It helps establish a connection between the organization and the skills required for a role
Assess external data and focuses on job mapping in detail
It helps get a cost-effective design and handle talent management with compensation programs
Job leveling helps with internal equity
Customized Job Leveling Plan for Business
If you plan to deploy a job leveling mechanism, choose the structure that proves effective for your organization. Hiring managers should set the scorecard right to determine why they need to hire for a particular position and whether the hired person matches the desired expectations. Also, focus on desired outcomes, key competencies to look for in the person to be hired, and how successfully the hired person can contribute to the particular role in the business. Depending on this, you have to design an interview structure that reflects how the hiring scorecard is necessary.
Any job role has specific requirements in a company. Check out what qualities you should look for in an employee that makes a good fit for a company. Rather than focusing on a solution for every problem, focus on accomplishing it. When a team is clear on such goals, it helps the team work together in hiring employees and others.
Things to Consider for Job Leveling
When creating job leveling according to the requirements of an organization, try to make sure that the strategy is easy to understand and communicate to your managers. It helps everyone in the organization know the roles, their importance, and how they can directly impact the team and supervisors. To create a job grading framework for your organization, try the following tips:
Slotting: – 

It is a way of categorizing the job title, description, and salary range.

Market Comparison: 

Depending on the job title, it ranks against similar positions in an organization across the departments.

Job ranking: 

Compare the different job roles and their responsibilities and how one should develop oneself for a particular job role to stay ahead of the competition.
Comprehensive Guide on Job Leveling: Steps to Follow
The time taken to create the structure of job leveling will depend on the company's size. This process is worthwhile as it will help the company run the leveling efficiently. Although there are no such guidelines for creating job leveling, following some steps can make the task easy.
When focusing on a particular job level or role, try to have the right team. Involve your senior executives, HR, and managers to produce the required job roles and descriptions and plan how an employee can climb up to the upper hierarchy in the organization.  
Consider the big picture of the organization
Look at the organization as a whole, and consider the number of levels required and already present in the firm for effective job level planning. If you have employees to work at every level, try to build a system where leaders and managers can communicate to make decisions on big projects.
After you have decided on every job role in your company, consider the organization as a whole as it helps to understand the lack of job levels. It also helps to find out how one role is connected to other and helps in effective relationship building. Whether the relationships in the organization are synergistic or straightforward, each job role should be structured in such a way that it helps build relationships and contributes to the collaborative decision-making process of the business.
Consider one role at a time 
At the time of job leveling, you should focus on one role at a time for its correct evaluation based on its need in the business. Start with facts like the present title of the role, the rank, the work responsibilities, and where to begin. Therefore, a job title and its level should be aligned with the organization's goals so that it becomes easy to achieve them.  
Give importance to feedback
Ask for feedback on anything you deploy or implement in your organization aimed at your employees. You can accommodate their suggestion for a job title or role and understand the required changes in it. Once a job level structure is defined, distribute it among everyone in the organization and answer their queries. It will help assign the appropriate job role and its utility in an organization. Also, it will help in ensuring that the person assigned to a particular job role can carry out their responsibilities correctly.
Conclusion
HR of an organization should know the correct handling of job leveling. With a better evaluation of each job role, the HR department can implement it correctly in the business. Poor structure and unclear definition of positions can be ineffective and expensive for the organization. So, try to have a well-executed procedure which can make the organization work efficiently and effectively while cutting the expenses. 
Therefore, with the correct structure of job leveling, it is easy to create an environment that can foster employee success in an organization. The job leveling formed with the help of hiring managers, market comparisons, and employee feedback ensures that it meets the requirements of an organization and helps create an equitable workplace.
---
Want to know how Engagedly can help you develop a job leveling framework? Book a live demo with us.