Employee engagement is not just when employees are doing their job, but when they are more than happy, and enjoy a level of satisfaction and commitment to do it. They go an extra mile to get the job done. But with most of our workspaces confined to our homes, employee engagement has been a constant issue for most organizations. It can be quite common for employees to lose interest in their work and be disengaged while working from home for such a long time. 
Although many organizations are calling their employees back to office or following the hybrid model of work, we aren't exactly sure whether we will return to 'normal' way of work anytime soon. One more big question which remains unanswered is whether employees would be happy to work from the office permanently.
Employee engagement has become one of the top priorities for human resources and the leadership of the organization. Here are seven common employee engagement ideas for your team.
Emphasize On Work-Life Balance
One important thing that the pandemic taught us is focusing on ourselves, and making us the priority. 
As employers, it is important to emphasize on the work-life balance of your employees. Educate your employees on why it is important and how it will help them boost their productivity. Employees should know when to switch-off from work and take a break. Whether you are working at a single stretch or in sporadic bursts throughout the day, knowing the correct time to take a break is essential. Doing so will help you avoid burnout and stress.
WHO reports that increased screen time (for all ages) is one common side effect of the pandemic, as most of our lifestyle became sedentary. As a result, cases of neck pain, obesity, irregular sleep patterns, headache and eye problems have increased over the past two years. 
Build Your Wellness Program 
"Clients do not come first. Employees come first. If you take care of your employees, they will take care of the clients."–Sir Richard Branson, Owner Virgin Group.
Along with emphasizing on the work-life balance of your employees, it is important that wellness initiatives are in place. With continuous work from home, more and more people not only suffered from physical illnesses as mentioned above, but also suffered from many mental illnesses too. Isolation, depression, anxiety, insomnia have increased considerably over the past two years(Source: WHO).
It is crucial that organizations and leaders understand and empathize with their employees. Here are some simple steps which you can take to ensure that your employees are doing good, both physically and mentally.
For mental health: 
Virtual yoga and meditation classes

Train your employees so they can identify mental health issues

Organize online mental health sessions by experts

Make therapy a part of perks and benefits

Practice mindful living
For physical health:
Organize for online exercise and yoga 

Spend on ergonomically friendly remote workspace set-up

Provide incentives for calories burnt

Gift fitness bands to everyone to track daily steps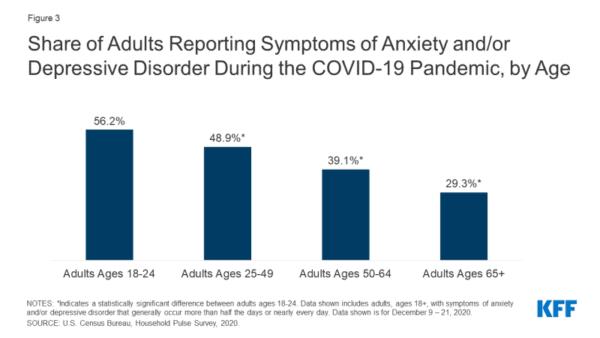 Source: Kaiser Family Foundation
Work-life balance along with wellness programs will not only help your employees to maintain their physical and mental health, but will also help them improve their overall productivity. When they see that the organization cares for them, they feel valued and important. It will improve employee engagement and retention.
Connect With Your Employees Frequently
It goes without saying that connecting with your employees is the most effective and simplest way to improve employee engagement. The disconnect and the sense of isolation can be reduced among your employees by communicating with them frequently. Let them know that they are not alone and the organization and the leadership is always there to help them out with their issues. As a manager, block and schedule discussions with your employees well in advance. Try to keep the conversations as informal as possible so that your employees can take their minds off from work and connect. 
"At Engagedly, managers and skip-level managers connect with their employees to know how they are doing and if they can help improve anything. Every month, we also have focus group discussions with our founders. It is a platform for the leadership team to brainstorm directly with the employees, and to informally explore solutions to work problems. Not only is it a great opportunity to informally connect with the leadership, but also with colleagues from other teams."
Provide Upskilling and Reskilling Opportunities
According to the LinkedIn 2020 Workforce Learning Report, 94% of employees would stay with a company if they invested in their training and development. 
Foster a culture of continuous learning in the organization. Encourage your employees to reskill and upskill themselves. It will not only help your employees to learn new skills, but will also help you to create an agile workforce which is much better adapted to change. Additionally, employee engagement increases and attrition decreases. Some common ways to upskill and reskill your employees are:
Learning And Development:

Access to online academies such as Coursera, Udemy, edX, Purdue University Global,.

Organize training sessions.

Invest in integrated learning management systems.

Job Rotation and Shadowing: They are budget friendly and easily approachable upskilling and reskilling processes. It gives employees the flexibility to role changes in the organization.

Mentoring:

Mentoring

is a great way for new employees to connect with more experienced employees of the organization or vice versa. It helps employees to learn new skills, and grow personally and professionally.

Form learning groups

Train your employees in digital and soft skills.
Learn more about How to build a successful upskilling and reskilling program for your organization.
Tangible Rewards
Who doesn't like gifts? Everyone does! Tangible rewards and care packages are a great way to show your employees that you value and care for them. 
Thanksgiving is just around the corner, and the time couldn't be better for your employees to receive a gift from the company. Although all reward options or gifts might not be budget-friendly, a little investment on your employees won't hurt. If you are not sure what to gift your employees, here are some suggestions for you:
Gift your employees company swag items such as mugs, t-shirts, notepads and pens

Self-care packages

A set of scented candles

Box of chocolates and coffee

Retreat packages

Sponsor dining or lunch for the family

Motivational books 

A month's subscription to OTT platforms
Performance Management Software
With a diverse workforce spread globally, it is essential to invest in a performance management software (PMS) to manage your employees. Most PMS available in the market not only helps in tracking employee performance but also supports an array of other features. Goal-setting, employee feedback, check-ins, rewards and recognition, gamification, LMS, peer feedback, praise, social feed, etc. are part of most PMS. They not only help employees and peers stay connected with each other but also improves employee engagement and experience.
Company Wide Reset
The last two years have not been easy for anyone. It has been tough and your employees have managed to sail through it successfully. They deserve a break! Plan and schedule for a company wide shutdown or break. Until and unless it is urgent your employees shouldn't be required to attend any calls, meetings (internal or external), emails, or zoom calls related to work. This will give a fresh start to all your employees and help them perform better. Your employees will think with a fresh mind, be more innovative and engaged at work.
---
Want to know how Engagedly can help you improve employee engagement? Request us for a quick demo!
Aaron Adams is the VP of Professional Services for Engagedly, where he develops and implements strategic talent solutions that help support and drive the organization's talent and business strategies. He holds a Master's Degree in Industrial-Organizational Psychology from Wayne State University and has worked as a Right Management consultant and an OD consultant for a Fortune 20 Company. Currently, he leads Engagedly Teams responsible for onboarding, training, and consulting services.
February 1, 2023
Imposter syndrome is an internal experience when an individual denies believing…
January 9, 2023
Employees determine the workplace quality and not the physical features and…