The advent of cloud computing, artificial intelligence, and machine learning is metamorphosing businesses globally. Many organizations are now utilizing upcoming HR technologies to create a sustainable, productive, and engaged work environment. In the last two years, investments in the HR domain have skyrocketed, with venture capitalists spending over $17 billion on HR tech. We can surely anticipate some colossal changes in the future of HR technology.
In this article, we will talk about HR technology trends in 2022, along with the HR initiatives, challenges, and employees' expectations that are paving the way for them.
HR Technology Trends 2022
Measuring the outcome is the first step in improving or enhancing the system. By adopting HR technologies, organizations are becoming more aware of their employees' expectations. A similar trend will follow in 2022 with the following upcoming HR tools and technologies.
 Workplace Digitization
Since March 2020, workplace digitization has been booming. From being reluctant to being adaptive and finally embracing the change, organizations have taken several steps to ensure they are making the most of the novel workplace setups. In 2022, organizations are expected to remodel their technical infrastructure by incorporating artificial intelligence and machine learning into their business fabric. From employee experience to customer delight, we can expect a series of transformations to make organizations more adaptive, engaged, and productive.
On the HR front, these technologies will impact the overall life-cycle of an employee, from onboarding to retirement. As the hybrid work model becomes the norm, the digital workplace will provide better ways to connect with colleagues and offer a more personalized experience for them. Furthermore, companies that are investing in these technologies can expect to have a better informed, knowledgeable, and innovative workforce. Such organizations will have higher operational efficiency and a data and technology-driven workforce.
Also Read: Performance review tips for 2022
 Elevating Hybrid Workplace
Forrester's 2022 prediction report states that 60% of organizations will shift to hybrid work models by 2022 and only 10% will stay committed to a completely remote working model. Further, it adds that 1 in 3 companies shifting to a hybrid model will fail in doing so. The primary reason is redesigning the workplace, job roles, and creating an engaging work environment. 
So far, employers have been facing the challenge of maintaining higher standards of work and productivity with a geographically dispersed workforce. As employees are being called back to offices, it will become even more difficult to manage them and provide an engaging and productive experience in the workplace. HRs will have to solve these massive challenges to offer a better employee experience, interconnectivity, and engagement. 
To make a hybrid workplace successful, organizations are taking several measures. These include the following:
Deploying a centralized platform to integrate multiple employee applications to enhance productivity

Improving internal communication through multimedia content: HR can break silos by connecting with employees through interactive videos and surveys

Deploying space management technology to reserve office space and desks

Using tools like OfficeTogether to offer a healthy work environment by monitoring visitors' check-ins, employee health screening updates, and offering superior assistance to every employee.
 Digital Learning & Development
Employee learning and development is a core strategy of every organization. In the last two years, L&D has faced an onslaught of changes due to sudden shifts in work setups and organizations' lack of preparedness for them. In 2022, learning and development professionals will have an uphill task of providing continued learning along with engagement and inclusivity at the forefront. Employee experience and learning will have to go hand in hand to get optimum results. 
With organizations already embracing digital learning, 2022 will be a landmark year with the deployment of gamification and virtual reality in the learning process. The overall estimated impact is higher employee engagement, motivation, and better learning outcomes. Further, to ensure the learning of employees working remotely, digital learning will be customized to cover more ground through mobile and desktop applications.
Also Read: Productivity tips for managers and employees in 2022
Hyper-Personalization
To understand hyper-personalization in the workplace, try answering the following questions:
What work environment brings out the best in employees?

Is every employee doing what they are best at?

What activities, policies, and infrastructure are more meaningful and engaging to employees?

What does an ideal workplace look like? 
For decades, hyper-personalization has been used in marketing to attract customers, but by 2022, it has made its way into office cubicles. With 45% of US employees working remotely (completely or partially) and a shortage of skilled labor in the market, the power of decision-making has shifted from employers to employees. Hyper-personalization gives employees more flexibility and an opportunity to change work environments to better suit them.
Organizations are working to provide a better employee experience and transform traditional office spaces into more interactive, accommodative, and inclusive workplaces. They  are working on three pillars to provide a personalized experience to employees: communication, management, and work environment.It will help in resolving challenges around accessibility, gender diversity, and inclusivity.
Also Read: Download the ultimate guide to 30 60 90 day performance review
Data-driven DEIB Initiatives
In the last decade, organizations have amped up their efforts to create a diverse and inclusive environment for employees, but the achievement has not been much substantial. The primary reason being that many of the efforts were on paper and there wasn't enough data to analyze the outcomes. It is a proven fact that data disclosures in certain industries harbinger behavioral changes. 
With organizations adopting several policies and practices for enhancing diversity, equity, inclusion, and belongingness in the workplace, it is imperative to use data analytics to get actionable insights. Research conducted by HBR found that data disclosure and analysis can have a profound effect on the diversity initiatives of an organization. 
One of the most important HR tech trends in 2022 is a reliable and data-driven DEIB strategy. As a large proportion of employees are willing to work in a hybrid setup, organizations have to place pragmatic measures to enhance diversity and inclusion. It involves driving various processes such as sourcing, hiring, onboarding, employee engagement, grievance redressal, and policy formation through a competent tech-enabled system.
HR Initiatives For 2022
A survey conducted by Gartner with 500 HR professionals to find the top 5 important priorities for them in 2022 revealed the following data:
59% of HR professionals indicated creating critical skills and competencies as the most important initiative for 2022

48% of respondents said organizational change management and design are crucial for business success

The current and future leadership bench were selected as the third most important initiative by 45% of HR professionals

42% of HR leaders stated the future of work as their fourth priority

For the first time in global history, Diversity, Equity, and Inclusion is included in the top 5 most important HR initiatives. 35% of survey respondents highlighted it as a critical factor
HR Initiatives In 2022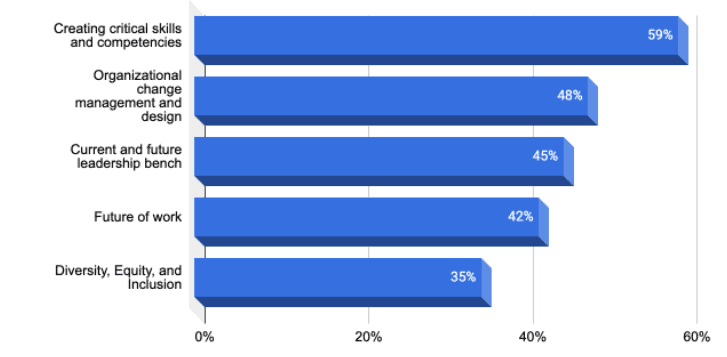 Top 10 HR Challenges
The PwC HR Tech Survey 2022 asked 688 US-based HR professionals to share their valuable insights on technology, aspirations, accomplishments, and challenges in their organizations. HR leaders cited the following ten challenges they are anticipating in the year 2022: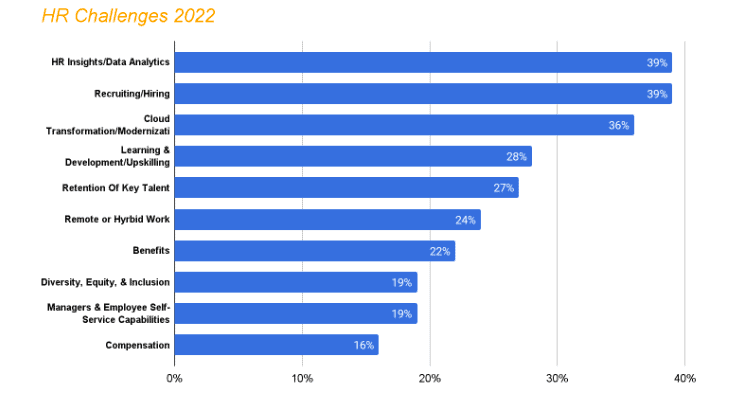 In order to solve these critical challenges and stay competitive in the rapidly changing marketplace, HR leaders will have to devise result-oriented and data-driven strategies in collaboration with industry leaders. The steps taken by the leaders will decide the fate of organizations and their ability to grow in the coming years. 
Also Read: 6 HR trends that will shape strategies in 2022
Employee Expectations From Employers
Along with the HR initiatives and challenges, it is critically important to understand employee expectations and contemplate them while planning business strategies. Globally, employees faced a rough time while managing their personal and professional lives during the pandemic, along with the sheer stress of keeping themselves safe. The other factors that help shape employees' expectations are
Better employment opportunities

Compensation and benefits

Organizational culture

Skill development.
On-job Learning Opportunities
Learning and development top the list of employees' expectations, with 94% of employees stating that they will stay longer in the organization if they get better learning opportunities (LinkedIn Learning Report). To retain their best talent, organizations need to ensure skill development and better on-the-job learning for employees. Companies that began investing in creating better on-job  learning environments for their employees prior to the pandemic will benefit the most in 2022.
Better Pay Raise 
The great resignation, coupled with extreme employee burnout caused by the COVID-19 pandemic and the effervescent job market, has increased the expectations of employees to get higher pay raises. To combat these challenges, 41% of US organizations are planning to roll out higher than 3% pay raises for their employees. This accounts for a 13% increase in the average pay hike in the last six years.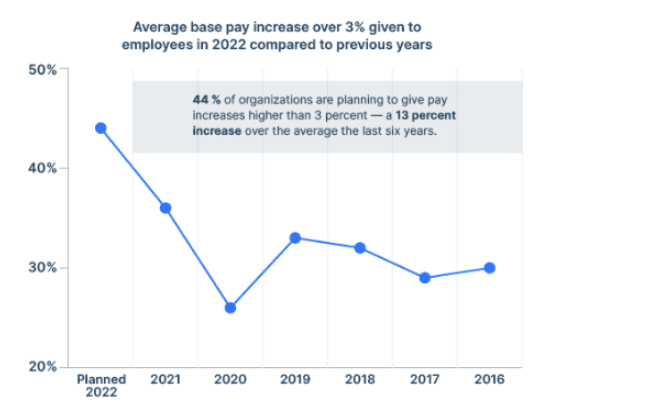 Source: Payscale's 2022 Compensation Best Practices Report (CBPR)
But will the planned hike satisfy the needs of the employees? With inflation rising to 7.5% and experts expecting a mass exodus of professionals, the move might receive a tepid response from employees.
Also Read: Top 10 HR performance management system to use in 2022
Flexible Working Environment: Better Digital Experience
In 2022, the sudden shift in the work setup had organizations grappling to manage their globally dispersed human resources. At first,  It took a long time for both employees and employers to transition to the new unprecedented work environment and iron out all the challenges in the processes. And now that employers are keen on calling back employees to offices, there is some sort of resistance shown by a huge percentage of the workforce. 
A recent study by Pew Research highlights that over 68% of employees working from home want it to stay. Furthermore, 45% of them said that they will lookout for new job opportunities if they are being called to work from the office.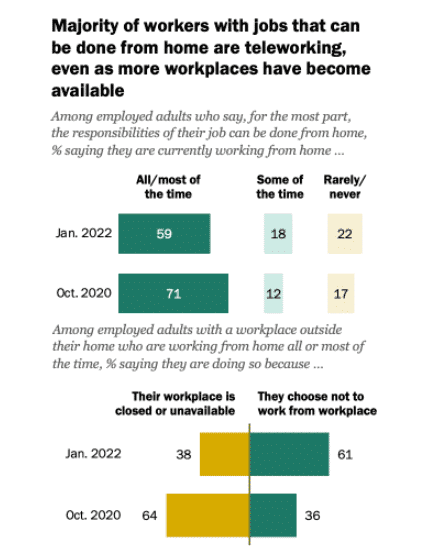 Source: PEW RESEARCH: COVID-19 CONTINUES TO RESHAPE WORK IN AMERICA
It is clear from the research that employees' expectations have been remodeled in the last two years, and organizations will have to realign certain models/strategies to accommodate such changes.
Exclusive Health Care Policies Covering Families
The pandemic caused severe upheaval in the lives of employees, and many people lost loved ones. Even though most organizations did their best to provide for and support their employees during this phase, many employees feel it wasn't enough. In 2022, employees are expecting much more from their employers, and their needs have become more personal.
Healthcare schemes like a gym membership, travel perks, and paid vacations are not very important to employees. They seek the safety and security of their families through exclusive healthcare policies. People are still scared about the next outbreak, and calling them back to the office will require providing them with better facilities.
Also Read: Setting OKRs for success in 2022
Protecting Employee Mental Health
A work health survey conducted by Mental Health America found the following correlation between employee mental health and workplace stress.
9 in 10 employees reported that workplace stress impacts their mental health

Compared to 2018, there is a surge in the number of employees finding it difficult to concentrate on work because of the workplace environment. Currently, 65% of employees report such challenges, in contrast to 46% in 2018

3 in 5 employees reported that their employers do not provide a safe work environment for employees with mental illness
These startling statistics provide a grim picture of the mental health issues faced by the employees. It is quite certain that, after facing excessive burnout for 2 years, employees are expecting their employers to look after their mental health progressively.
Also Read: The ultimate guide to employee engagement survey & templates
Conclusion
To cope with the demand for a more innovative employee experience and provide a progressive environment for employees, the future of HR technology will have to be based on continuous modernizing technology, innovative frameworks, and data-driven approaches. We hope the HR technology trends mentioned will help you to create a better workplace.
---
Connect with Engagedly's industry experts to learn how to create a healthy and progressive workplace.
July 31, 2022
Is a video message enough to offboard employees who have been serving your company…
July 25, 2022
Only 36% of employees are engaged in the workplace. HR teams have a responsibility…