"Goals are very important!" Well, don't we all know that already? But achieving those goals is more important than just setting them. To achieve goals, we need to keep track of our progress and plan a strategy.
Our goals can only be reached through a vehicle of a plan, in which we must fervently believe, and upon which we must vigorously act. There is no other route to success. – Pablo Picasso
In an organization, it is not always possible to manually keep track of goal progress owing to reasons like deadlines, large teams, geographic distance etc. This problem can be easily solved if you have goal-setting software for your organization.
You must be wondering, what does a goal-setting software do and how to choose the best one for your office? We have done the work for you and created a checklist so that you can choose a goal setting software wisely.
What Should A Goal-Setting Software Have?
1. Transparency
A goal-setting software should be transparent. By transparency, we mean that employees should be clear about which goals belong to whom and how they contribute to the organizational goals. Employees should be able to track their own progress and be able to edit it if needed. Aligning personal goals with organizational goals is another way of providing transparency.
2. Flexibility
A goal-setting software works differently for different people based on their job roles. There are different kinds of goals, necessarily not based on the job role but based on the task itself. Sometimes, you might need to measure a goal based on quantity and sometimes by the completion of a goal before deadlines. A software should provide scope for tracking different kinds of goals.
3. Adaptability
The adaptability of a goal-setting software is very important factor to consider. Your employees should be able to adapt to it as soon as possible; it should not be a painful task to shift from traditional paper-based goal setting to a software. The software should also be easily available on different platforms like mobile, desktop etc.
4. Easily Usable Interface
This is a must have for any kind of software. Having an easily usable interface means that one can use and explore the features of a software without having to particularly take help from a user manual. A good user interface provides a user-friendly experience by keeping things clear and concise. So a goal-setting software should be simple and easily understandable.
Now that you know what you should look for in a goal-setting software, let me tell you why Engagedly is the best goal-setting tool for you!
Why Should You Choose Engagedly's Goal-Setting Tool?
Transparency
Engagedly's simple yet effective goal-setting tool provides you transparency by allowing you to
Record goals
Add key results
Add start date and end date
Change ownership
Check-in progress
Align individual goals with company goals
You can easily keep track of your goal progress as well as your team's progress with Engagedly. Aligning your goals with organizational goals allows you to gain an understanding of how you are contributing to your organization's success.
Flexibility
Like I said above, flexibility in goal-setting is important because goals differ from person to person. Engagedly's goal-setting tool supports various tracking methods.
There are two different kinds of goal check-in in Engagedly
i. Percentage check-in (When you want to keep track of the progress by percentage)
Example: Increase leads by 15% in 2019
ii. Quantitative check-in (When you want to keep track of the progress by whole numbers)
Example: Close 100 tickets a day
The start date and end date also allow you to track your goals based on deadlines.
Adaptability
Engagedly's goal-setting tool is easy to understand and acts like a task management system. It is easier to shift from paper-based goals to Engagedly's goal-setting tool; one reason for this is the compelling graphical representation of goal dashboards (My dashboard, Team dashboard, Org dashboard).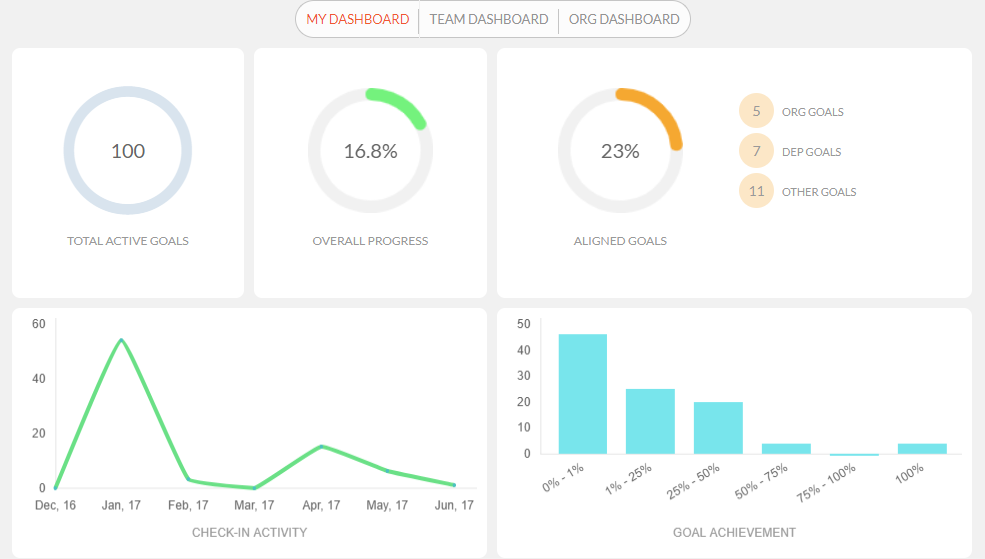 Another reason is that Engagedly supports multiple users for one goal and allows you to think and plan hierarchically.
The tool also allows you to have discussions on goal check-ins and encourages collaboration.
Easily Usable Interface
Engagedly is designed to be simple and easily understandable to its users. All you need to do is go to the goal-setting tool and explore it. It is plain and has no hidden functionality. It helps you understand the goals better by allowing you to add resources in the form of attachments and reminds you to complete your goals by notifying you based on the frequency selected by you.
---
Do you want to know more about how Engagedly's goal-setting tool can help your organization?
Chandler Barr is the VP of Sales at Engagedly and is focused on driving a culture of progress over perfection in a no-fault environment where employees are secure and encouraged to think creatively to solve problems. Chandler is a seasoned leader that has scaled sales teams for SaaS startups and multibillion-dollar publicly traded tech companies, as well as, led Marines to accomplish the mission during hardships overseas.
March 22, 2023
How can companies grow their teams and align them with business objectives? How can…
March 7, 2023
Who Is Marissa™ AI? Marissa™ AI is the AI enablement coach and a game-changing…