In today's competitive environment, employees and business owners face a significant challenge: how to continually improve employees' skills to make them relevant and meet the demands of a quickly-changing market. Engagedly's GrowthHub – the IDP Module addresses this critical issue. It provides a comprehensive platform for creating and implementing Individual Development Plans (IDPs) for employees.
Engagedly's GrowthHub – IDP enables workers to bridge the gap between ambitions and actual advancement, establishing a culture of continual improvement. This cutting-edge platform unleashes the full potential of your employees, assuring a competitive corporate environment. Let us tell you how the IDP module may transform employee development and generate organizational success.
IDP Crafted for Success: Custom-Made Automation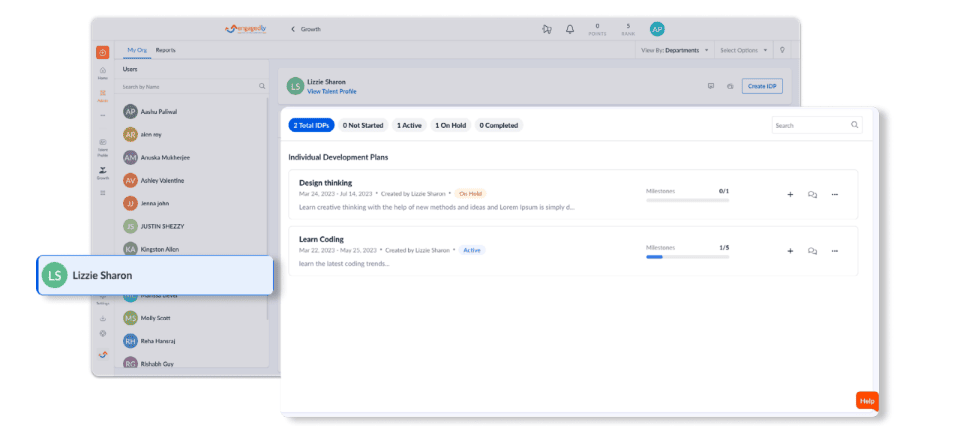 The path to success for each individual requires a zoomed-in focus on their skill sets, experiences, personality, interests, and abilities. A course that works wonders for one employee might be only remotely related to another employee's aspirations. Our IDP Module provides a fix for this issue: customization!
The GrowthHub – IDP Module from Engagedly focuses on personalized development plans for staff since it recognizes the variability of their path to success. This process begins with developing a personalized Individual Development Plan, in which employees define their professional objectives and desires. The first step in charting their road to success is creating a title and description representing their growth ambitions.
To stay on track, Engagedly gives your employees access to a broad competence library catering to different sectors and occupations, increasing the effectiveness of the IDP module. This enables employees to select the most relevant skills to enhance their careers.
Engagedly's Learning Automation solution streamlines and customizes learning procedures. It automates course assignments based on an employee's position, location, tenure, and designation, easing the strain on human resource administrators. Also, automation in the learning process saves time, enhances engagement, and results in a culture of continuous learning, increased productivity, and organizational growth.
Engagedly's commitment to individual progress goes beyond simply delivering capabilities. It fosters an atmosphere where people can confidently accept their differences and follow their dreams. Employees feel appreciated and recognized when development programs are tailored for them. This is how GrowthHub – IDP Module becomes a trusted advisor, assisting your employees in achieving their goals.
Embrace and Measure Success Milestones: Meta and Engagedly Synchronization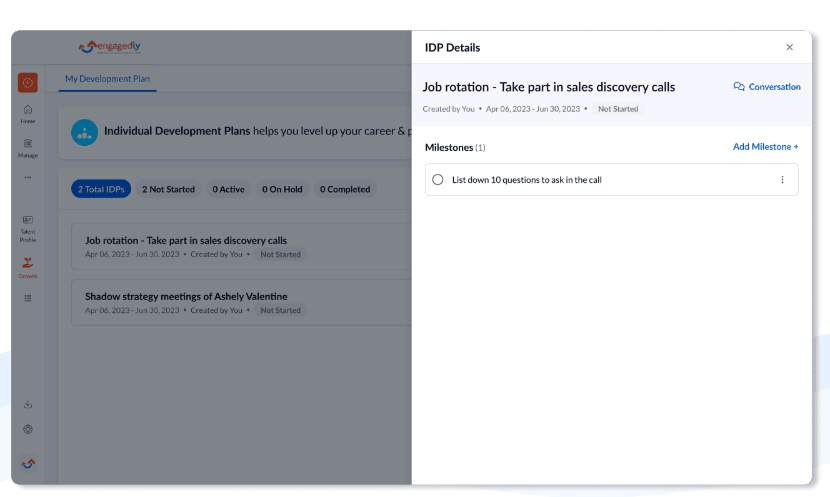 Success is achieved in steps, which the GrowthHub – IDP module from Engagedly recognizes well. Milestones are important in gauging success and moving you closer to your goals and growth ambitions.
Your staff will go on a revolutionary road of continuous improvement if you enable them to set achievable milestones, such as learning a new skill or signing up for appropriate career-related courses. Your workers' Individual Development Plan (IDP) strengthens when these performance indicators are in place.
Further, the seamless integration of complete learning pathways from Engagedly LMS into their IDP is the impetus for a holistic development experience. By seamless integration, we mean combining two powerful systems: Meta and Engagedly Workplace Systems. This collaboration streamlines organizational incentives and recognition.
This technological amalgamation boosts employee engagement and retention by automating awarding points for complimenting and recognizing team members in real-time. This cultivates an appreciation and growth culture.
Engagedly's MS Teams Integration: The Gateway to Success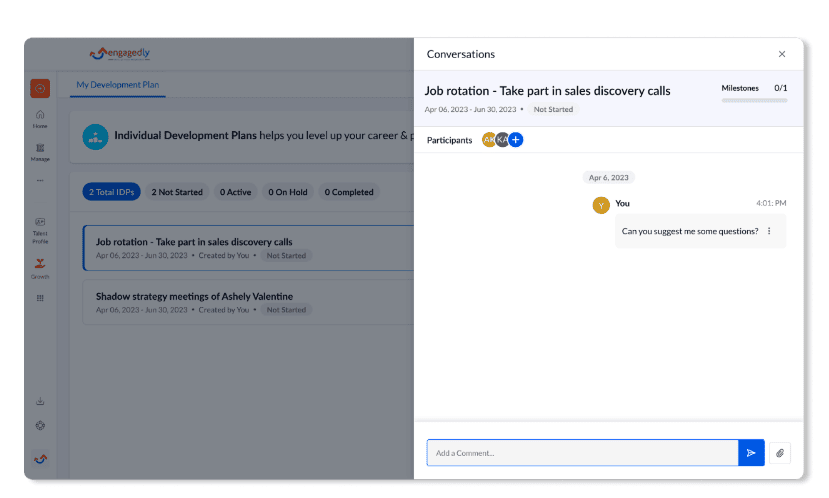 Good communication illuminates the path to success, whether on a personal or professional front and therefore, this motto is enshrined in Engagedly's IDP Module through MS integration. A collaborative and cooperative environment promotes cross-functionality among team members. This revolutionary platform fosters cooperation and collaboration through the exchange of ideas and perspectives.
Engagedly's IDP module promotes empowerment and meaningful conversations among all members of an organization, fostering an environment of open discourse, support, and inspiration. This platform empowers workers to discuss best practices, exchange novel ideas, and access useful resources, improving their learning and development experience.
Engagedly's IDP Conversations unlock workers' latent potential, enabling development, innovation, and individual genius. By adopting this module, organizations may realize their entire potential and the potential of their staff. An organization's success narrative will shine unprecedentedly by allowing employees to shine.
Engagedly's IDP Module Unleashes Brilliance: Personalized 1:1 Meetings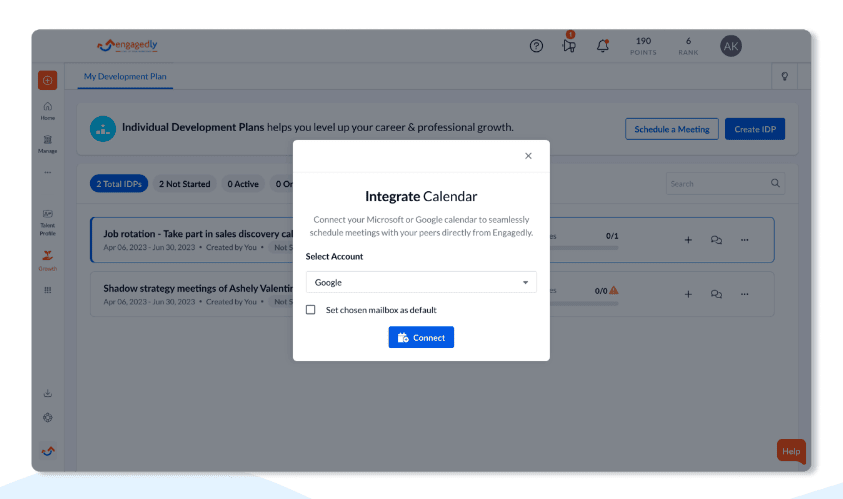 Engagedly's GrowthHub – IDP module is at the forefront of unleashing genuine potential and fostering individual progress, providing a transforming experience through personalized assistance. Consider a world where each employee receives tailored guidance and insights to help them navigate their unique route to success. The module helps employees harness their skills and culminate in a successful employee, creating a successful enterprise.
The route to realizing one's full potential using Engagedly's IDP module begins by arranging 1:1 meetings with managers straight from the IDP dashboard. This streamlined method gives workers access to crucial counseling, personalized mentorship, and a thorough grasp of their progress.
The assistance provided at these sessions could help ease difficulties for employees in any ongoing project or guide them for upcoming ones. Thus, 1:1 meeting sessions are a significant investment as they boost employee development.
Goals 2.0:
Empower Managers as the Architects of Success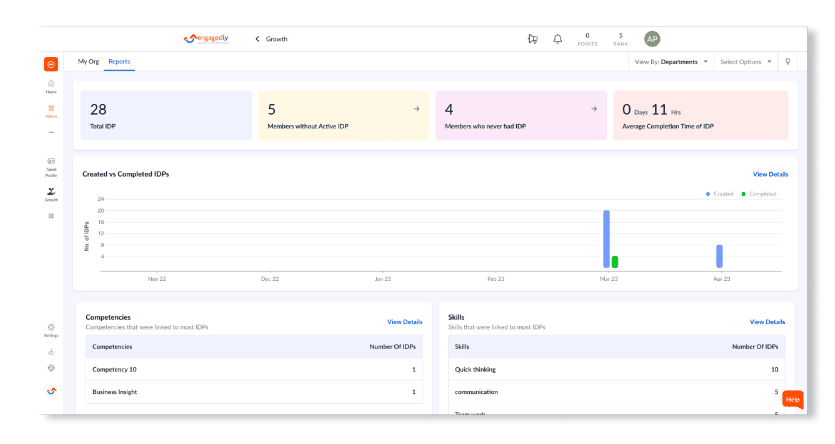 Managers are the guiding force directing their teams to greatness in the shifting environment of employee growth. The IDP module from Engagedly recognizes managers' critical role in defining the future of their teams and provides them with strong tools to lead, monitor, and celebrate success.
Managers become architects of their teams' development plans using Engagedly's IDP module, crafting and nurturing a roadmap to success. Managers gently guide their staff towards success by setting clear goals and celebrating achievements together, fostering a culture of achievement and inspiration. This sense of success forges a strong link among the team members, uniting them in their pursuit of excellence.
How is IDP helpful?
Managers may use the Goals 2.0 strategy to simplify their goal management process and unleash their real potential for unparalleled success. By the term 2.0 strategy, we mean a bird's-eye perspective of your organization's overall objectives, business units, departments, team members, and individual goals, all at the same time and place.
Engagedly's IDP Module focuses on goal management to improve organizational openness, cooperation, and alignment. The platform facilitates goal formulation, tracking, and success, ensuring employees and employers are on the same page and working toward the same goals. Extensive cooperation, seamless interfaces, milestones, and goal kinds provide remarkable clarity and speed in goal attainment. The software also delivers a comprehensive picture of organizational goals and useful tools such as feedback, guidance, and visual graphs to drive outcomes.
Comprehensive reports provide managers with useful insights into their team's growth. With this data-driven information, they can track their team members' involvement with their IDPs, ensuring no potential goes untapped. Managers pay specific attention to areas where encouragement is required, ensuring each team member receives the support required to fly to new heights.
What is the "My Team" feature of Engagedly's IDP module?
The "My Team" feature of Engagedly's IDP module streamlines the management process even more, making team development easier to traverse. Managers may track the success of their teams in one place, remaining one step ahead to promote continual advancement.
Consider a workplace where every manager has the knowledge and abilities to assist their teams in reaching their full potential. Teams thrive in this changing environment, directed by strong and supportive leaders and working towards common goals.
Managers may take the lead using Engagedly's IDP module, which fosters a harmonious synergy in which each team member's advancement is entwined with the company's overall success.
Is IDP for Your Organization?
Engagedly GrowthHub – IDP Module empowers employees to accomplish their career goals and enables the firm to benefit from a motivated and high-performing workforce.
IDP is a must-have tool for organizations as it empowers employees, improves engagement, and promotes organizational performance. It develops a motivated and high-performing workforce. Take advantage of affordable individualized development plans, seamless integration, MS Teams collaboration, and goal management tools!
---

---
Frequently Asked Questions
Q1. What is Engagedly GrowthHub – IDP Module?
Ans. Engagedly GrowthHub – IDP Module is a unique platform curated especially to formulate Individual Development Plans. It caters to the most important organizational need of the time: employee development.
Q2. How does Engagedly GrowthHub – IDP Module help in employee development?
Ans. Engagedly GrowthHub – IDP Module fosters employee development by creating tailored IDP programs that are relatable. They focus on individual skill sets, experience, and needs.
Q3. How can the Engagedly GrowthHub – IDP Module help managers?
Ans. Engagedly GrowthHub – IDP Module assists managers in having a bird eye view of the organization by facilitating goal formation. It streamlines the managerial process through the 'My Team' feature and tracks each team member's milestones and success through visual tools like graphs.
---
Subscribe To The Engagedly Newsletter