There's a new kind of performance management on the block: "social performance management."
Successful performance management requires effective goal-setting, team collaboration, recognition, engagement, and frequent feedback. Traditional performance management systems miss out on these drivers, which can lead to low morale among employees, and thereby poor organizational performance.
Most companies have realized that their performance management (PM) systems don't really work anymore. And they are increasingly looking at new ways of measuring an employee's performance. One of those ways is social performance management.
The challenges of the recent shift to a hybrid work setup have aggravated the need to adopt a modern and more collaborative social performance management system (SPM). Such a system can fulfill the needs of advanced performance tracking as well as the social commerce needs of employees.
Seeing the numerous benefits, many organizations are now switching from traditional annual performance review systems to continuous and social performance management tools.
In this article, we will explore the intricacies of a social performance management system and some of its important features.
What is Social Performance Management?
Social performance management or SPM is a spin on traditional social media. On traditional social media, you are able to convey information quickly and also receive a response quickly. You can talk to literally anybody, create interest groups and also state opinions.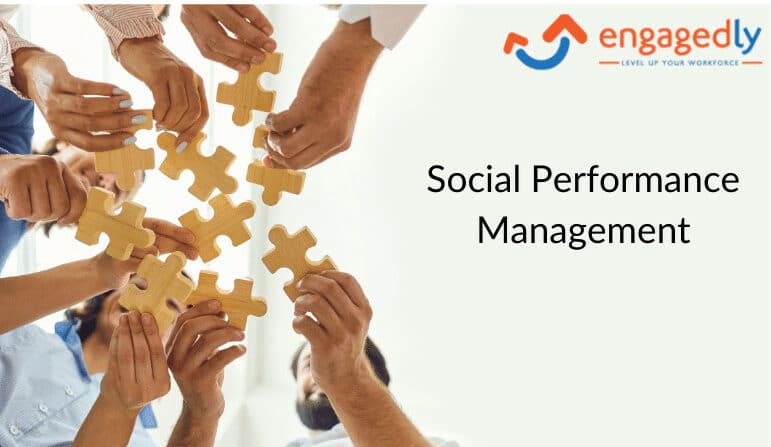 A system which is geared towards or created with SPM in mind allows employees to do the same thing. The only thing that changes is the context in which they do it. In SPM systems, employees can share opinions, thoughts, ideas with everyone in an organization. There's no hierarchy that separates employees and managers and leaders. They can request for feedback and also receive feedback, in real-time. Managers or employees do not need to wait till the year ends before asking for or giving feedback.
And here is the best part of an SPM system. Its users can be anywhere and still communicate with one and other successfully. Employees in different corners of the world can interact with each other as if they were facing each across a desk.
Organizations are slowly but surely adopting SPM systems because they have realized that the very concept of PM is outdated. Some of the organizations which have adopted SPM systems are HubSpot, Mozilla, Hootsuite, etc.
Engagedly – Performance Management Redefined
Engagedly's main goal is to drive employee engagement. And you cannot drive employee engagement if your PM system gives neither employees nor managers any say in the process. Here's how Engagedly's SPM system can help with feedback, peer recognition, and communication.
Feedback – Continuous and Two-Way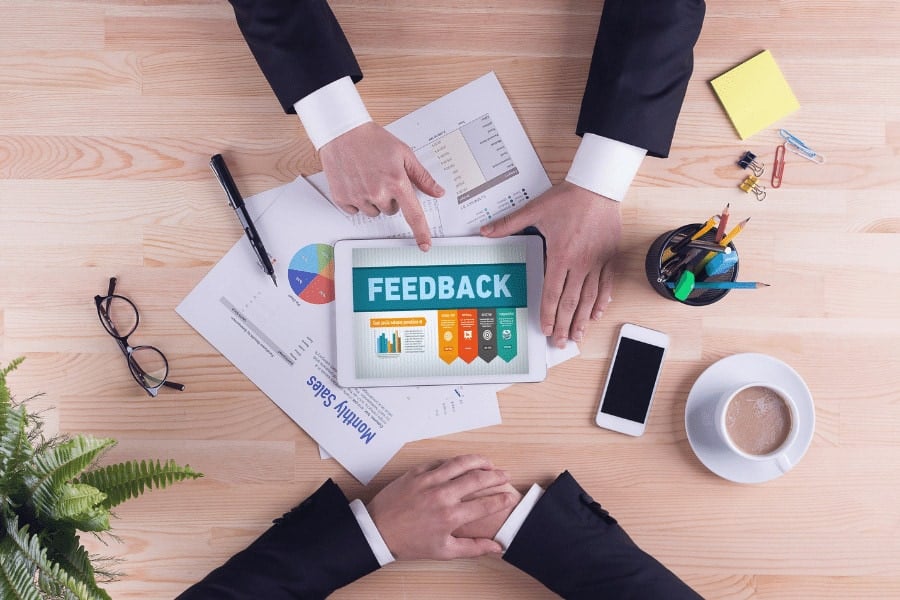 In order for feedback to be effective, it needs to be a continuous process. Traditional PM systems have a convoluted feedback process that is of usually no help. They can be frustrating, delayed and insufficient. Not the kind of process that improves employee engagement. Moreover, it does not provide any channel of communication to discuss important issues.
Engagedly's feedback process is easy. With a few button clicks, you can either give or ask for feedback. It is immediate and therefore, more helpful than feedback which arrives long after the task has been completed. Any team member can ask for feedback from their colleagues and manager. The feature helps in getting quick feedback on the performance and other aspects of work.
Also Read: Dealing With Negative Feedback In The Workplace
Communication Without Barriers
Communication among all the employees of an organization is vital. Not just among peers. Leaders cannot be closed off from employees, and employees should not have to think of leaders as mysterious, inscrutable figures.
Good communication can drive engagement and increase productivity. Engagedly's communication feature is simple and easy to use. Similar to Facebook, you can post a status which team members can comment upon and like. Another striking use of this feature is that you can ask your fellow colleagues for help, share ideas, or even share knowledge!
The feature can also be used to impart knowledge to the whole organizaton or share an organization-wide post regarding important updates or changes. This way, you can always keep communicating with your workforce.
Peer Recognition
One of the most important aspects of employee engagement is recognizing employees who have done good work and commending them for it. Our peer recognition feature makes recognizing an employee or a colleague a breeze. You can share a public social post and tag your team members or colleagues there and thank them for their support, or give a shout out for their exemplary support or skills. The feature also helps other teams to recognize the skills by liking and commenting on the post.
---
Looking forward to redefine your performance management system? Talk to our experts for a free demo.