"Caroline, you have failed to meet the deadlines way too many times this quarter, We expect more dedication from you this quarter." How many of us are ready to face negative reviews about our work like this? Not all employees are usually open to negative performance review. Sometimes, it is demotivating to listen to negative performance reviews and employees also tend to get defensive at times.
As a manager  it is hard to give negative performance, particularly when your organizational work culture is positive and you still have to give the review because it is important for the team and the company's growth.
Also Read: Tips For Choosing The Right Performance Management Software
How To Give A Negative Performance Review?
So here's a list of simple do's and don'ts on how to give a bad performance review that can make the discussion easier.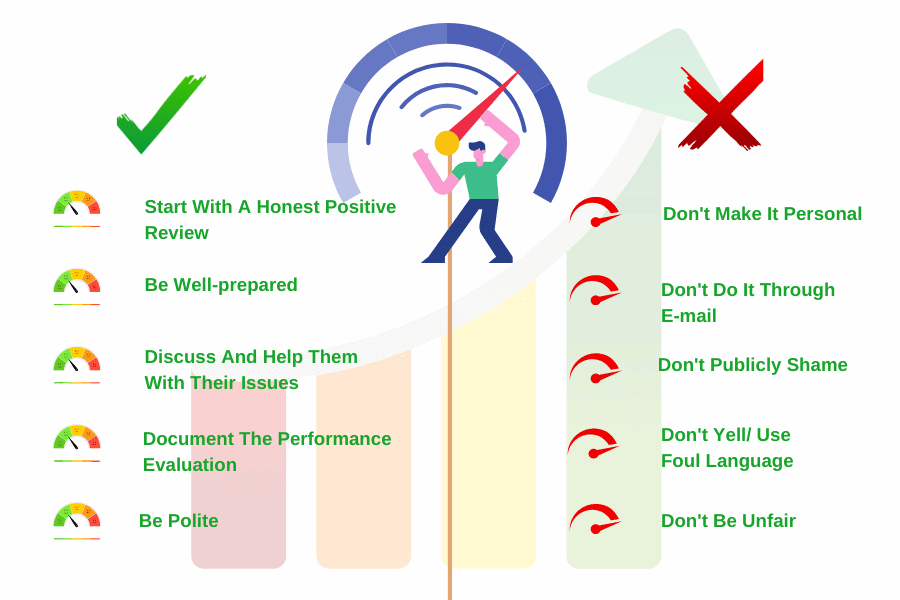 Don'ts For A Negative Performance Review
1. Don't Make It Personal
This is one of the most unprofessional things that a manager can do. Remember that you are a manager and it is your responsibility to give unbiased and accurate performance review to your employees.
It is sometimes hard to let go of your personal equation with your employees, but never give a negative performance review based on your personal relation with them.
No matter the review is negative or positive, you should not let your personal opinions affect the review.
Also read: A Guide To Performance Reviews For Remote Employees
2. Don't Do It Through E-mail
It is understandable that it is hard to give a face to face negative performance review but never choose e-mail to do it. The very reason for a performance review is to improve performance of the employee.
If you do it over e-mail, you lose the scope to discuss what the problem actually is and it can also affect the employee and instead of improving their performance, this might be demoralizing. So avoid using e-mail for negative performance reviews.
3. Don't Publicly Shame
This is one of the worst nightmares of every employee. Giving a negative performance review before everyone is not only unprofessional but also demoralizing.
Appreciation can be done before everyone – only in exceptional cases – but negative performance review cannot be given before other staff.
Shaming doesn't help anybody, instead it just spreads negativity in the whole workplace. So public shaming is a big NO!
4. Don't Yell/ Use Foul Language
When giving a negative performance review, you have to remember that it is a discussion and you are two professionals participating in it to find a solution.
Using foul language or yelling at the employee just to prove that you are right isn't a right way to evaluate anyone's performance.
Nobody deserves to be treated that way. So never, use foul language or yell at your employees. According to the workplace laws in some countries, legal action can be take against such behavior.
5. Don't Be Unfair (No Bias)
As a manager, you have to be unbiased and fair when evaluating performance of your employees. Bias can be of any kind, be it gender bias, age bias, disability bias, religious bias or even marital status bias.
You have to also take care of not letting the recency bias affect the performance review. No matter what the review is be polite and be fair.
Also Read: Negative performance review phrases
Do's For
A Negative Performance Review
1. Start With A Honest Positive Review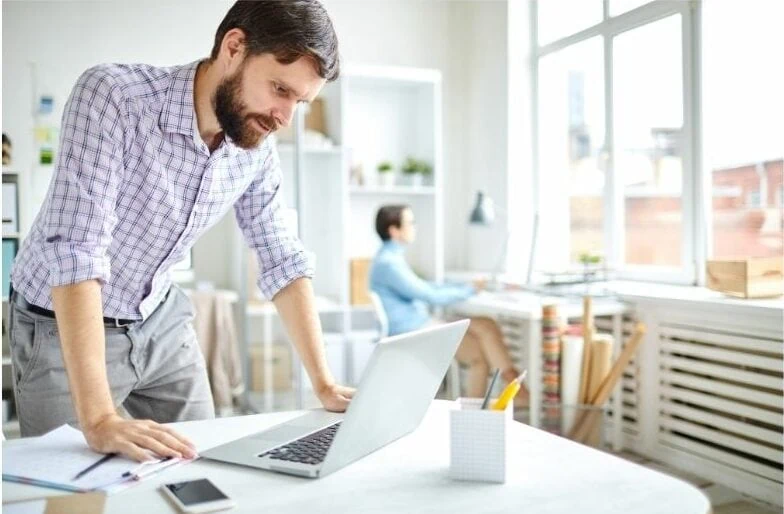 When you know that you have to give negative performance to an employee. Find something positive about their review to start with.
If you cannot, then try to evaluate their previous work and see if you can find something good about their performance. Because, if you start with a negative review, employees might get defensive at times. So start with something that is honest.
For example: "Hey Paul, You have contributed a lot to the organization in all the previous quarters." instead of starting with "Paul, this quarter looks very dry. You have to work on a lot of things"
Sometimes, you can be left in situations where you do not have anything positive to start the review with. Do not push yourself so much, just be honest, do not lie just to start it on a positive note.
2. Be Well-prepared
Being well-prepared is ahead is good for any kind of meeting. Performance review is a very delicate and important meeting that you have with your employees.
You have to be well-prepared with specific details of their performance. How can you practically achieve it? As a human, you can't keep note of everything an employee does. So we have a solution for you. Using a performance review software that allows you to keep track of the smallest achievement of an employee.
How Engagedly Can Help – You can use Engagedly app to assign tasks, set goals, keep track of them and many more. So being prepared ahead will help you give an accurate review be it negative or positive.
3. Discuss And Help Them With Their Issues
Sometimes, employees need help from you too to deal with their performance issues. When you give them a negative feedback, you might also have to discuss and uncover what the root of the problem is and help them find a solution for it.
How Engagedly Can Help – Once you have a discussion with your employee, see where they need help and assign courses to them using the 'Learning' module of Engagedly. Here you can add different types of courses, you can give them read ups and also quizzes to see how much they have learnt.
4. Document The Performance Evaluation
It is important to document any discussion you have with your staff. Ask your employee to document the performance review so that you can use it to compare with the previous and coming quarters' performances.
It is not possible to document the entire discussion so here are a few things that you should document in particular.
What was the agenda of the meeting?
What was evaluation made based on?
What has the employee done to improve their performance from the last quarter?
What can the employee do to improve their performance in the next quarter?
Are there any serious actions to be taken/ anything that the employee needs to take action on immediately?
What is the solution to the problem in case of any negative performance review?
Also Read: Key Features Of An Ideal Performance Management System
5. Phrase Your Statements And Questions To Be Polite
Taking care of the questions you ask and the statements you make during a negative performance review is very important. You cannot ask questions that bring back the classroom culture back or are offensive to the employees.
Take care that the statements you make while giving a negative performance review are polite enough and do not demotivate or discourage the employee.
Help the employee if you can, if their performance issues persist you can take action on it. There is no need to get picky and hurtful about their performance during a negative performance review.
Conclusion
Performance review processes are changing with time. Most organizations now use performance management tools to get all the review activities under one roof. The tool helps in setting goals, tracking weekly, monthly, and yearly performance, allows managers to check-in frequently, and provides a holistic view of an employee's performance.
We hope the do's and don'ts for a bad performance review discussed in this article will be helpful to you. Share your thoughts on how to give a bad performance review in the comments below.
---
Srikant Chellappa is the Co-Founder and President at Engagedly and is a passionate entrepreneur and people leader. He is an author, producer/director of 6 feature films, a music album with his band Manchester Underground, and is the host of The People Strategy Leaders Podcast. He is currently working on his next book, Ikigai at the Workplace, which is slated for release in the fall of 2023.
February 27, 2023
Every organization seeks to maximize the performance of its employees to achieve…
February 2, 2023
As the years go by, our relationship with technology changes. Emerging techs like…