We at Engagedly have always been vocal about recognition being an important part of the workplace. Want to engage employees? Reward and recognize them! Want to motivate employees to work better? Recognize them! The right kind of recognition can work wonders.
We even have a feature in the Engagedly app that deals solely with recognition. It's called 'Praise' and it helps peers and managers recognize employee publicly, with everyone else in the organization.
We wholeheartedly believe in power of power of recognition. That is why we are happy to announce that we've been featured in the article Social Employee Recognition Can Save The Performance Review by Software Advice.
"Companies are getting extremely tired of boring, unproductive performance reviews. A platform like Engagedly can make them great again," said Brian Westfall of Software Advice, a company that researches and hosts reviews of human resources software. "The ability to praise others in real-time not only engages and rewards employees for participating, but it also provides valuable, up-to-date information for managers to do a more ongoing, comprehensive performance appraisal."
If you've been a long-time reader of the blog, then you know that we have covered a wide-range of issues with respect to performance reviews such as how they are cumbersome and annoying, are being done away with in favour of newer practices, and how the process in general can do with a major facelift. We have also extensively covered employee recognition, but usually in relation to engagement.
The article however brings up an interesting proposition; social recognition to go along with performance reviews. Social recognition is uniquely positioned in that while it is more informal and prompt than annual reviews, it is also more comprehensive than 360 degree feedback!
"According to Gartner's Predicts 2016 for HCM Applications (available for Gartner clients): "By 2018, 25 percent of large organizations will incorporate social employee recognition and rewards into their performance management processes."
The article goes on to further elaborate upon social employee recognition. To paraphrase: Performance reviews suffer from a lack of information. When you only rely upon a manager's memory, the review becomes a one-sided, one-dimensional affair. And this is not something you can blame a manager for. For reviews to work a 100% all managers would be required to possess phenomenal memories, which is a really improbably qualification.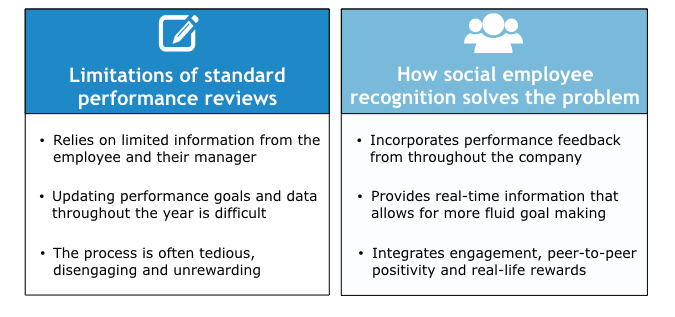 Picture Credit: Software Advice
"Early adopters of social employee recognition software report "measurable impacts on employee engagement, as well as correlations with improved business performance," according to Gartner's Predicts 2016 for HCM Applications."
Social recognition can be a great addition to your organization. But as the article mentions, there are 3 things you need to keep in mind when it comes to implementing social recognition:
Flatten your organizational structure. According to Gartner's research, social recognition thrives in companies where "command-and-control hierarchies give way to more network-style organizations." Break down barriers between upper and lower levels of the company and implement channels to promote company-wide discussion and interaction.
Tailor your rewards system carefully. If all employees have to do to get rewards is blast generic kudos ("Great job!"), not only are you promoting the lowest effort possible, but managers also aren't going to have useful feedback to learn from. Institute rules that only reward meaningful recognition, and consider consolidating all of your rewards programs (e.g., employee referrals) into one.
Know it's an augmentation, not a stand-alone solution. Social recognition and continuous peer-to-peer praise can save your performance review process, but you still need a solid performance management system bedrock to build on. If you don't have one, or find your current system lacking, head to our performance review software page to filter and compare functionality and read user reviews of different options.
---
Engagedly is a performance management software with elements of employee engagement. To see how the application works and how it can help your organization, request a demo today!