Are you a manager or leader looking to bring out the best in your team? Do you need help engaging and retaining your employees in remote or hybrid work modes? It's true leaders and managers have a lot on their plate when it comes to driving performance and engaging their employees at the same time. But here's the thing – managers can't just sit back and oversee their team's tasks. They need to actively engage with their employees and build strong relationships. And that's where listening tools like Engagedly's Team Pulse come in handy.
Team Pulse is a fantastic tool that helps managers get real-time feedback from their team on a recurring basis. This means that managers can identify bottlenecks and issues that might be hindering productivity and take action to resolve them promptly.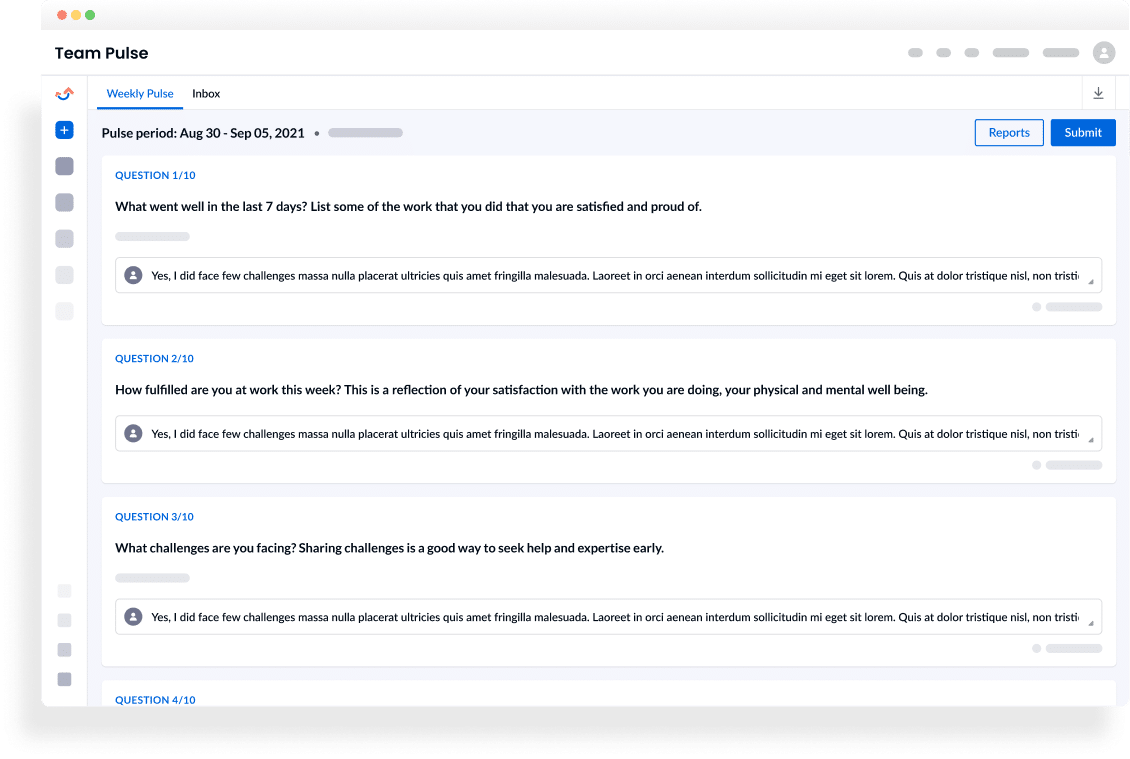 Now, you might be wondering, do managers really need to have frequent meetings with their team to deliver results? The short answer is no. While meetings are important, they can be time-consuming and inconsistent. Listening tools like Team Pulse can help managers stay in touch with their team's needs and identify areas for improvement without having to schedule endless meetings.
Overall, listening tools like Engagedly's Team Pulse are a game-changer for organizations. By giving managers the ability to understand their team's needs and take the right initiatives promptly, these tools can help boost employee engagement and drive better results. 
Why Go with Team Pulse?
Are you tired of constantly putting out fires in your team? Team Pulse is here to save the day!
With Team Pulse, you can stay on top of all the bottlenecks, demotivating elements, positive feedback, and critical issues that your team faces. No more guessing or hoping for the best. You'll have your finger on the pulse of your team's needs and ideas on a continual basis.

But wait, there's more! Team Pulse doesn't just keep you informed, it also empowers you to take prompt and necessary action before it's too late. That's right, no more procrastinating or dragging your feet. With well-informed decisions and prudent actions, you'll be able to tackle any challenge that comes your way.
So, say goodbye to firefighting and hello to a more proactive and efficient management style. Try Team Pulse today and see the difference it can make for you and your team!
Have you ever wondered what your team really thinks about your organization's culture? Are you racking your brains to discover what changes you can make to improve retention rates? With Team Pulse, you can perform smart pulse checks at regular intervals and get valuable insights from different demographics. And let's be real, who doesn't love a good demographic breakdown? 
Plus, Team Pulse gives you a razor-sharp view of your work culture, so you can make informed decisions on where to focus your efforts. Ask your employees anything you need to know in a pulse survey! 
But wait, there's more! Team Pulse also helps with change management, so you can reduce attrition rates and keep your employees happy. It's like having a secret weapon in your HR toolkit.
Think of Team Pulse as your organization's personal clockwork. With a few simple clicks from your admin, you'll be on your way to launching weekly pulses that will help you better understand your team's thoughts and feelings. All you need to do is submit your responses before the submission date.
But wait, there's more! Your managers can get in on the action too by reviewing the questions provided by the admin and adding their own, specific to their team's needs. This means you'll get to know exactly how your teammates are feeling about their work, which will help you all grow and succeed together.
And don't worry, managers will be reviewing your responses and starting conversations with you and your team if necessary. 
Freedom to Remain Anonymous
Team Pulse is not just your average feedback platform. It's a place where you can provide transparent feedback or even stay incognito and give anonymous feedback. That's right, no more worrying about your boss breathing down your neck. 
With Team Pulse, you can finally let your true thoughts and feelings out without any consequences. Don't like the way your manager handles your team meetings? Well, now's your chance to say it without anyone knowing who you are!
And if you're the boss, you can use Team Pulse to get direct feedback from your employees without involving their managers. That way, you can get an accurate picture of what's really going on in the trenches and make informed decisions to improve your organization.
So, whether you're an employee or a boss, Team Pulse is the perfect place to provide feedback in a safe, honest, and anonymous way. 
Enhanced Employee-Manager Rapport
With Team Pulse, managers can reach out to their employees frequently, not to be nosy, but to understand their issues and seek their views. Say goodbye to the days of feeling like you're shouting into the void because your opinions matter and your managers want to hear them.
Plus, with real-time feedback, managers can take quick action to solve problems and prevent them from happening again.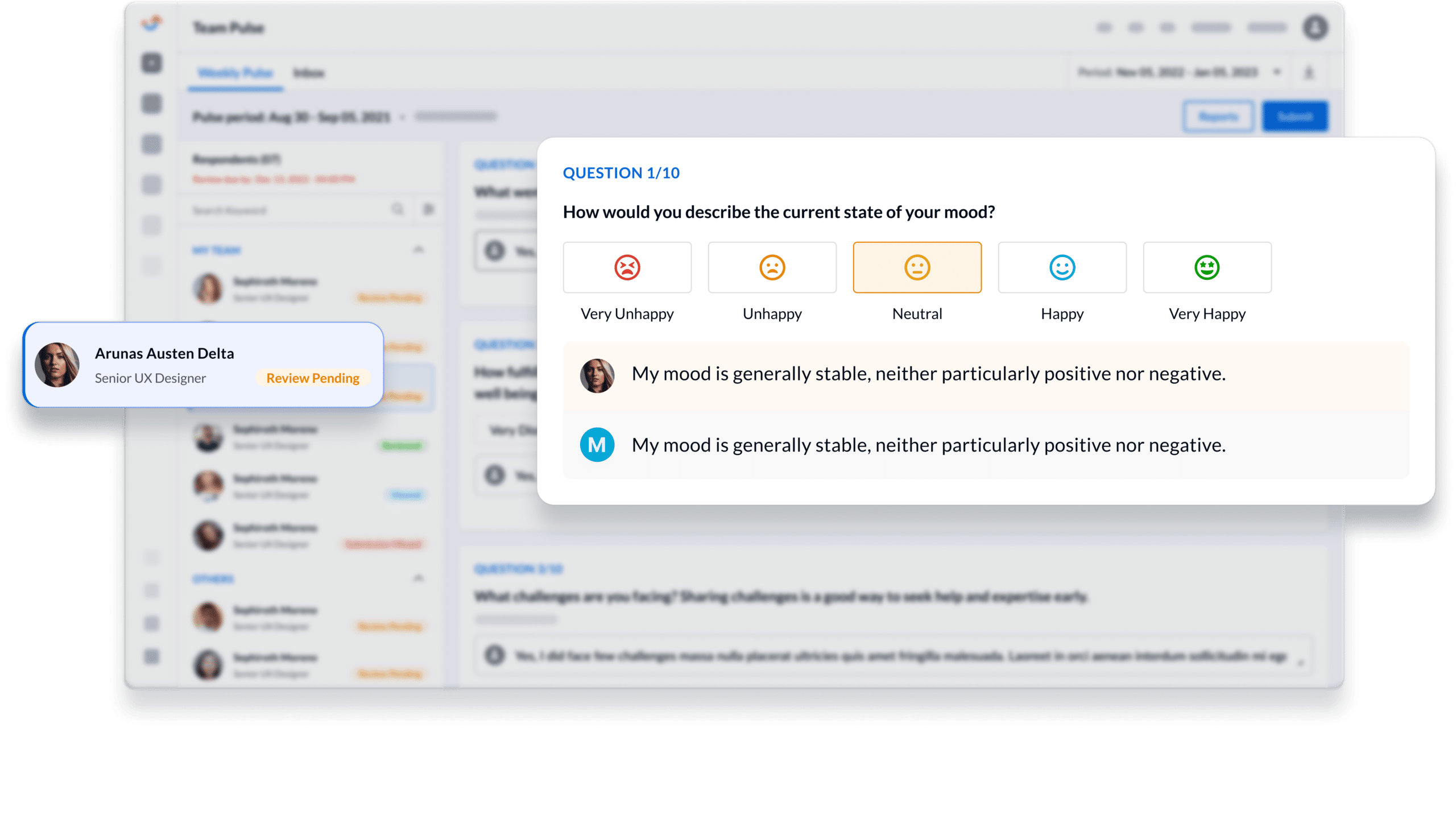 And employees, get ready to feel seen and heard. Team Pulse is the most convenient way to connect with your team and build trust with your managers. No more awkward water-cooler conversations or passive-aggressive emails. Just honest, open communication leading to a happier, more productive workplace.
Transparency Like Never Before
Team Pulse is all about creating an environment where employees can speak their minds without fear of judgment. You can collaborate with your coworkers and managers, share your ideas, and work together to achieve your goals. 
Managers also benefit from Team Pulse's transparent culture. They get a clear view of what their team wants and needs, which makes it easier to spot problems and come up with solutions. No more guessing games or assuming what your employees are thinking. With Team Pulse, everything is out in the open.
Why Now?
Currently, we have tools to Enable Development, Execute Performance and Engage Employees. However, the missing piece of the puzzle is a set of Listening & Measurement tools that will help the organizations to identify the challenges faced and take the right initiatives.
Team Pulse is a listening tool for managers to get real-time feedback from their team that'll help them identify bottlenecks and take them to closure. Technically, it is a recurring set of questions sent out to employees on a set frequency.
Engagedly's Team Pulse enables your organization to listen to employees throughout their lifecycle. It consistently gives you invaluable insights straight from your people, which would help you act on time and take appropriate decisions that would accelerate the growth of your organization. It works in three steps- Listen, Analyze, and Take Action!  
Team Pulse Features

Engagedly's Team Pulse is flexible in its approach to problem-solving and can adapt to organizational needs. Listed here are the features:
Admins add questions for the organization: Question library/Create questions

Pinning questions

Managers are allowed to add questions for their respective teams

Collecting anonymous responses

Adding questions from E10 in Team Pulse

Awarding points

Viewing resource center – (View Goals)

Viewing response history

Manager reviews

Commenting on responses/Adding people to conversations

Leaderboard and Nudge

Viewing, comparing, and downloading reports
Final Thoughts on Team Pulse
According to research done by Microsoft, 'when managers help teams prioritize, nurture their culture, and support work/life balance, employees feel more connected and are more positive about their work.'
Achieving this depends on the frequency and quality of the team's interactions, for which meetings are no longer the best way for managers. There are much more effective ways, including having fewer meetings altogether.
With Team Pulse, you can listen to your employees throughout their entire lifecycle, from onboarding to offboarding, and everything in between. 
Team Pulse provides you with valuable insights straight from the source – your people! You'll have access to information that will help you make informed decisions and take action in a timely manner.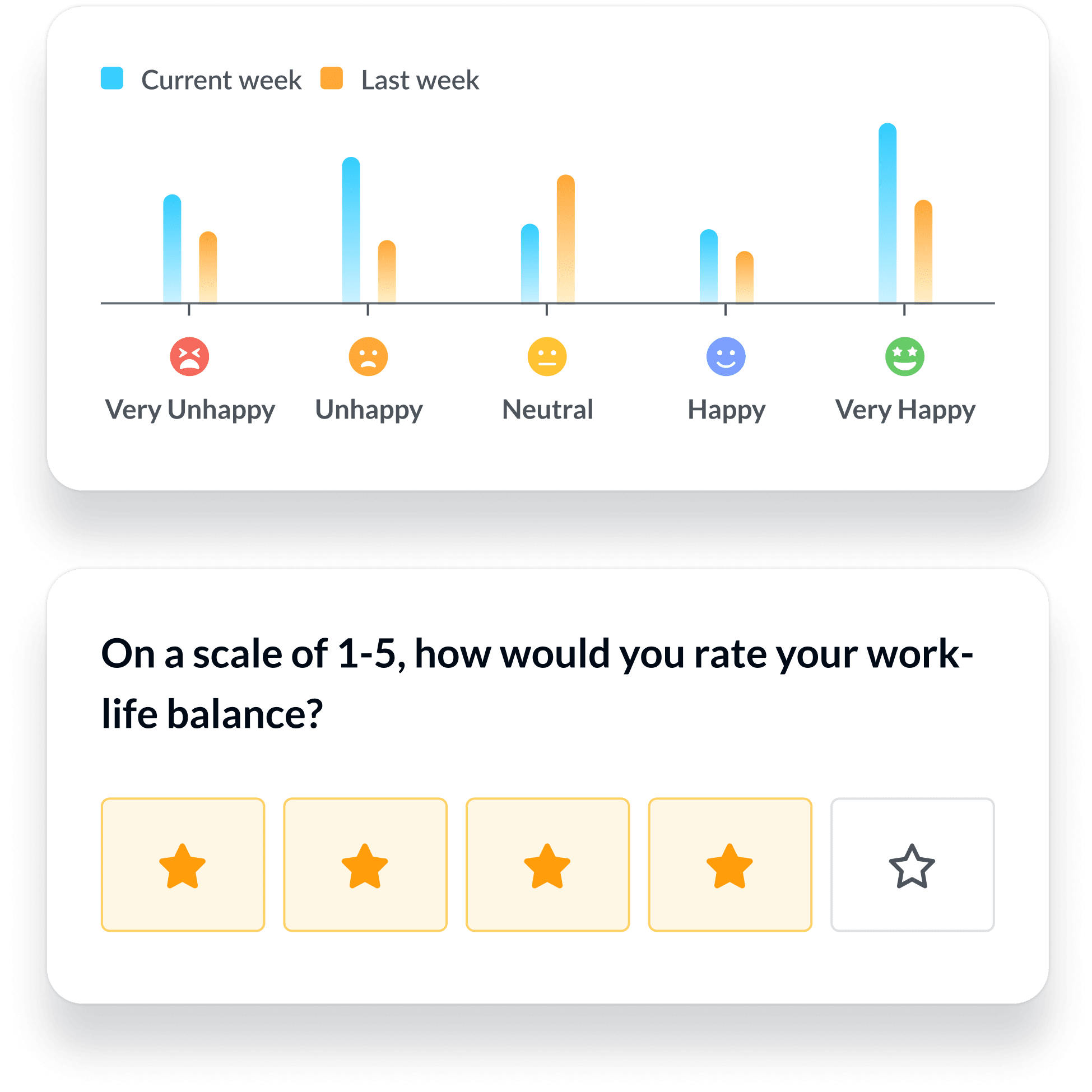 Say goodbye to the days of being in the dark about what your employees want and need. With Team Pulse, you'll be able to accelerate the growth of your organization by responding to employee feedback and making the necessary changes.
So why wait? Start using Engagedly's Team Pulse today and show your employees that you're listening! Let's get Pulsing!
---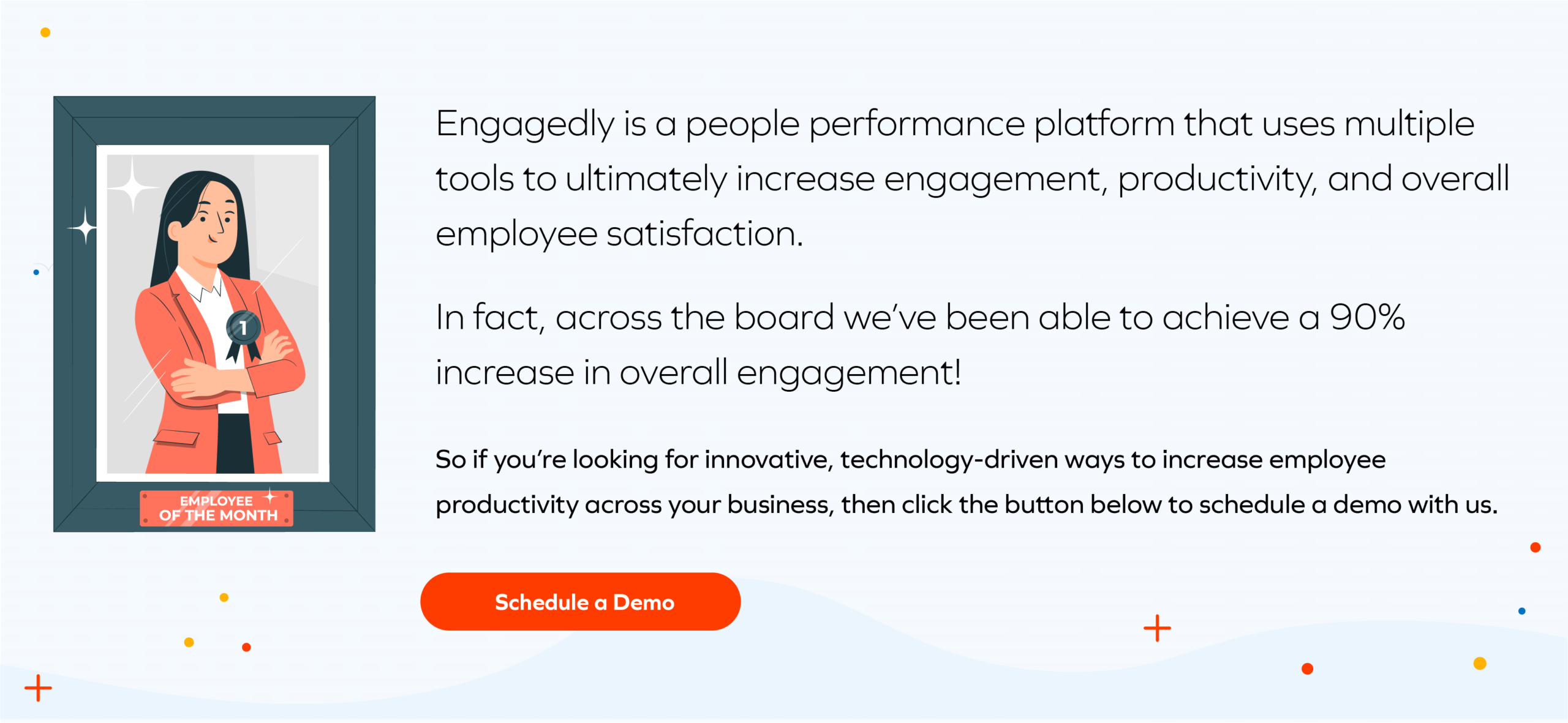 ---
Get In Touch With Us