Mobile learning has revolutionized employee training. It brought in more streamlined and valuable lessons.
Employers found it difficult to provide training to employees. Sure, a fraction of the problem may be on the employees — they may be hard to handle — but a big part of the problem might be ineffective training methods. 
If you provide limited resources and zero exposure to reskilling or upskilling opportunities, your employees may be struggling. Consequently, you could see a dramatic decrease in engagement, memory retention rates, productivity levels, and more.
Want to improve things?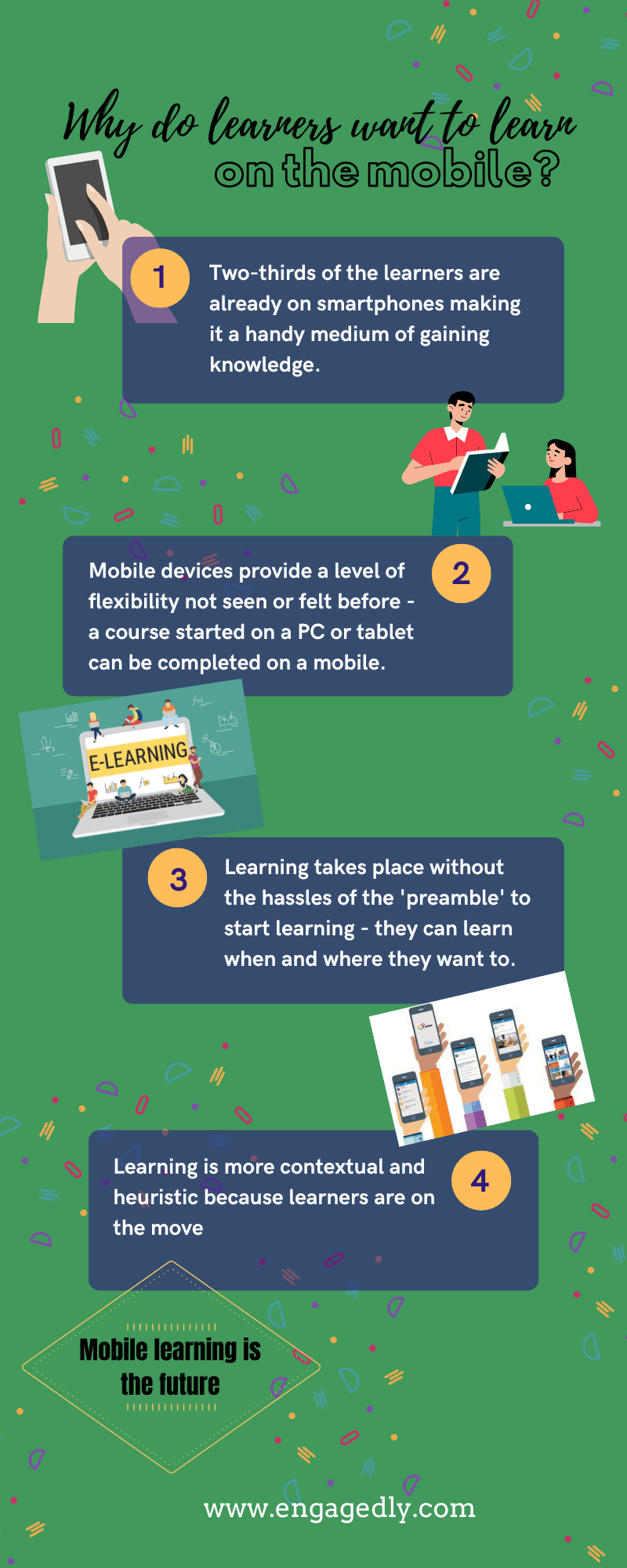 Explore mobile learning and mobile learning ideas. In this article, we'll cover the best ways to create a mobile-based learning environment that will improve employee performance.
Use a Mobile Learning Platform
A mobile learning platform is any tool that gives learners access to educational resources from mobile devices, offering incomparable convenience. Through mobile learning, employees can access your training portal whenever and wherever.
Like any LMS or Learning Management System, a mobile learning platform also enhances learning. 
Also Read: How an LMS makes HR Tasks Simpler and Easier?
Here are tips on making the most of using a mobile learning platform:
Make it effortless to get started –

Design an easy-to-use learning portal. If your employees feel mentally challenged when they use it for the first time, they're less likely to attend the training sessions.

Choose a platform with LMS features –

Use platforms like

Engagedly

to invest in employee development. The tool's LMS features allow you to track learning and import reporting and analytics. And because it's mobile-enabled, you can use it to conveniently access your training goals and OKRs or Objectives and Key Results.

Create section breaks –

Design your training system in a digestible format. And if possible, include media that will aid learning. For example, feature visual information or infographics every five chapters.
Provide Easily Accessible and Engaging Learning Modules
Distribute training materials your employees can pick up from the get-go — it's one of the most successful learning and development strategies. Not only does it allow them to apply lessons in real life, but it also accelerates their professional growth and development.
Also, leverage this fact: engaging modules are synonymous with microlearning (learning in small units and short-term learning activities). Almost everyone can learn fast if engaged with easy-to-understand modules. 
Here are the best practices for creating modules:
Use images and

video training apps

– Appeal to your employees visually. And address the fact that attention spans are getting shorter as time goes on. Your employees will have higher chances of understanding lessons if you feature entertainment and immersive experiences.

Ask questions to employees

–

Talk to them individually to determine their learning goals. Ask them for suggestions, too. Then, use their answers as the basis for creating a learning system and ensure that this system resonates with their needs and wants.

Apply spaced repetition –

Create quizzes and deliver them at regular intervals. Then, incorporate the lessons from one chapter into the following chapters. The idea is to help them retain core knowledge and boost long-term memory skills.
Gamify Learning
Gamification is when you apply point scoring, competitions, and other typical elements of a gaming environment to learning. Gamifying the workplace allows you to create a fun working environment where everybody thrives and pushes each other to the limit.
Engagedly has extraordinary gamification features. It features a system logo, custom badges, intuitive scoring, and a gift card catalog. These are real-time features, too.
Here are the best practices of gamification:
Set up a leaderboard system –

Present a visual representation of competition and allow social comparison. It lets employees monitor their progress concerning other players. It also encourages them to unleash their competitive spirits and strive to do better.

Award badges to high-performing employees –

Give credit where credit is due and congratulate employees every time they perform well. Receiving badges motivates them to continue with their laudable performance. It also inspires their fellows to do great work.

Use storytelling –

Give employees a reason to interact with your content. Start by creating relevant and engaging context, then flesh out storylines, ideas, and conversations. If you want to entice them some more, embed relatable stories into the context.
Launch a Mentorship Program
In a mentorship program, you pair senior employees with junior employees. In this arrangement, juniors can ask questions and get advice from their more seasoned peers. They can gather information about their tasks and responsibilities, and maybe hear some words of wisdom.
A mentorship program complements mobile learning. Instead of leaving employees to take in learning from their mobile devices, they get in-person advice from the people with experience — the seniors who already know how to do what's being taught in the educational videos and other things that an LMS cannot teach.
Here are ways to launch an effective mentorship program:
Attract participants –

Introduce the mentorship program and emphasize its benefits. Then, encourage employees to join of their own volition. Instead of making the mentorship program mandatory, make it available to those who want to join. 

Guide mentors and mentees –

Create a straightforward plan to direct the mentors and mentees toward your training system's goals. This will prevent them from losing focus and motivation, improving the odds that they will thrive.

Choose tools with a mentoring platform feature –

Engagedly's The Enable Development Pillar offers a mentoring platform feature. It includes employee surveys, recognition and rewards, and effortless remote work collaboration. As a result, employee communication and collaboration are more effective.
Also Read: 5 Inspiring Examples of Coaching And Mentoring in the Workplace
Encourage Peer-to-Peer Learning
Peer-to-peer (P2P) learning is a common strategy for teaching at-risk students and in the business world, P2P learning happens when one employee teaches another employee. Its benefits include improved interpersonal and communication skills, enhanced openness, and versatility.
In a way, you can say it's like a mentorship program. But, P2P learning differs because it offers a less intimidating atmosphere. It's where employees can learn together as equals, in a less formal setting. And it could be a better way to understand the topics discussed in mobile learning.
Here are the ways to encourage P2P learning:
Sharpen tutoring skills –

Tell employees about non-directive and directive tutoring. Inform them of the best teaching strategies in specific circumstances. For example, they need to discern when is the right time to fill in knowledge gaps from the right time to correct another employee.

Encourage

peer feedback

–

Make it a two-way system. Employees can learn better if they know how to give feedback and take feedback.

Teach RPT –

Stick to RPT or Reciprocal Peer Tutoring rules and pair mixed-ability employees. For instance, let junior students team up with senior employees. Then, let them take turns being the tutor and tutee. 
Conclusion
Make a regular habit out of training your employees. Conduct a training program at least every year. Then, you can apply the ideas mentioned above as you incorporate the latest training strategies.
Especially if you want them to stay with you for the long haul, give them the confidence of knowing they can count on your support.
If they know they can depend on you to help them, you can count on them to perform their best.
---

---
Frequently Asked Questions
Q1. What is mobile learning?
Ans. Mobile learning or M-learning is a method of learning using personal mobile devices such as mobiles and laptops. This method has been gaining much popularity in recent times as students can access learning materials anywhere and at any time on any mobile device.
Q2. What are some examples of mobile learning apps?
Ans. Some examples of mobile learning apps are:
Udemy
Quizlet
Duolingo
SoloLearn
TED-ed
Q3. What are the advantages and disadvantages of mobile learning?
Ans. Some of the advantages of mobile learning include:
Cost-effective
Higher efficiency
Engaging
Easily accessible
Improves employee retention
Some of the disadvantages of this learning method include:
Lack of mobile technology or internet connection
Distraction from work due to the use of mobile devices
---
This article is written by Christopher Jan Benitez.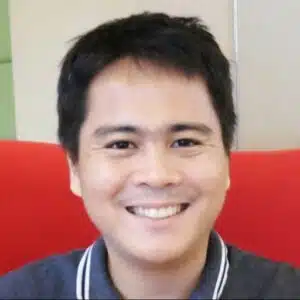 Christopher Jan Benitez is a freelance writer for hire who specializes in the digital marketing field. His work has been published on SEO and affiliate marketing-specific niches like Monitor Backlinks, Niche Pursuits, Nichehacks, Web Hosting Secret Revealed, and others.