Cultural change is probably one of the major challenges that the leadership team faces. You may want to build an organizational culture that is collaborative, innovative, or aggressive. Most companies try to change their work culture directly through speeches, training, or direct intervention in meetings. None of these approaches might work. 
The Motley Fool is a perfect example. According to Gartner research, volunteering can increase by more than 20% when employees get health insurance benefits. When it comes to employee benefits, The Motley Fool found that diversity is key to promoting healthy lifestyles.  
 Samantha "Sam" Whiteside, the company's Chief Wellness Fool, says, "Employee wellbeing programs cover all wellness needs and go beyond physical wellbeing and traditional programs." Employees must be treated as people with different needs which need to be met. Organizations should understand that meeting those needs adds value to the organization and strengthens it.
Why Should Work Culture Be a Priority?
The overall brand image, values​​, and vision and mission need to match the needs of candidates and potential customers. Organizational culture makes an impact on candidates deciding to join a new company or on clients deciding to do business with a brand.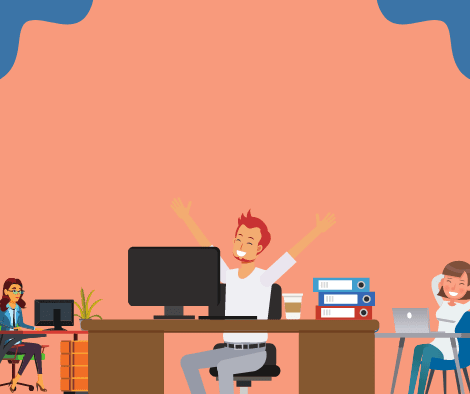 This constant alignment is important to any profitable business, but culture is much more than that. 
Five Reasons Why a Good Organizational Culture Is Crucial in Today's World of Business
Increased employee engagement
Every worker bee dreams of a positive work environment where there opinion is valued and hard work appreciated and acknowledged. A culture driven by clear goals is what motivates and inspires employees to take ownership and be proactive. It also ends up in high levels of workforce engagement, which boosts productivity. A robust connection between an organization and its employees creates a positive atmosphere, flooded with innovation and productivity.
Decreased attrition
People who feel valued and acknowledged are less likely to leave. It is thus imperative that companies foster a successful organizational culture, supporting their core values. Happy employees mean lower attrition along with higher productivity. Companies can save both time and money spent in recruiting new people.
Improved productivity
It goes without saying that if employees feel engaged and appreciated, their performance will get a massive boost. Organizational culture influences people and brings creative, innovative minds together. People with diverse backgrounds and skills can work together harmoniously. All because of a positive work culture!
Transformational Power
Not all companies have the power to turn ordinary employees into absolute brand ambassadors. But those with strong organizational cultures do. Companies that recognize and reward their employees' hard work are more likely to open the gateway to a positive cultural transformation.
Effective onboarding
There are a variety of job portals where people can check out employee reviews of a lot of companies. These reviews are a deciding factor for a candidate before applying for a job in the said company. Herein, organizational culture plays a huge role. Good reviews on work culture provide a massive boost to the brand image. Companies which have effective onboarding processes help new employees access the right resources and better adapt to their roles. This imbibes satisfaction and loyalty in employees.
5 Steps to Change Organizational Culture

Identify desired outcomes
Workplace culture is the reflection of the values ​​and behavior of employees. A clear vision communicates to your employees what you want them to do and how to behave. An organization's core values should be crystal clear.
Here's an example of the idea of identifying a desired outcome. IKEA keeps its vision simple-a better lifestyle. Management explains this vision to employees as well as customers. At its core, the company sees the connection between IKEA and its customers as a partnership.
IKEA uses terms like 'us' and 'together' to address customers and help employees determine the impact of the company's vision on business success. 
Implement your mission statement in your work and show your employees. Set weekly goals to demonstrate core values that help employees achieve their vision and provide incentives.
Plan a culture change rollout
Employees must identify with and relate to the change. Before rolling out the cultural framework, communicate with your employees, interact with them with more transparency, and create a culture of open feedback. This will create a deeper understanding of the desired culture. 
Southwest Airlines could be a high-profile example of organizational culture done right. Their core value is that employees, not customers, come first. The airline explains, happy employees will result in greater customer satisfaction—and greater company earnings. Around 10 years ago, the organization's senior team aligned on six core cultural values. These values, which are displayed on the company's culture page, provide guidance to employees on how to work the Southwest way.
Incorporate cultural values ​​into hiring initiatives
One sure way to make culture change a reality is to embed it in the way you hire, promote, and reward employees. For the recruitment and onboarding process, your culture will be reflected in the way you evaluate candidates as well as the recruiting experience you provide. 
Shopgate, an e-commerce app, has employees working in different parts of the world. So, they try to have a common and unilateral culture that binds them all. They prioritize transparent communication and collaboration even while evaluating candidates for recruitment. They try to onboard people who share the same passion for their products and culture that the company has. 
Be patient
It is crucial for organizations to realize that changing culture is a mammoth task which takes an indefinite amount of time. After testing, piloting, evaluating, and adjusting, we arrive at the final cultural framework. 
Your employees own and shape your company culture. As a leader, you can only provide a roadmap that your employees can follow to provide a better work experience.
Starbucks is a great example of a brand that understands perfectly the value that its employees bring to the company. 
Each barista is trained to work in perfection and create a welcoming environment for customers. The same positive energy is reflected in their corporate culture. They support their employees by offering research grants to participate in online or university programs. Another benefit of working at Starbucks is that the Bean Stock Program allows employees to own stock in the company after a certain period of time. A manager refers to the members of their team as "partners", rather than "employees". This initiative promotes employee engagement and makes partners feel highly motivated and inspired.
Define the message, inside and out
While planning an internal rollout of the new culture and goals, partner with your HR team. There is likely no need for an expansive public rollout; most of these changes should be focused internally.
Blackbaud, a cloud-based software provider for the philanthropic industry, has built its corporate culture around a shared passion to give back. The company follows suit by organizing team-wide projects, providing time off for volunteers and corporate matching for charitable contributions. This program awards grants to local nonprofits in Austin, Texas. The company also hosts social events on topics they love, like the Pinewood Derbys, Harry Potter, and the weekly Star Wars movie marathon.
Steps to Ensure a Successful Cultural Transformation
First, understand the challenges and how your employees perceive the company's cultural issues. 
CEOs and executives may have an entirely different view of the cultural challenges facing their companies. To get an idea of those issues, you can:
Ask your employees 

Have surveys

Lead focus groups

Hold meetings with the team leaders

Meet industry leaders
Next, the management needs to see and study what the company does. Gather the leadership team at the table and ask the following questions: 

What actions should our company embody to drive the cultural change we want? 

What types of new behavior are common? 

What actions should be taken to eliminate any negative behavior?
Then, create a strategy. You need to focus on the strengths of your existing culture and build a new, robust culture on the old one. Next on the agenda comes goals. Begin with setting limited and achievable sets of goals. Each goal should be clear, actionable, and measurable. These goals should be oriented around:

Leadership

Structure

Employee development

Performance

Management and communication
Finally, track the progress to assess whether the transformation has been successful.  Measure each part of your transformation to see where it has been successful and where it has not. Your company should focus on areas like:

Overall behavior

Business performance

Key milestones

Team's feelings regarding the cultural change
Final Thoughts 
An improperly managed structure is plagued with issues. A transformation within the environment often requires a flip within the organization.
Change is always met with some resistance, and different cultures can have different reactions. Tread carefully, well-equipped with a proper strategy before you try to bring in a change in the organizational culture.
---
Do you want to know how Engagedly can help you change your organizational culture and boost up employee performance? Book a live demo with us.
---