Performance management is evolving. From the traditional approach of annual performance reviews that caused disengagement and loss of productivity to a strategic and systematic process of continuous planning and monitoring, performance management has come a long way. 
Earlier, it was viewed as a system where managers would assess the performance of their employees annually based on some specific parameters. The system had a series of flaws that would lead to inaccurate measurement of performance and eventual disengagement and dissatisfaction among employees.
As per the Gartner Performance Management Benchmarking Survey, 81% of HR leaders are planning to make changes to their performance management system.
On the flip side, the modern approach to performance management is highly focused on the development and growth of employees. It is a continuous and ongoing set of processes that helps to identify, examine, measure, and improve the performance of employees. Other than focusing on employees' personal and professional development, it provides great insights into the untapped potential of employees and identifies the blindspots that are a hurdle to organizational development.
There are a multitude of reasons why companies like Accenture, Adobe, Google, Microsoft, and GE have ditched their traditional command-and-control management systems for people-focused and growth-oriented performance management. Organizations that are highly invested in the performance of their workforce have higher ROI, lower employee turnover, are more innovative, and are better at problem-solving. They are able to sail through turbulent times without compromising on their work quality. 
This article will talk at length about the intricacies of performance management and will unpack details about the following:
What Is Performance Management?
Performance management is crucial for the success of any business. It helps align the resources in the right direction and ensures higher growth potential. It encompasses a set of processes that continuously measure employees' performance and build a communication channel between managers and employees to accomplish the strategic objectives of the organization. 
Performance management plays an important role in every industry. It helps create an environment where employees are motivated to be better at their jobs by offering them regular feedback and resources to improve their skills. 
Furthermore, it is a periodic and systematic process that helps align individual goals to organizational goals, and therefore key decisions like appraisals, promotions, and bonuses are linked to it. 
All the major parameters of organizational and individual success are linked to performance management in the following ways:
Helps in setting goals that are inclined to organizational objectives

Provides regular feedback to team members

Acts as a medium of communication to discuss issues, opportunities, threats, and progress of projects

Offers learning and development opportunities, and reward and recognition based on individual performance

Creates performance standards for employees
It is critically important to note that performance management is not a one-size-fits-all approach for every organization. 
Even though it is a corporate tool that helps solve challenges related to productivity, performance, retention, and engagement, every organization needs to redesign or customize performance management as per their business requirements to get optimum results. 
Another common misconception about performance management is relating it to traditional performance appraisals that were limited in scope, as they did not include clear goal setting and frequent feedback mechanisms. 
Why Is Performance Management Important?
The changing global business environment, the rapidly evolving technical landscape, changing customer preferences, challenges with global supply chain management, and employees' expectations from employers are the chief factors that will define the success of an organization in the coming years. 
The below image provides a clear understanding of changing employees' expectations and values at work in the post-pandemic world.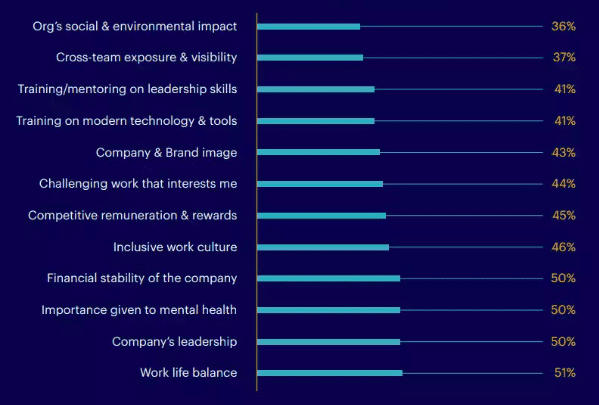 Source: Economic Times
The recent developments in the market, The Great Resignation, and IT automation are adding to the predicaments of human resource managers. Finding the right talent and retaining potential employees is getting tougher every day. On top of that, organizations are still reeling under the economic stress of the pandemic.
The following image highlights some of the challenges that HR leaders need to be prepared for.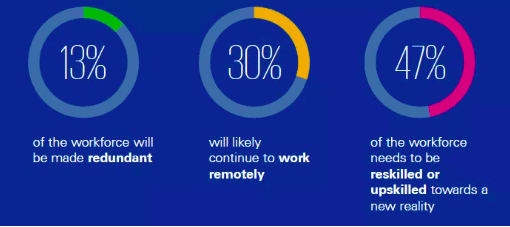 Source: home.KPMG (New challenges perceived by HR leaders, 2021)
The situation does not seem to get easier anytime soon. So, how do organizations manage their most valuable resources in turbulent times? This is where performance management becomes indispensable to an organization's sustainability and growth. 
By leveraging different components of performance management, organizations can not only retain their employees but also be prepared for unprecedented changes in their business. Furthermore, they can create a differentiated brand position for themselves and attract new talent easily.
To remain competitive in the current business environment, it is imperative to focus on building a systematic, goal-centered, and employee-centric performance management system.
What Are The Key Components of Performance Management?
Performance management is responsible for the creation of a growth-driven, engaging, and productive environment. A well-thought-out, innovative, and strategically laid-out performance management system can boost performance and lead to the development of a dynamic and highly skilled workforce. In order for performance management to bring effective results, organizations need to incorporate its components into every process and ensure compliance. 
The different components of performance management goal setting, ongoing communication through frequent feedback, performance reviews, rewarding good performance, creating improvement plans, and learning and development help to make it a vital tool for organizational development. 
What Are The Benefits Of Effective Performance Management?
Performance management is a multi-faceted tool that helps in the overall development of employees and, thereby, achieves organizational objectives. By working at the individual and team level, performance management helps in identifying blindspots in employee productivity and development that are a barrier to the achievement of company goals. Furthermore, it supports management in reducing employee turnover, getting higher ROI, enhancing employee engagement and productivity, and building a more diverse and inclusive culture.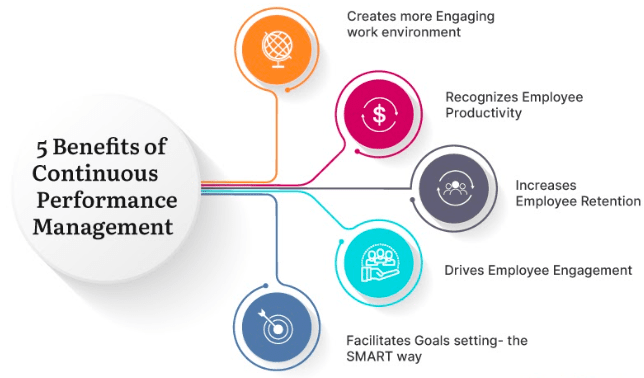 Source: Profit.co
The benefits of performance management are not just limited to the organization, but spread across all the stakeholders. It plays a crucial role in increasing the organizational efficiency by:
Creating an open channel of communication between managers and employees

Building trust, integrity, and loyalty in employees

Aligning individual goals with organizational objectives

Providing the right resources to employees for growth and development

Helping in goal setting and making employees accountable for their progress in the organization

Offering visibility to employees for their efforts and ensuring that employees understand the impact of their efforts on organizational success

Reducing conflicts between team members  

Offering a platform for self-assessment, learning, performance review, and discussions

Providing open feedback to employees on their skills, competencies, progress, and future development

Checking the readiness of employees to undertake more responsible positions

Creating personalized development plans for employees

Motivating low-performing employees through coaching and mentoring
Principles Of Performance Management
Performance management is a vast process. It requires collaboration from multiple levels to be successful. It is an integrated approach that touches both vertical and horizontal segments of the organization. To ensure the success of performance management, human resource leaders must adhere to some fundamental principles that serve as supporting pillars to the overall process.
The process is founded on the following principles of performance management:
Transparency

Goal clarity

Interdepartmental cooperation

Focus on learning 
Without incorporating its basic tenets, performance management will not be fruitful in the long run. 
Performance Management Best Practices
Following the disruptions caused by the pandemic, many HR processes, including performance management, have started to gravitate toward becoming strategic business contributors to the organization. The concept of performance management has been redefined by the leaders, and it now encompasses the series of changes brought in by the radical developments in the business environment. 
Performance management has metamorphosed into a real-time goal setting and employee development tool that overlooks different aspects of employee and organizational performance. As organizations are now juggling between remote and hybrid work setups, it is important for them to keep a tab on the overall performance of their employees. 
Human resource managers must incorporate certain best practices to enhance the performance of their remote and hybrid teams. These include:
Using

OKR methodology

(Objectives And Key Results) for goal setting, tracking, analyzing, and improving performance

Redesigning employee

KPIs

and goals as per the work setup

Setting

SMART

(specific, measurable, achievable, relevant, and time-based) goals for employees

Offering

continuous feedback

to improve performance

Weekly and monthly

check-ins

to keep track of progress made on goals

Understanding employee concerns and offering them support 

Using

performance management tools

to simplify the processes
What Are The Problems With Performance Management?
A survey by Deloitte highlights that only 8% of organizations derive high value from their performance management processes, while 58% find it ineffective in delivering results.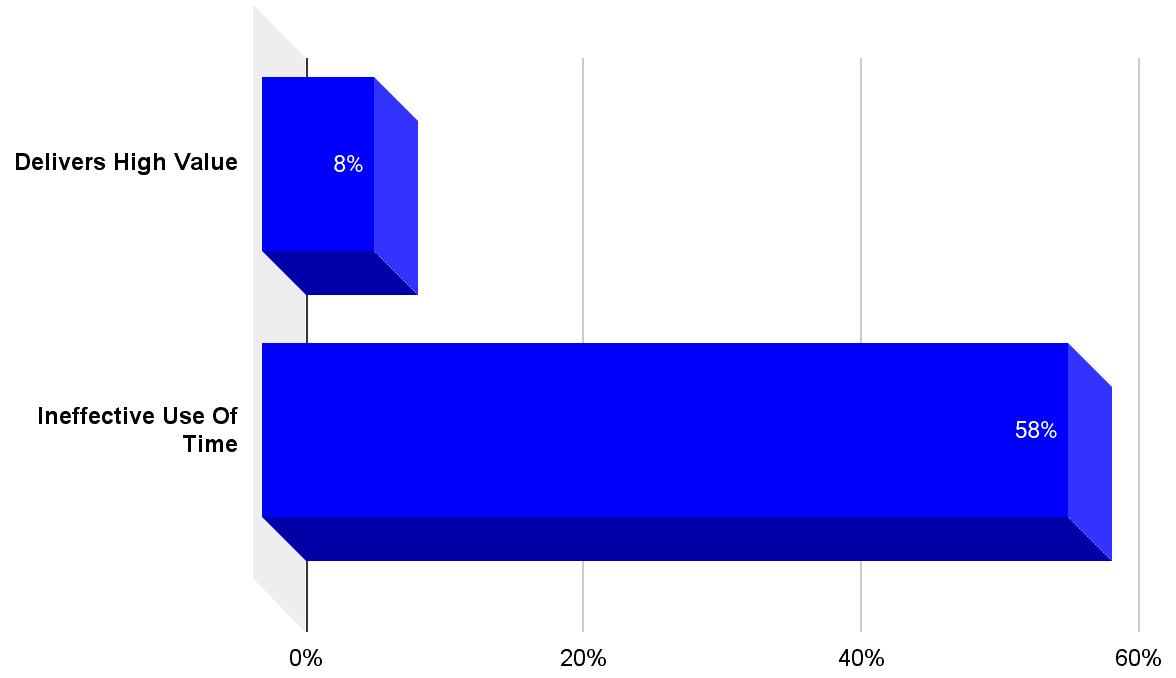 Despite numerous developments in the field of HR management and strategies, there are certain problems that are a huge barrier to implementing effective performance management in organizations. If left unchecked, these problems can cascade into the system and result in conflicts among employees and leaders, low performance, underachievement of organizational goals, and low customer retention and acquisition. On the employee front, ineffective performance management can lead to demotivation, disengagement, lack of trust, and high turnover. 
Some of the major problems with performance management:
Lack of trust between employees and employers

Undefined performance management processes

Lack of metrics and tools to measure performance

Irrelevant job descriptions

Lack of commitment in leadership
What Is A Performance Management System?
A performance management system is a collaborative approach between employees and management to frequently review the performance of employees and provide them with constructive feedback. 
It entails planning, monitoring, and reviewing the performance to achieve short and long-term organizational goals and also provide a growth trajectory to employees for their overall development. 
To ensure higher performance and achievement of objectives, organizations develop a series of activities that help employees understand their strengths and weaknesses and offer them learning opportunities to nurture their skills. 
But what's the purpose?
It's multifold and it touches upon individual, team, and organizational productivity, goal goal-setting methodologies. Further, it helps in creating frequent check-ins and feedback processes, learning and development, and rewarding employees for exemplary performance. 
Types Of Performance Management Systems
A performance management system acts as a guiding light that helps organizations stay committed to their mission and vision by constantly monitoring the performance of employees and offering support wherever required so as to not stray from the optimal path. 
There are different types of performance management systems available at the disposal of organizations. Some of the most commonly used ones are:
Balanced scorecard

Management by objectives

Objectives and key results

The graphic rating scales
Based on the business requirements, organizational culture, and goals, organizations can select the ones that help them achieve better results. However, many organizations are now making a shift to OKRs and 360 degrees because of the numerous benefits they offer.
How To Get Started With Performance Management?
Whether you are running a startup with a handful of employees or a multinational organization, it is always difficult to align everyone's vision to achieve overarching goals. Every organization wants to achieve more through continuous improvement, but without a proper framework to support it, it can be extremely challenging to make a mark.
Having a performance management framework to create alignment between organizational and employee goals is the starting point of mastering the art of performance management. When done right, performance management harbingers great results for an organization. 
The following points should be taken into consideration while getting started with performance management.
Meticulously analyze the industry and business environment

List your  most important organizational goals

Ruminate over the problems you would like to resolve with the help of performance management

Take management's support in understanding the intricacies of performance management

Analyze the previously available data, if any, to understand what processes did not work well and what improvements can be made

If required, seek external support from leading performance management experts
Technology And Performance Management?
The growing need for innovation, creativity, problem solving, and adaptability is transforming workplaces. Employees' expectations have changed over the years, and so has the way organizations operate. 
The current demands of digitization and agility have led to a fast adaptation of automated performance management systems that can reduce the manual workload of HR managers and optimize the processes.
Real-time performance management systems are taking over from the traditional ones. They help HR managers: 
formulate strategies, 

provide more visibility,

innovate, 

customize, 

streamline processes, and 

provide a framework for collaboration between employees and management. 
The below image provides an overview of real-time dashboards visible to leaders and managers. With their help, managers are able to keep track of the progress of organizational goals.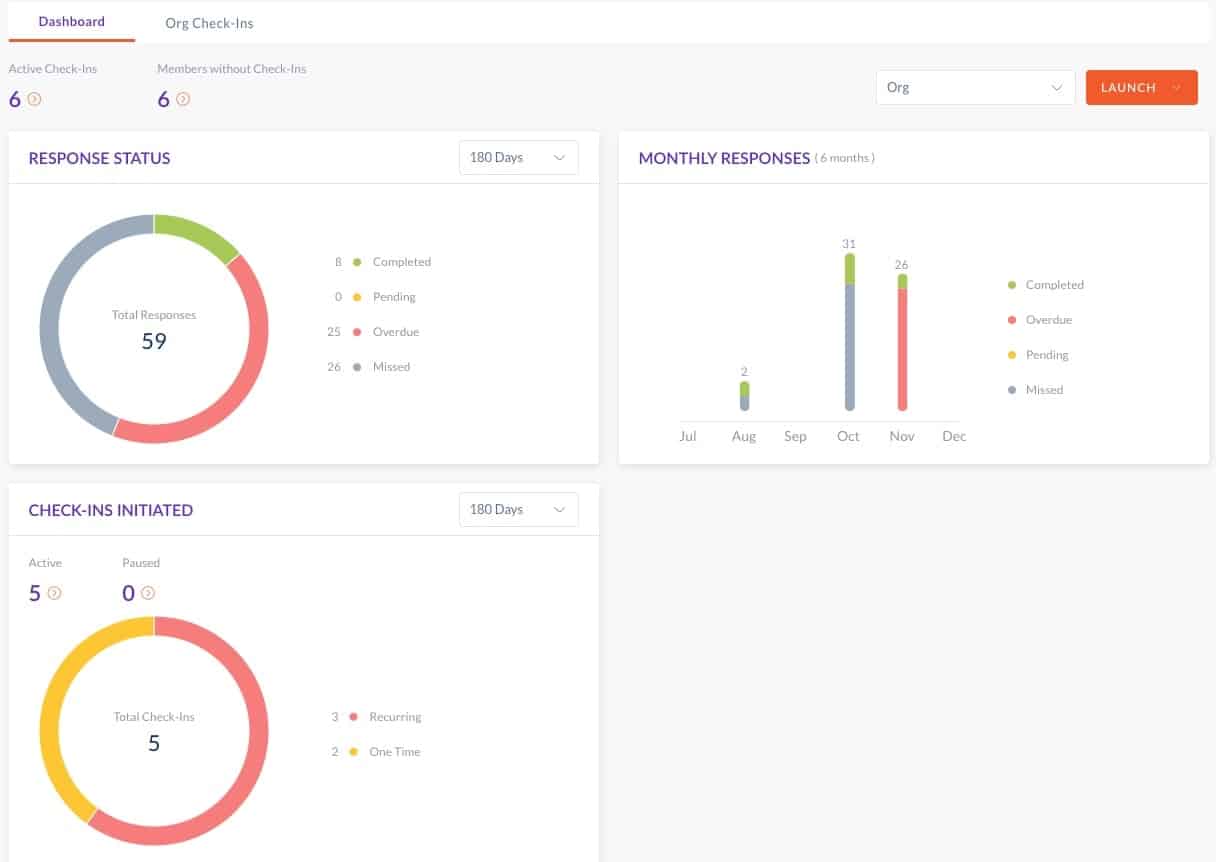 By doing away with redundant tasks, HR leaders can focus on important issues and help create a better learning environment for employees. 
The Deloitte Global Human Capital Report provides great insights about companies that have redesigned their performance management systems:
96% of organizations found improvements in

employee engagement

levels

83% say that the quality of conversations has improved between managers and employees

96% found the process to be simpler than before
Google, Kelly Services, IBM, Cargill, and Juniper are some of the companies that have redefined their performance management systems. They are leveraging technology to create a continuous performance management system. It helps support processes such as feedback management, check-ins, creating better job descriptions, performance reviews, and even learning and development. These companies are now more focused on employee development and engagement rather than annual performance reviews that would give inaccurate results. 
Key Takeaways
Performance management is at the heart of every organization. It helps in creating a formidable performance-driven culture that supports higher productivity, engagement, and optimal utilization of resources. Effective performance management systems are one of the key distinguishing parameters of high-performing organizations. By utilizing the various components of performance management effectively, organizations can create a skilled workforce that is ready to take challenges head-on.

---
Subscribe To The Engagedly Newsletter